Buy 3
Jelly Roll

or

Layer Cake

-

50% Off

Cheapest One.

Just add 3 Jelly Roll / Layer Cake to your cart to get the deal. Easy.
Moda Mama Said Sew Vol 2 by Sweetwater - Jelly Roll
Quilter's Secret

Exposed:


Co-ordinate fabrics like a pro, every Time!
Discover How...
NOTE: Actual fabric colours may vary compare to colours appear on your monitor,

because of differeces in settings, brands and other factors outside of our control.


Pattern placements may be different too because the pieces are cut at random from a whole roll.

" Some of you may be seasoned quilters who are experts at selecting fabric.... [but] when I first began quilting, fabric selection seemed a little overwhelming....

Somewhere along the line I was introduced to a Jelly Roll and they are my favourite.

They look so darn cute all rolled up, and if I just stack them on my shelf, they are gorgeous to look at.... each and every strip in the little roll complemented the others perfectly too!

I still enjoy selecting fabric based on pattern, scale, and colour from time to time, but I mainly stick with using one fabric collection for my designs now."

- Camille Roskelly, quilter & author of "Simplify"


Let's face it:
so many of us dread the thought of selecting fabrics
for a quilt, whenever we start a new project......
Because choosing fabrics
means
stress and agony
of having to make decisions on the spot.....
which could be pretty permanent....!
You need to consider colours, patterns, and whether something go together.... and after all that,
still wondering IF the person you're making the quilt for will like it
at all...


Phew

.... talk about hard work, and you haven't started sewing yet...!


Imagine
NEVER
having another "meh" moment
when you're so close to finishing your quilt, only to discover that you're not too sure about the choice of fabrics after all....
Instead,
think about how satisfied you'd feel
if the end result was just like what you've seen in the magazines or quilt shows, even better....
........ and
EVERYONE commented on how amazing you are
at choosing fabrics and putting colours together!!!
What if choosing fabric was easier than you think?
Hey, you might as well
take credit for being AWESOME
at co-ordinating prints for your quilt...
..... seeing you've done the hard work of sewing anyway!
Often the hard part is to come up with know the "how".......
Formally trained as a Fashion / Textile Designer - now a
Quilter & Patchwork Teacher
- I have spent the last
10 years teaching
others and sharing the joy of Patchwork Quilt making.
Recently I had a conversation with a fellow local designer, Nicole Mallalieu (from the "You Sew, Girl!" fame)... about how people are amazed that some of us seem to have "a flair" in choosing colours and fabrics.
Since we both graduated from the same fashion design institute, we can vouch for each other that such "flair" was definitely more "nurture" than "nature" (i.e. none of us are born with the ability... we simply got trained...!!).
That means

YOU too can

have the "

designer's flair

".....
...... and actually

ENJOY putting colours together!
There is no doubt that it will take some time and practice to get there.....
But the first step in becoming confident in choosing colour is to have the right visual aid at the start... this is the easiest way I know.
The Secret

of creating stunning quilts EVERY time....
..... is simply starting with a Jelly Roll!!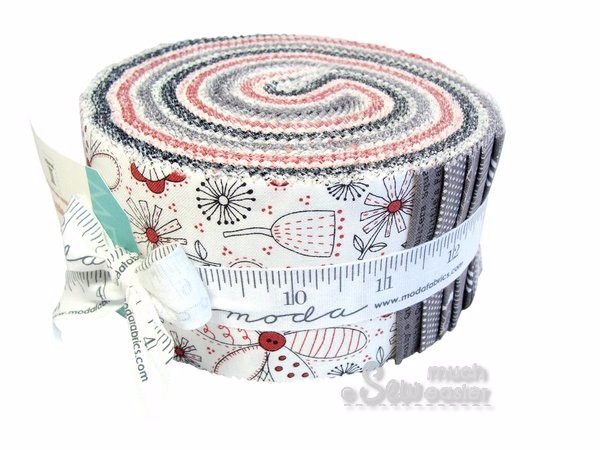 Hmmmmm....
......

Jelly Roll

...... yummmmm
Um, we don't mean one of these....
...........our one won't make you fat :-)
What's that got to do with fabric?
These are
2 1/2" (or 6.4 cm) strips x width of fabric
of coordinating fabric that come from the same collection of fabric (also known as a "fabric line", "fabric range" or "story").
Jelly Rolls include one of each of the prints, anywhere between 25 to 40 strips - depending on how many different prints were included in each range.

In this case.... you get 40 strips!

Take a closer look.......
Image Courtesy of "Make Life Sweet" by Sweetwater

This collection is called "Mama Said Sew Volume II" - after the sold-out success of the original "Mama Said Sew".......
"Mama Said Sew started on a trip to downtown Fort Collins, Colorado, also known as "Old Town". It is a fun, lively place, filed with specialty shops, restaurants and the cutest little fabric store we had ever seen.

It just so happens the name of the store is "Mama Said Sew". Perfect! Perfect for a store filled with modern, fresh fabric and perfect for the name of a fabric collection.

So after a few weeks of contemplating, we finally got brave enough to ask the owner if we could use her store's name for our next collection. Thankfully, she said yes. So thank you, Angels, for your kindness and generosity!

Mama Said Sew celebrates evererything we love about sewing. The black, red and gray go wonderfully together, but we are most excited to make two-colour quilts - red and white, black and white, or gray and white quilts that are amazing, timeless and so striking.
"
- Sweetwater
Most of the well-known fabric manufacturers - such as Lecien, Kokka, or Moda - release Layer Cakes and other precut packs with every fabric line they produce..... It is an easy way to get variety in your project!
If you love a fabric line, it's a great way to get a little piece of all of it (and not miss out on any)...
..... in one easy step!
Here, check out each print in detail......
*Note: Some of the more "useful" prints may be repeated as part of the 42 squares. This way you don't need to run around looking to top-up as you run out of the "useful" prints!


Have you

fallen in LOVE

with a certain range of fabrics..?


Consider buying multiple packs of Jelly Rolls.....
This way you will
end up with more fabrics
to play with, and this
opens up your options
when it comes to deciding what quilt design to go with (and what size to make them in).
How does this Jelly Roll help me with fabric selection?
That's the BEST thing about Jelly Rolls -
you DON'T need to worry about selecting fabrics!
Because Jelly Rolls give you the ENTIRE fabric collection, the hard works of co-ordinating fabrics has been done for you...
You see, a fabric collection will typically include coordinating small / medium / and large scale prints, in several different colour ways.
This gives your project the designer edge that looks like you've spend AGES on selecting just the right fabrics.
A well-known textile or fabric designer (sometimes a team) would have put in pain-staking effort to make sure that the fabric collection they produce are something that YOU will love, and hopefully inspire you to make quilts, garments and bags that EVERYONE will love!
When you purchase a Jelly Roll, it's like
having your OWN expert team of designers or friendly patchworkers
picking out fabrics for you...!!
Hey, why not let someone else do the hard work for a change?
Once you have bought a few Jelly Rolls and made a few things from the pre-cut strips, you will find that choosing fabrics and co-ordinating colours / prints become less stressful over time....
In fact,
you might even look forward to start putting together your own fabric
stash when you go to fabric shops and quilt shows!
This is
because as quilters, we all tend to be "visual" learners
.....
By working and playing with fabric ranges that have already been put together by professionals, we learn to see what goes together, and what contrast with each other successfully. Another word, we learn by examples....
This is
just like having your very own private tuition
of colour and design theory, without any pressure and high cost.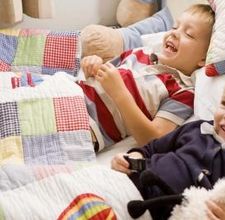 Better still,
you get to have heaps of fun
and

make tons of beautiful things
for your family and friends too...!!!
(... they're gonna think that
you are amazing
....)
About the Designers.....

Sweetwater
Sweetwater is a family-run design company located in northeastern Colorado.
Being a mother-daughters team, they work together in a design studio in rural Northeastern Colorado.
There are cattle and corn outside their window every day. There are three kids that call our workplace their play area. At any given time there are eight projects going on and another twenty in the making!
The design team is made of three talented women:
Karla Eisenach
Susan Kendrick
Lisa Burnett
Sweetwater is acutally a spin-off of its parent company Farmyard Creations.
Farmyard Creations began as a quilt company in 1985, providing quilt patterns and designing fabrics for quilt stores throughout the Unites States, Canada and even overseas.
In 2001, Sweetwater was born by taking the fabric designs of Farmyard Creations and turning them into paper. Coordinating stickers and other accessories were then added to give the Sweetwater line a soft, sophisticated style.
Recently, Sweetwater has been focusing their energy on fresh and innovative graphic design, as well as a fun line of fabric and quilt patterns.
....and YOU get to

enjoy instant success

in whatever project you've set your heart on, because the fabrics speak for themselves!
Sounds like you might enjoy playing with Jelly Rolls?
Scroll up and grab yours now...
before we run out!

"I always buy locally, so this was actually my first fabric purchase online.

The fabric price was so reasonable, and the same brand as my local fabric stores. So I already loved the price and was waiting to see how nice the fabric turned out.

Well, I can happily tell you the fabric arrived today and it is GORGEOUS!

Much prettier 'in the flesh' than on my computer screeen. And the quality of print is beautiful, colors vibrant and vivid.

This is going to make an adorable quilt for my 5 yr old and a cute twirly skirt for my 8 yr old! :) "

- Peta, a Happy Mum


So what's included in this Jely Roll?
Professionally cut and packaged by Moda Fabric,
this Jelly Roll contains 40 of
2 1/2" (or 6.4cm) wide fabric strips - from the
"Mama Said Sew Volume 2"
collection.

One of the most loved patchwork fabric manufacturers - Moda has been around since 1975.
Moda has some of the best independent designers
as well as a highly experienced in-house design team - they are constantly creating and striving to bring you the latest and greatest in quilting fabrics - that means
You get to enjoy some of the hottest new lines of fabrics in the world!
Moda Jelly Rolls are convenient pre-cut assortments of colour-coordinated 2 1/2" (6.4cm) wide fabric stripss. This saves you having to cut them out, so you can

enjoy sewing right away!




You receive the complete collection - one of each print.

No need to run around

the shops looking for them...

more time to relax and sew

. Yay!


The strips are professionally cut using Moda's advanced laser cutting technology that reduces edge fraying to allow

easier piecing and smaller seam allowances.




Perfect for any patchwork project including quilt tops, boutique-style outfits, home decor and scrapbooking.


Top Quality 100% cotton Designer fabric -

quality has never been so affordable!

Attention.....!!
Like all precut fabrics,
Jelly Rolls

should NOT

be pre-washed...!



So, what can I do with my Jelly Rolls?
More than just sewing up the strips to make a baby quilt, there are SO many other fun (and easy) to make!
Here are some inspirations from the designers themselves.....
Image Courtesy of "Make Life Sweet" by Sweetwater


What would YOU do with yours....?

"This Jelly Roll fabric feels good and is easy to sew.

I am using the strips in a quilt top and having the fabric precut saves a lot of time and makes it so easy

They were as described and I was happy when they arrived.... and I can't wait to get mine finished! "

- Gail, a Happy customer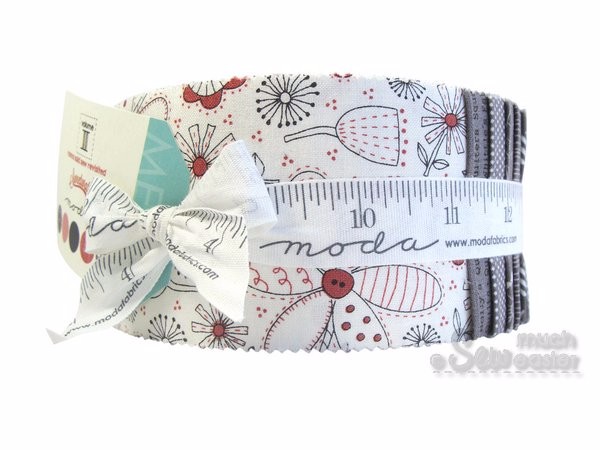 So the only question is..... with so many uses,
is ONE Jelly Roll really going to be enough, or do you need TWO?


Simply

Click The Add To Cart Button

To Get Yours Now!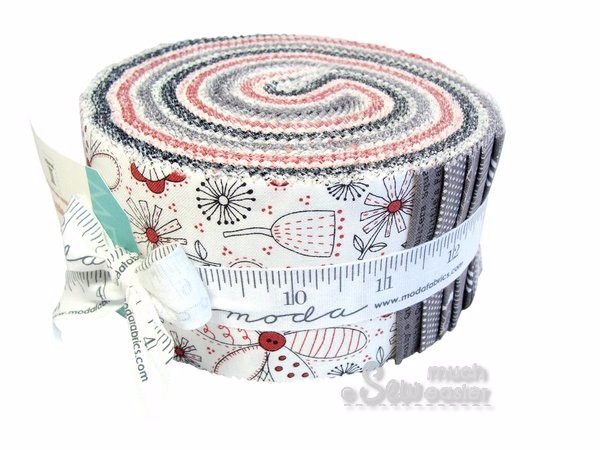 We know sewing. But you know best.
Sometimes things don't work out according to plan. Not to worry - we have a 60 Day Money Back Guarantee to support you.
Your No-Nonsense 60 Day
100% Money Back Guarantee*
In the unlikely event when the item doesn't meet your expectation, be sure to contact us within sixty (60) days.
The benefits under this Guarantee are in addition to other rights and remedies under a law in relation to the product you have purchased.
We want you to have a plenty of time to feel absolutely certain that you have what you've paid for!
If you're not 100% happy simply let us know and return the item in original condition and packaging.
We'll send you a full refund (excluding postage) promptly and courteously - No Questions Asked.
So you can be sure you'll be happy with your purchases!
*Looking for the fine print? Check our terms and conditions for details.
Be The First To Review This Product!
Help other Sew Much Easier users shop smarter by writing reviews for products you have purchased.
Can't wait for it to arrive? We will get it to you ASAP.
Prompt Shipping - Your package will be sent promptly once payment is cleared. Usually it will be dispatched the next business day.
Combined Shipping - Want to save even more? We are happy to combine shipping for multiple items in your cart... it gets worked out when you check out.
Packaging and Sending - All your items will be packed well. We do everything we can to ensure your package arrives safely. In the unlikely event something does go wrong, simply contact us and we will do our best to resolve your concers.
Packaging Materials - We support "green policies" and recycle clean packaging where possible. Sometimes brand names on packaging may not necessarily match the content.
Simply click "Add to Cart" now and complete checkout so we can get it on it's way to you.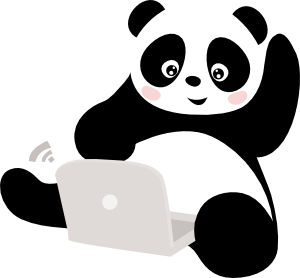 Would you like more information on this item?
Can we clarify anything else for you at all?


Please feel free to use the form below, or email hello@sewmucheasier.com or phone 1300 88 11 59.

Your message will be responded to ASAP, usually within 24 hours during business hours, Monday to Friday 9am to 5pm Australian Eastern Standard time.
---