Sew Easy Trolley Bag Medium
Finally...

Getting Your Sewing Machine
and All Your Gear from A to B is

Now Easier than ever!
You won't Feel like a Bag Lady Lugging Around The Kitchen Sink!
Dimensions (W x H x D):
51 cm x 41 cm x 28 cm
(exterior)
50 cm x 40 cm x 27 cm (interior)
Are you

tired

of arriving at sewing workshops

already exhausted and stressed

from

having to haul

your heavy sewing machine along with all your other gear

all the the way

from where you parked the car to the workshop?
Most of us have experienced this.....

Sometimes all too often!

"I use this trolley bag whenever I go to sewing classes.

This trolley bag seems to be well made. It is roomy enough and makes it soooo much easier to move my machine from home to car to class.

I like this product very much. The handles, straps and zip-pulls are very sturdy. I am able to lift the bag with ease and place it safely into the car for easy transport. I don't know how I managed without it for so long! "

- Robyn, a Happy Customer
When it comes to learning to sew,
attending classes and workshops are great fun
and can become your regular routine.
And if you're a social person, then sewing groups and meet-ups mean you'll be out and about with your sewing machine even more often!
That means somehow moving your machine and other gear from your sewing room
, load them into the car, drive (carefully) to the venue, look for parking (of course all the close spots are already taken), unload your boot (and hope it's not raining),
and struggle to get everything to where you need to go!
By this time you realised "travel light" doesn't apply here
, as you're attempting a few different ways to juggle your machine, cutting mats, sewing basket, hand bag, lunch and fabric bundles - and maybe an umbrella too!
All this before you even get to the workshop.....
Phew! Talk about hard work..... and you havn't even done any sewing yet!
Ask anybody who attends sewing workshops.....


There's

NOTHING more frustrating

than having to heave your sewing machine plus everything else - often multiple trips - from Car to Classroom!

Have you every
worried that you might cause damage to your valuable machine
from having it bounce around in transit or geting wet in the rain? Or worse -
you could cause painful injuries to yourself
which can take a long time to heal (and might stop you from sewing in the process) because of
struggling with the weight of your sewing machine and your other gear...
Do you feel that there has to be a better way to get your machine and other gear from A to B
without becoming like a beast of burden?
Are you finally ready to
experience the difference of arriving at your next class or group effortlessly, completely stress free and ready to enjoy the craft you're so passionate about?
If you answered yes, the I know this product is the answer that you've been looking for all your sewing life.
Finally the privilege of jet-setting celebrities are now available to you!


So you can feel like you almost have your own personal porter everywhere you and your sewing machine need to go.....

As a formally trained
Fashion & Textile Designer, and a Quilter and Patchwork Teacher
- I have spent 10 years sharing the joy of Patchwork Quilting and teaching others.
I've done a fair share of travelling with my sewing machine - sometimes to teach and sometimes to learn.
Let me be straight to the point with you.
When teaching (or attending) classes, I've noticed that some students get more out of the session than others - these are the ones that become more successful within a short period of time. What sets them apart? I mean, they've turned up at the same class, received the same set of instruction, learnt from the same teacher..... so what makes them so different?
The secret is straight-forward:


these students have simply come to class PREPARED.
We all want to
create
beautiful results with less frustration and physical discomfort
simply by having the right tools for the job. After all...
we're supposed to have fun enjoying our hobby
rather than struggling and straining... right?
Note: sewing machine NOT included.
What if getting the most out of your class

feeling totally prepared

is easier than you think?
Imagine strolling into class every time, knowing that you've got
everything you need in its rightful spot, and one easy trip from the car is all it takes....
While others are huffing, puffing, and struggling with their sewing machine - plus all their other stuff,
you can glide in at your leisure, get the best seat, set up comfortably and still have time to make yourself a cup of tea
and really focus on what you want to achieve out of today's workshop.
Having
Your Sewing Machine on Wheels
is the simplest way to get you there!
Let's See What We've Got Here....
This limited-edition set is designed especially for sewists on the go.
A light-weight luggage that's actually
pretty
- to take your sewing wherever you adventure takes you!
Note: photo above shows internal details
of a different colour way
. Sewing machine NOT included.
solid, one-piece undercarriage base for

extra strength to support the weight

-

no matter how heavy

your machine may seem to you, it WILL be safe.


nothing like the supermaket trolleys, your sewing machine trolley bag comes with the

easy glide dual wheels

to stroll along all terrains.


a telescoping,

height-adjustable metal handle

means taking your machine on the road is as easy as a walk in the park!


extra padding

to protect everything

inside the luggage - because your sewing gears and gadgets are important.


a Velcro safety strap (like a seat belt) secures your machine so that it stays

snug and safe inside

the trolley bag, no matter how rough your journey.


large storage pocket in a convenient spot AND padded as well - so you can

be organised

knowing your contents will stay safe.



tough and water repellent, the

exterior fabric that has a low-sheen finish similar to micro-fibre so your luggage

stay clean and as-new

for longer.


heavy duty, comfort grip handles - and smooth zippers with large pulls - make

packing and unpacking easy!
Note: sewing machine NOT included.
Sounds like Exactly What You Need?
Order Now and Give it a Go.

"I use this trolley bag whenever I go to sewing classes.

It works beautifully and makes moving my sewing machine from car to class so easy.

The heavy-duty cover and tie straps protect my machine in transit, and the wheels seem heavy duty too because I often wheel it across parking lots and footpaths.

A very good product. Highly recommended."

Judy - a Happy Customer

Let's Have a Look at Some Details:
Dimensions (W x H x D):


51 cm x 41 cm x 28 cm
(exterior)
50 cm x 40 cm x 27 cm (interior)
Your very own machine trolley bag with reinforced base to accomodate a standard machine, heavy-duty side handles, and deep pockets on the front to help you organise threads, patterns, and other essentials.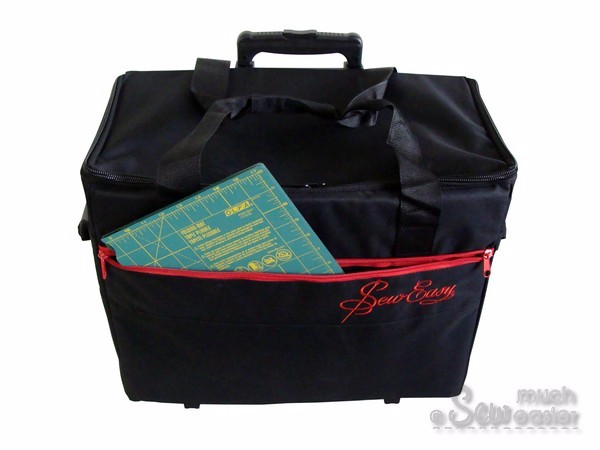 Note: cutting mat NOT included.

"I love this trolley bag.

The bag easily holds my machine, the foot pedal and power cord, and several rulers and cutting mats in the main compartment. I use the outside pockets for my books and patterns, rotary cutters, scissors, etc.

I love how the bag rolls easily even when packed full. I recently went to a weekend sewing retreat with this set and almost everyone there asked me where I got this... I cannot recommend it enough."

- Rhonda, a Happy Customer
Now imagine what you can fill it with.....
Note: sewing machine NOT included.
BUT....
Make Sure You Act Quickly.
We Have A Limited Number In Stock.
Get Yours Now While You Can!

"I bought this trolley bag as a gift for my daughter becaue I bought her a used sewing machine earlier that did not have its own carrier.

It's perfect because she is moving a lot and needed a portable sewing machine carrier that had some extra storage. This set fits the bill and helps her stay organised. It's a good buy and she likes it."

Chris - a Happy Customer


Now that you're all geared up - where would you like to go next?


Note: sewing machine NOT included.
Imagine....


What would it be like to NEVER have to put up with physical discomfort - and
No more heavy lifting, No more wrist strains, No more feeling hot & flustered from hauling loads of sewing equipments & tools around
, ever again?
Picture yourself
arriving at workshop with your machine and gear
in your leisure time,
done stylishly, quickly, and with Great Ease EVERY TIME
because your gliding luggage gives you all the help and organisation you need!
Don't Risk Damaging Your Machine (or Injuring Yourself)...
Let the Trolley Help with the Heavy Works!
Having a trolley bag means you can:
Protect your machine while taking it to classes and workshops - you'll love it especially when it rains!
Save back ache, shoulder ache, hand and wrist strain, because the trolley is fully equipped with wide-track wheels that provide stability and smooth rolling
Have enough space for all you other bits and bobbins so you just wheel the one thing
Eliminate wasted time hunting for supplies: Everything you need to start your sewing project is at your fingertips
Look as stylish and sleek as a movie star on the move instead of a bag lady carting the kitchen sink around
Note: sewing machine NOT included.
The design of this trolley bag is inspired by
Classic styling that will never date
.
Just like some of the best luggages in the world, this trolley bag is made with components for structure and strength, and easy-care, travel-grade fabric for protection and endurance,
which means your Trolley Bag is protective, yet still light weight and easy to manoeuvre.
Your machine will be protected by removeable padded panels on all sides. Simply velcro them on, and whizz them off for easy clean!
More than just the main retractable telescopic handle, you also have multiple sturdy handles in places where you need them most....
And best of all - the base is reinforced with a heavy-duty frame - which carries the weight of your machine.
Sounds impressive, huh?
I'm just glad it protects our sewing machines.
Especially
designed with quilters and sewists in mind
, there are plenty of room for storage
to help YOU stay organised
when you attend sewing workshop, classes and retreats, and you get to
enjoy every minute of your well-deserved sewing outing!
Get Around with your Machine in Comfort & Style...
Grab Yours Now!

"I bought this to carry my machine to and from classes and workshops. It's roomy with a large pocket in the front and it's pretty sturdy.

I especially like how it has plenty of handles (on the top AND the sides) for easy lift-up to get into a car boot, and even catching public transport isn't a problem.

Is it the best case in the world? Probably not. But it's within my budget and works for me."

- Ann, a Happy Customer


Would My Machine Fit in there?
This Sewing Machine trolley bag
fits standard Domestic sewing machines
(perfect for the Janome DC2050 which we also sell). Still, to be 100% certain, please double check the measurements below first....
The

Internal dimensions
(i.e. inside padded walls) are:
Width 50 cm (19.6 inches)
Height 40 cm (15.7 inches)
Depth 27 cm (10.6 inches)
Finally - you and
your machine can travel with ease and style
with your new Sewing Machine Trolley Bag!
Plus, the classic design with RED details means you'll never misplace it.
There is plenty of foam padding inside with a secure Velcro strap for your machine to be strapped in, so
your machine will be protected
from any spills and minor bumps encountered in transit.
The trolley bag will
take the hard work out of travelling
with your machine, and the classic design will remain stylish even as fashions come and go - not a sign of floral tapestry anywhere.
Its Unique Double Wheels ensures that your Sewing Machine Trolley Bag can glide over any terrain, and still allows you to wheels behind you with ease.
Non abrasive wheels mean your sewing machine trolley will roll along quietly and won't risk scraping, marking or scratching the floor.

You and your machine will be welcome everywhere!
Three tier adjustable handle means
you'll find the right level to suit your height

– no more sore backs with a handle that's the wrong height.
When you go anywhere with your sewing machine WITHOUT your Sewing Machine Trolley Bag, you will find:
- Your machine bounces along in the car while you drive...
- By the time you parked, there is still a lot of physical lifting to get to your workshop. Not fun...
- Worst of all: you might cause damage to your machine or even injure yourself while struggling!
While domestic machines are more portable, they NOT designed to sustain impacts from hard-knocks or heavy landing.
Is it really worth risking your valuable machine to chance...?
Besides, as a crafter your hands are extremely important. Prolong strains or sudden impact cause by heavy lifting or carrying means pain!
Why
should you
risk straining your wrists, arms or back,
put up with
discomfort,
and feel
tired & flustered
getting your machine and sewing gear into workshops
when you really should be enjoying your hobby?!


Why not Get a Trolley Bag and

Experience the Difference

for yourself...!

"So easy to get from A to B and still stay organised. So light on its own and enough room to keep everything that comes with my machine.

Easy in and out of the cupboard (I don't have a sewing room) and nice to pop in the car for travel. Love it!!!!"

- Diane, a Happy Customer
Note: Photo above demonstrates usage only. Accessories NOT included.
The fabric & design shown above is DIFFERENT to the goods we have for sale.
What this trolley bag will do is simply
help you get around easier
.....
How?
Just by taking away the grunt work, WHENEVER you need to attend any sewing activities away from home.... WHEREVER your sewing adventure takes you!
Note: sewing machine NOT included.
PLUS...
Did You Know
that simply by protecting your sewing machine by keeping it in top-notch condition...

you can save money on servicing?
Which means when you
use a trolley bag
to carry your sewing machine around, you can
actually SAVE money
over time..!!
Note: cutting mat NOT included.

"I love it!!! I needed take my sewing machine along for my first sewing lesson and the trolley made it so much easier to load and transport.

I'm so excited now that I can attend more classes! Thanks for a wonderful product."

- Linda, a Happy Customer
Here's the truth: Just because you sew doesn't mean you stay at home alone all the time.
When you need to get up and go, your Sew Easy Trolley Bag will be ready to help with stylish, sturdy, and spacious luggage made especially to protect your valuable sewing machine, mats, rulers and more..... whether you're traveling across town for a sewing class, across the ocean on a quilting cruise, or simply popping next door for a stitch and chat session.
Hey, who says sewing is a lonesome hobby?
With everything on wheels, you're practically the centre of all (sewing) parties.... always ready for action!
Why not grab an extra one as a gift
for your sewing friend when you order one for yourself?
That way you can be sure both of you are travelling
happily
,
with ease
, and
injury-free
..!!
Talk to us if you want to buy more than one... we'll do a deal for you!

"Very happy with my purchase - I found the trolley bag roomy and sturdy. Holds my machine in the main compartment, while the cord and foot pedal fit in the outside pocket. I haven't left them behind since I got it.

It fits Janome for going anywhere, and I also use it for overnight stays at grand kids home. "

- Margaret, a Happy Customer
Note: sewing machine NOT included.

Keen To Try It Out For Yourself?
I'm so sure that you are going to love your new Sew Easy Trolley Bag, that I am willing to
completely guarantee it...
so you'll be able to try it out for yourself and see first hand how much of a difference it makes
absolutely risk free!
I'll tell you more about the guarantee in a moment.. but first lets check wether this is not right for you...
This Sew Easy Trolley Bag is NOT for you if
:
You have any pre-existing physical conditions or injuries that makes you unable to wheel a suitcase around or get a suitcase in and out of your car.
You only have a extra large embroidery / quilting machines or overlockers.
You are not keen to travel anywhere for your hobby.
You prefer to do hand-sewing only, and do not own a sewing machine.
This handy trolley case is ideal for:
Beginners who want to be able to attend classes or workshops,
Parents who want to store their machines, fabrics & cutting tools out of reach of kids,
Experienced sewing experts wishing to take their sewing to social groups,
Teacher who travels regularly to teach classes or workshops,
Paper craft enthusiasts who also carry lots!
Photographers - to keep their equipments safe when on the road,
Patchwork / quilters,
Textiles artists,
and other creative individuals.....
If any of these sounds like you we're ready to get your sewing machine trolley on its way to you,
delivered anywhere in Australia!
Note: sewing machine NOT included.
What's more.... the money you invest in this essential tool is nothing to
how much more you'll enjoy
your hobby with your new found secret weapon...
Plus, you can now
experience the difference of a trolley bag for yourself absolutely risk free.
I know you'll be glad you did.
Here's how...
Your No-Nonsense 60 Day
100% Money Back Guarantee...
This item comes with our No-Nonsense, 60-Day 100% Money Back Guarantee!
We want you to have plenty of time to feel absolutely certain that you have what you've paid for!
In the unlikely event when the item doesn't meet your expectation, be sure to contact us within sixty (60) days.
If you're not 100% happy simply let us know and return the item in
original condition and packaging.
We will send you a full refund (excluding postage) promptly and courteously - No Questions Asked.
That means No Risk to You whatsoever!
Grab yours now and you can experience:
Easy, safe travelling - for you and your machine......

Absolutely Stress-Free!

Get to your workshops

Arrive On Time

so you feel 100% prepared to be your best in class!
Save bucket loads of Money by avoiding costly damages to your machine - so

you have more for fabric shopping (YAY)!

Feel privileged

, because you've treated yourself and your sewing machine with the best travel companion available on the market.

No more

rushing, hauling, heaving, huffing and puffing just going from A to B!
Arriving cool, calm and collected to workshop you're attending -

your friends will be dying to know your secrets.....
Note: cutting mat NOT included.
Plus, as a special thank you for buying from us, you will receive the following super bonuses:
Super Bonus Number 1 -
Be Kept in the Loop for any Specials and Limited Offers
From time to time we come across great products and share specials deals exclusively with our valued customers. By purchasing from us you are automatically a valued part of our community. Enjoy!
Super Bonus Number 2 -
Valued at $275, Yours FREE!
5 Personal emails to me (Shelley)
- Gain expert advice from your online fashion design, quilting and sewing craft expert. Ask me your most burning questions for anything to do with how to use your gadgets, sewing, patchwork and colour selection. What better opportunity than being able to communicate one on one with someone qualified to give you the right advice?
This alone makes this an outstanding offer unique anywhere!
BUT....
Make Sure You Act Quickly.
We Have A Limited Number In Stock.
Be Sure Get Yours Now While Stocks Last!
Simply
Scroll Up
And
Click
The Button To Secure Yours Now!
P.S.
Remember when you shop with us, all your purchases come with our
60 Day No Nonsense Money Back Guarantee... No Questions Asked!
Not 7 days, not 14 days, or even 30 days... You have TWO WHOLE MONTHS to be 100% sure you are happy with your purchase!
So you've got nothing to lose from buying right away.
P.P.S.
Act now to take advantage of our
FREE BONUS
of five personal emails to me (Shelley) for technical advice or anything sewing related. Hurry! Don't miss out...
We know sewing. But you know best.
Sometimes things don't work out according to plan. Not to worry - we have a 60 Day Money Back Guarantee to support you.
Your No-Nonsense 60 Day
100% Money Back Guarantee*
In the unlikely event when the item doesn't meet your expectation, be sure to contact us within sixty (60) days.
The benefits under this Guarantee are in addition to other rights and remedies under a law in relation to the product you have purchased.
We want you to have a plenty of time to feel absolutely certain that you have what you've paid for!
If you're not 100% happy simply let us know and return the item in original condition and packaging.
We'll send you a full refund (excluding postage) promptly and courteously - No Questions Asked.
So you can be sure you'll be happy with your purchases!
*Looking for the fine print? Check our terms and conditions for details.
Be The First To Review This Product!
Help other Sew Much Easier users shop smarter by writing reviews for products you have purchased.
Can't wait for it to arrive? We will get it to you ASAP.
Prompt Shipping - Your package will be sent promptly once payment is cleared. Usually it will be dispatched the next business day.
Combined Shipping - Want to save even more? We are happy to combine shipping for multiple items in your cart... it gets worked out when you check out.
Packaging and Sending - All your items will be packed well. We do everything we can to ensure your package arrives safely. In the unlikely event something does go wrong, simply contact us and we will do our best to resolve your concers.
Packaging Materials - We support "green policies" and recycle clean packaging where possible. Sometimes brand names on packaging may not necessarily match the content.
Simply click "Add to Cart" now and complete checkout so we can get it on it's way to you.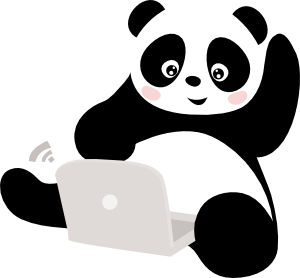 Would you like more information on this item?
Can we clarify anything else for you at all?


Please feel free to use the form below, or email hello@sewmucheasier.com or phone 1300 88 11 59.

Your message will be responded to ASAP, usually within 24 hours during business hours, Monday to Friday 9am to 5pm Australian Eastern Standard time.
---