Patchwork Quilter's Sewing Machine Presser Foot Set (Suits Low Shank 7mm machines)
Finally

....a Perfect set of feet
just for the patchwork quilters!
Introducing...
The

Quilters

Presser Feet Set for your Sewing Machine


(with

just

the feet you NEED for patchwork)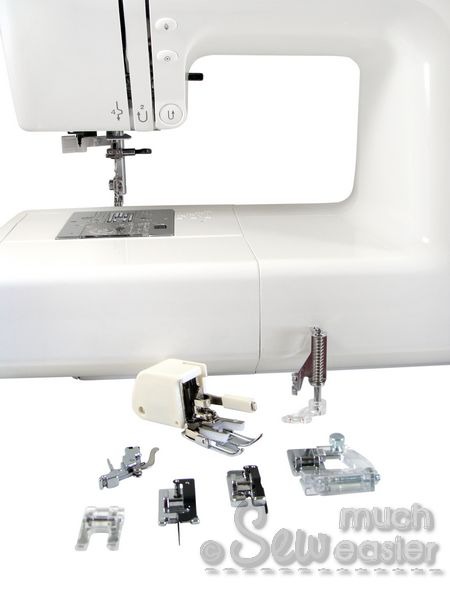 You get:
Universal Evenfeed

Walking

Foot
Free-Motion

Open-Toe

Darning

Foot
1/4"

Quarter Inch

Patchwork Foot
Clip-on

Clear Open Toe

Applique Foot
Clip-on

Quilt-in-the-Ditch

Foot
Universal

Bias Binding

Foot

BONUS 1:

Low Shank Snap-on Foot Adaptor


BONUS 2:

Sturdy 8-slot Container


60 Day

No Nonsense

Money Back

Guarantee

Personalised Support

Not Available From Other Sellers
*NOTE: Sewing machine NOT included. You are buying the feet set ONLY.
Imagine if you could
.......
....
whip up

absolutely everything

you've even fallen in love with
- in those craft books, magazines and blogs...

on Your Very Own domestic sewing machine,
Done in Your Spare Time, and all in the Comfort of Your Own Home!
What would it be like to NEVER have
UFOs (Un-Finished Objects)
piling up in your sewing room, Ever Again?

"I'm a quilter and I've been looking for a set just like this for ages.

I haven't stop sewing since I've bought mine, and my stash is pretty well used up. I think I will treat myself to some fabric shopping... "

- Sue, a Happy Customer
What if doing EVERYTHING patchwork-related -

like accurate piecing, machine quilting, applique, free-motion stippling, quilting-in-the-ditch

- on Your Own sewing machine was easier than you think?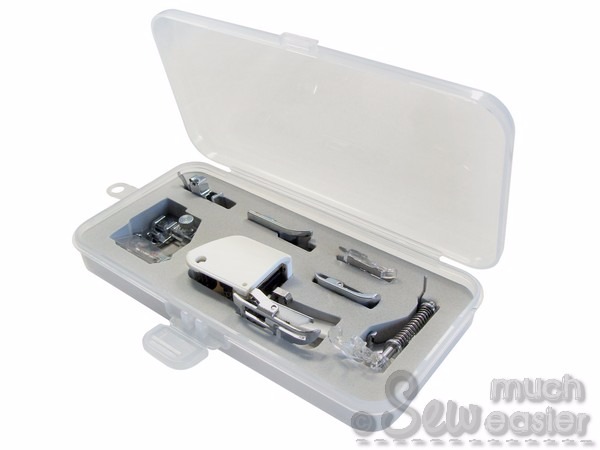 Often the hard part is to come up with exactly the right tool, for the right job, at the right price.
Formally trained as a Fashion / Textile Designer - now a
Quilter & Patchwork Teacher
- I have spent the last
10 years teaching
others and sharing the joy of Patchwork Quilt making.
The Substantial Saving of Time and Money that I have witnessed my students achieve - time and time again - by getting to know their sewing machine is simply amazing...!
There is no doubt that in order to create beautiful garments, bags, or quilts, you need to practice.....
But the first step in becoming an accomplished machine quilter is having the right tools.
The

Secret Weapon
Of Successful Quilting is.....


Having

just

the Essential Feet - at your finger tips!

*NOTE: Sewing machine NOT included. You are buying the feet set ONLY.
This Quilter's Presser Feet Set is the perfect partner for your
Top Loading Low Shank Janome Computerised Sewing Machine
, such as a Janome DC2050
(which we also sell. See our other listings).
Designed to fit all
Top Loading Bobbin (or

7mm maximum stitch width

) Janome Models with Low Shank
, these feet have been made to equivalent specification by a reputable manufacturer and it has the same quality workmanship.
As a Special Package Deal,
Your Quilter's Feet Pack* includes
:
Evenfeed Walking Foot

(RRP $49.99)

Universal Bias Binding Foot

(RRP $39.99)

Quilting-in-the-Ditch Foot

(RRP $39.99)

Free-Motion Darning Foot

(RRP $29.99)

1/4" Patchwork Foot

(RRP $29.99)

Clear Open Toe Applique Foot

(RRP $29.99)

BONUS 1:

Low Shank Snap-on Foot Adaptor (RRP $19.99)

BONUS 2:

Sturdy 7-slot Container (RRP $12.99)

*NOTE: For more details on any particular foot, see their own listings individually.
With all the tools at the ready......



You will
soon experience your sewing

taken off to the next level

.....
Whether you're a
novice
in patchwork or an
experienced
seamstress
:-)
Whenever you are making a quilt or something for the home....


There

will

be times when you need to have specific tasks that require specialty presser feet.
When you try to do
specific tasks like quilting, applique or piecing WITHOUT the correct foot
for the job, you will find:
A seemingly simple step

takes forever

to complete....
You end up

unpicking

because you're just NOT happy with how it turns out...
Worse of all, it's very likely that you could

run out of fabric, or patience, or BOTH!

So, What's a Budding Seamstress to Do?
Treat yourself to an Ultimate Presser Feet Set and Experience the Difference...!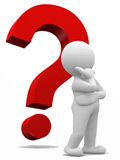 What does "Low Shank" and "High Shank" mean?
It means "shank height" or "shank size".
Most domestic machines have LOW shanks.


Just to give you an idea, we sell about 10 low shank presser feet to ONE high shank foot. That means
if you don't know
what sort of shank your machine has, it
probably has a low shank
.
Because High Shank machines are generally "fancy" embroidery models which are more costly, and those who invest in these models tend to know exactly what shank type it is.
Here's a list of characteristics of each foot, and what they're best for:
Evenfeed Walking Foot
Also referred to as an "Even Feed" foot, a walking foot is design specifically for sewing multiple layers of fabric together... that's what you want when you do Machine Quilting and putting bindings on your quilt.
It is also very useful for matching patterns like large motifs, checks, stripes and plaids. If you sewing anything on the bias, or use 'fluid' kinds of fabric like silks and satins, you will get a smoother result by sewing with a walking foot.
This is a must-have for quilters and bag-makers!
Adjustable Binding Foot
The full name is "Universal Adjustable Tape / Bias Binding Foot". Use the dials and adjust the foot to suit various width of bindings.
A VERY specialised tool, all this foot does is put bindings around the cut edge of the fabric (often a contrast colour, might even be in completely different weight / type).
Using this foot ensures your binding is always neat and professional-looking; without any hand tacking or excessive pinning.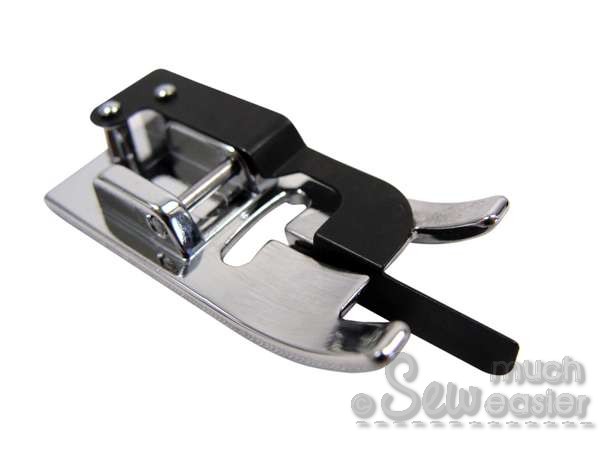 Ditch Quilting Foot
This Quit-in-the-Ditch Foot is ideal for precision quilting.
When this is stitched through multiple layers, the fullness in the batting creates shadow and that makes the stitching even less visible.
A very useful addition to your sewing tool box when wanting a perfectly straight "stitch in the ditch".
The guide on the foot spreads the seams allowing you to stitch perfectly in the ditch, and is also useful when adding decorative top stitching along seams.
1/4" or Quarter Inch Foot
Also known as a "Patchwork Foot", this quarter inch foot has a built-in guide that keeps your fabric in-line... a consistent, accurate seam allowance that is exactly 1/4 inch (or 6.3mm)... no matter how fast you sew!
In dressmaking, a 1/4" (or 6.3mm) seam allowance is perfect for curved edges like armholes and collars. Also useful in French Seams, it's easy to achieve neat and accurate results every time.
This foot is also great for making fabric bags and hats, where you would generally use an iron-on interfacing, and therefore need a smaller seam.
Free-Motion Open-Toe Darning Foot
Also known as a "Stippling Foot" or "Free-Motion Embroidery Foot", it is design specifically to NOT use the feed dog of your sewing machine (so be sure to drop it or cover it).
Since there is no contact between your quilt and the machine between stitches, it gives you maximum freedom to quilt or embroider any kind of curve line as you wish.
If you are a quilter, then you will need to use this foot for free-hand machine quilting or "stippling".
The open-toe feature gives you maximum visibility and precision, which means creating intricate designs is easier than ever!
Clear Open Toe Applique Foot
This versatile foot can be used for a lot of stitches from straight stitch to blanket / satin stitches, especially useful to ensure perfect feed at the beginning of sewing heavy weight fabrics.
You will also find it a very convenient foot when doing applique, embroidery, cutwork and monogramming.
Being clear, you have maximum visibility and control especially when working with intricate designs or going over delicate laces.
Low Shank Snap-on Foot Adaptor
Most of the general presser feet that come with your sewing machine are "Snap-On" or "Clip-On". There would have been one of these on your machine if you purchased a new machine.
This one simply provides a back-up, in case you cannot locate your original one after taking it off to put on a "screw-on" foot such as your walking foot or darning foot.
Not having an adaptor simply means you CANNOT use any snap-on feet - which would be most of the feet that came with your sewing machine. Can you live without one?
Sturdy 7-slot Container
All of your valuable presser feet come with this handy organiser, keeping them clean and protected.
Fully hinged so you'd never misplace the lid, this 7-slot box is the perfect companion to keep all your specialty feet in one place, so all the tools you will ever need are at your finger tips - always!
Please Note:

All parts contained in this set are generic and designed to fit all

Top Loading

Bobbin Janome (and also some Front Loading Janome as well as other brands) with

Low Shank

. Suitable for Domestic sewing machines only.
Why Wait?


Scroll Up & Order Your Very Own Set

NOW

!
Hey, you simply can't have too many feet for your machine....!
Just imagine the troubles you will save
by having all the essential feet at your finger tips before you start your project........
Never have to track them down when you're in the middle of sewing!
As a savvy quilter, you will instantly recognise the value of grabbing this package deal, because if you need to purchase them
individually, they will cost you much more!
So let's take a look in detail again. Here is what you get:
What You Get
Normal Price
This Set
Even Feed / Walking Foot
$ 49.99
Included
Bias Binding Foot
$ 39.99
Included
Darning / Free-Motion Foot
$ 39.99
Included
1/4" Patchwork Foot
$ 29.99
Included
Quilt-in-the-Ditch Foot
$ 29.99
Included
Clear Applique Foot
$ 29.99
Included

BONUS 1:


Low Shank Foot Adaptor
$19.99
Included

BONUS 2:


Sturdy 7-Slot Container
$ 12.99
Included

Total Value

$252.92
Plus Super Bonuses. See Below to find out more.......
What happens when you want to purchase these from a sewing store...?
More often than not, you will have to phone around to locate the actual part number, then call all of the Sewing Machine Shops to compare prices, and see if there is one in stock, and if they can order one in for you......
And then you have to wait anywhere from one to six weeks for the foot to arrive at the shop.... and then wait to receive it from the shop if you cannot go and pick it up (I know this, because I went through this exact same thing when I had to buy my very first walking foot for my old machine....).
In this same amount of time,
You could have finished the quilt already!
And what's more.... the money you invest in this amazing and essential pack is nothing to what you could receive back...
This is a
fantastic
opportunity to get your unfinished projects completed
and turn them into
family favourites to be loved and admired by all!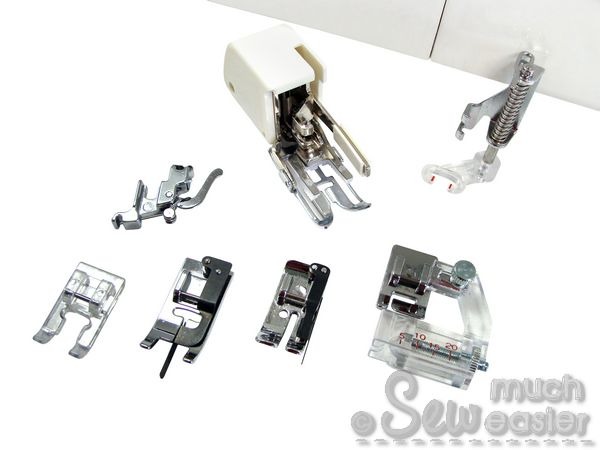 Keen To Try It Out For Yourself?
I'm so sure that you are going to love your new feet, that I am willing to
completely guarantee it...
so you'll be able to try it out for yourself and see first hand how much of a difference it makes
absolutely risk free!


I will tell you more about the guarantee in a moment..
But first, as a special thank you for buying from us, you will receive the following super bonuses:
Super Bonus Number 1 -
Be Kept in the Loop for any Specials and Limited Offers
From time to time we come across great products and share specials deals exclusively with our valued customers. By purchasing from us you are automatically a valued part of our community. Enjoy!
Super Bonus Number 2 -
Valued at $275, Yours FREE!
5 Personal emails to me (Shelley)
- Gain expert advice from your online fashion design, quilting and sewing craft expert. Ask me your most burning questions for anything to do with how to use your walking foot, sewing, patchwork and colour selection. What better opportunity than being able to communicate one on one with someone qualified to give you the right advice? This alone makes this an outstanding offer unique anywhere!
Grab yours now and you can experience:
Smooth, enjoyable sewing......

Absolutely Stress-Free!

Get your projects Done On Time

for that special occasion (instead of staying on some machine quilter's waiting list): whether it be a birthday, anniversary, or wedding!
Save bucket loads of Money -

so you can go fabric shopping (YAY)!

A sense of achievement

, because you've made something from start to finish.
No more piles of unfinished projects - instead, you will churn out lots of quilts and other goodies for your family to enjoy this winter!
Professional finish to everything you've made -

your friends will be dying to know your secrets.....
Plus, with our money back guarantee you really have nothing to lose...
Your No-Nonsense 60 Day
100% Money Back Guarantee...
This item comes with our No-Nonsense, 60-Day 100% Money Back Guarantee!
In the unlikely event when the item doesn't meet your expectation, be sure to contact us within sixty (60) days.
We want you to have plenty of time to feel absolutely certain that you have what you've paid for!
If you're not 100% happy simply let us know and return the item in
original condition and packaging.
We will send you a full refund (excluding postage) promptly and courteously - No Questions Asked.
That means No Risk to You whatsoever!
Why Wait?.. Simply
Add to Cart
And
Order Yours Now!
But remember to check... this Quilter's Feet Pack is NOT for you if:
Your machine does NOT have Top Loading Bobbin with Low Shank.
You are not prepared to put in the time to practice using these feet to sew.
You prefer to pay more for branded feet.
This Pack is ideal for:
Beginners who want to learn how to master machine sewing,
Fashion & Texiles Design Students,
Parents who want to make a few things for their kids,
Experienced sewing experts wishing to take their sewing to the next level,
Teaching facilities,
Dressmaking / tailoring professionals,
Patchwork / quilters,
Textiles artists,
and other creative individuals.....


If any of these sounds like you we're ready to get your Essential Presser Feet Pack on its way to you,

delivered anywhere

in Australia!
BUT....
Make Sure You Act Quickly.
We Have Only A Few In Stock.
Be Sure To Get Yours Now While Stocks Last!
Simply
Add To Cart
To Get Yours Now!


P.S.
Remember when you shop with us, all your purchases come with our
60 Day No Nonsense Money Back Guarantee... No Questions Asked!


Not 7 days, not 14 days, or even 30 days... You have TWO WHOLE MONTHS to be 100% sure you are happy with your purchase!
P.P.S.
Act now to take advantage of our
FREE BONUS
of five personal emails to me (Shelley) for technical advice or anything sewing related. Hurry! Don't miss out...
We know sewing. But you know best.
Sometimes things don't work out according to plan. Not to worry - we have a 60 Day Money Back Guarantee to support you.
Your No-Nonsense 60 Day
100% Money Back Guarantee*
In the unlikely event when the item doesn't meet your expectation, be sure to contact us within sixty (60) days.
The benefits under this Guarantee are in addition to other rights and remedies under a law in relation to the product you have purchased.
We want you to have a plenty of time to feel absolutely certain that you have what you've paid for!
If you're not 100% happy simply let us know and return the item in original condition and packaging.
We'll send you a full refund (excluding postage) promptly and courteously - No Questions Asked.
So you can be sure you'll be happy with your purchases!
*Looking for the fine print? Check our terms and conditions for details.
Perfect product for my sewing!

Quick postage, excellent communication from beginning to end, highly recommended.

(5)
Can't wait for it to arrive? We will get it to you ASAP.
Prompt Shipping - Your package will be sent promptly once payment is cleared. Usually it will be dispatched the next business day.
Combined Shipping - Want to save even more? We are happy to combine shipping for multiple items in your cart... it gets worked out when you check out.
Packaging and Sending - All your items will be packed well. We do everything we can to ensure your package arrives safely. In the unlikely event something does go wrong, simply contact us and we will do our best to resolve your concers.
Packaging Materials - We support "green policies" and recycle clean packaging where possible. Sometimes brand names on packaging may not necessarily match the content.
Simply click "Add to Cart" now and complete checkout so we can get it on it's way to you.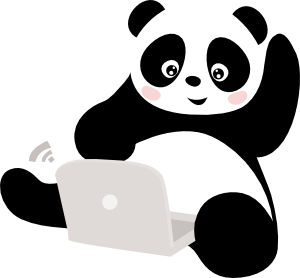 Would you like more information on this item?
Can we clarify anything else for you at all?


Please feel free to use the form below, or email hello@sewmucheasier.com or phone 1300 88 11 59.

Your message will be responded to ASAP, usually within 24 hours during business hours, Monday to Friday 9am to 5pm Australian Eastern Standard time.
---