Matilda's Own Wool Cotton Batting (240cm Width) - Whole Roll 30m
Finally, a perfect batting for our Aussie climate...
Warm in winter
&

cool in summer


So your handmade quilt gets loved all year round!


Note: Teddy Bear is NOT included. We sell batting only.
~ Order by the WHOLE Roll
.... and
Save
~
This Wool / Cotton Batting is $ 28 /m

..... the width is 240cm (94 inchs)
..... this is a 30 metre roll
, so....
..... it'd normally cost you $840. Unless...
..... you order it by the roll, and SAVE $$$

*NOTE: Please Allow up to 10 working days to receive your roll of batting- because we need to order it in just for you.
Note: Teddy Bear is NOT included. We sell batting only.

Imagine if you made

the softest quilt for your loved one

from scratch....

Knowing that your family (or the lucky recipient of your quilt)
stays cool in summer
AND
keeps warm in winter
(and enjoying YOUR quilt all year round)!



"Having tried a lot of other battings, now I only use Matilda's Own Wool / Cotton mix - it's not heavy at all, quilts beautifully and makes a cosy quilt.I love it.

I was so impressed I ordered a whole roll of it recently because I go through so much of it....

I'm telling myself that having the roll of batting there is encouraging me to finish the stack of quilt tops in the sewing room."

- Liz, a Happy Customer

By Now, You've made a few quilts. And you realise......
Quality Quilt Batting doesn't come cheap.


Buying by the Meter Adds Up. FAST.
But you still have So. Many. Quilts to make...
I know. I feel the same.
Having worked for a decade or so behind the scene in the clothing industry, I was formally trained as a Fashion Designer - and later spent
10 years teaching
others the joy of sewing & patchwork quilting. I'm constantly inspired by new fabric - that means I have more than one project on the go, ALL the time.
So I know that buying batting by the meter
end up costing a fortune.
There has to be a better way... right?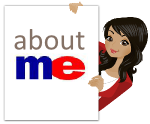 Want to Know

Who We Are


Before Buying?
Click Here to Learn More About Us...
There is no doubt you should
Never Skim on Quality
, because YOUR handmade quilts have taken you hours, day, months - even YEARS - to complete. That's Why...
Compromising Quality for the sake of Saving... Just Doesn't Make Sense.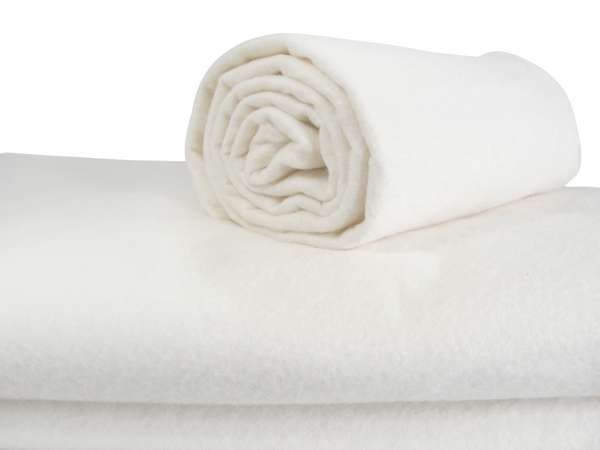 What's the solution, then?
The Seasoned Quilter's Secret of SAVING
is simple -
Buy Batting by the Whole Roll
.

And
that's why they go with
60% Wool / 40% Cotton

(160 gsm) by Matilda's Own.
You are looking at a
Whole Roll

of Batting in
60% Wool & 40% Cotton
Approximate Measurement:
30 mts x 240cm or 98' feet x 94" inches
Note: Teddy Bear NOT included. We sell batting only.
How thick is this wool / cotton batting?
Roughly 3-4 mm... by my ruler :-)
Matilda's Own describes it as "Low to Medium Loft" - a little bit thicker than pure cotton or bamboo.
100% cotton and 100% bambbo battings are flat and resemble felt, with little to no loft (which is the proper term for "fluffiness"). 100% Wool battings tend to be puffier and very resilient, but can be tricky to quilt because it is also quite bouncy!
The thickness of this wool / cotton batting is comparable to the pure cotton or bamboo batting with a bit more "loft" from the wool (have a look at the close-up photo below) - it is NOT as thick and fluffy as the artificial polyester batting - that means
it is easier to quilt!


What's so good about this wool / cotton batting?
Matilda's Own Wool / Cotton (sometimes know as Cotton / Wool) batting was created based on demand from Australia's quilters.
Resilient and Give Great Stitch Definition - shows off your quilting!

Warm in Winter, Cool in Summer - comfortable for everyday use

Minimal Shrinkage - no needs to pre-shrink!

Soft & Easy to Quilt - by Hand or Machine

No Resin, Spray or Bonding - Hypoallogenic & Suitable for Sensitive ones!

It has a slightly higher loft than 100% cotton, with the warmth of wool and the softness of cotton. If you love wool and cotton, you'd love this blend - because it gives you the best of both worlds!
What exactly is in this batting?
60% Wool


40% Cotton
Containing
only natural fibres
, this batting will keep you and your family comfortable in any area too warm for heavy wool and cold enough to need a little warmth.
That's because cotton breathes - so it's cool in the summer and warm in the winter.
Wool also breathes, it traps air and also absorbs moistures. This means you stay warm without being sweaty, and comfortable even in damp climates.
How cool or warm is this batting, compares to polyester or polyester blends?
Wool is warmer than cotton but cooler than polyester in summer. And bamboo is the coolest of them all.
Polyester does not breath - while it seems warm all year round it only feels that way because it traps your body heat and moisture without air circulation (think polyester in clothing).
Natural fibres breath, so air can circulate and keep our skin in comfortable condition through out the night so your family can sleep better. The little air pockets traped in the batting is what keeps us warm without feeling clammy. Nice!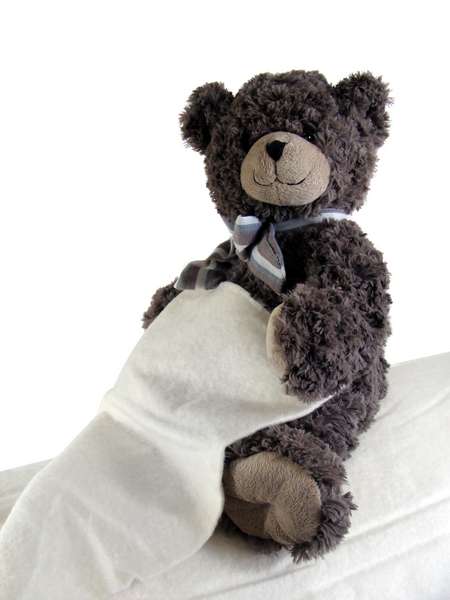 Note: Teddy Bear is NOT included. We sell batting only.
Does this batting shrink?
When it comes to shrinkage, ALL needle-punched waddings / battings (which covers just about every brand you can buy) have it, no matter what type of natural fibre (i.e. cotton, bamboo, wool, or any mixture from these).
The manufacturer says there is a 2.5 % shrinkage... which gives your quilt that loved-in look and feel.
As with all of Matilda's Own products, this batting is pre-washed, pre-shrunk, moth proofed and antibacterially treated. It contains no nasties like chemical, resin, or synthetic (man-made) fibre.
I heard that "bearding" can a problem with wool batting. What's "bearding"?
Ah, Bearding, the unsightly problem of the fibres from the batting working their way through the surface of quilt. This can be a common problem with polyester and poor quality wool battings.
Matilda's Own has perfected their techniques with wool and produced some of the most trust-worthy wool and wool-blend batting in the world, by using only the best quality wool fibres (which we have plenty of in Australia!) and running their needle punch machine at the slowest speed posiible.
While taking long to produce means it takes longer and costs more, the end results are well worth the wait.
You get such a
soft and even finish, that bearding is no longer an issue.
So you don't have to worry about it. Hooray!!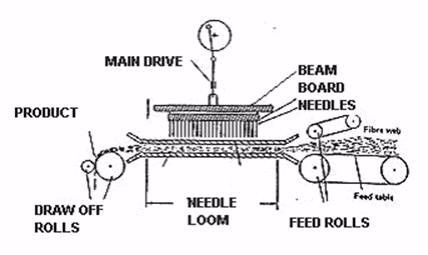 How is this wool / cotton batting made?
The proper term is "needle-punched".
It means loose wool & cotton fibres have been put through a machine that has millions of needles (but no thread), and the loose fibres are being "punched" into whole pieces before being rolled into huge rolls.
Think of it like how they make felt - there is no weaving involved and that's why the fibres can still move (and go to pieces in the wash).....
This movement is what causes the shrinkage.... and just like pure cotton battings, most quilters are very happy with the effect this shrinkage produces - not only does it softens the quilts, but it "ages" the quilt instantly and gives them that beautiful vintage look and feel that says "I'm well-loved".
Note: Teddy Bear NOT included. We sell batting only.


Can I pre-wash the wool / cotton batting?
No. Only wash your quilt when it is ALL finished, so the fibres in the batting are encased inside your fabric and not exposed - this way you won't end up with fluffy pieces everywhere!

"I LOVE this batting!!

I am a new quilter, and I was looking for a wadding that was not too heavy, not too thick, but warm enough for winter and not too hot for summer.

This is a beautiful and soft batting doing the job perfectly. AND, it is exactly the size I need which means I can get into the quilting straight away :)

Really, I highly recommend you try this and the price is really good."

- Erica, a Happy Customer


I know that you're a savvy quilter
who cares about more than just sewing.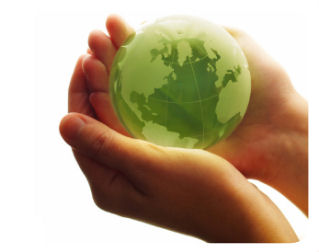 Matilda's Own wool / cotton batting satisfies both of what you have in mind: it is
environmentally friendly
in its production, and it is probably the
softest & warmest batting
/ wadding I have ever come across.
Although cotton has had a poor reputation in the past for its effect on the environment, all cotton fibre used in the manufacture of Matilda's Own batting is
sourced from a select group of Australia's most environmentally concerned farmers.
These young farmers have developed new low-water usage techniques and are actively improving the standards set by organic farmers in the use of insecticides so that we can all enjoy a sustainable and environmentally-friendly future.
It feels so soft and so warm....
without the price tag of silk batting
or even 100% wool batting!
Now, Let's have a closer look that the fibres.....

Wool
Wool makes an ideal bedding material because....
it provides lightness and insulation against cold. It stays comfortable all year round.
wool transfers moisture away from your skin, helping maintain an even body temperature throughout the night - so you get a deeper and more restful sleep!
it is hypoallergenic and has natural resistance to mould, mildew and dustmites which may initiate allergic reactions.
wool is flame-resistant and difficult to ignite. It won't melt like polyester, it's slow burning, and it tends to self-extinguish making it a safer choice for fabrics in the home, use in the hospitality industry, and use as hospital bedding.
wool fibres are easy-care and long-lasting so your quilt will be too!
Wool is a smart choice for sustainability because it has
almost NO carbon footprint
.
It is a renewable resource because it is the clippings of sheep and lamb fleece. Wool processing does not require harsh chemicals - just warm soapy water. Products made of wool or wool blend can last for decades and when their use is over the wool is biodegradable.
Most importantly: we Aussies produced a lot of it right here (yay to our farmers)!

Cotton
The benefits of cotton are numerous....
Cotton is hypoallergenic and dust-mite resistant, which means it is a great choice of material for people who suffer from asthma or allergies, or those who have sensitive skin prone to irritation.
As a fibre, cotton allow for better air circulation, which helps remove and absorb body moisture, drawing heat away from the skin and keeping the body cool and dry. Also, because cotton breathes better than most other fibres, it's the right choice to keep you cool in hot, humid weather.
For people concerned with environmental issues, cotton is biodegradable and a renewable resource.
There are several reasons why cotton is popular. First of all, yields are high - you get a lot of fabrics per acre. Secondly, it can grow across much of the world - all that is required is a frost-free growing season, plenty of sun, and around 20-50 inches of rain.
There are huge areas across the globe that are warm enough and sunny enough, and water is usually provided at least in part by irrigation, that's why the world uses cotton more than any other natural fibre.
It's also worth remembering that cotton plant is versatile. During processing, less than 10% of it is lost or deemed non-usable. While it is primarily grown and used to make textiles, other parts of the cotton plant are put to good use so there is very little wastage!


Matilda's Own Wool / Cotton batting is your choice because:
Everyone knows that Matilda's Own is the most trusted name in the quilt world, because they only use the highest quality Australian materials and processes combined to produce the best batting with is:
Soft and easy to quilt.... make a

super soft

security blanket for your little one this weekend!
Low loft with a beautiful drape like silk, even

a beginner can create a masterpiece easily

.
Luxurious without the price tag -

your saving goes toward more fabric (YAY)!

Needle punched to limit distortion so

your quilt will always hang straight

and drape nicely - like a show piece!
Ideal for machine quilting because it is so soft and light weight -

get your quilt done before you know it...

Non allergenic -

perfect

for those with allergies

and other special needs.
Anti-bacterial & Anti-fugal - so

your quilt stays fresh all the time

even in humid conditions.
Made from the World's best fibre - Australian cotton and Australian wool!

Machine Washable

when quilted - caring for your handmade treasure has never been easier!
Fine scrim to lock in fibres and prevent fibre movements - you can concentrate on simply quilting your best!
No bearding or shedding like some other battings - so your quilt stays neat and free from loose fibres.
No resins, spray, glues or bonding - nothing but the pure natural fibre and the fine scrim that binds it.

No chemicals or bleaching

- you wouldn't like your kids to wear these, so why would you want them to sleep under it?
Quilt up to 10" (or 25cm) apart to accommodate even the simplest quilting - you can

get lots of quilts done by Christmas

... surprise your friends and family with stunning AND practical quilts!

Made especially for Quilters

under stringent standards - you know that you're getting the real deal.

"This stuff is great, I've used it inside several quilts that get use every day and have been washed a few times each.

It's just the right thickness, sturdy, warm, and much nicer than the cheap polyester layered crap.

After having a hard time locating it, I found it available through your site. Great experience. I would highly recommend this product and your services."

- Angela, a Happy Customer


Why buy wool / cotton?
Because you want to be responsible for the
carbon footprint
of your hobby.
Both wool and cotton are
renewable
resources - the harvesting of wool and cotton do no harm to the sheep or the cotton plants. And they can regrow for more harvests.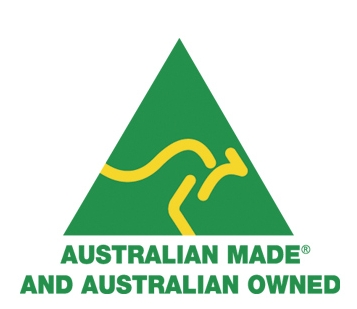 Being natural fibres, both wool and cotton are
biodegradable
- that means when they have eventually served their use in your quilt (which will take many years, even generations), they will break down easily - instead of clogging up landfill like man-made or petrolieum-based materials such as polyester.
Cotton and wool are both versatile materials. Turning them into fibres and textile products produce very little waste, and a lot of by-products are created during the process so they are ecomonical too!
The most compelling reason to use Matilda's Own wool / cotton batting is because it is
produced locally
- the wool and cotton are
sourced from Australian farmers
, who receive a fair price for producing top quality raw materials.
The batting itself is made in-house at Matilda's Own workshop in Victoria.
Nothing beats the
satisfaction from supporting your local industry
.....
and you get to Enjoy Quilting with the Best quality batting too!
Who's behind the "Matilda's Own" brand?
A local Melbourne family business called Victorian Textiles.
Victorian Textiles was incorporated in 2000 and is managed by husband and wife team, Tony and Yumi Sullivan. The family has over 60 years experience in the textiles industry, with Tony being the third generation.
Tony has been an agent for many of the large textile and notion traders in Australia since his return from Japan in 1987 and this provided him with the opportunity to recognise some of the deficiencies in the current supply of patchwork products.
So Victorian Textiles was formed and they are continually addressing some of these short falls.
Many team meambers of Matilda's Own have practical experience in the patchwork industry, from retail, teaching and long arm quilting, while others have invaluable experience from having owned their own businesses.
This means YOU will have

peace of mind

, knowing that the products you buy come from a reputable family who cares about quilts as much as you do!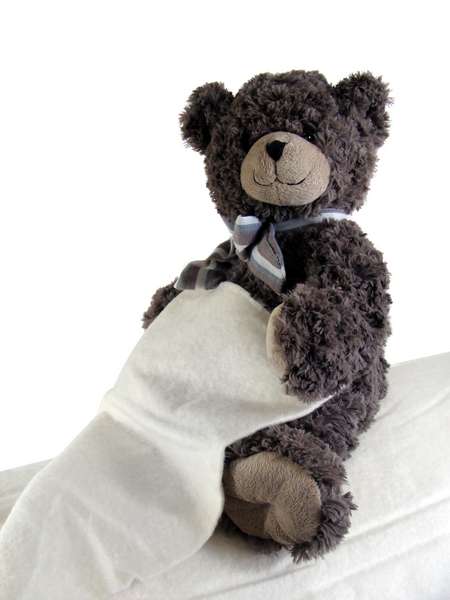 Note: Teddy Bear is NOT included. This listing is for ONE batting only.

Did You Know...?
Wool Cotton batting
holds 3 times more moisture than its own weight
and will not allow moisture to build up on you!
If you have been looking for a comfortable bedding material for
the elusive good night's sleep
, give this a try and feel
totally refreshed in the morning....
Care Instructions
To ensure your batting lasts as long as your quilt, please take the best of care when washing.
The batting is machine washable. While recommended to wash with a suitable pH-neutral, low phosphate fabric wash, I have found that
wool mix does a pretty good job
, too.
"I am making my first quilt and this batting was recommended to me.
I don't have much experience with other batting, but this was easy to work with and the result was a very cozy quilt. I was very pleased when it actually arrived faster than I expected.
Now that I have used (and loved) this batting, I will definitely recommend it to others too. Give it a go!"
- Stephanie, a New Quilter
How do you wash a handmade patchwork quilt, anyway?
In the washing machine, actually!
Front loader is best, because it is a gentler machine. Put your quit inside a doona cover if you want to make sure the stitches don't catch.
Most quilts can be washed in warm settings (like you do for coloured clothes) and they
will generally shrink
marginally to give you that authentic vintage crinkle.
This is the sort of worn-in characters that gives your quilt a cozy, loved look and feel. Enjoy!
Note: Teddy Bear NOT included. We sell batting only.
When you try to do machine quilting WITHOUT the correct batting, you will find:
Your quilt will shift and bunch up, the batting fibres might move and give you uneven thickness.
You have a hard time with even stitches because the wrong batting makes it hard to control.
Worse of all, it's very likely that you will finish the quilt only to realise months later that it is not comfortable to sleep under or doesn't wash well at all.
Why?


Because NOT all batting are suitable for machine quilting

(that's right. Some types are better suited for hand quilting and vice versa).
An ideal batting for machine quilting.....
..... that features a needle punched fiber blanket
..... with a smooth drape and a thin scrim to prevent stretching and bunching.



Get some

Matilda's Own Wool Cotton Batting and

Experience the Difference

for yourself...!


Did you know....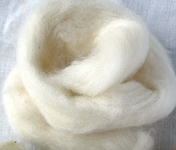 The lanolin from the wool is reported to keep your needles sharp and your hands feeling soft.

Good for quilting, I'd say!
Try this
luxurious batting and you can.....
..... feel the exceptional
breathability
of your quilt
..... that keeps you
toasty

in colder climates

..... and comfortably
cool

in warm climates.
Note: Teddy Bear NOT included. We sell batting only.


Wanna
Do Even More For Our Environment

and
also

Save Money

at the Same Time??

We know you do.

This is why

we reduce excess packaging

by ordering whole rolls instead. See picture above.

You

will receive your Wool Cotton Batting neatly folded up inside a plain recyclable bag

ready to go. This is how we are also able to

keep our prices low

and pass on the

savings to you

...!!

"IMHO this is the best batting in the world.

I generally use this batting for only my best quilts, as it's a little more $$$ than the poly-blends, but I'm starting to use it more and more.

I love how easy it is to machine quilt, which I do with a darning foot on my Bernina, not on one of those nifty long-arm machines.

It's easy to pin and maneuver & the weight is exactly my preference. Great quality product!"

- Anne, a Happy Customer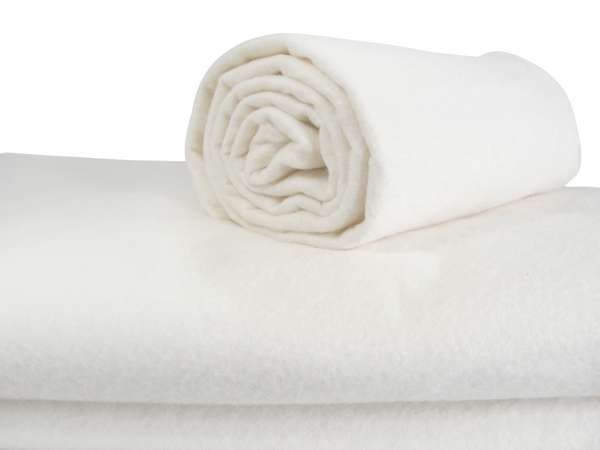 Not a quilter?
Try using it in bag and jackets...!!!

The

extra softness and warmth will make all the difference.

Do you find your new latex mattress too clammy?...

Make a Mattress Protector with wool cotton batting and experience better circulation for great sleep.

It is also an ideal wadding when you sew

soft furnishing

such as cushions and pillows - no more dust mites around the house!

"This is really nice batting. I've enjoyed quilting with it.

It is soft and strong - quilts like a dream! Easy to lay out and put together. I will definitely buy this again.

Looking forward to snuggling under this quilt when I am finished!"

- Tracy, a Happy Customer



Grab yours now and you can experience:
Save bucket loads of Money - so

you can go fabric shopping (YAY)!

A sense of

achievement

, because you've made something from start to finish.
No more piles of unfinished projects - instead, you will

churn out lots of quilts and other goodies

for your family to enjoy this winter!
Simply
Scroll Up
And
Click
The Button To Get Yours Now!

Note: Teddy Bear is NOT included. We sell batting only.
This Matilda's Own Batting is ideal for:
Prolific Quilters who sees value in getting a whole roll

Caring individuals who want to minimise their carbon footprint
Sewing Guilds and Clubs,

Teaching facilities,
Lovers of handmade bags and soft furnishings
Textiles artists,
and other creative individuals.....
If any of these sounds like you

we're ready to get your Sew Easy Batting on its way to you,

delivered anywhere in Australia!



And what's more.... the money you invest in this amazing and essential material is nothing to what you could receive back...
This is a
fantastic
opportunity to get your unfinished projects completed
and turn them into
family favourites to be loved and admired by all!
BUT....
Make Sure You Act Quickly.

We Have Only A Few In Stock.


Be Sure Get Yours Now While Stocks Last!

Note: Teddy Bear is NOT included. We sell batting only.
We know sewing. But you know best.
Sometimes things don't work out according to plan. Not to worry - we have a 60 Day Money Back Guarantee to support you.
Your No-Nonsense 60 Day
100% Money Back Guarantee*
In the unlikely event when the item doesn't meet your expectation, be sure to contact us within sixty (60) days.
The benefits under this Guarantee are in addition to other rights and remedies under a law in relation to the product you have purchased.
We want you to have a plenty of time to feel absolutely certain that you have what you've paid for!
If you're not 100% happy simply let us know and return the item in original condition and packaging.
We'll send you a full refund (excluding postage) promptly and courteously - No Questions Asked.
So you can be sure you'll be happy with your purchases!
*Looking for the fine print? Check our terms and conditions for details.
Be The First To Review This Product!
Help other Sew Much Easier users shop smarter by writing reviews for products you have purchased.
Can't wait for it to arrive? We will get it to you ASAP.
Prompt Shipping - Your package will be sent promptly once payment is cleared. Usually it will be dispatched the next business day.
Combined Shipping - Want to save even more? We are happy to combine shipping for multiple items in your cart... it gets worked out when you check out.
Packaging and Sending - All your items will be packed well. We do everything we can to ensure your package arrives safely. In the unlikely event something does go wrong, simply contact us and we will do our best to resolve your concers.
Packaging Materials - We support "green policies" and recycle clean packaging where possible. Sometimes brand names on packaging may not necessarily match the content.
Simply click "Add to Cart" now and complete checkout so we can get it on it's way to you.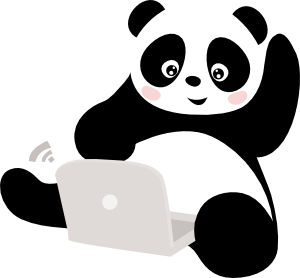 Would you like more information on this item?
Can we clarify anything else for you at all?


Please feel free to use the form below, or email hello@sewmucheasier.com or phone 1300 88 11 59.

Your message will be responded to ASAP, usually within 24 hours during business hours, Monday to Friday 9am to 5pm Australian Eastern Standard time.
---