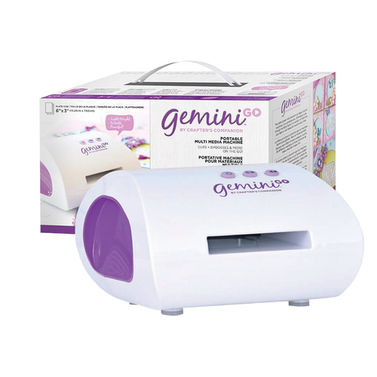 Click to view larger images or other views or videos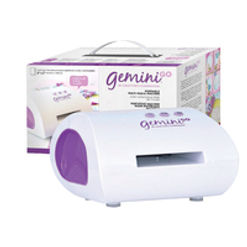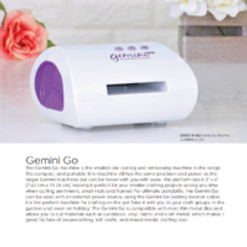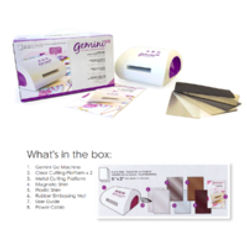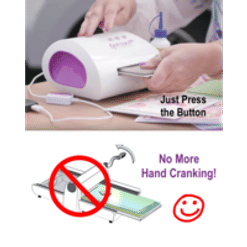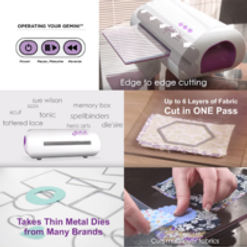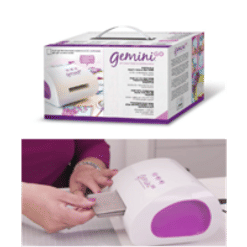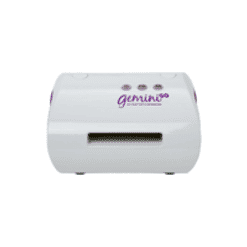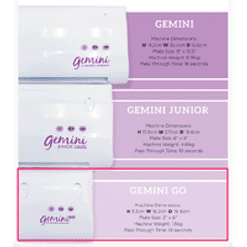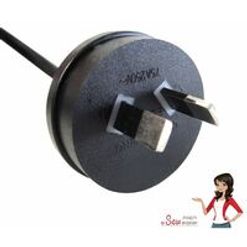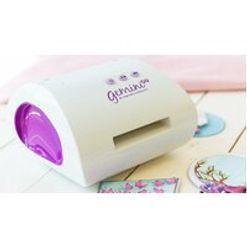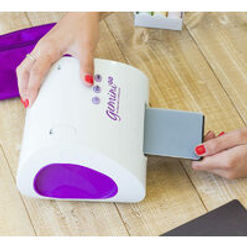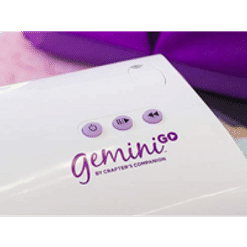 Swipe for more. Tap to enlarge
Click to view larger images or other views or videos
Gemini Go Die Cutting Machine for Fabric (6" x 3") - The Official Aust Version
Are you
sick

Of your precious sewing time
being sucked up with

fiddly

fabric cutting?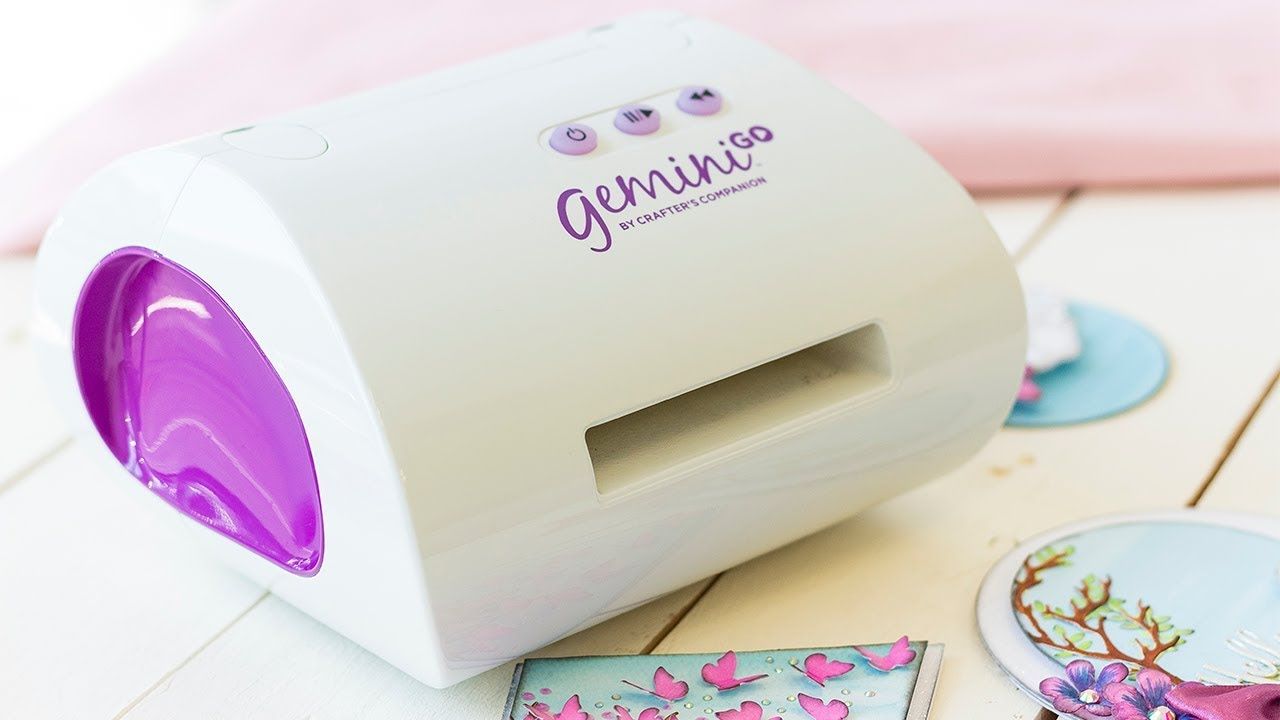 If you're looking at this electric fabric cutter, chances are...
You love patchwork, but

not

the fiddly cutting.
You're sick of wasting time on preparation, and never enough time for sewing.
You've tried a die-cutter like AccuQuilt, but struggled with repeated wrist strain with all the hand cranking. There

must

be a better way!

Well, there is.

Now cutting your blocks is

as easy as

pressing a button. Because someone has invented a machine that does it for you...

"Love this little machine.

Very strong and well made. Every die comes out perfectly. The other larger machines I've had never cut all the way through. And no hand cranking! This is the best."

- Angela, a Happy Customer


Here's a little bit of insider information...
Having worked for a decade or so behind the scene in the clothing industry, I was formally trained as a Fashion Designer - and later spent 10 years teaching others the joy of patchwork. I like to share insider tricks, and I believe in doing things properly.
My obervation from teaching is that almost EVERYONE is
short of time
- and don't
we ALL
wish
that we have
more time to sew
(or "
sanity breaks
" might be more accurate).
That's why you NEED to

find a way to get the most

of YOUR time

out.
Imagine
if you could get ALL the fiddly pieces cut for your patchwork & applique project
without
templates, tracing, using scissors, or even rotary cutting......

So You Can Get Sewing
Easily
,
Quickly
,
and with
Great Results
Every Time!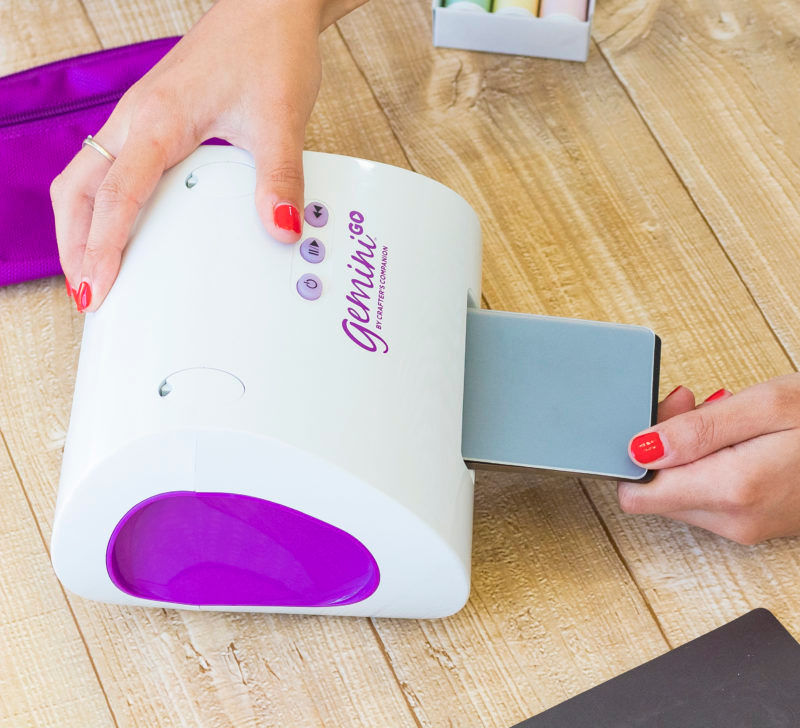 The
Best Kept Secret

of Fast & Effortless Cutting is Gemini Machine.
It's an

electrical

die cutter that

actually

cuts fabric for you...



This one is the

Gemini Go

- more compact yet just as powerful as the original!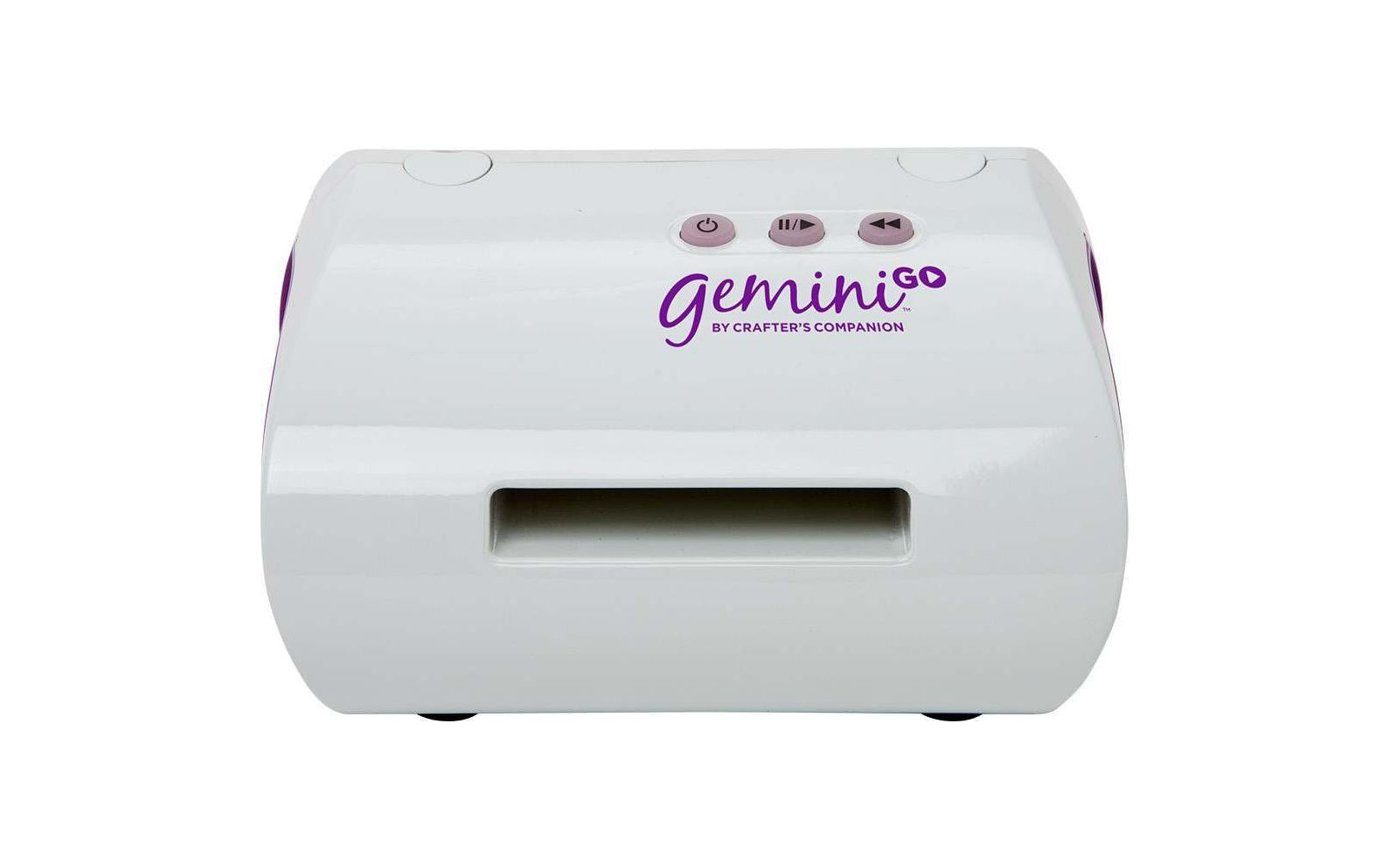 See it in action...
Here, we have
the essentials
to get YOU started
....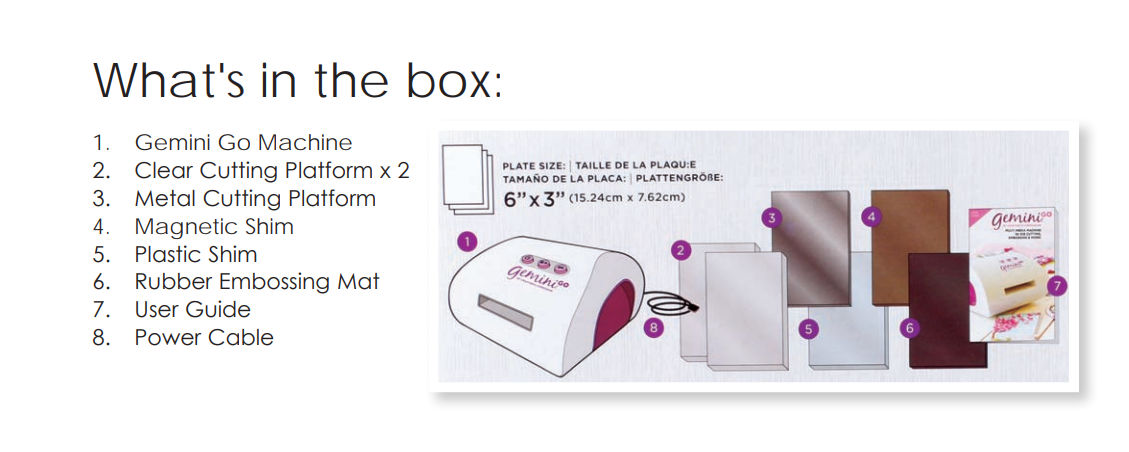 Better still - our Gemini Cutting System has an

Australian plug

- making it the safe and official choice for you!

Can't Wait to Try?
Let's Get You Started - Grab Yours Now.


"I'm so happy that I no longer have to hand crank! I still have my old die cutter with the crank just in case but so impressed this machine actually cut my project time in half!

The Gemini Go does make some noise though isn't that loud so I could still listen to music or watch telly while I'm using it.

Absolutely love this machine, so simple to use just switch on, press button and watch it go. Wish I'd had one long ago lol."

- Kathryn, a Happy Customer


The Gemini Go Fabric Cutter is a
precise & effortless
cutting system -
that Allows You to Cut fabric as much as
90% faster than scissors or rotary cutting.
Faster, lighter and quieter

than other die-cutting machines

Compatible with

thin metal dies from most brands

- you might already have some

Uses

higher pressure

than many other die-cutting and embossing machines
Designed for intricate dies as well as for cutting heavyweight cardstock, vinyl, foil and

multiple layers of fabric

(as long as you use Multi Media Dies)

Edge to edge

cutting - no matter where you place your dies on the board!

The facility to

pause, resume and reverse

the cutting process for BEST results

Perfect for

portable

use - a small compact and efficient machine

This means you will

free up more time to actually sew

. Yay!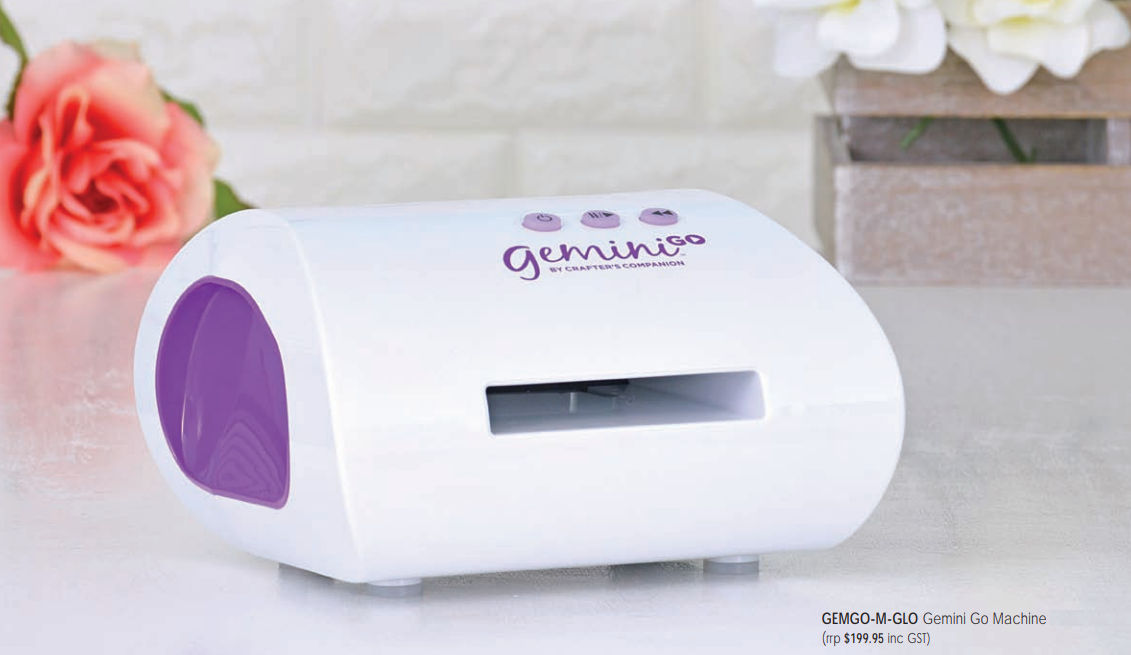 What is a Gemini Machine, exactly?
Tenically, Gemini is a Die Cutting & Embossing Machine, originally created for scrapbooking & paper craft. But more than other machines -
Gemini cuts fabric
- as long as you use the right dies.
Often comparted with Sizzix Big Shot / Fabi, the Silhouette Cameo and AccuQuilt - Gemini gives you the
best of three worlds
, because....
Unlike Big Shot: Gemini is electronic.

NO more hand cranking!

Unlike Silhouette: Gemini

doesn't need a computer to operate

. Much Simpler!
Unlike AccuQuilt: Gemini

works with most brands of thin metal dies

. So Versatile!

If you've been looking for the
best fabric cutting machine
- you've found it :-)
Would you like to give it a go?
Why Not - Add One to your cart Now.


"I love my Crafters Companion Gemini Junior so much, that I also bought the Mini Gemini Go which I use for my smaller dies.

I feel by having both machines I can use the correct size machine with the correct size die and prevent warping of the plates too quickly. Best cutting machine ever!"

- Anne, a Happy Customer



How Does Gemini Machine Work....?
One word -
Pressure
.
The Gemini is pretty easy to use. Just load up the die and material of your choice between the appropriate plates to make a "sandwich", then push a button and send it through.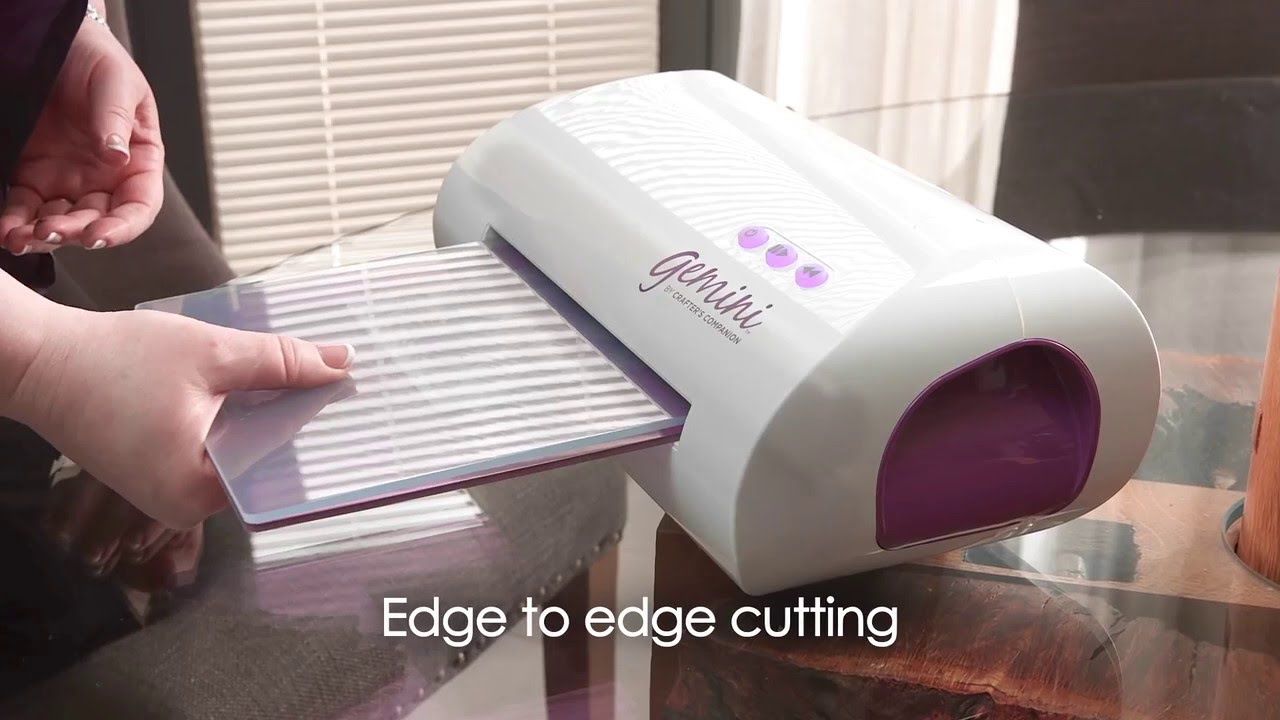 It's as simple as that. With an
electric motor
- instead of hand cranking.
So YOU simply
press the button
- and
voila!
It goes. Only takes
a few seconds
:-)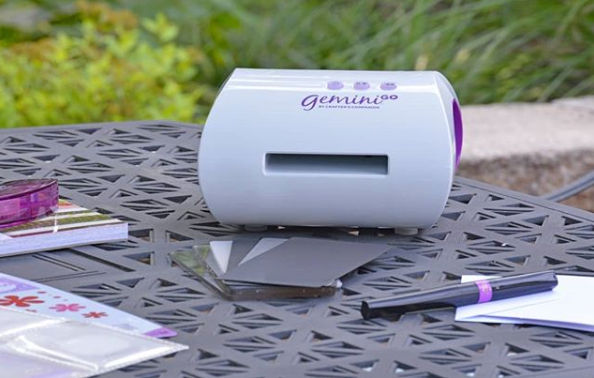 The cutting surface is
6" x 3"
(15.24 cm x 7.62 cm) - compact yet
more powerful than some
other machines.
Because the machine has such a wide cutting area, you can cut as many dies as you can fit onto the cutting plate. The cutting surface size is one of the best features of the Gemini, because it allowed you to cut all the dies you need for your project at one time.
Better still - you can
use the reverse button
to make sure you get a
really clean cut!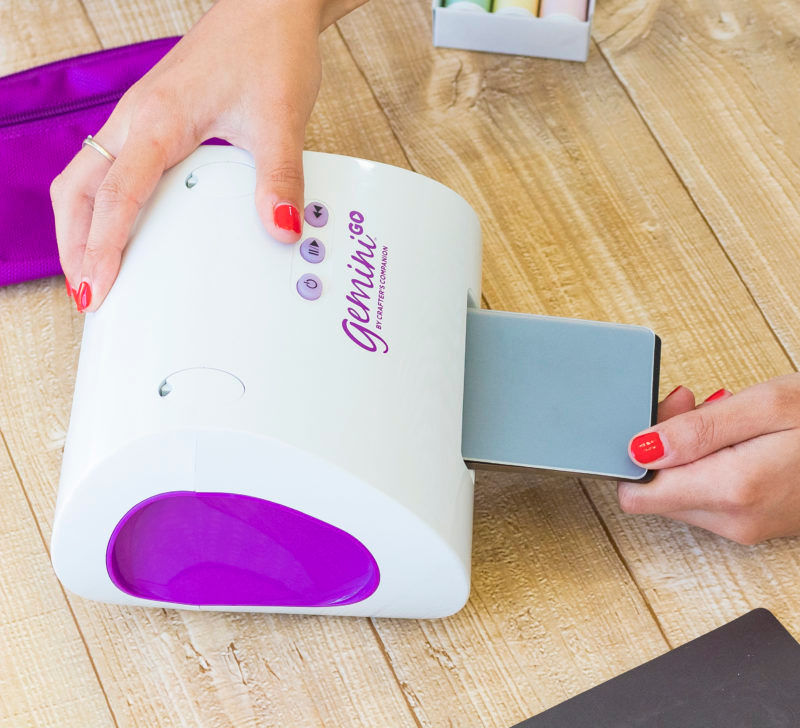 More About Pressure
The Gemini machine is very powerful and designed to exert a lot of pressure – which allows
for cutting very intricate dies cleanly. The amount of pressure on the die can be increased or
decreased depending on the
combination of plates & shims
you use. These are also known as "platform" or "sandwiching".
Pay attention
because the correct combination is a
must
in order to get best results.
This
10-min video
explains all about how to use the pressure to get the most out of your Gemini machine...


Sandwiching The Plates
To feed a die through the Gemini for cutting, you must first sandwich it between the included plates and shims.
The Clear Cutting Plates should always be the top and bottom plates of this sandwich - because these are the only two plates which should ever touch the rollers.
The combination between the cutting plates is flexible. When you're cutting fabric, the
Recommended Combination for Fabric
goes like this: Clear Cutting Plate on the bottom, then the Plastic Shim, Die, Material to be cut, and Clear Cutting Plate on top.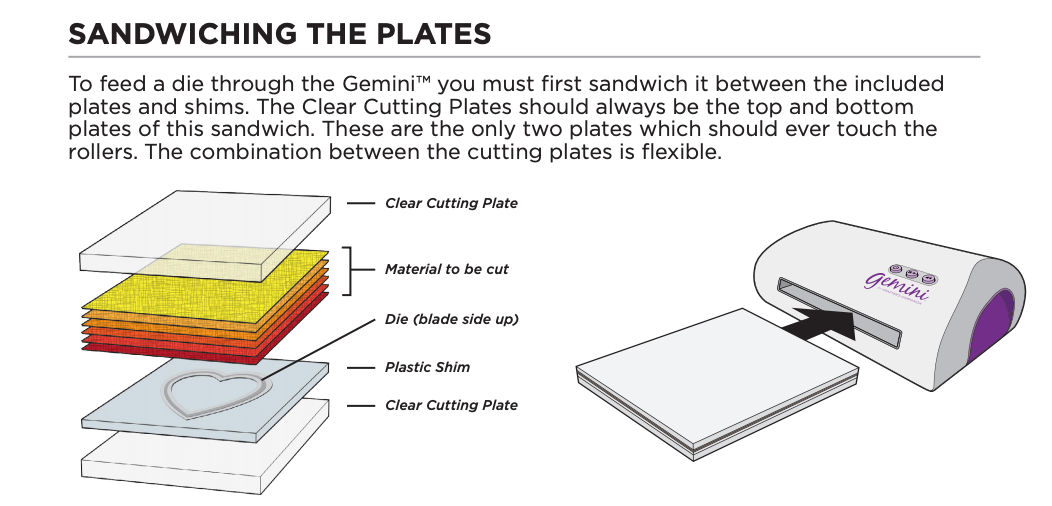 Start with the Clear Cutting Plate on the bottom.
Place the Plastic Shim on top of it.
Position the cutting die, blade side up, with the smooth side facing the Plastic Shim.
Place your Material on top of the die (

up to 6 layers

of patchwork fabric).
Place the Clear Cutting Plate on top of the Material to be cut.
Align the platform combination and feed it into the Gemini machine.
Release your hold on the platform combination once the motor begins to pull it into the machine.
NOTE:
The illustration above shows 6 layers of pachwork cotton fabric – your Fabric / Multi Media Dies will cut a variety of different materials, however to keep the
total thickness
of the material
no more than 2mm
. Performace of the die and machine will differ depending on the density of the material, take care when trying new materials.
Sounds Good?
Get One & Try it for your Next Project :-)

"The Gemini by Crafter's Companion is an electric die cutting and embossing machine that is well appreciated for its versatility and durability.
It has the ability to cut a wide variety of materials such as rubber, plastic, fabric, magnetic sheets, cardboard, vinyl, or metal without a hitch and without missing an edge.
PROS:
Durable and reliable
Convenient operation buttons for better control the cutting progress
Large platform size and can cut multiple dies simultaneously
Compatible with embossing folders and dies of other brands
CONS:
Some user complained of warping plates
The Gemini die cutting machine is highly recommended for intricate dies due to the high amount of pressure it exerts.
It has a large cutting platform that can hold materials that are 9 inches wide and 12.5 inches long to cut many dies at a time.
Gemini die cutting machine is very easy to use and has the pulse, resume, and reverse buttons to control the machine cutting operations.
Verdict
Undoubtedly, the Gemini die cutting machine is one of the most versatile crafting machines you can bank on.
- Review from Tamar Jones, Craft Selections
What's inside the box?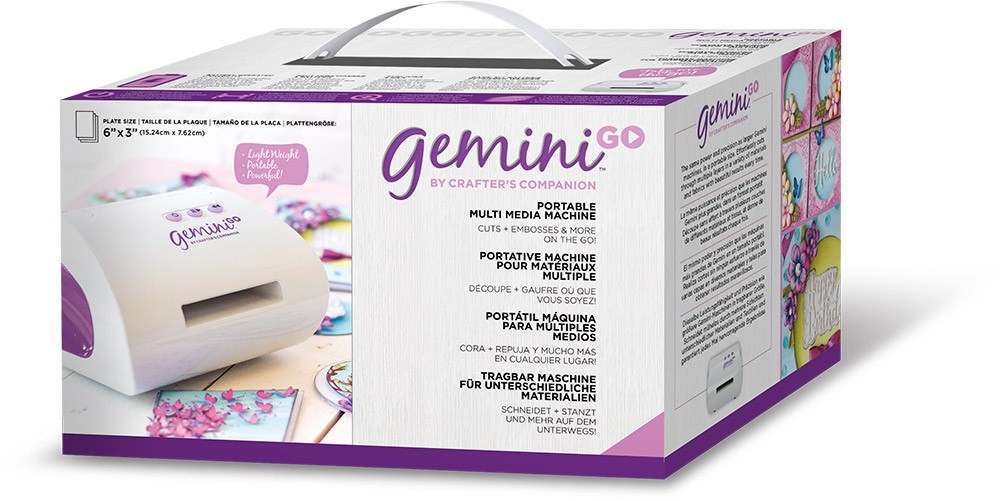 This Gemini Go Package Includes:
Gemini Go Machine
Clear Cutting Platform x 2
Metal Cutting Platform
Magnetic Shim
Plastic Shim
Rubber Embossing Mat
User Guide
Power Cable (with

Australian

Plug)
With this

new found friend

, you are

ready to discover

quilting in a

fast & fun

way!
But Don't Just Take Our Words for it....

Expereience it for Yourself.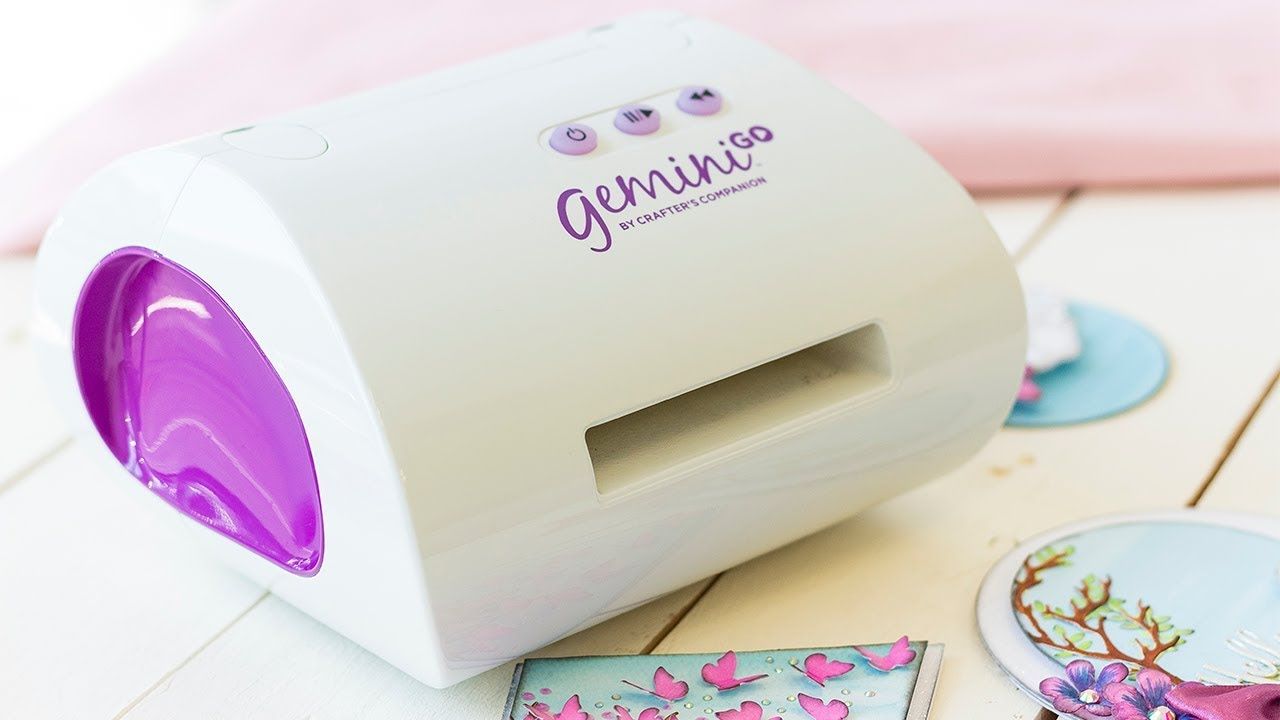 Sounds like you might enjoy playing with Gemini?
Add One to Cart now...
before we run out!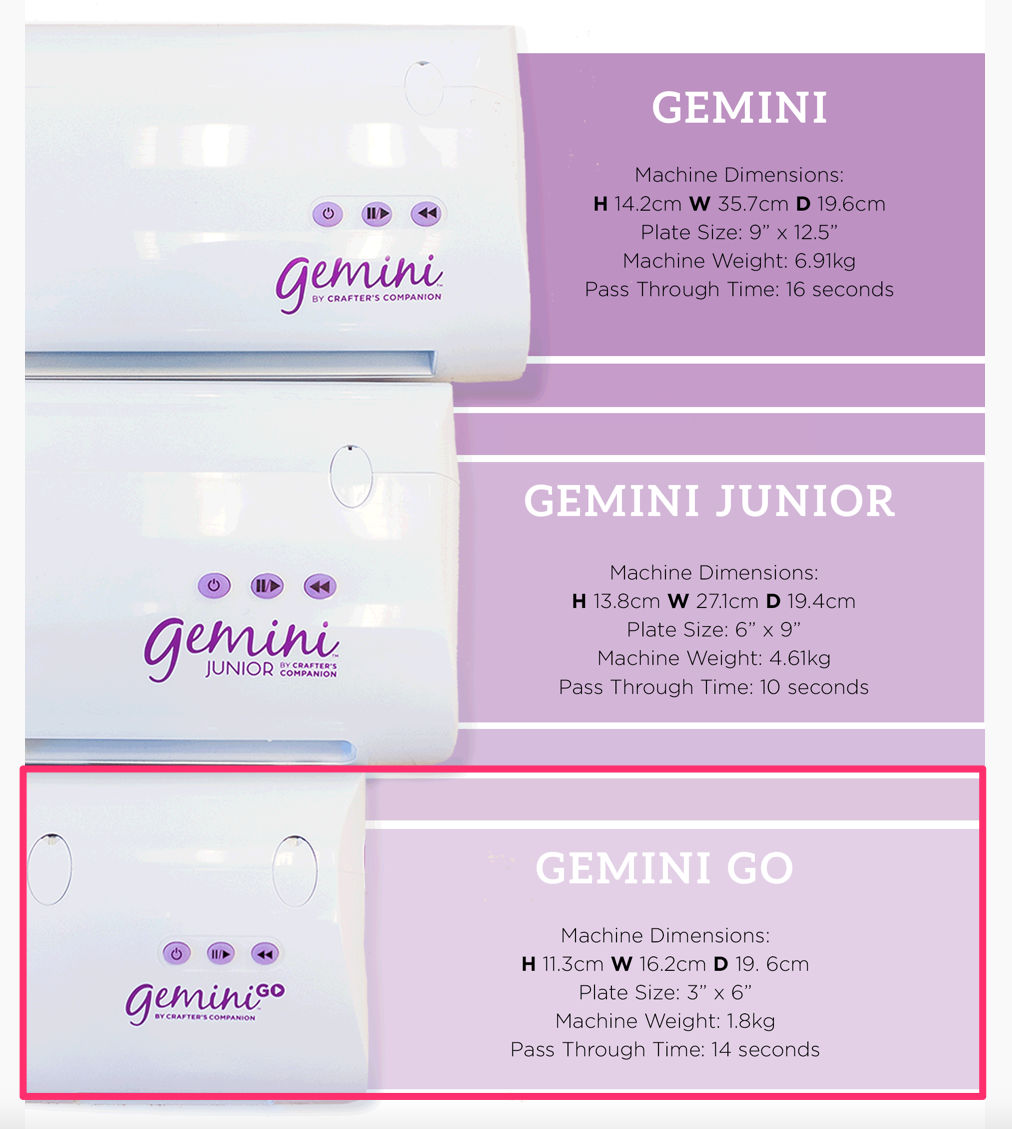 Gemini Machine comes in THREE sizes
This one is the most compact size.
The Go!
See Comparison chart above.
Here's a Gemini Die Cutting Machine Review
We made about a hundred cuts with our Gemini and a few dozen embossed card fronts. We wanted to test how durable the Gemini is and how quickly it works. Ultimately, we wanted to know crafters who already own a die cutting and embossing machine should upgrade to the Gemini.
Here is what we like and what we don't:
PROS:
No Manual Cranking:

We could have never cut so many dies with our Big Shot because our arms would have fallen off. The biggest feature of this machine is that you only have to press a button. There is absolutely no manual cranking involved.

Just One Press:

We liked that you only have to press the button once with the Gemini.

Any Size, Many Brands:

The cutting area for the Gemini Original is HUGE. That means you can cut multiple dies at once and you can use many brand of thin metal dies.

Reverse Button:

If you want to get a deeper impression or a cleaner cut, you can press the Gemini's reverse button and send you sandwich back through the machine again. You don't have to reload.

All Shims Included:

With most other embossing/die cutting machines, you have to purchase special shims separately. (ahem – we're looking at you, Sizzix). Those extras really drive up the price. So, even though the Gemini does have a higher price than other machines, when you consider the cost of extras, it does actually almost even out.

Handy Handles:

The Gemini has two handles on its side, making it more convenient to carry.

Costs:

Gemini costs less than some other electric die cutters.
CONS:
Price:

the price tag of this machine might be a con because not everyone has this kind of budget. However, as we mentioned, the price does start to even out when you consider that you are already getting all the shims and plates you need.

Shims Warped:

We were disappointed when our shims/plates warped during our first use. We were still able to use them, of course. And we know that warping is pretty much unavoidable.

TIP

– we sent the plates through without a die and that did make the warping better. It also helps to alternate the direction you lay them each time.

Accidentally Cut Rubber Mat

– if you accidentally use the rubber mat with one of your metal dies, you WILL slice through it.

Be careful

when you sandwich the plates!

Our Verdict:
As we mentioned in our review, we think the Gemini die cutting machine is a great option if you have health issues or you simply get tired of manually cranking your die cutting embossing machine, then the Gemini is a
must
have.
- Review from Craftyouself
Let's have a closer look at the specs...
Gemini Fabric Cutter
(Gemini Go)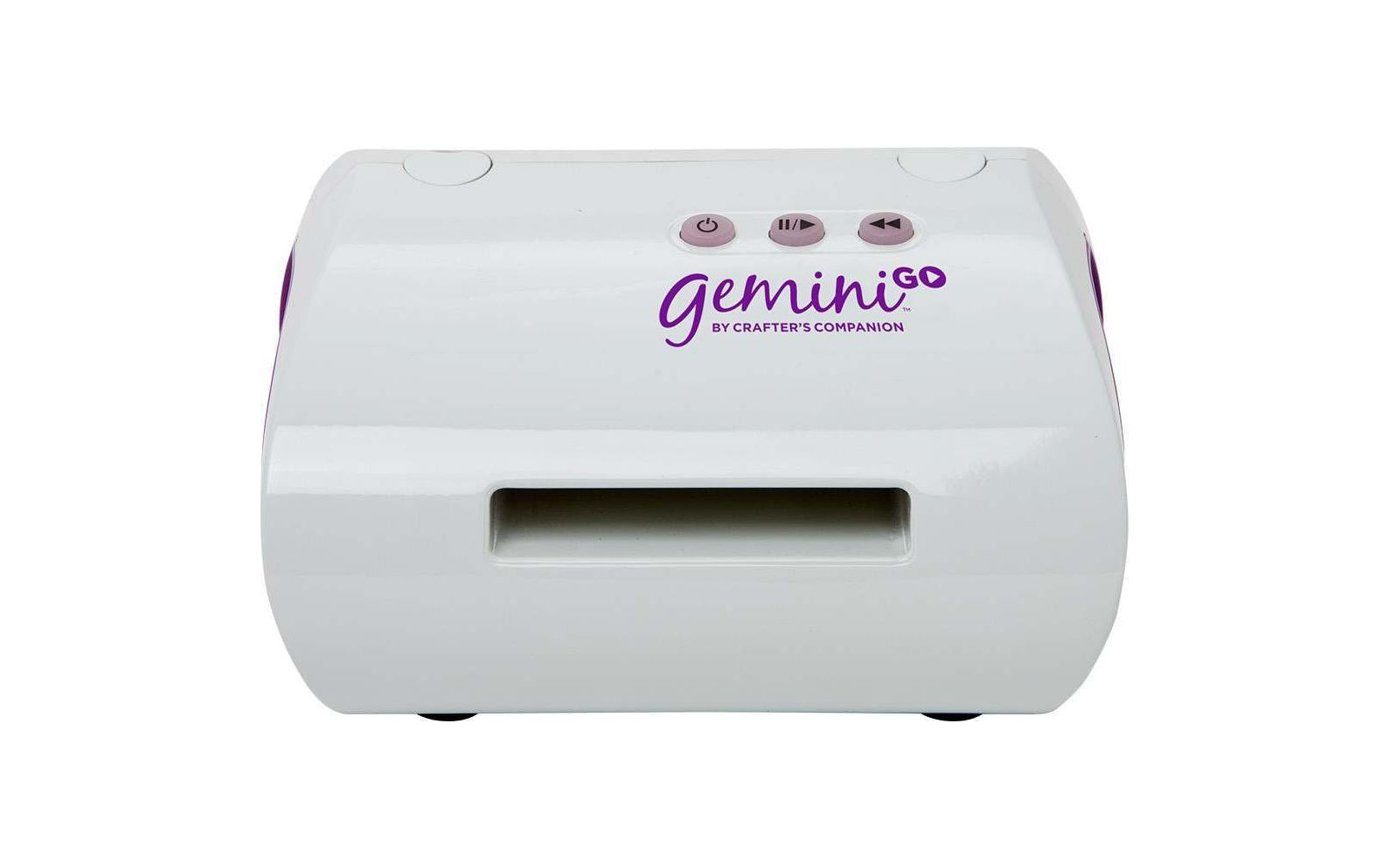 Machine Dimension (height x width x depth):

11.3cm x 16.2cm x 19.6cm

Plate Size:

6" x 3"

Machine Weight:

1.8 kg

Pass Through Time:

14 Seconds

Voltage: 230V for Australia


RRP

in Australia:

$199.99

AUD
With a sleek low-profile design - the Gemini is
faster & quieter
than other die cutting and embossing machines in the market.
It has been designed for strength and versatility - cleanly cuts through intricate dies, as well as for cutting heavyweight cardstock, vinyl, foil and
multiple layers of fabric
(just make sure you use "Multi Media Dies" ).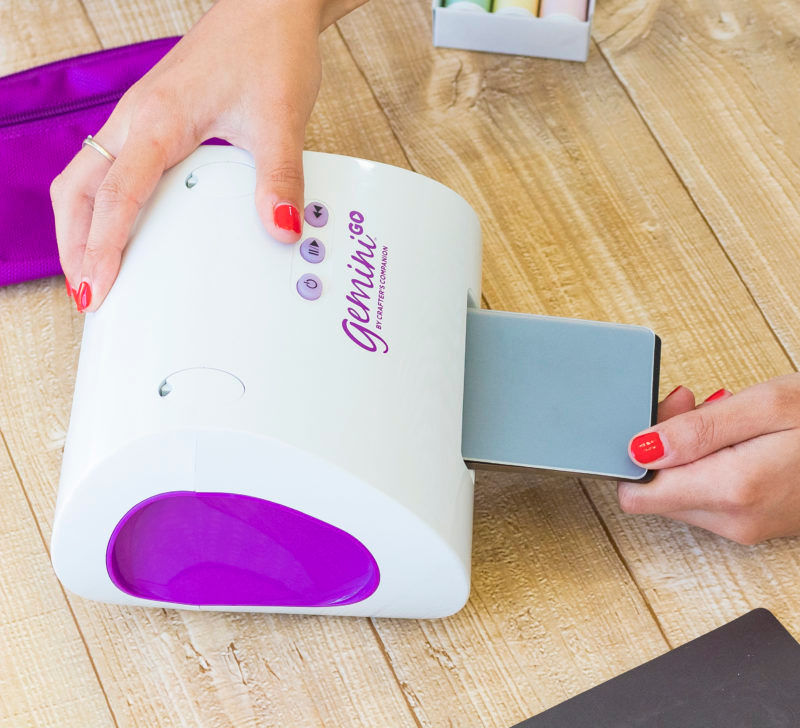 Using
higher pressure
than many other machines, the Gemini allows
better cutting
of elaborate designs. With a
large platform
size (6" x 3"), edge to edge cutting - you can fit multiple dies at the same time and get the cutting done even
quicker!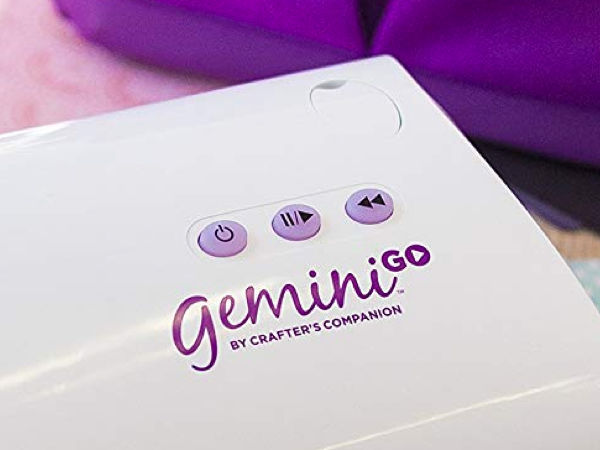 With the
unique pause, resume and reverse feature
, you can reverse out smaller dies once they are cut (for a quicker pass), as well as being able to have
peace of mind
if you're concerned you've put an incorrect sandwich combination through - you can simply pause it and reverse it out to check.
The Gemini is
compatible with most
leading thin metal dies and embossing folders.
Note: The Gemini Go Cutter comes with all the shims & plates - but dies & booster cables are sold separately.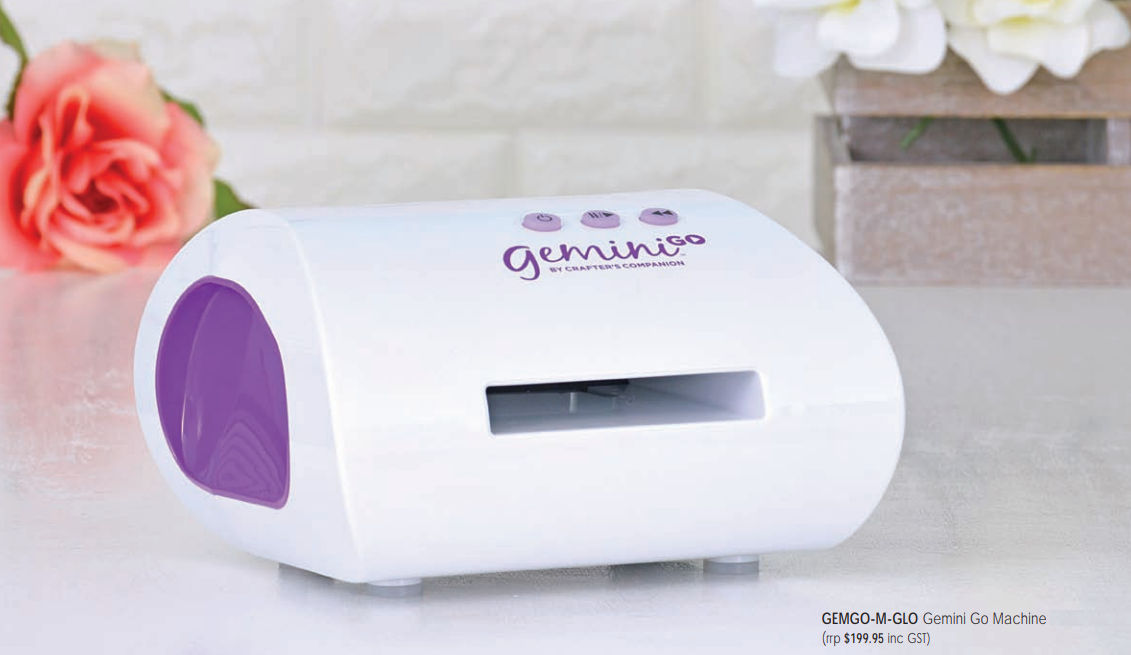 Safety, Care & Maintenance:
To clean, wipe the exterior with a soft, dry cloth.
Avoid abrasives, solvents / spray cleaners, or rough surface sponges.
Intended for aged 14+ and should not be used by younger children without adult supervision.
Keep hands away from plates and other parts in motion.
Be aware that loose fitting clothing can get caught between plates and be
pulled into the machine.
Gemini is equipped with safety sensors to prevent accidental motor activation.

Do not disable the safety sensors and override the motor controls.
Only use Gemini branded platforms (i.e. plates & shims) in order to correctly operate the machine. Thin metal dies from other brands are fine.
Be sure to rotae your plates & shims. Some warping is normal due to the high pressure of the machine. Overloding may cause excessive warping.

Do Not force platforms into machine.

If the Gemini senses that the combination is too thick to run through the rollers, it will stop the forward motion and reverse automatically. Check the platform combination before feeding it into the machine again.

Check that you are not trying to cut or emboss too many layers of material at one time.
Remember to switch off both the ON button at the top of the machine, and the power switch at the back of the machine.
Certified to be used in

Australia

&

New Zealand

only.

Would You Enjoy having your cutting done for you?
Most Likely - Let Gemini Help You Now.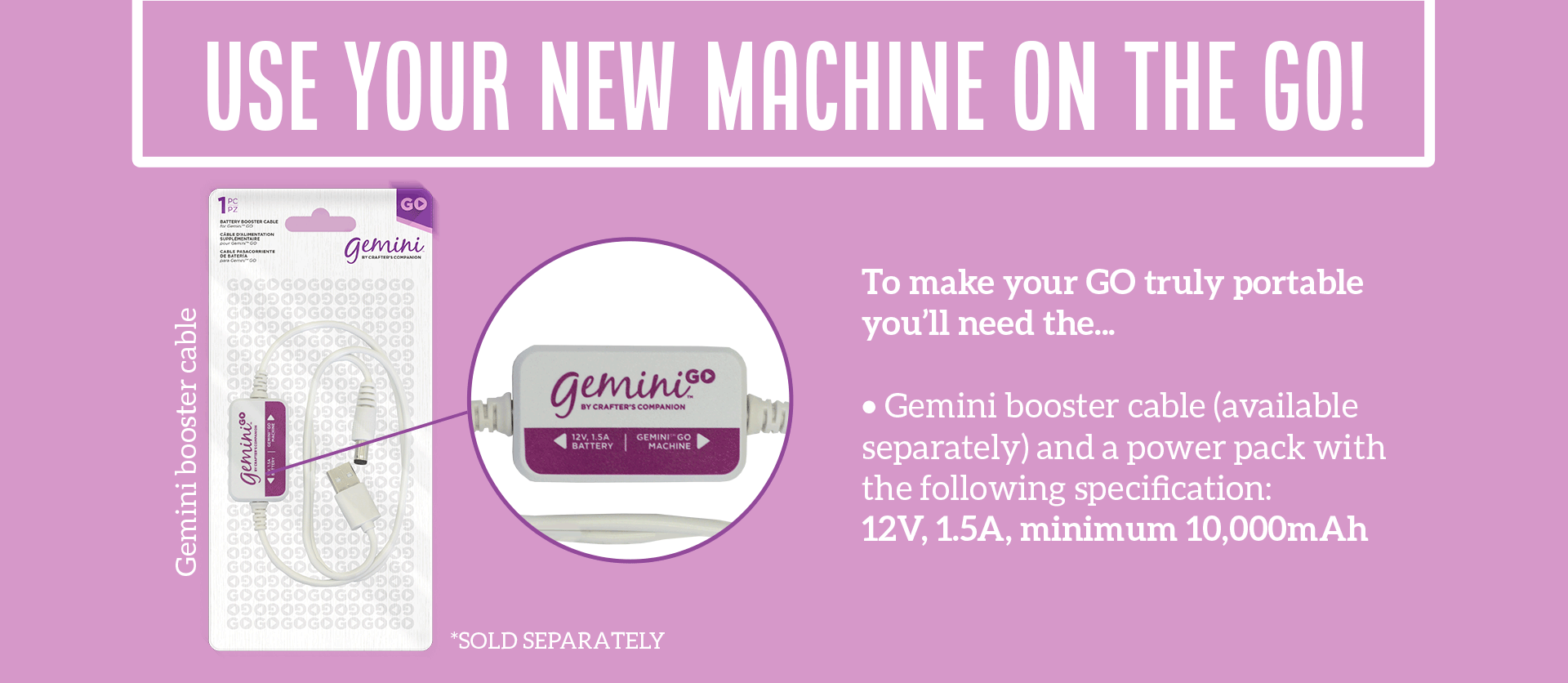 Note: Booster Cable Sold Separately.
You Might Want to Consider a Booster Cable...
This is a handy Gemini GO Accessories - Booster Cable will give your Gemini Go ultimate portability. Perfect when you want to craft in the Garden, caravan or anywhere there are limited electricity points.!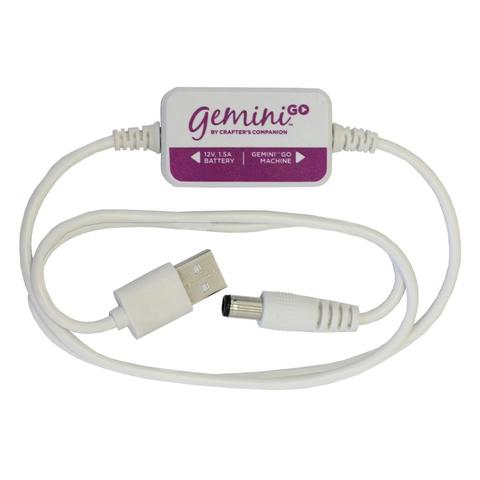 Note: Booster Cable Sold Separately.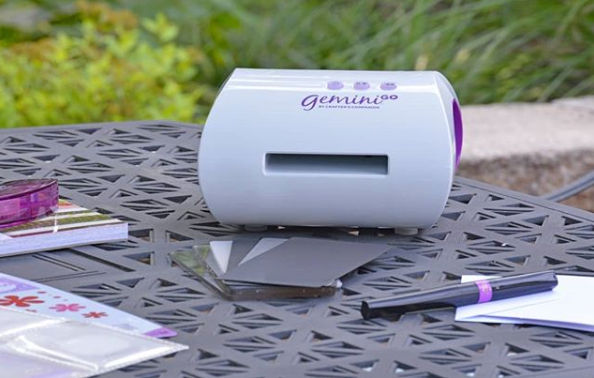 What Else Do I Need to Get Started?
Now that you've got your Gemini Cutter, all you need is
a few dies for fabric
(known as "Multi Media" Dies) of your choice.
We recommend getting the
Miniature Woodland Friends
Multi Media Die Set (sold separately) - because they are the perfect size for Gemini Go, and you'll just LOVE them!

Note: These Dies Are Sold Separately.

"Good machine with plenty of pressure.

I'm a quilter, so my main interest for this machine is to cut fabric. Initially there were some trial and error because it all depends on the number of layers of fabric, fabric quality and the shims you use.

I find the instructions really helpful as it can get a bit confusing getting to know which plate to use. So I ended up photocopying the instructions and taping it to the wall next to the machine. Once you get the plates figured out, it works perfectly. Takes no time at all!

As I have arthritis in my hands the Gemini machine has made my cutting out so much easier."

- Robyn, a Happy Quilter


Let's Recap the Benefits of Gemini Fabric Cutter...
Up to

90% faster

than rotary cutters or scissors -

have more time

to enjoy sewing!


Consistent, accurate and stable cutting of precise shapes with

no slipping rulers

or measuring to reduce fabric waste.


The double roller & high pressure combine to provide

clean cuts

- no matter how intricate the design.



Spacious

cutting surface

- how many dies can you fit on a

6" x 3"

area?!


Takes only

14 seconds

to pass through the machine.

So fast!




Weighs less than 2kg and

portable

, it has handles on both side for easy carrying.


Simple push button makes cutting easy and safe;

eliminating

arthritis, wrist, backaches, shoulder and elbow pain caused by cranking handles.


Wide selection of Gemini

Multi Media Dies for fabric

allow the creation of unlimited projects - the

possibilities are endless

!


Compatible with

more than 60%

of thin metal dies from leading brands- the choices are growing too.


Creates perfect applique with the press of a button.

Doesn't get easier than this!




You can work from any place with a power point.

Takes NO Effort to run!
Sounds Perfect?
Try it out for yourself.

Don't Miss Out

- Simply Add to Cart Now!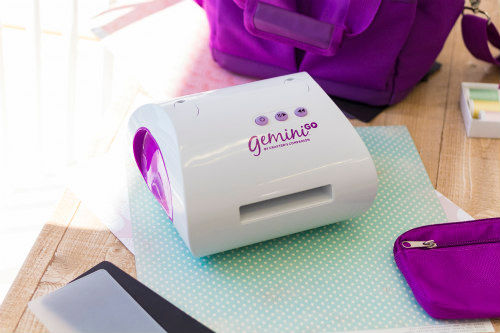 About Craft Companion
- meet the clever founding lady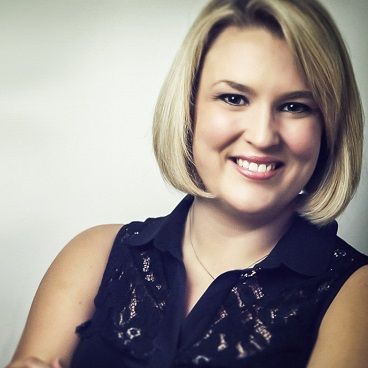 While staudying for her degree in 2005, Sara Davies started Crafter's Companion from her university bedroom in
UK
.
Sara had
a bright idea
while working in a local craft shop, where she spotted a gap in the market for a tool that could create bespoke envelopes for handmade cards.
Soon after, she set about designing the Enveloper with her Dad, a retired engineer. After securing a slot on shopping channel Ideal Word, the product
became a big hit
and led Sara on to develop even more new and innovative products for the craft market.
Fast-forward a decade (and a bit) and Crafter's Companion is
now providing patchwork quilters
with the same kind of innovations in
cutting machines and dies that were previously only avaialbe
in the scrapbooking / paper crafting world.
For the first time
- we've made the Gemini Cutting
officially avaialbe for Downunder
- so that
Aussie & Kiwi
quilters can also
enjoy effortless cutting
at the press of a button!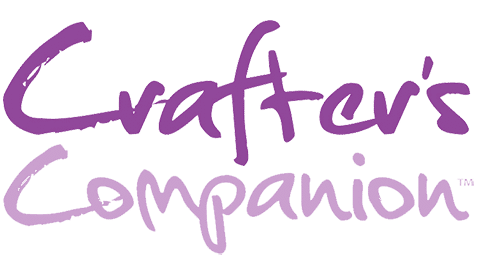 "Happy with this - all the plates and shim included for cutting straight out of the box. It is surprisingly heavy for the size so you know it is built well and not like a toy. Great for the smaller dies I use.

Already have a big Sizzix which is good for my larger dies but I'm using it less and less because I prefer pressing the button instead of hand cranking. This little machine is working hard to churn out the smaller stuff so definitely a great addition for me.

Love the smaller size. Love, love, love this machine."

- Jan, a Happy Customer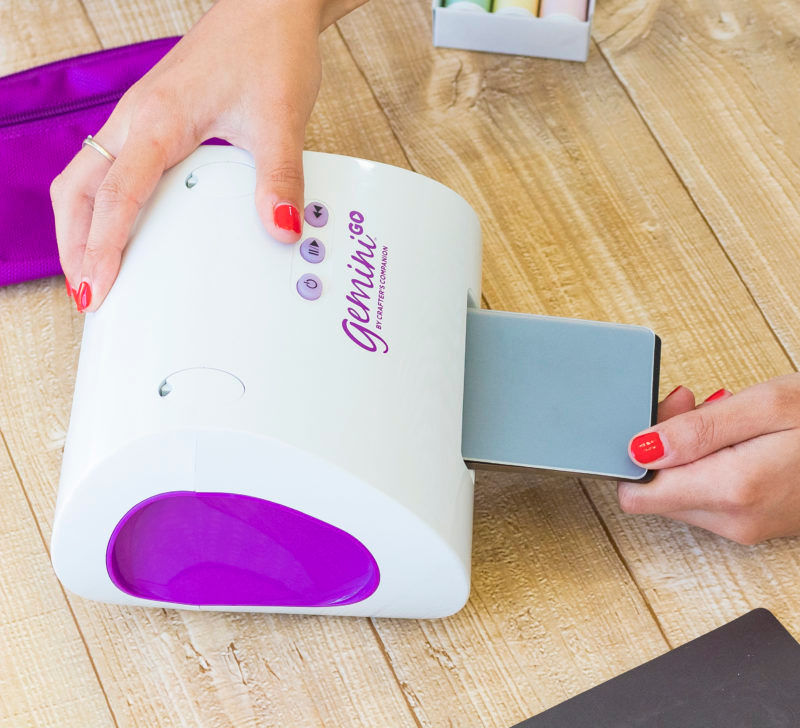 Now We Can Do Things Smarter


Gemini Fabric Cutter
changed the quilting and sewing world by replacing the old time-consuming method
of patchwork & applique, which goes something like this:
Make template by tracing off books or magazines onto cardboard or plastic
Hand cut templates out carefully with scissors
Place template on fabric, trace around them
Cut out Each piece with scissors by hand
Did You Know?

Cutting with scissors often means holding your wrists in an

awkward

position....
.... especially with small movements and tedious repetitions (
like hand-cutting your pieces for patchwork

).
This can cause
injury

to your wrist over time.


When you use the method above, you will get

sore

hands.
And when you go to sew the pieces, you will find:
The pieces are not always identical in size, and may not fit together 100%

By the time you've sewn quilt blocks using these pieces, your blocks end up different sizes

Now, you go to assemble the blocks together, and find that you need to ease the bigger ones or stretch the smaller ones. Not fun....

Worst of all: once all the blocks are sewn together, you realised that your quilt top is all wobbly and bubbly, and most of the seams are not straight any more....!
Why?


Because of the easing & stretching you've had to do, all cause by very small size variation in the pieces you've cut by hand.
You see, a fraction of extra pencil line here and there on EACH little piece eventually add up to quite a bit, which contribute to all your blocks being different sizes....
Which means you either need to ease & stretch to make the blocks fit together.....
This causes some excess fabrics or tight spots on your finished quilt top, and that's where your problem begins... just try quilting one of these tops!
So, What's a Quilter to Do?
Get Gemini & Experience the Difference for yourself...!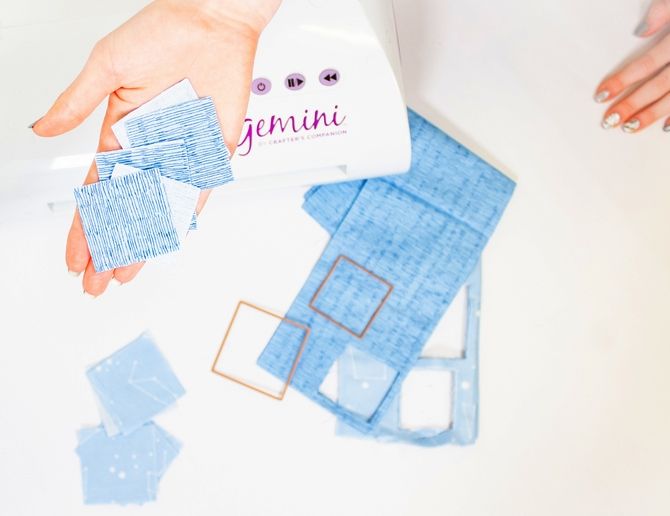 What this method does is simply eliminating the need to mark and cut individual patches of fabric.
And you can
avoid spending time
rotary cutting and
enjoy sewing
instead!
How?
By placing your fabric (pressed for best results) on the die, assemble the plates & shims, and the whole thing gets rolled through the machine with the
press of a button
- just like that!
This method speeds up the cutting process considerably.
By allowing
multiple layers of fabric to be cut at once
(up to 6 layers, but I mostly do 4)....
you can really save time!
Once you're done cutting, you can chain-piece the identical pairs together.... that means your quilt will turn out looking professional, and you will really enjoy sewing the blocks together!
You will end up
getting more
quilts done, with
with less
effort...

You know how you dream about more time to sew?
Now you CAN...!!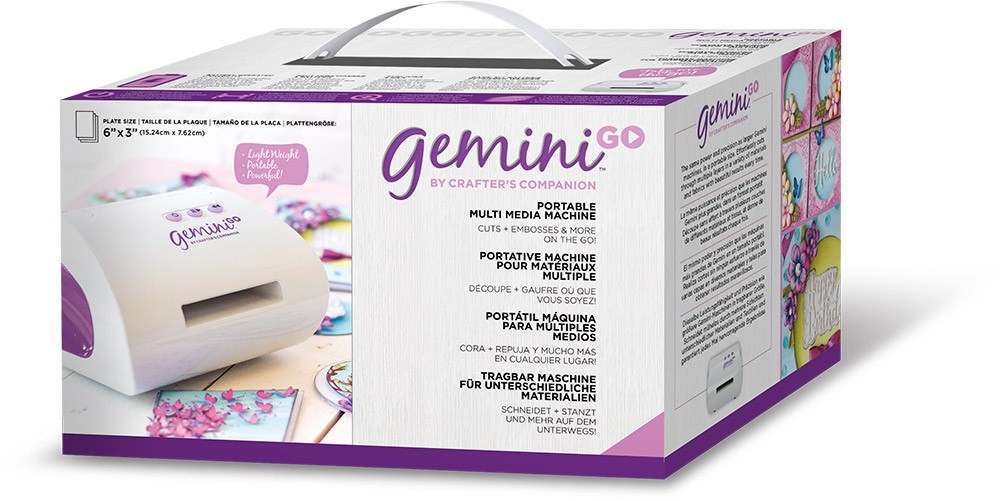 Sounds like just what you need?
You know you deserve it!

Add to Cart & Complete Your Order Now...

Don't Miss Out!

Bonus Tip:
It is BEST to

press your fabric

BEFORE using your Gemini
Cutter.
Because store-bought fabric often has a few hard creases from the way they have been folded - theses creases can give your shapes a jagged edge if left in the fabric (see below).
Is this cutter capable of cutting different types of fabrics?
Not just for quilting cotton fabric, Gemini is good for other fabrics too:
| | | |
| --- | --- | --- |
| | Fabric | Layers |
| | Cotton (quilting weight) | 6 layers |
| | Cotton with Fusible Web (e.g. Vliesofix) | 4 layers |
| | Batiks | 6 layers |
| | Fleeces | 1-2 layers |
| | Flannel | 1-2 layers |
| | Denim | 1 layer |
| | Leather | 1 layer |
| | Wool | 2 layers |
| | Batting | 1-2 layers |
| | Felt | 1-2 layers |
| | Silk | 6 layers |
| | Satin | 6 layers |
NOTE:
Chart above is the recommend number of fabric layers -
actual number of fabric layers will vary
depending on fabric type and thickness. It is
always best to stay within 2mm of total thickness.
Also might be a good idea to test-cut any new types of fabrics first.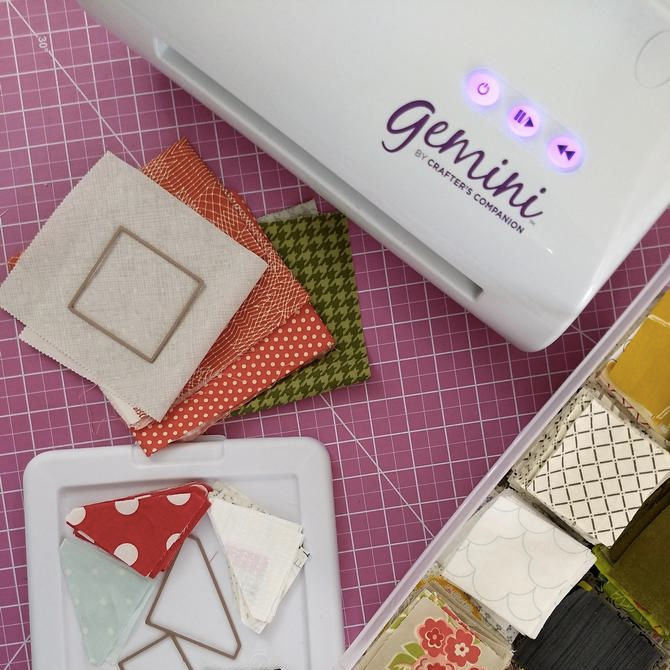 "This mini electronic die cutting machine is a perfect addition to my studio. I have a larger manual die cutting machine that I use for larger dies, and the Gemini Go isn't a replacement for that, but this mini machine is just perfect for when I want to cut out smaller or standalone dies, without the hassle of getting the larger, heavier machine out.

It does make a noise when cutting, but it does cut very well and it's so easy to use. I love how portable this machine is too, so it would be easy to take away on a trip, friend's house or to a craft event.

I would highly recommend the Gemini Go for small die cutters
."


- Lisa, a Happy Customer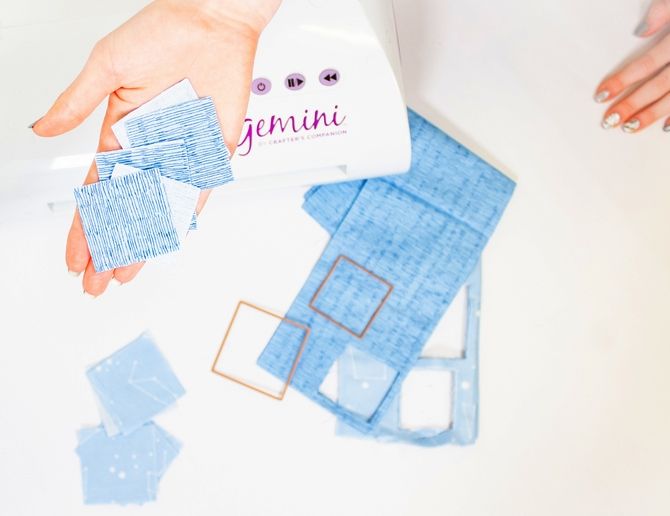 This Gemini Cutter is NOT for you if:
You've already got a hand-cranked die cutter and no budget for a new machine.

You'd rather spend time cutting instead of investing in the machine to save time.
You prefer to hand-cut everything by scissors or rotary cutter.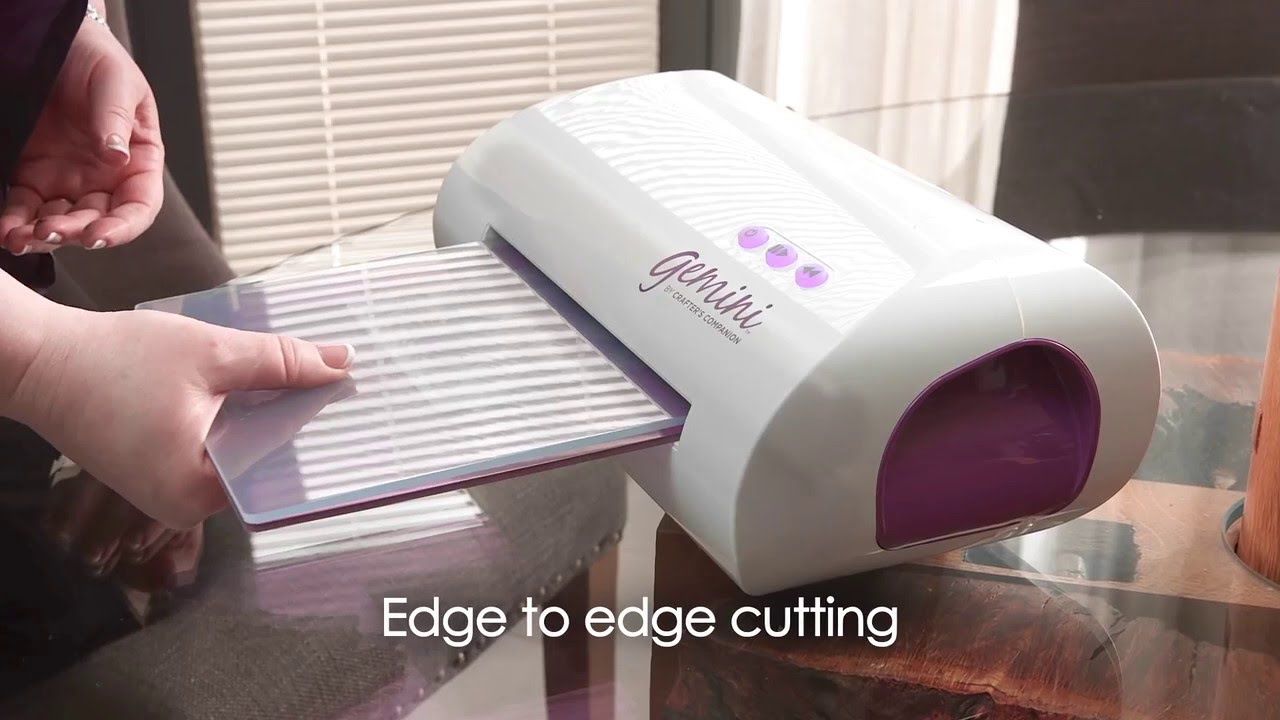 This fabric cutter is ideal for:
Beginners who want to learn how to make quilts easily,
Seasoned quilters who no longer wish to use a hand-cranked machine.
Teaching facilities,
Paper craft enthusiasts,
Patchwork / quilters who wish get more done in less time,
Textiles artists,
and other creative individuals.....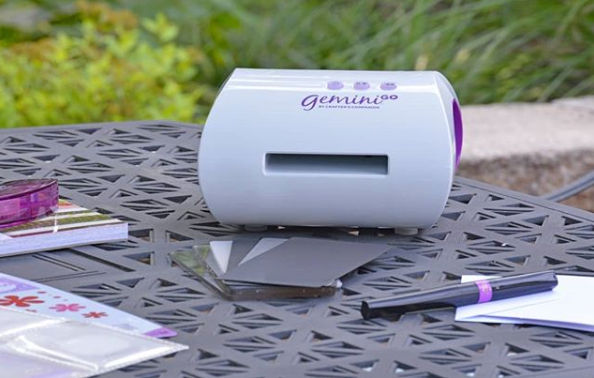 Grab yours now and you can experience:
Cut with Ease & Grace -

No More Cranking Handles!

Save Time

and

Wrist Strain

- Cutting is No Longer a Dreaded Chore!

Let the machine do the hard work - all you do is press the button.

A sense of achievement

, because you've solved your own problem.

No Frustration

- all Enjoyment during your Precious Me-time!

Be the first to show everyone:

"Look What I've Made?!"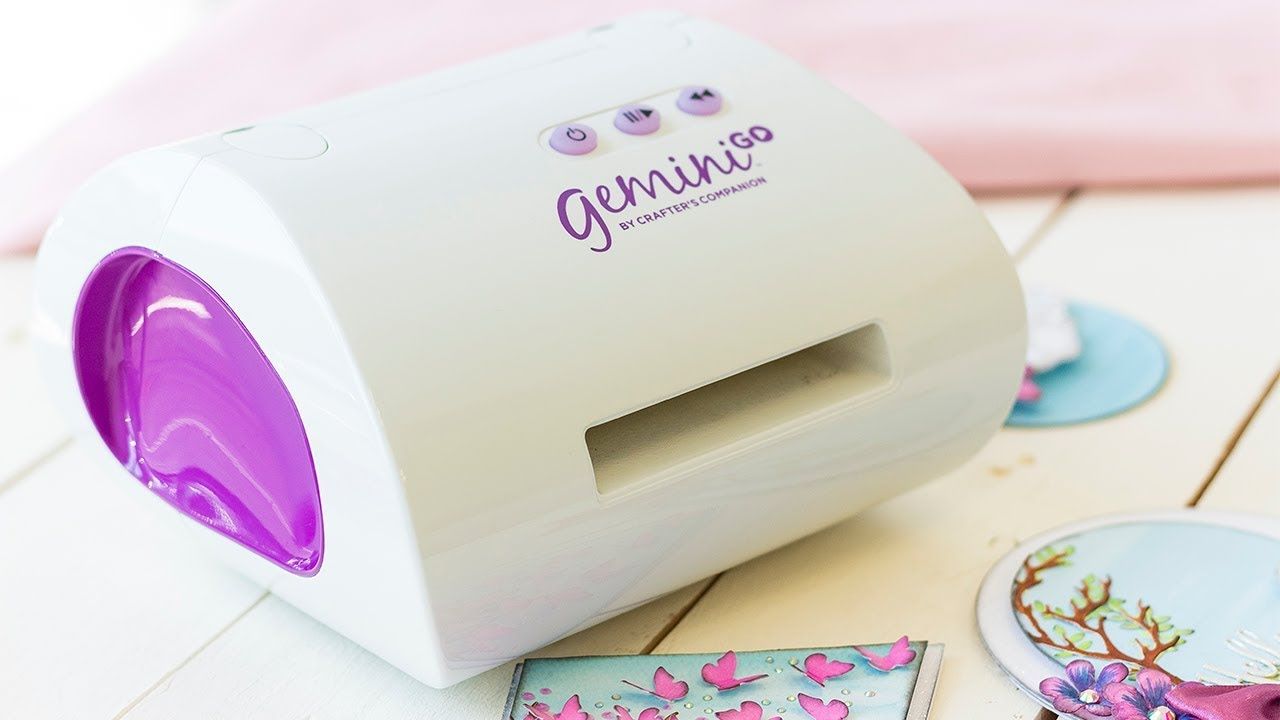 So the Only Question is:
Should you get just ONE for yourself,
or Grab a Second one for a friend?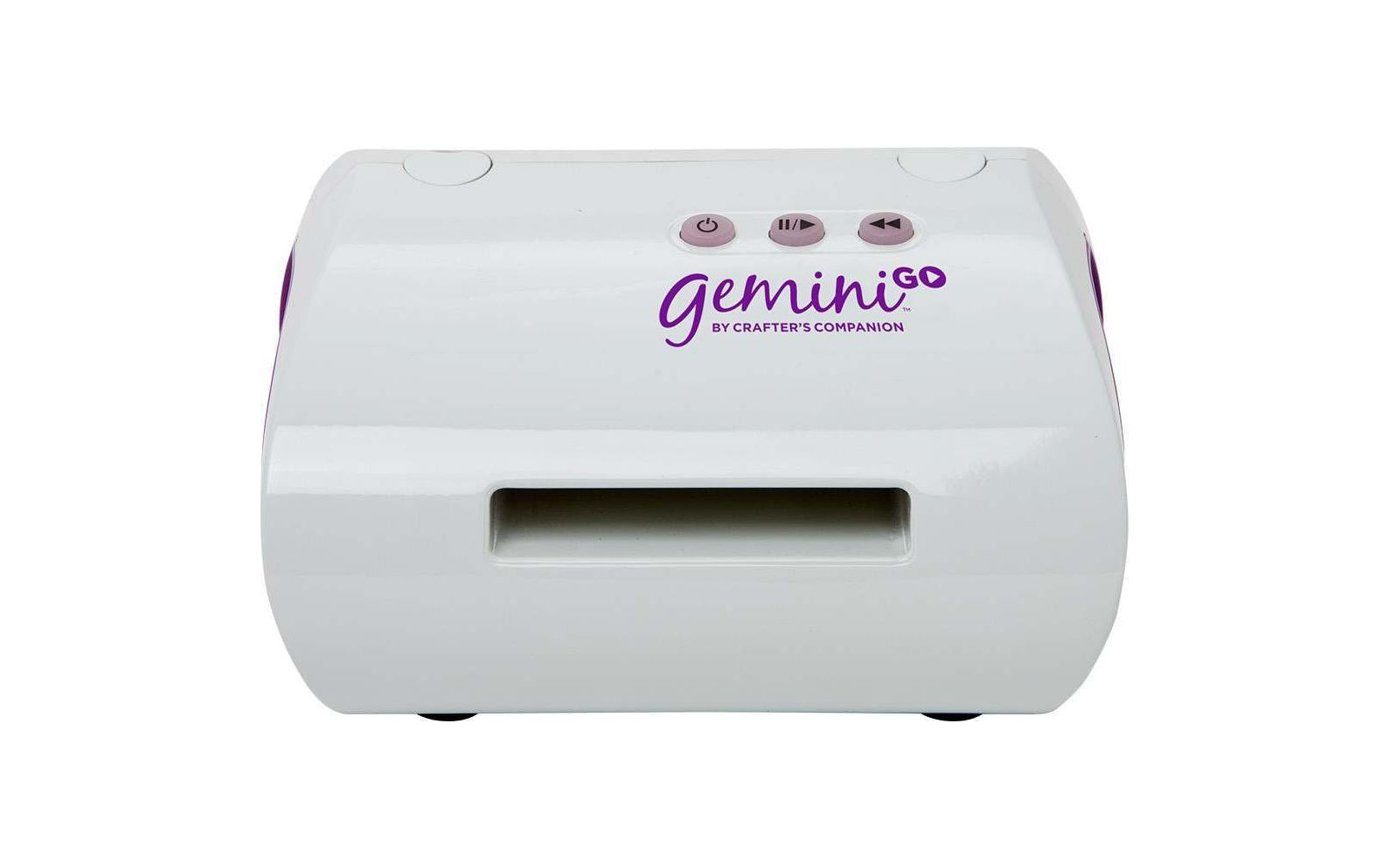 Simply Add to Cart & Order Yours Now...

Don't Miss Out!
Warranty
Does this product come with Warranty?
Yes, Definitely!
The Manufacturer's Warranty is
1 Year (12 months)
, covering faults and defects due to manufacturing.
It's a
Return-to-Base Warranty
. All warranty claims will be assessed by the Official Australian Distributor.
Please take a close look as soon as you received the product, because the Manufacturer's Warranty does not cover any accidental breakages, misuse, or wear-and-tear.
Should you have any questions or concern, we're
happy to give you a hand
in providing guidance and go through some troubleshooting with you.
Because our products have been through QA at the factory, you most likely won't need to raise a warranty claim at all -
shop with confidence!
Simply contact us if you have any issues, and we will give you more details. Easy!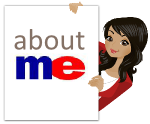 Want to Know

Who We Are


Before Buying?
Click Here to Learn More About Us...
Shop with Confidence - We Look After You with Genuine Warranty!
Go Ahead And

Grab Yourself a Fantastic Deal NOW

And Enjoy Your Next Sewing Adventure!
Easy Returns - 60 Days Money Back
Still Not Sure? That's Okay.
We understand. Because sometimes it's hard to know if you really want something, right?
Especially when shopping online!
That's why we provide 60 Day Money Back Easy Returns* to support you.
Because we know sewing - but You Know Best :-)
Your No-Worries
~ 60 Day ~
100% Money Back Guarantee...
Your purchase from us comes with our 60-Day Easy Returns option!*
In the unlikely event if it doesn't work for you in any way, simply contact us. You have sixty (60) days to try things out.
There's no rush. Take your time.
Beacuse we want you to have plenty of time to feel absolutely certain that you're enjoying what you've chosen!
If you're not 100% happy - simply let us know and return the item in
brand new condition
, including
all original packaging intact
.
We will send you a full refund (excluding postage) promptly and courteously - No Worries!
Ready to Give it a Go?
Simply Add to Cart Now.
* Looking for the fine print? Check our terms & conditions for details*
Payment to Suit You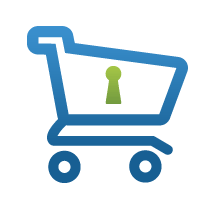 Shopping Online is Secure with us!
Just so we can get your item to you ASAP, we ask that you
complete payment within 5 working days
from committing to buy.
Please
let us know by email
if you would like to make other arrangements, such as waiting to purchasing other items for combined postage or waiting for pay day.
PayPal
- We reccomend payment via PayPal because it is fast, easy and secure. Simply choose
PayPal
when you check out.


Shop Now, Pay Later
- Want it NOW and can't wait til pay day? No worries. Just use
Afterpay
or
zipPay
when you check out. They will look after your installments, and we send your order now!


Layby
- If you're happy to wait, our good old-fashioned Lay-by is easy and stress-free. Simply choose
Direct Deposit
at checkout, transfer the first instalment (a quarter is ideal), and send us a quick email to confirm your layby. We'll send your goods when it's all paid in full.

Credit Cards
- To pay with
Visa
or
Master Card
, please
choose
Credit Card
as your payment method when you check out. Nice and secure.


For
American Express
, make sure you choose
PayPal
and follow their prompt to checkout with your AMEX card (instead of PayPal funds). You don't need to have a PayPal account to do this.

Bank Transfer
- Choose
Direct Deposit
as your payment option and our bank details will be made available to you on checkout.
NOTE:
Please use your name with a post code as Bank Reference when making payment. If you have an order reference starting with "N", you can use that one.

Remember
to
send us a quick email
whenever you've done a Bank Transfer, so we can keep an eye on your payment!
IMPORTANT:
Because your order is processed promptly once funds are cleared, there won't be time to make changes to shipping details, So
When You Complete Checkout
please help us by double checking we have the following:
Correct Physical Address

. Most of the time

PO Box

is fine, though we may ask you for a physical address if we end up using a courier instead of Aust Post.


Phone Number

for the delivery driver.

Any Special Delivery Instructions

.
Order Now - Before You Miss Out!
Delivery
Now, Let's Get Your Order On Its Way To You!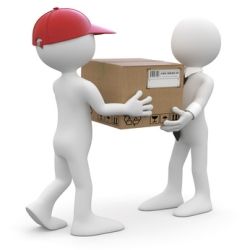 How long will it take to receive my order?
All fully paid orders placed by 5pm Monday to Thursday will be processed overnight and ready to send by our warehouse - normally the next day or following business day.
Orders placed on Friday and Weekends will be processed on Sunday night - because our warehouse operates Monday to Friday except Public Holidays.
Once it leaves our warehouse,
the actual time frame is up to the delivery services
. This can vary depending on your location and road conditions.
Any delivery time estimates shown are
estimates only
- so please use it as a guide line.
You'll receive a few email updates from our system as your order progresses, so please stay tuned on these!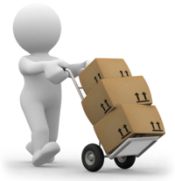 How will my order be sent?
We use a dispatch system that works out the most efficient way to send your order.
This way the postage works out fair and reasonable, and your parcel reaches you quickly as well -
because we know you can't wait!
That means your parcel
may reach you by either

Courier

or

Aust Post.
In general, larger items tend to be delivered by couriers, while small items tend to go by Aust Post.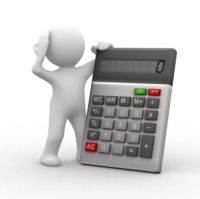 How is my postage calculated?
Great question.
Depending on
weight
and
dimension
, some times we are able to do Flat Rate across Australia, so the postage is the same no matter where you are.
Other times we use the Built-in Calculated system provided by Aust Post, and your postage is calculated
based on YOUR location.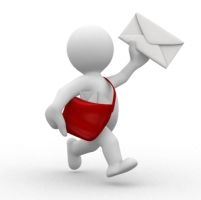 Can I get it delivered to my P.O. Box?
Depends on the item (and its dimensions), because
Aust Post have size restrictions
and couriers are NOT allowed to deliver to a P.O. Box.
Please check with us when in doubt.
If you have nominated a P.O. box, and the item is within Aust Post size, then it will go by Aust Post. Most of the time, this
is
the case.
When your item is too big, or being sent directly from our supplier, then we need you to provide a physical address so we can send a courier.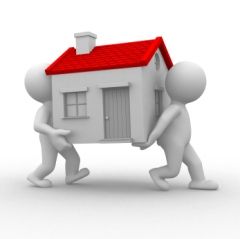 Can I get my order sent to a different delivery address?
Your sure can!
When you check out, you can choose to ship your order to your billing address or a different address.
Simply choose the second option, and then fill in the shipping address of where you want you parcel sent.
Please double check we have Your Correct Address so your order can find its way to you!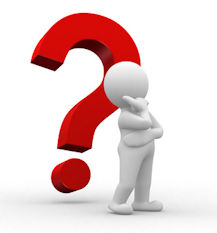 What if courier services are not available in my area?
Some locations are outside of courier services....
In these cases we CAN arrange for your order to be deliverd to your local post office.
But please
provide us with a street address
(street number & name) - even if it is the only Post Office in town - as if it is an office address.
A phone number would help too - this will avoid delays.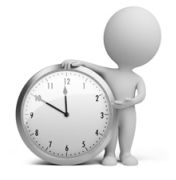 What if I need my order urgently?
No worries, we will do our best. Just let us know.
Please give us as much notice as possible - especially for special occasions like birthdays!
In most cases, we CAN
arrange an upgrade
from Regular Post to Express Post for a little extra.
Please contact us first so we can update your invoice to show the correct amount.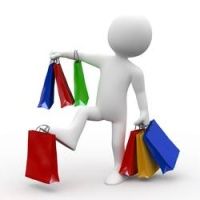 Do you offer combine shipping?
I want to order more than one item...
Sure! Please
"Add to Cart"
for all the items you want and let the system work it out for you.
If you're unsure, let us know.
A quick message is all we need.
This way we can double check the postage for you. Simple!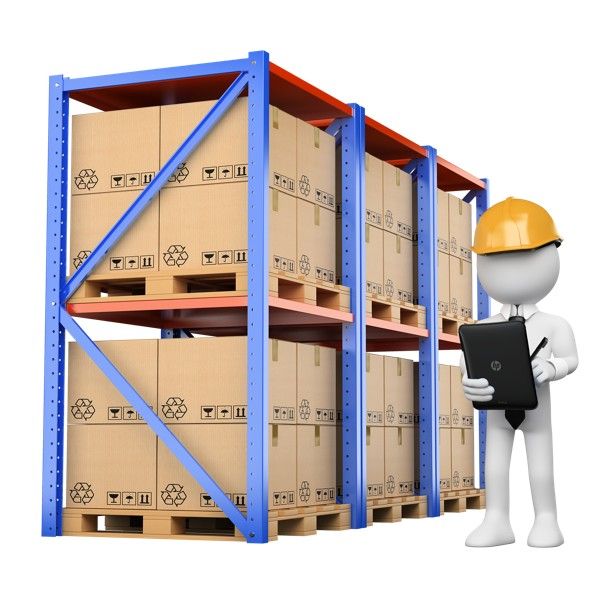 Can I pick up my order?
No. Sorry - unless you're picking up furniture directly from our supplier.
Because most of our items are located in a commercial warehouse - with
NO public acess
.
There is no shop front - because that's how we can pass on the savings to you!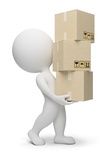 Some useful things you might want to know:
Combined Shipping

- We are happy to combine shipping for multiple purchases based on the combined weight and dimensions of your items, so add what you like to cart as you go, and check out our shop to see what else you like... you never know what you might find!

All items we sell are

Stored in a Clean and Smoke Free Environment

so You can Rest Asured they will be In Top Condition when they arrive at your place.


Packaging & Sending

- All your items will be packed well and we do everything we can to make sure you package arrives safely. In the unlikely event something does go wrong with your package, please contact us via email. We do our best to resolve any concerns.


Prompt Shipping

- Your package will be sent to you promptly once payment is cleared. In most cases it will be dispatched the next business day.


Packaging Materials

- We endeavour to support "green policies" and recycle

clean

packaging materials whenever possible. Brand names on packaging material may not necessarily match the content.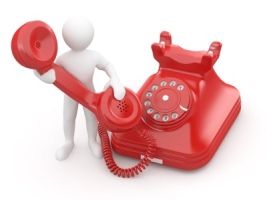 !!! IMPORTANT !!!
The Courier Needs Your Phone Number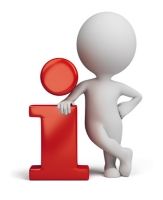 When you're completing check-out please
make sure your

best day time phone number

is included - because the courier requires a phone number.
Generally they may never ring you - and they tend to just turn up anyway. But their office needs to have your phone number on file for "just-in-case".
If you have any special delivery instructions, please let us know.
It is
best to providing these details by

sending us a quick message
- this means your parcel will be dispatched to you faster.
Act Now and We'll Get It To You ASAP!
Why Shop With Us?
Because we're here for you.
and your sewing needs.
Sew Much Easier is founded
by
a sewists,
for
fellow sewist :-)
We're a surprisingly small team that put a great deal of thoughts into what we do and how we do it. We stock only a handful of curated sewing goodies - each one carefully
hand picked and tested
ourselves.
Everything we stock
only
make it to our online store
if
we absolutlely LOVE them - for our
own
sewing. Because we're only interested in handing over
what YOU would be happy with
.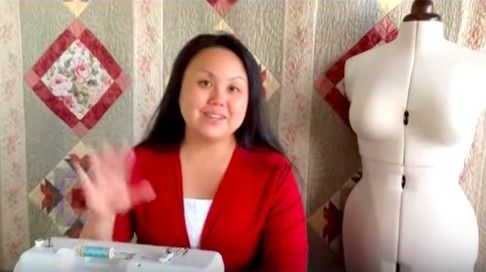 Hi, I'm Shelley.
I confess that I'm a fabric addict. And I love nothing more than geeking out over the ins-and-outs of sewing machines - and all the bits that come with it. Presser feet are my specialty :-)
I've been
sharing my passion
of sewing all my life - with a career in fashion design and patchwork teaching - and now
I serve fellow sewist everywhere
by delivering sewing goodies to your door. And that's only the beginning.
Long after your first purchase - whether it's a sewing machine, dressmakers dummy, or some bobbins - we'll be there to
celebrate your joy
in the simple act of making something by hand.
Simply drop us a line and...
we'll be there whenever you need help. Any time.

xoxox
P.S.
I know you're a savvy shooper. And you understand the value of
Buy Well, Buy Once.
Because you want to be
100% confident in the quality
of your purchase, so that you can be 100% confident in your sewing!
That's Why...
I'd like
to make sure You are

100% Happy
- so take your time, take a couple of months - get to know your sewing goodies from us.
And in case you change your mind - No Worries. Because shopping online should be stress-free!
Give it a Go Today. You'll be glad you did.
So, Go Ahead!
P.P.S.
Join
Thousands of Happy Sewists
Australia-wide, and be part of our caring creative community. Contact me (Shelley) any time for technical advice or anything sewing related.
Stay in touch - I'm here for you
:-)
Last but Not Least...
When you've made something with goodies from us...
Remember to send me a photo.
Because I'd LOVE to see Your Work!
Got a Question?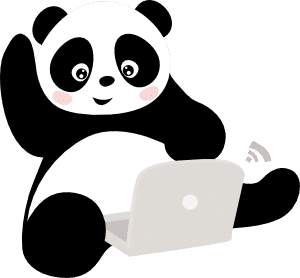 Where Are We?
While Melbourne is our home, most of our goodies are kept in a commercial warehouse in Sydney. They aren't open to the public and there's NO shop front.
That means for most items...
We are Not Able to Offer Pick Up.
Instead we provide fast & low cost delivery to your door :-)
The Only Exception is for Furniture - pick up can be arranged from the supplier directly.
Would you like
more information
on this item?
Can we
clarify anything else
for you at all?
Please feel free to Call

1300 88 11 59



or Send Us a Message anytime

.

Your message will be responded to ASAP, usually within 24 hours and during business hours, Monday to Friday 9am to 5pm Australian Eastern Standard time.

In case the phone line is busy - please leave a clear message with your contact number (including area code) and we'll call you back.

Cheers

!



Reviews
Be The First To Review This Product!
Help other Sew Much Easier users shop smarter by writing reviews for products you have purchased.