Struggle

with

Getting Your Hemlines Even?


Embarrased by Wonky Hems?
Here's How do it the easy way.
If you're looking at this Hem Marker, chances are...
You know how to finish hems on soft fabric, but the result isn't always straight.

You love to wear skirts you've made, but struggle to create even hems yourself.

You're sick & tired of trimming & unpicking failed hemming attempts - there's

got

to be an easier way!

You're Not Alone. Most People have trouble with wonky hems - especially on soft & silky fabrics - because they seem to have a mind of their own.
That's where the headaches start. To get the billow-y soft fabric under control, you kept trimming the wonky bits away - until your skirt is too short. But it's
still
not right.
And of course
-
this
happens when you go to wear it.

Holy Sh*t
- it wan't meant to be a mini skirt....
What
if non-wonky hems
could be done - easier
than you think?
No more

"bugger"

from wasted efforts, and
NEVER have failed attempts to unpick -
ever again?
Often the hard part is to come up with exactly the right tool, for the right job, at the right price. Of course, there is no doubt that in order to create beautiful things, you need to practice.....

But the first step in creating professional finishing is having the right tools.

" This nifty hem marker is a simple device which doesn't take a long time to set up. In 10 mins, I was ready to mark all my hems for alterations!

Once I finish all the alterations, I plan to use it in conjuction with my mannequin and get on with making gorgeous outfits with all the vintage patterns I've collected over the years. Can't wait!"

- Christine, a Happy Customer


The Secret Weapon

that takes the frustration out of hemming is a

Chalk Hem Marker

.


This one has plastic components - at excellent value!
With this freestanding Chalk Hem Marker - your hemline can be altered without assistance from anyone else*.... and a perfect addition to your dress form too.
Because the chalk puffer deposits a thin line of chalk around your dress / skirt / coat at the desired hem height, at the same level off the ground - so you know the line is level parallel to the ground - that means you can
kiss wonky hem lines good-bye!
Once you've created this chalk line, you will be ready to pin, baste and slip stitch or machine-sew your hem in place to a new finished length.
*As long as you stand perfectly straight, wearing the correcrt undergarment you intend to wear with the outfit, and also making sure that your outfit sits straight on you!
The Best Things about this Chalk Hem Marker are:
Easy to assemble and use

- pop on the legs and you're ready for action!
Can be used by one person -

perfect for when you don't have a helper

handy.
Strong construction to

last for years

of sewing enjoyment.

BONUS: 1 x Refill Chalk sachet

supplied - it will last you quite a while, and you can order more from us only when you've run out.
Would it Make a Huge Difference?
You Bet - Get One to Try Now.


"I bought my mum one of those chalk-puff markers and we used it together: one person puffed, the other turned around with the garment on.

If there was only one of us around, then we put the garment on our mannequin.

We got it to work pretty well because we make sure that while the person or mannequin turns, the marker stays put.

..... It's a handy tool to have around."

- Liz, a Happy Customer
So, what is a Chalk Hem Marker anyway?
If you have no idea what a Chalk Hem Maker is, you've probably never needed one. Until now.
You see, when you make your own clothes, marking a hem simply means taking a piece of chalk or a box of pins, using a tape measure, and marking the length of a hem all the way around a few centimeters apart.
And then try the garment on. Have a look in the morror....
If the length looks good, then you can finish the hems by hand stitching or whizzing it up on your sewing machine, depending on the fabric, the style, the occasion and personal preference.
Phew, that's one down.
Ready to wear now. Finally. Yay!
But... what if you have TONS of hems to take up.....??
You know, that (ever-growing) pile of newly bought skirts and dresses that only needed a little cut and nip to be fabulous, but you just never got around to doing the work or taking them to a tailor?
What if you're making a few outfits
for your bridal party or dance troop?
Experienced seamstresses will probably agree that they just can't live without their trusty old hem markers - because having this gadget handy make the hemming process far less stressful and saves time too!
Imagine this:
You can be the best designer in town, but if your creation doesn't come with beautifully finished hems (trust me, people DO check), you've simply missed the mark of being a professional.... and who wants to be known as an amateurs anyway?!
Instead, picture

your beautifully finished outfit

- looking sexy - walking down the runway...
with paparazzi snapping away in frenzy.....
Many old-school dressmakers will tell you that an invisiblely hand-stitched hem is the best choice because they are unobtrusive.
While others like the more conventional, machine stitched hems commonly found in store-bought clothing.
Either way,
you'll need to mark the hem correctly before you can call your garment "perfect".
If you own a hem marker, you will achieve perfection easily, and quickly - so you can get on with other things - like
looking gorgeous and feeling fabulous
wearing your own handwork!
And you can
proudly tell everyone: "I made it!"
Ready to Give it a Go?
Simply Add to Cart Now.


Bonus Tip:

For BEST result,
hang your garment overnight
so that the fabric has enough time to relax and "drop". This is especially important with fine evening fabrics like silk and chiffon.
Then work on your
hemming the next day
when you know that fabric won't drop any further.
Oh, and
pre-shrink your fabric BEFORE making your garment
- assuming you're using washable fabric - is always a good idea too...
Got Hems to Finish?
Grab One & Expereince the Difference for Yourself.


How does this Hem Marker work?
Courtesy of Sally Ann - a clever Michigan-born designer, artist, & seamstress, who makes women's clothing and accessories using recycled fabric.....
.....you can see how she uses the hem marker to turn a vintage skirt into flattering length!
Before
After
Image Credit:
sallyannk on blogspot.
Marking the Hem
The
best way to measure and mark a hem
is to do so
while the garment is ON
the wearer, either by you, your client, a model, or a mannequin. How you measure will depend upon the type of garment being made.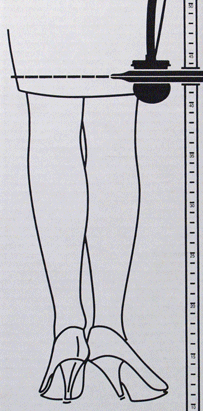 Dresses and Skirts:
Begin with a 3-centimeter or one-inch hem (you can add or reduce this as necessary, but this is a good measurement to begin with).
Long Coats and Jackets:
the same method as Dresses and Skirts apply.
You should measure from the floor and make the hem parallel to the floor as well. This is where you will find our freestanding Chalk Hem Marker indespensable!
Here are some more tips and trick on marking hems that may not need to be parallel to the floor:
Sleeves:
Because one arm is generally longer than the other, you'll need to measure both arms and adjust the hem accordingly. Turn up the hem so that it fits according to your preferences.
Pants and Jeans:
Again, one leg can be longer than the other, so measure both legs. You can make the hem parallel all the way around, or you can choose to make the back hem slightly longer than the front to cover or partially cover the heel of the shoe.
Trim:
If you're shortening a garment, chances are you will need to trim excess material so that the hem is of a consistent length all the way around the garment.
Remember: check twice, cut once!
Accurate marking means accurate trimming.... you can always trim excess away but fabric doesn't grow back.
Can't Wait to Try?
Why Not Order One Right Now.


" These chalk markers have been around a long time, and I've always found them useful.

They work well and it is possible to mark a hem without help from another person.... just remember to stand up straight while you do it."

- Bev, an Experienced Dressmaker



Grab yours now and you can experience:
Perfectly Even Hems -

Done Quickly & Easily.

Save Time

and Get your project done - already!

Do it Right in the first place - so you can

Avoid

Unpicking :-)

A sense of achievement

, because you've solved your own problem.

No more frustration

- just you and your beautiful results!

Be proud and tell everyone: "I made this!"

So the Only Question is:
Should you get just ONE for yourself,
or Grab a Second one for a friend?


Simply

Click Add to Cart

&

Get Yours Now!
We know sewing. But you know best.
Sometimes things don't work out according to plan. Not to worry - we have a 60 Day Money Back Guarantee to support you.
Your No-Nonsense 60 Day
100% Money Back Guarantee*
In the unlikely event when the item doesn't meet your expectation, be sure to contact us within sixty (60) days.
The benefits under this Guarantee are in addition to other rights and remedies under a law in relation to the product you have purchased.
We want you to have a plenty of time to feel absolutely certain that you have what you've paid for!
If you're not 100% happy simply let us know and return the item in original condition and packaging.
We'll send you a full refund (excluding postage) promptly and courteously - No Questions Asked.
So you can be sure you'll be happy with your purchases!
*Looking for the fine print? Check our terms and conditions for details.
Be The First To Review This Product!
Help other Sew Much Easier users shop smarter by writing reviews for products you have purchased.
Can't wait for it to arrive? We will get it to you ASAP.
Prompt Shipping - Your package will be sent promptly once payment is cleared. Usually it will be dispatched the next business day.
Combined Shipping - Want to save even more? We are happy to combine shipping for multiple items in your cart... it gets worked out when you check out.
Packaging and Sending - All your items will be packed well. We do everything we can to ensure your package arrives safely. In the unlikely event something does go wrong, simply contact us and we will do our best to resolve your concers.
Packaging Materials - We support "green policies" and recycle clean packaging where possible. Sometimes brand names on packaging may not necessarily match the content.
Simply click "Add to Cart" now and complete checkout so we can get it on it's way to you.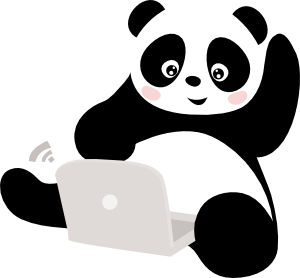 Would you like more information on this item?
Can we clarify anything else for you at all?


Please feel free to use the form below, or email hello@sewmucheasier.com or phone 1300 88 11 59.

Your message will be responded to ASAP, usually within 24 hours during business hours, Monday to Friday 9am to 5pm Australian Eastern Standard time.
---