Curved Safety Pins 37mm for Quilt Basting (600 pcs)
Ready to Baste Your Quilt Top for the
First Time

?
But

dreading

The Idea of doing it by hand?
Find out How other quilters do it...
If you're looking for Curved Safety Pins, chances are...
You're learning machine quilting, and you need some for class.
You have a few quilts ready to sandwich, but don't have the time to hand-baste.
You're fed up with hand basting when sandwiching your quilts - there's got to be an easier way!

Basting your quilt sandwiches by hand sounds like hard work, doesn't it?
Don't worry - there are other ways:

"This is one of those "must have's" for quilters.

For years I hand basted my quilts, but now use these pins and save hours and hours of labor!

I've used regular safety pins, but the curves on these pins make clasping the pin so much easier.

Highly recommend to anyone who quilts and is still hand basting!"

- Jane, a Happy Customer


What if machine quilting on a domestic sewing machine was easier than you think?
Often the hard part is to come up with exactly the right tool, for the right job, at the right price. Of course, there is no doubt that in order to create beautiful quilts, you need to practice.....
But to become an accomplished machine quilter, you need to:
Have the right tools
Use the right method
The Secret of Successful

Machine Quilting is a

well-basted quilt - this is Easily Done with

Curved Safety Pins!
Also referred to as
"Quilter's Safety Pins"
, these are specially designed safety pins that have a curve in them. There is a bit of 'boomerang' shape which sets them apart from regular safety pins.
This
curve makes ergonomic sense
, as you "dig down" through the layers when you baste your quilt and "come up" again to close the safety pin, the curve are already at a correct angle to leverage your effort - in a similar way to how dressmaker's scissors are angled.


Faster, Less Effort, NO Pain!
Believe me, once you've safety-pin-basted a quilt using regular safety pins, you WILL have pretty tired and sore fingers......
Now, see them in action - watch this video:
Now, take a close look at these pins we got here.....
Bulk purchase for best value -

don't run out in the middle of pinning a quilt!

They are strong, and in decent, finger-friendly size of

37mm (Size 2)

- made for real crafter's hands!


Fully Nickel-plated & Rust-

resistant

(just like the ones dry cleaners use) so they don't stain your quilt* like brass or non-plated ones!


*providing they are kept dry and not exposed to excessive moisture and humidity
These pins are made by
Hemline
, at their own factory to ensure
premium quality
and
best value
for money.
Here are the specifications of these Curved Safety Pins:
HB2.Curved
Quality Safety Pins
Hardened Steel
Open Nickel Plated
Size 2 / 37mm
QTY: 600 pcs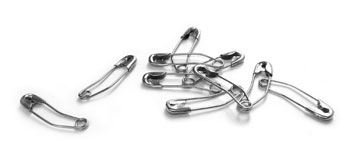 According to their official website:
"
Hemline haberdashery is 100% Australian owned
, and our Hemline products are assembled and packaged in our own factory with our
exclusive Five Star Quality Control
.
Hemline haberdashery was first developed in Australia in 1987 and commenced with a range of some 80 popular sewing necessities. Today Hemline is one of the best-known and largest haberdashery ranges in the world, supplying millions of households around the globe to meet their daily sewing and mending needs.
Hemline - your best buy in haberdashery!
"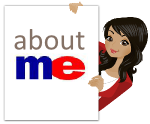 Want to Know

Who We Are


Before Buying?
Click Here to Learn More About Us...

Being a savvy quilter,
you are making a bulk purchase to enjoy the best saving

possible.

That means the pins will be sent in bags, rather than boxes - so you can

save

on postage!
Sure, there are other methods for basting your quilt before machine quilting:
Hand baste
Using quilt-baste spray
Using regular (instead of safety) pins
When you try the above three methods, you will find:
1. Hand Basting is Time Consuming - before AND after machine quilting.
2. Sprays are messy and tend to lose it's tack if you don't finish quilting soon.
3. Regular pins have dangerous EXPOSED sharp points. OUCH!
So, What's a Quilter to Do?
Get some Curved Safety Pins and Experience the Difference for yourself...!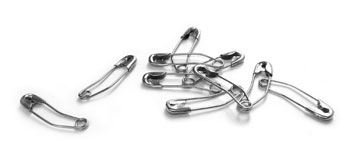 What the safety pins do is holding your quilt layers together as you stitch. The more you pin, the less chance of puckering, and that
means less headache - and a professional finish!
You will end up wanting more of these pins.... because you can now get ALL your quilt tops basted ready for machine quilting - and get on with creating the NEXT quilt top, or simply
enjoy stress-free machine quilting!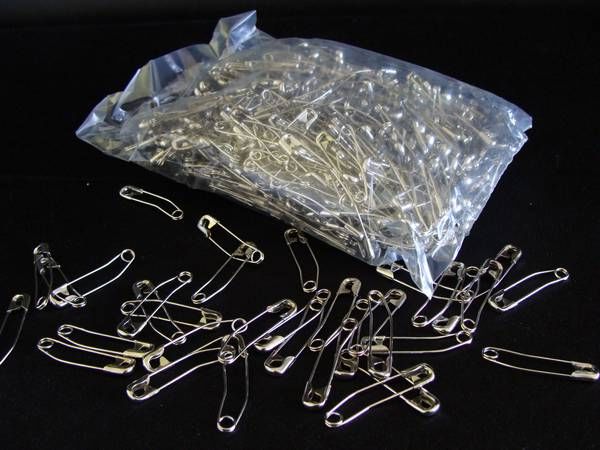 Not a Quilter?
See what one of our (very innovative) customers get up to with her curved safety pins:

"These nickel plated steel curved safety pins are 38mm long, have a smooth, sharp point, fasten securely, and DO NOT RUST.

So they are GREAT for a LOT MORE than just basting quilts! I use them for securing a shawl / scarf, or straps on my shoulder discreetly. Never have these pins marred the fabric, or come loose.

I also use these pins to pin back casual window coverings, like curtains, or to lightly secure a throw on the back of the sofa.

A really good value, these safety pins have become a basic tool in our household! Recommended!"

- Annette, a Happy Customer


The response for discovering the Curved Safety Pins has been phenomenal.
Here is what other people are saying about it:

"It was a pleasure to finally be able to purchase some curved safety pins - in bulk!

You cannot find decent safety pins in stores any more and I try not go to fabric shops that often (in case I get tempted).

The safety pins arrived as promised and I have been using them. It is like finally finding the treasure you have been looking for for so long.

Thank you again for offering this to your customers."

- Brenda, a Happy Customer



"I've tried other ways of basting my quilts before machine quilting, none of them as easy as using the safety pins.

I didn't realised how many pins I go through.... but it's all worth it. Buy bulk and save!"

- Eva, a Happy Customer


Grab yours now and you can experience:
Machine quilt like a pro -

Done Quickly & Easily.

Save Time

and Get your project done - already!

Do it Right in the first place - so you can

Avoid

Unpicking :-)

A sense of achievement

, because you've solved your own problem.

No more frustration

- just you and your sewing machine enjoying a stress-free time!

Be proud and tell everyone: "I made this!"

So the Only Question is:
Should you get just ONE for yourself,
or Grab a Second one for a friend?
Simply
Add to Cart
To Get Yours Now!
We know sewing. But you know best.
Sometimes things don't work out according to plan. Not to worry - we have a 60 Day Money Back Guarantee to support you.
Your No-Nonsense 60 Day
100% Money Back Guarantee*
In the unlikely event when the item doesn't meet your expectation, be sure to contact us within sixty (60) days.
The benefits under this Guarantee are in addition to other rights and remedies under a law in relation to the product you have purchased.
We want you to have a plenty of time to feel absolutely certain that you have what you've paid for!
If you're not 100% happy simply let us know and return the item in original condition and packaging.
We'll send you a full refund (excluding postage) promptly and courteously - No Questions Asked.
So you can be sure you'll be happy with your purchases!
*Looking for the fine print? Check our terms and conditions for details.
these pins are excellent quality

By:

robyn

on 11 July 2014

These curved pins are of high quality and are great to quilt with. They don't bend like the cheap ones the are excellent I am 100% happy with them and sew much easier

(5)
Can't wait for it to arrive? We will get it to you ASAP.
Prompt Shipping - Your package will be sent promptly once payment is cleared. Usually it will be dispatched the next business day.
Combined Shipping - Want to save even more? We are happy to combine shipping for multiple items in your cart... it gets worked out when you check out.
Packaging and Sending - All your items will be packed well. We do everything we can to ensure your package arrives safely. In the unlikely event something does go wrong, simply contact us and we will do our best to resolve your concers.
Packaging Materials - We support "green policies" and recycle clean packaging where possible. Sometimes brand names on packaging may not necessarily match the content.
Simply click "Add to Cart" now and complete checkout so we can get it on it's way to you.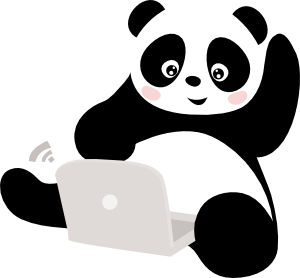 Would you like more information on this item?
Can we clarify anything else for you at all?


Please feel free to use the form below, or email hello@sewmucheasier.com or phone 1300 88 11 59.

Your message will be responded to ASAP, usually within 24 hours during business hours, Monday to Friday 9am to 5pm Australian Eastern Standard time.
---