Elements by TailorMade - Sewing Machine Cabinet Trio + Overlocker Table
Fed Up

with Sewing & Cutting on the Dining table?


No Budget

for Fancy A Koala Sewing Studio?

This might be Your
Perfect

solution....
Note: Sewing Machine, Chair & Accessories NOT included in this listing.
Machine Platform Base:
58.5 cm x 29 cm
(23" x 11.5")
Platform Cut-Out:
61 cm x 32 cm
(24" x 12.5")
Maximum
Sewing Machine Weight:
12 kg
If you're looking at Flat-Packed Sewing Furniture, chances are...
You've out-grown your old Horn sewing cabinet

You're setting up a sewing studio because the kids have left
Your family needs their living / dining space back from your creative mess!

You're sick & tired of being a nomad with your sewing - there's got to be an affordable alternative to Koala Sewing Studio!

You're not alone...

"How did I manage without this?

I've been hunched over my sewing machine on the dining room table for years - I always got sore shoulders and an aching back after a few hours of working on a project.

But NOW...OMG!! I got an entire big project done in about five days, working 8+ hours a day with not a twinge of discomfort. I love it."

- Alison, a Happy Customer


Ok, so you dream about your very own sewing studio...


Except the reality is more like this...

Ok, Maybe Not
. Back to reality.

Sounds familiar?
Well, let me share a little confession...
Many moons ago, when I first got bitten by the quilting bug, I went on to take over the rest of the house. The dining table was my first victim. You know how it goes from there - and it never ends well. That means
I can honestly say I know your pain
. If only I had a better option then.


But I've found a perfect solution now...
The Smarter way

of Setting up Your Sewing Space is

Elements Sewing Cabinets by TailorMade

.


They come flat-packed - just like IKEA - but purpose-built for Sewing!
Note: Overlocker NOT included in this listing.

Whether you have a dedicated room or not - having your machine & all your sewing gear in ONE spot means:
Your space is always

tidy and inviting

You

know

where everything is located
You can find what you need

easily

You can get the

job done quickly

You can save

time and energy

for other fun thing - and actually

enjoy

sewing!
Add Yours to Cart Now...
So You Can Experience it Yourself.


"I have a bad back, and bought it so that I did not have to lean over to cut on my dining room table.

Took a bit of effort to put in together, and it is heavy, but once assembled, it has been totally wonderful to use. It is the perfect height and just right for my A1 cutting mat.

I use this constantly for numerous projects, and do not for a moment regret the purchase. It has a ton of room for everything, and is superb for laying out fabric and patterns.

There are other tables out there but this was the best one for me. I do feel that it was worth the money I paid for it, and I have many times over been thankful for the height, and size of the table. It is not a table to buy if you have to move it often but it does have a lot of room for storage, so you do free up heaps of space anyway. I love it!"

- Colleen, a Happy Customer


Let's see what you get...
The Flat-Pack range is called
"Elements"
- unlike furniture you find at IKEA, these are
specifically designed & made FOR sewing.
By TailorMade - the Sewing Furniture Specialist.


And, this is your 4-Piece
Set
, containing:


Sewing Machine Table (RRP: $299.99)




Overlocker Table (RRP: $249.99)

Sewing Supply Drawers

(RRP: $269.00)

Sewing Storage Chest

(RRP: $199.99)



BUT....
Make Sure You Act Quickly.
We Have A Limited Number In Stock.
Get Yours Now While You Can!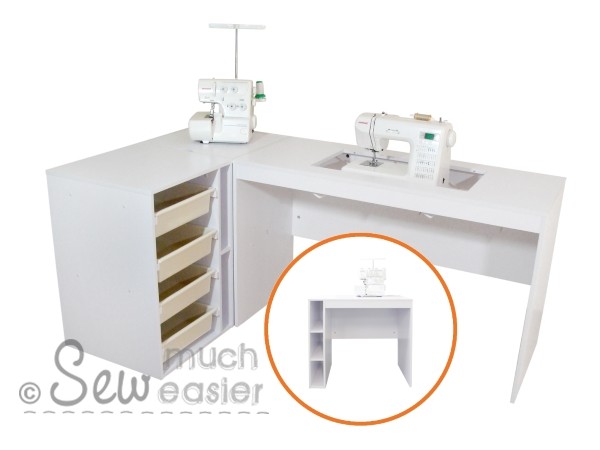 Note: Sewing Machine & Overlocker NOT included in this listing.
This

4-piece complete set

helps you create your perfect sewing room - starting with the essential combination of:

sewing table

overlocking table

storage unit

chest of drawers


You can arrange them in any configuration that

suits your own ergonomic flows

- think about how YOU move from one area of work to another.
If you're
a quilter
, your three point will generally be:
Sewing

(for machine piecing & applique)

Ironing

(for pressing seams in your blocks, ironing on applique)

Cutting

(for trimming off dog-ears, squaring off blocks)
If you
make clothes
(assuming you've already done the cutting-out), then your three point would probably be:
Sewing

(for stitching portions of the garment together)

Overlocking

(for finishing raw edges)

Ironing

(for opening out seams, applying iron-on interfacing)
How Would You Configure Your Room?
Get Yours to Try Now.

Get Creative with Your Sewing Space Now!
Make use of flat-packed furniture that offers
flexibility
to provide a solution that
makes the most
of your space.
Wanna Get Started?
Simply Add to Cart.


"This really is a great combination - a sewing table with a matching set of drawers AND a place to keep my overlocker.

Sure, the units are NOT made of real wood, but the finish is nice, it's affordable, it has a place for everything, and most importantly it keeps your mess hidden.

Now I have room to use both my sewing machine and the overlocker at the same time, all my tools, threads and patterns fit nicely inside drawers, and there's even room for my cutting mat (if you didn't put in the divider in the middle of that long skinny slot next to the drawers).

It was fairly easy to assemble for my husband and I (mostly him doing the work). It's a lot more sturdy than I thought it would be as well.

Would definitely recommend this."

- Toni, a Happy Customer


The "Element" collection are specifically designed so that they can be easily and effortlessly assembled using our simple to follow instructions.
The pieces are even individually labelled so they are really easy to identify. If you have ever assembled Ikea flat pack furniture you will find constructing a TailorMade Sewing Furniture a piece of cake - just
follow the instruction because the assembling works best in a certain order.
You will notice the
smooth corners and edges
similar to your kitchen cabinets - no more snagged fabric and ouchy red marks on your arms from leaning on the edge!
Note: Sewing Machine / Overlocker NOT included in this listing.
Check out these Awesome Features....


More

Affordable

compare to other well-known brands of sewing cabinets. That means what you save is yours to spend (more fabric. Yay)!
Easier to transport means you

don't pay a fortune

for special furniture delivery. Practicality has never looked more stylish!

Easy to assemble

, AND can be disassembled for house move / storage. Perfect for those changes that life throwns at you along the way - upsize or downsize!
Size Matters: an practical width (only 50 cm), the Element range works just like your modular kitchen units - so

convenient & versatile

for any space.
Made from quality MDF with a wood grain melamine veneer -

superior finishes with NO sharp edges

- no more snagged fabric or ouchy red marks on your arms!
Modular and Versatile, the individual untis make a perfect set (available separately if you want to order more) -

mix and matc

h to create your ultimate sewing studio!
What's more:

simple, timeless design

means you will never have to worry about changing interior trends. Because fashion comes and goes, but style is here to stay!
Designed for sewing flatbed or free arm: adjustable

machine platform (58.5cm x 29cm)

is large enough to accomodate most domestic sewing machines.
More

Ergonomical

, with No complicated mechanism to get in the way. Enjoy sewing in comfort, with your best posture (NO more twisting to the side like other sewing cabinets)!
Plenty of storage in the right configuration, in the right dimensions for your sewing gear - it's

easy to stay organised

!
Quality workmanship + durable material + clever design = better value for you.

Buy well, Buy once

(without breaking the bank)!
Note: we also have other

matching pieces

available.
Sounds like Exactly What You Need?
Order Now and Give 'em a Go.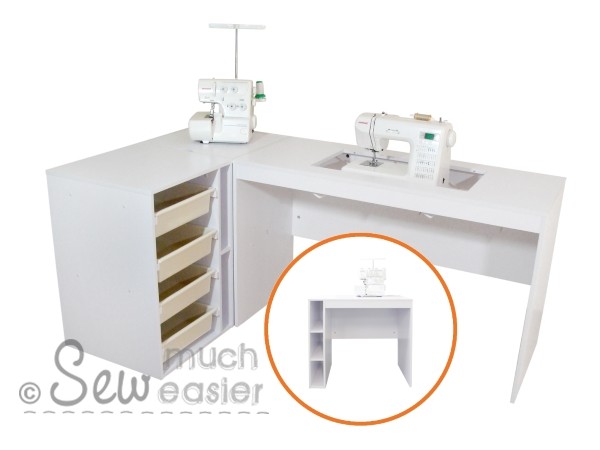 Note: Sewing Machine & Overlocker NOT included in this listing.

Easy Options To Fit in Your Space
Depending on space available, having a modular system made of individual units is ideal if you're short on space, or need to adapt to an odd-shape room.
Even if you happen to have a large area (and lucky you) the modular system allows you to create the best setup to suit your particular preferences.
Simply add units as your needs grow
to create more storage or sewing areas and alter their position to suit your space and your creative journey!
Can't Wait to Try?
Then Order Your Set Today.

Note: Overlocker NOT included in this listing.

"I didn't want to spend a great amount of money for a new sewing machine table, so when I saw this one it look like it would be just the right table for me.

This is a very stable table even for my rather heavy 30 year old Singer.

It didn't come with an insert so I got my neighbour to make one for me from plywood. It covers the whole open area completely around the machine, with two finger holes in the insert so that it can be easily removed and I painted it white to blend with the table."

- Ann, a Happy Customer


Does this Table have a "Lift" to Raise or Lower Your Sewing Machine?
Yes, it does.
However, it is NOT one of those hydraulic or mechanical lifts. Nor does it rely on electricity.
This sewing table has a simple manual lift, with a hand lever underneath the cut-out platform. All you need to do is move the lever to raise or lower the platform (designed to carry
up to 12 kg
- which covers most domestic sewing machines) to have your machine at flatbed or free-arm level.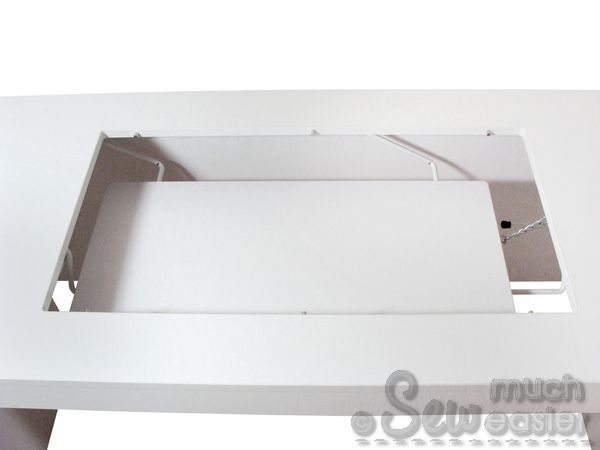 Note: Sewing Machine NOT included in this listing.


Machine Platform Base:
58.5 cm x 29 cm
(23" x 11.5")
Platform Cut-Out:
61 cm x 32 cm
(24" x 12.5")
Maximum
Sewing Machine Weight:
12 kg
This sort of manual lift is common for some of the most affordable sewing tables, and Arrow cabinet is one of the most well-known example.
Typically, the sewing cabinets that uses the hydraulic lift are quite restrictive in leg room - the traditional Horn cabinets, for example, are well-known for this sort of issue - that means the machine user sits with a twisted posture because commonly there is not enough room on the left hand side of the needle.
With TailorMade sewing desk, there is

maximum space

- with nothing in your way - so you can sew in comfort, with perfect posture and heaps of leg room!
Sounds Good?
Give it a Go Now.


"I looked years for a sewing table and went to several quilting shows only to find the nice sewing tables there went for $1000 of dollars with electric or machanic lifts for lowering the sewing machines. And many of these tables has almost no leg room for me to sew comfortably.

I finally bought this flat-packed sewing cabinet because it has a cut out with a simple drop-down board for the machine, and the height is just right for a middle size woman like me to sit and sew without hurting my back. And not having a lift means plenty of leg room too!

The lowering chain needed to be adjusted so that your machine is that the correct level, which is something you only need to do once, and it was easily done with the screw that has a wingnut on it.

For my budget, I think I've finally found the right sewing table."

- Philomena, a Happy Customer


Is the Sewing Machine Platform Height Adjustable?
Yes, definitely!
The manual lift provides TWO positions: Flat-bed or Free-Arm.
Flat-bed sewing means your machine is "sunken" below the table surface, so that the needle is at the same height as the rest of your work surface (in simulation to an industrial sewing machine). This is most useful when you want take on larger projects like wedding dress, curtains, or machine quilting.
Free-Arm sewing is when your sewing machine sits at normal table height, with the platform at the same level as the rest of the table, and any storage unit has been removed from your machine to reveal a small area that's perfect for sewing sleeves and children's clothing.
Chances are, you will need to make minor adjustment to determine how far to "sink" your platform. This is something you'd only neeed to do once (unless, of course, you plan to use more than one sewing machines).
To make such adjustmment, simply use the wing nut at the end of the chain to lengthen or shorten the chain. The length of the chain determines the depth of your platform.
Of course, please make sure that your sewing machine isn't sitting on the platform while you're making adjustments - you don't want the platform to fall out mid-adjustment with the machine on it!
Would Your Machine Fit?
Most Likely - Get Yours to Try Now.

Note: Sewing Machine NOT included in this listing.
Does this Desk com with an Insert for my Sewing Machine?
No - it deosn't.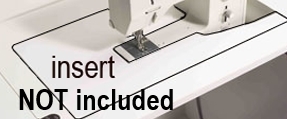 This is because there are simply too many makes and models of sewing machines out there, and there is NO such thing as one-size-fits-all when it comes to inserts (or some may call them "cut-outs").
This is because the manufacturer could not possibly include an insert without knowing what sort of machine it needs to fit. And since most of us have different machines, one-size-fits-all certainly isn't going to work for us.... well, you know the rest.
Most customers are happy enough to get a piece of perspex or MDF cut to size to fit their own machine. This is by far the most economical option.
And this is easily done because there are metal stoppers around the inside edge of the platform cut-out (see picture on the left).
That means the insert you've made simply sits on top, even flush with the table surface if the MDF / perspex you choose is the right thickness.

Note: Sewing Machine NOT included in this listing.

"I recently got back into sewing and had been using my dining table as my sewing table but I got sick and tired of having to pack up to serve dinner every night, so I started looking at getting myself a proper sewing table as soon as our daughter moved out which freed up a whole room for my sewing.

I was surprised to find quite a selection of sewing tables and cabinets out there. Sure, some of them ARE very nice but I couldn't justify spending more on a table for my machine than I paid for the machine itself.

All I wanted was something very simple and still allows me to drop my machine bed even with the surface but all the ones with mechanical lifts were either too expensive or no leg room, so I went for this one.

I was very plesantly surprised to find this a very solid table and, even at high speeds, doesn't move much at all.

Putting it together was a breeze with my husband's help, and the lift / drop mechanism was surprisingly simple - a lever, some chain, and a wingnut to adjust how far it drops. Sure, it doesn't come with a 'cut-out' or machine insert but we just got a piece of MDF cut to size to fit my machine, and that works perfectly for me.

I think this is a bargain for the price and would definitely recommend this table to anyone looking for a good solid, no frills table for their machine!"

- Matilda, a Happy Customer


Does my Sewing Furniture come Fully Assembled?
No. The Element range comes flat-packed, just like IKEA furniture.
This is because they are
budget-friendly
, so you get to SAVE on delivery cost as well.
Please note, your flat-packed furniture will be delivered to front door of your address just like any other items. The delivery does not include assembly, positioning, unpacking or rubbish removal.
Because by giving us a hand in doing the final

assembly yourself

, we are able to

pass on the savings

.

That means you can enjoy the

fairest price possible

with a beautifully customised sewing room - designed by YOU!
Makes Perfect Sense, Right?
Why Not Order a Set for Yourself :-)


Note: Overlocker NOT included in this listing.

"I am delighted with my new sewing cabinet, especially when I was able to assemble it myself.

It took me longer than it probably would other people because I am far from mechanical. The instructions were pretty good and every single nut and bolt was included as it was supposed to be.

The instructions even had all the different bits and screws illustrated to clarify which ones to use where. It is a very attractive piece of furniture. I really love it!"

- Amanda, a Happy Customer


What is Flat-Pack furniture, anyway?

Flat pack furniture is furniture that is fabricated in flat parts and
designed to be quickly and easily assembled.
Sometimes called ready-to-assemble furniture ("RTA" for short), it is also known as knock-down ("KD" for short) furniture. This means
some assembly are required
when you receive your flat-packed furniture.
The primary advantage to this is that, because it is packed flat, it is extremely space efficient, that means they
cost less
to store and to ship, so the amount amounts of money saved by the manufacturer can be passed down and help YOU save too!
Flat pack furniture is generally
simple to assemble
and requires only the
use of simple tools
. As such, assembling it may be fun and provide people with a sense of accomplishment. Most importantly, by lending a hand in assemly, you have already help reduce the environmental footprint of your furniture.
The best thing is you can
save on delivery cost
. Think about the fuel and the space saved during the transport, not to mention the shipping cost you DIDN'T have to fork out for having them delivered fully assembled (like a huge sofa suite)!
I know that you're a savvy quilter / seamstress
who cares about more than just sewing...
You underststand that your hobby
doesn't have to cost the earth
.
By choosing flat-packed sewing furniture - over traditional pre-assembled sewing cabinets - you are supporting a more responsible, environmentally friendly way of how furnitures are designed & made - so that they are
more efficient
in transit, and keeping the
carbon footprint
smaller.
Simply Add to Cart Now.
To Enjoy Your New Sewing Room!

Note: Sewing Machine / Overlocker NOT included in this listing.
The Best Things about the Element range are:
Easy to assemble and use

- pop it together and you're ready for action!
Comes with a handy lift / drop mechanism -

get your machine at the best level for you

!

No sharp corners or edges

- so your fabrics are safe from snags and catches.
Sturdy

ergonomic design with plenty of leg room

so you can sew in comfort.
Quality workmanship and strong frame to

last for years

of sewing enjoyment.

Designed with your interior in mind

to blend in seamlessly.
Flat pack to

reduce carbon footprint AND cost

- save money and feel good!
Ready To Get Yours?
Just Add to Cart Today.


"Thanks for the sewing desk. My son assembled this for me within an hour, and I absolutely love it. The quality is good, its very sturdy, and it is a really pretty piece of furniture.

Most importantly, my sewing machine fits perfectly into the lift mechanism (which is easily adjustable with a wing nut) and still give me plenty of leg room. I can see many years of happy sewing."

- Helen, a Happy Customer


Why Flat-Packed? Can't I buy sewing furinture already put together?
Yes, of course. Other brands like Koala or Horn are delivered pre-assembled. Though you WILL pay more for the purchase AND delivery.
Because flat-packed furniturne costs the manufacturer less to produce and easier (and cheaper) to transport, we are able to save on cost, and pass the savings directly on to you! That means YOU will have more spare cash to spend on what you wish (more fabric, perhaps?)
Think of it like IKEA (and we all love IKEA, don't we?). You get to enjoy savings on the price AND postage. Then all you need to do is put the furniture together (and this is even easier with another person's help). The instructions are clear (but you DO need to follow them), and the pieces are individually numbered too!

"My wife loves this and it went together easily and has held up great!

All the parts were clearly labeled or easily identified from drawings in the instruction maual. Instuctions were easy to understand. I was happy to discover that all pre-drilled holes were absolutely accurate.

The new style camlock fasteners made for a very secure assembly of the panels. When fully assembled the desk was solid without the wobble typically associated with camlock assembled particle boad furniture.

- Dave, a Happy Husband


The Tailormade Philosophy
Tailormade can help make your dream creative space a reality.
Because they know that having the right work station and configuration is important to you, which is why the cabinets are
designed with you in mind
.
All cabinets are crafted to the highest standard of functionality and comfort (while keeping them affordable), providing you with a quality product AND exceptional value doesn't need to break the bank!
Why Choose Tailormade?
Because TailorMade specialise in sewing furniture.
Built with your specific needs in mind, TailorMade furniture has ample storage solutions through the use of specialised trays ideal for threads, bobbins, notions and even a place to hide your overlocker or extra machine.
Modular units can create the perfect setup for you. Everyone works differently, your needs will probably grow and evolve, and no two rooms are the same.
Made from quality MDF with a wood grain melamine veneer, these cabinets offer exceptional value for a sturdy build, with smooth surfaces and NO sharp edges and corners!
Perfect for those limited by space or wanting a multi-purpose room, our modular Elements units can be configured to create multiple setups and can be built upon to create your dream hobby room.
Simply

Add To Cart &

Order Yours Now!

Let "Element" help you stay organised!
When it comes to sewing, it pays to be organised, especially when you're running short on time and space (aren't we all?) it is good organisation that will come to the rescue.
Because you WILL save both time and frustration if you don't have to search the whole house twice for something (that might have been under your nose all along).
Sounds Perfect?
Simply Order YoursToday.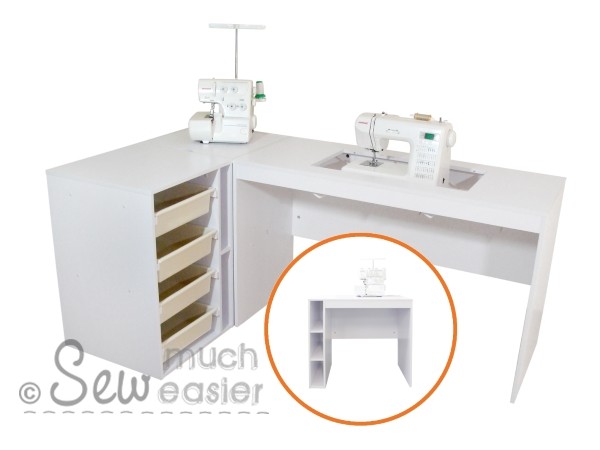 Note: Sewing Machine / Overlocker NOT included in this listing.

"I did lots of research before I decided on my sewing room furniture, and I'm really happy with my purchase.

Although I would have prefer one of those fancy Koala cabinets that has a mechanical lift, hidden drawers and panels that folded up to give me more sewing area, the cost is prohibitive.

This table fits my machine perfectly, and the storage units that come with it are great. Most importantly it was within my price range.

There is NO machanical lift but there IS a panel that drops down so the needle is perfectly level with the table. You can actually adjust the drop by varying the chain length (with the wingnut at the end of the chain) so you can get your machine at the correct level.

It is stable, and the drop shelf has a finished edge, as well as the inside of the cut edge so there is no rough edges anywhere to catch your fabric or thread.

The only thing I wish it has was an insert (to fill the gap between your machine and the edge of the drop shelf), though I understand not everyone has the same machine, so it isn't possble to include a one-size-fits-all insert that works for everyone.

Overall I'm very happy with my new sewing furniture, and I think you get better value by ordering the 3-piece set."

- Elizabeth, a Happy Customer


And the most important thing is -
Setting up sewing space
Shouldn't Cost the Earth
, Right?
Note: Sewing Machine & Overlocker NOT included in this listing.

"I rarely do reviews unless a product is really great!

I having been sewing literally all my life and have had many different machines and cabinets. I usually put my machine on a table or desk but in searching for a way to do freehand quilting with as little RSI as possible, I looked at many specialty tables.

I did not want to spend $3000 on the fabulous Koala set up and I wanted something easy to set up. The Element cabinet looked like a good choice, and as it turns out, I could not be more pleased.

It was easily assembled right out of the box (with my son's help) and even the height of the recessed platform was easy to adjust. I set it up and was sewing in less than 5 minutes.

I have never had as comfortable reach, view and height of any other table or cabinet previously. The table is on a tile floor, no rug and I ran the machine as fast as possible with little vibration.

I should also mention that it DOES NOT come with an insert to go around my machine, so I use a large sheet of clear perspex that covers the whole table with just a small cut-out for the feed dogs area and it works really well for me.

Overall, this really inexpensive table is a perfect fit for my needs and I am sure this table will outlast me!"

- Suzie, a Happy Customer


Note: Sewing Machine, Chair & Accessories NOT included in this listing.
This Flat-Packed Sewing Furniture is NOT for you if:
Your machine weighs over 12kg (which needs a mechanical lift)

You prefer a more traditional design
You do not wish to assemble the desk yourself and save postage

The Element Sewing Furniture is ideal for:
An interior purist who loves to have everything in the house co-ordinated
A busy mum who wants to have little things organised (and away from little fingers)
A budding fashion designer with limited work area
A novice sewist wishing to start out on the right track
A seasoned seamstress whose tools of the trade need to be within reach
And... YOU. Just because you deserve your very own creative space :-)
If any of these sounds like you....
We're ready to get your Element Sewing Furniture on its way to you,

delivered anywhere in Australia!
Simply

Click Add To Cart &

Order Yours Now!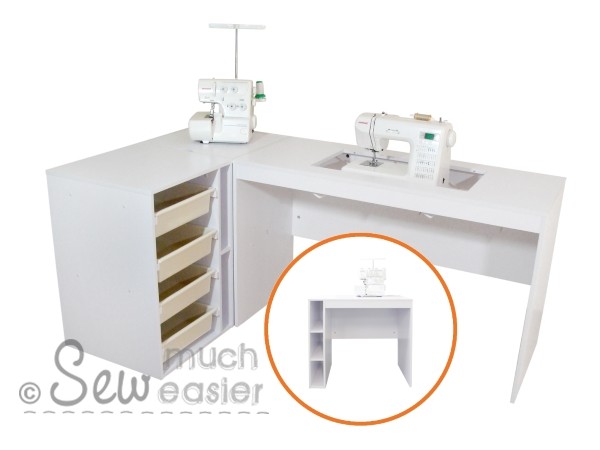 Note: Sewing Machine & Overlocker NOT included in this listing.

"I can't believe I waited so long to get a sewing table. This table is so cool, it was easy to set-up, excellent quality, very sturdy - and the price made it possible for me to own.

This table is perfect for free motion quilting. My husband cut a piece of plastic to custom fit my machine so there is no gap between my machine and the table when I put it in drop-down position.

Having a truly flat surface has made a huge difference in the consistency of my stitches. I found it easy to set up and adjust the height of the machine the first time, and bringing the machine up to use the freearm for garment sewing is easy!

I haven't experienced any shaking at all, even at higher speeds. This table is perfect for my needs. For you sewers out there I would get this table. My aunt who has sewn all her life also ordered one as she liked mine so much."

- Lynn, a Happy Customer


Note: Sewing Machine & Overlocker NOT included in this listing.




Keen To Try It Out For Yourself?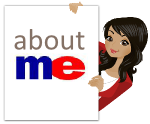 Want to Know

Who We Are


Before Buying?
Click Here to Learn More About Us...
Note: Overlocker NOT included in this listing.

Grab yours now and you can experience:
Your very own creative space......

Absolutely Stress-Free!

Get your project

done with pleasure

- without taking over the house!

A sense of achievement

, because you've solved your own problem.

No more

pain & discomfort from working on the floor. Yay!
Be proud and show everyone:

"Look at my new sewing room - I designed it myself!"
Why Wait?
Simply Order Yours Now!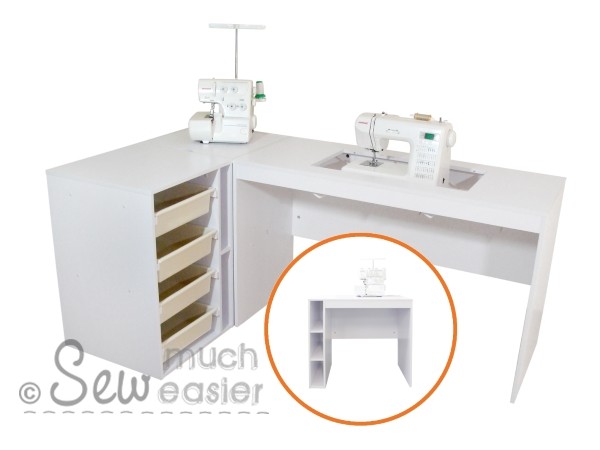 Note: Sewing Machine & Overlocker NOT included in this listing.
What's more.... the money you invest in this essential tool is nothing to
how much more you'll enjoy
your creativity with your new found dedicated creative space...
Simply

Add To Cart

To Get Yours Now!
Note: Sewing Machine / Overlocker NOT included in this listing.
We know sewing. But you know best.
Sometimes things don't work out according to plan. Not to worry - we have a 60 Day Money Back Guarantee to support you.
Your No-Nonsense 60 Day
100% Money Back Guarantee*
In the unlikely event when the item doesn't meet your expectation, be sure to contact us within sixty (60) days.
The benefits under this Guarantee are in addition to other rights and remedies under a law in relation to the product you have purchased.
We want you to have a plenty of time to feel absolutely certain that you have what you've paid for!
If you're not 100% happy simply let us know and return the item in original condition and packaging.
We'll send you a full refund (excluding postage) promptly and courteously - No Questions Asked.
So you can be sure you'll be happy with your purchases!
*Looking for the fine print? Check our terms and conditions for details.
Be The First To Review This Product!
Help other Sew Much Easier users shop smarter by writing reviews for products you have purchased.
Can't wait for it to arrive? We will get it to you ASAP.
Prompt Shipping - Your package will be sent promptly once payment is cleared. Usually it will be dispatched the next business day.
Combined Shipping - Want to save even more? We are happy to combine shipping for multiple items in your cart... it gets worked out when you check out.
Packaging and Sending - All your items will be packed well. We do everything we can to ensure your package arrives safely. In the unlikely event something does go wrong, simply contact us and we will do our best to resolve your concers.
Packaging Materials - We support "green policies" and recycle clean packaging where possible. Sometimes brand names on packaging may not necessarily match the content.
Simply click "Add to Cart" now and complete checkout so we can get it on it's way to you.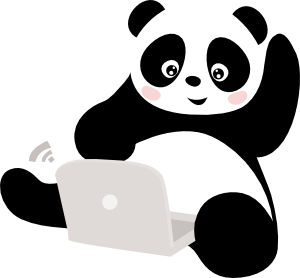 Would you like more information on this item?
Can we clarify anything else for you at all?


Please feel free to use the form below, or email hello@sewmucheasier.com or phone 1300 88 11 59.

Your message will be responded to ASAP, usually within 24 hours during business hours, Monday to Friday 9am to 5pm Australian Eastern Standard time.
---