Janome MyLock 644D Overlocker
Introducing:

Janome's most popular overlocker

Now achieving a

Professional Finish

is Easier than ever!
Here it is...



Janome My Lock 644D Overlocker
You get:
Janome ML644D Overlocker

(RRP: $799)

Standard Accessory Pack
35 Serger Abilities
BONUS Instruction

DVD

2-Year Warranty

60 Day

No Nonsense Money Back Guarantee
Bonus Support Not Available From Other Online Sellers
Finally... A Modern Affordable Overlocker
Yet Still So Simple To Use
For Any Skill Level,
It'll Wizz Up Your Creations Quickly And Easily!
F

irst of all...
Congratulations on your decision to buy a brand new overlocker!
It'll give you many hours of sewing pleasure
and
it's important that you feel comfortable and happy that you've made the right choice.
I know, because
I'm am also passionate about sewing.
As a Fashion / Textile Designer, Quilter & Patchwork Teacher with over 10 Years Experience in the Industry,
I understand how important it is to have a great Overlocker
that

provides you with control and flexibility

so you get the right results time after time.
And... I also know
how daunting
it can be to consider getting an overlocker.
Everyone seems to tell you that they are so complicated you need a degree in engineering just get it threaded up... but fear not, and read on....
Of all the machines I've used over the years,
Janome
Is My Favourite Domestic Sewing Brand By Far and I recommend them to all of my students.
Why?
Because
Janome machines are
easy to use
.
Your new
Janome MyLock 644D will provide a

reliable

overlocking experience
at your finger tips..... so you can
concentrate on finishing the next masterpiece
or simply get on
enjoying other precious things in life!
Imagine how much easier it'll be
to get into your next sewing project or make the time to finish those clothing alterations professionally -
when Your new Janome overlocker is there to help make everything

look so professional

, yet so easy to achieve.
I'm so sure you'll just love your new Janome ML644D overlocker because of all the wonderful feedback and emails from
other customers who are absolutely thrilled with theirs!

"I had used a friend's overlocker a while ago and was blown away by how fast and professional everything came out, but I was not sure if it was REALLY worth the money.

Well, I've been itching to make my own clothing again, and finally bought the Janome 644D. Well it's REALLY worth the money. Period.

I was a bit rusty on how it worked, so I just opened the manual and went through it page by page (and watched the DVD that came with it), which was really wonderful, since they take you step by step to get you going. No problems at all. Just started sewing.

Mine came already threaded-up which I was surprised to find. Though threading it up really isn't all that difficult, once you get your head around it.

If you're on the fence about buying this, BUY IT, it will open a whole new world of sewing enjoyment for you, because it did for me."

- Roslyn, a Happy Customer
Full of practical, user-friendly functions,
Your New Janome ML644D will soon become your best friend.
Like all Janomes, the
MyLock 644D is designed to withstand daily usage
- it produces beautiful 2, 3 or 4 thread overlock stitches over and over again - thanks to the precise stitch mechanism Janome is known for, you can now
create professional results
every single day!
What's more - it doesn't take up much of your precious space, so you
can easily fit
it in your sewing room, or even
take it with you to sewing classes!
Don't let its compact size fool you though.... you new Janome 644D gives you a wide range of features so that all your overlocking needs are covered.
Apart from standard 2, 3 or 4 threads overlocking, this machine
converts quickly to rolled hemming
for a professional finish with a difference.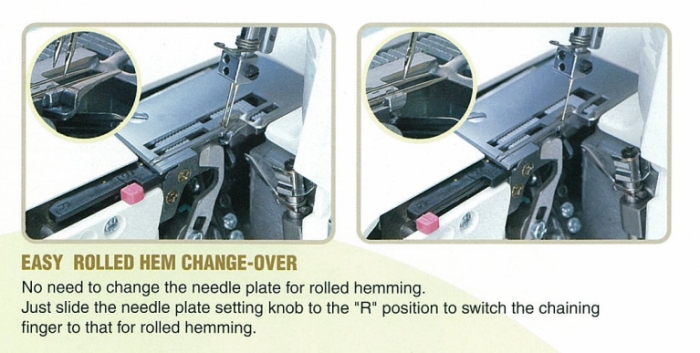 So you're new to overlocking....

Fear Not.
You're not alone.
Janome has thought of everything, they even
included an instructional DVD
to help you get started.
Bonus!
An

all-time favourite

, the

Janome MyLock 644D

includes essential features for simple (and enjoyable) overlocking.

Its unique rolled hem conversion feature eliminates the need to change the needle plate, foot, or tension setting for rolled hemming.

Colour-coded guides are easy to follow for 2, 3, or 4 thread serging. Specially designed to make this machine
THE most user-friendly overlocker on the market!

Janome has restructured the lower looper guides for easy access. ... thread guide will return to its original position automatically by turning the handwheel.

With this model, you are able to adjust your seam allowance (or "cutting width") from 3.1 to 5.1 mm.
Stitch length can also be adjusted easily to suit a particular fabric.

To make your
sewing
trouble-free, this model comes with

differential feed

,
which prevents puckering and stretching, enjoy a consistent result - quickly and easily.

Want to try decorative effects instead of just finishing raw edges?
Easy.... your upper knife can be de-activated so it doesn't cut into your project as you sew.

Once you got the hang of it, you might also like to try other stitch functions include Pin tuck, Decorative over-edging, Gathering, Picot edging.... unleash YOUR potential!
Sounds like just what you need?
You know you deserve it!
So Put In Your Order Now...
Because You Don't Want to Miss Out!
Your new My Lock 644D Janome comes pre-threaded
.....
...... so it is
ready to go - straight out of the box!
How much easier does it get?
Need to change threads?
No drama!
There are
colour coded paths - and this make threading a breeze
(like a permenant cheat sheet. Shhhhh).....
Other features include an extra-high presser foot lifter, whisper-quiet operation, and an electronic foot control... all the little things that
makes your overall sewing experience enjoyable.

Did You Know.....
The 644d Janome uses

HA - 1SP

overlocker needles (also known as

"Type E"

- which we stock).
Just ask us when you need them :-)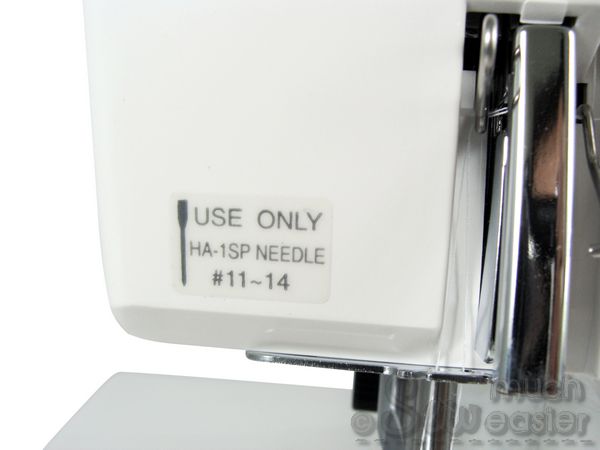 Discover...
How quickly you can churn out your projects

- up to 1300 stitches per minute!
Easy threading with

Colour-coded thread guides

-

feel like an expert in no time
Tailor-made your seam allowance: with

adjustable cutting width

: 3.1 - 5.1 mm
2, 3 or 4 thread overlock

stitching capabilities - the choice is yours!
Need to make adjustment to suit your fabric? You can:

stitch length adjustable

from 1mm to 4mm

Trouble-Free

Overlocking - you have 0.5 - 2.2

Differential Feed

ratio to suit different types of fabrics
Enjoy a wide range of seam width

: 3.3mm (narrow), 7.5mm (wide), 2.0mm Rolled hem
Includes a

Bonus DVD

to help you get started - stress free!
Lay-in thread tension dial for easy adjustments

Snap-On presser feet

to save you time and headache!
Slim foot to help you get into tighter spots easily
Handy needle threader -

no more squinting and eye strains!

Be neat and professional:

Enjoy your convenient built-in thread cutter.

Retractable upper knife

with easy knife release - so your project won't get chewed up accidentally.

Easy rolled hem

change-over - never fiddle with changing plates ever again
Lower looper pre-tension setting slider for

easy adjustments.

Front and back

needle guard for safer operation

- save your fingers!
Numbered tension dials to

get the perfect stitches - every time
Sounds like just what you need?
You know you deserve it!
Go Ahead And Put In Your Order Now...
You Don't Want to Miss Out!
Your Janome overlocker is the
perfect companion
machine for the
Project Runway winner-in-the-making (that's YOU)
, and
a must-have
if you want to
create professional looking garments.
Plus, you will find the tension adjustments easy, the threading a breeze, and the bonus DVD useful!

That means you can
complete projects

quickly and effortlessly

, so you can show off your creation on the weekend!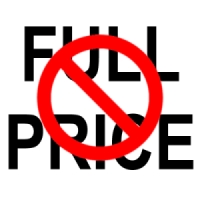 The new

Janome ML644D
gives you a wide range of features in a compact machine
......
without

breaking the bank.
The
Recommended Retail Price
(RRP) given by Janome Australia is
$799.00
-
but you

don't need to pay that much

when you shop with us!
Still not sure?
Here's what one (of many) happy customers had to say after purchasing their Janome Overlocker:

"The overlocker I've got is a Janome MyLock 644D - Love love love it.

I love that it is simple to go from overlocking to doing rolled hems. It is easy to thread (well, once you've done it a few times). I also like that it has a thread catcher.

Overall, I am pleased with my purchase of this great little machine. It has options for 2-3-4 spools which gives you lots of different stitches and finishes. And the manual that comes with it is very easy to read and understand (it even has a DVD). I am still excited to use it after having it for a while. Overlocking is fun!"

- Kerry, a Happy Customer
Wondering What Else you get with the machine?
Also included with your machine is your
Standard Accessories
, which includes:
Screwdriver (Large)

- handy to have around.

Screwdriver (Small)

- compact size, perfect to get into tight spots.

Tweezers

- makes threading so much easier!

Set of Needles

(No.11, No.14) so you can change needle often and protect your fabric.

Nets (x 4)

to keep your threads tidy and tame, ensuring a smooth feed!

Spool Holder Caps (x 4)

to allow standard thread reels to be used instead of cones.

Lint Brush

- makes cleaning easy.

Needle Threader

- this handy gadget means no more squinting and eye strains!

Oil

to keep your machine running like a, um, well-oiled machine :-)

Thread Spreader

for 2 thread overlocking - essential when you only need to use TWO threads

Spanner

to help you loosening and tightening various parts.

Spare Upper Knife

- in case your first one goes blunt (or when you run over pins)

Waste Chip Box

to catch your fabric trimming and thread clipping - keep your work surface tidy!

Accessory Box

to keep all the bits in one place. No more hunting around.

Instruction Book

- so you and your new machine can get to know each other :-)

Instructional DVD

- enjoy expert tuition on your finger tips, 24 / 7!

Foot Control

(with

Australian

plug) lets you drive the machine just like driving a car :-)

Dust Cover

to keep your machine in top-nic and dust-free!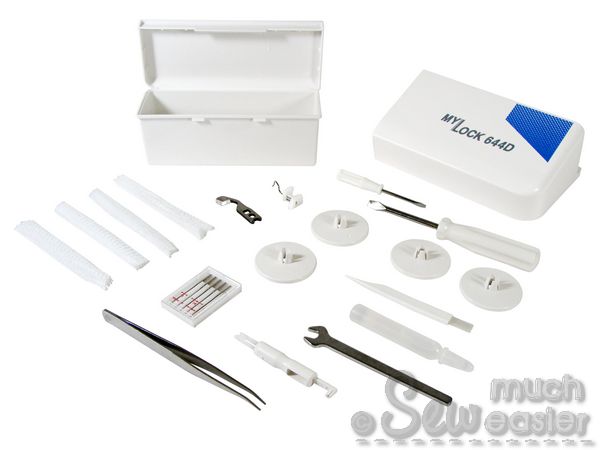 Not All Sewing Machines Are Made Equal...
Take a peek: an X-Ray view if you will. The photos here show a Janome JR1012 with a see-through exterior.
You can easily see - inside every Janome there is REAL metal (aluminium die-cast to be exact) that can be found in even the most inexpensive, entry level Janome.
The die-cast aluminium frame in a Janome provides the strength and stability required for the precise action of the sewing machine needle and mechanism.
The exterior is just that - a shell - and not part of the structure of the machine.
Unfortunately there are other brands of sewing machine on the market in Australia right now that have no internal frame (let along metal). It means the components are merely attached to the outer plastic shell of the machine. There is simply not enough rigidity
for high speed movements!
With Janome, there is always inner structrual support which means your sewing machine performs better, and it lasts longer.

Buy Well, Buy Once.
NOTE: JR1012 is shown above but other Janome models also have the same metal inner frame. Image Courtesy of Janome.
Still not sure?
Here's what one (of many) happy customers had to say after purchasing their Janome Overlocker:

"The overlocker I've got is a Janome MyLock 644D - Love love love it.

I love that it is simple to go from overlocking to doing rolled hems. It is easy to thread (well, once you've done it a few times). I also like that it has a thread catcher.

Overall, I am pleased with my purchase of this great little machine. It has options for 2-3-4 spools which gives you lots of different stitches and finishes. And the manual that comes with it is very easy to read and understand (it even has a DVD). I am still excited to use it after having it for a while. Overlocking is fun!"

- Kerry, a Happy Customer
We have been fortunate enough to source a few of these excellent machines for Our Customers....
BUT.... Make Sure You Act Quickly.
We Have Only A Few In Stock.
Be Sure Get Yours Now While Stocks Last!
IMPORTANT
Your Machine is Well Protected for Safe Travel.....
So when you open the box, your will find the new Janome My Lock 644D nice and snug inside its own foam cut-out.
I always make sure that my customers
keep these foam cut-outs along with the box
it came in - just in case you need to move house or put your machine into storage.
Also, in the highly unlikely event where you may need to send the machine back to us for a any reason, the machine will need to
reach us in all of its original package
, because we cannot be responsible for any damage incurred in transit.
The
best way to ensure safe travel for your machine
is to simply KEEP every bit of the packaging and put them back inside the box, then just store the box out of the way.
Easy!
What sort of thread does this machine take?
Do I need to buy cones of thread, or can I use my normal spools?
It's up to you.
This machine takes cones or spools, so you can either use your sewing threads, or specialty threads on cones for overlockers.
See how the cone holders can be removed easily off the spool pins, which allows for smaller spools of thread to be used.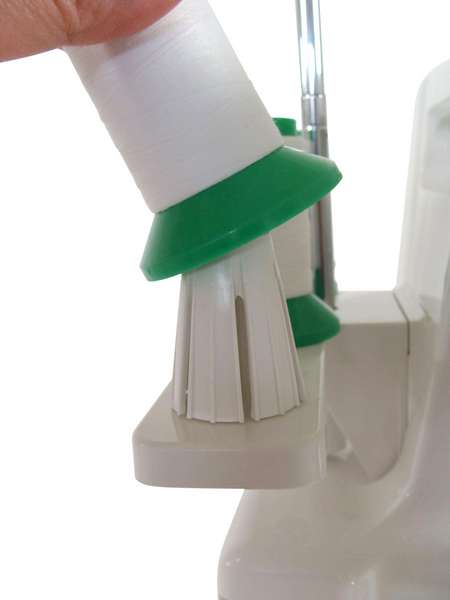 The main thing to keep in mind is
whether your thread is suitable to the fabric you are using
. When in doubt, do a little test on a scrap of the fabric you intend to use.
What is the difference between serging, overlock, flatlock and coverstitch?
In general, if you're from North America, you use a serger, and if you're from the UK, NZ, or Australia, then you use an overlocker. The two terms are interchangeable and both refer to the same type of machine.
"Serging" or "overlocking" is the act of "sewing" using a serger / overlocker.
Overlocking or Overlock (stitch) refers to a 4 thread serge / overlock stitch.
Flatlock is a technique in which two pieces of fabric are serged / overlocked together and then pulled apart slightly to achieve a flat stitch which connects the two pieces of fabric.
Coverstitch is the stitch that you see on ready to wear garments at hem lines.
Does this model do "coverstitch" as well
?
No. This machine does not have a coverstitch - or coverhem, as it is sometimes called.
It is a standard overlocker that does two, three or four thread overlocking stitch, specifically for finishing edges on knits or woven fabrics.
To do coverstitch, you need to buy an expensive, high-end model, or a separate coverstitch machine.... and, coverstitch machines often don't do overlocking anyway.
Most domestic machine users are happily sewing with an overlocker along side their regular sewing machine. This will get most of your sewing needs covered.
If and when you find the needs to do lots of coverstitching, then consider investing in a separate coverstitch machine - like the Janome CoverPro 1000. Otherwise there is no need for the extra expense.
Why should I shop with you over a dealer with a brick-and-mortar shop?
Yes, it is true that we ARE an online store. We do not have a physical shop front.
That means we take online shopping seriously - because this is ALL we do.
This is our life's work and we are 100% commited to look after YOU.
Not having a physical shop front means
YOU have our undivided attention.
When you shop with us, there will be no distractions, no other customers to fight over, no waiting in line just to ask a question. It's just you, the products you want, and really detailed description plus heaps of photos (that we take ourselves) to make sure that you know exactly what you are ordering. That's our way of
making shopping (and sewing) easier
for you!
Instead of worrying about rents, keeping up appearances, and going into price-war with other dealers, our sole focus in on how we can
make your shopping experience with us as enjoyable as possible
. Because life to too short for poor services and you deserve the BEST - afterall, shopping and sewing should be fun. Right?
I would like to buy more than one. Can you do a better deal?
Absolutely. Group purchases and wholesale enquiries welcome.
Our clients include small business owners in dressmaking / tailoring or alteration, group and schools, as well as craft enthusiast / artisans who sell their creations for additional income.
Email us if you want to purchase more than one, or simply make us an offer..... you might be pleasantly surprised!
Is there a phone number so I could speak to someone?
Sure. We will provide you with a direct contact number as soon as you send us an email.
Shelley
and the
Sew Much Easier
team are always happy to answer any question, technical information, pricing or anything else you wish to know!
Super Bonuses
As a Savvy Shopper.....
.... You can spot a good deal when you see one
.
The

support and bonuses I'm providing you

as my customer are

totally unique & CANNOT be found anywhere else.
Check our feedback levels to know you're dealing with the original and the best.
With us you'll get a fantastic machine, real advice & great value for money. Guaranteed!

Super Bonus Number 1
-
Be Kept in the Loop for Any Specials and Limited Offers
From time to time we come across great products and share specials deals exclusively with our valued customers. By purchasing from us you are automatically a valued part of our community. Enjoy!

Super Bonus Number 2
-
Valued at $275, Yours FREE!
5 Personal emails to me (Shelley) - Gain expert advice from your online fashion design, quilting and sewing craft expert. Ask me your most burning questions for anything to do with how to use your new machine, sewing, patchwork and colour selection. What better opportunity than being able to communicate one on one with someone qualified to give you the right advice? This alone makes this an outstanding offer unique anywhere!

Super Bonus Number 3
-
Geniune Full Warranty, Priceless For Your Peace Of Mind FREE!
I know a new sewing machine is a major purchase and it's important for you to be covered in the unlikely event that there are any faults with your machine.

Super Bonus Number 4
-
A Full 60 Day Money Back Guarantee, Eliminates Any Risk To You!
If there's any reason you're not thrilled with your new Janome when it arrives then simply let me know and I'll make arrangements for it to be returned and organise a prompt refund. Read on below for more details about this fantastic guarantee.
Keep reading below to find out more about the warranty I am providing you as my customer.......
!!! WARNING !!!
Be Cautious Of Others Who Copy My Listings Or
Claim To Offer The Same Guarantee Or Warranty...
Simply ask yourself:
Are they a sewing specialist with genuine expertise in what they are selling?
Do they have a consistent track record of happy customers who have bought the same machine?
Will they still be around to honour their promises and provide support if you need it?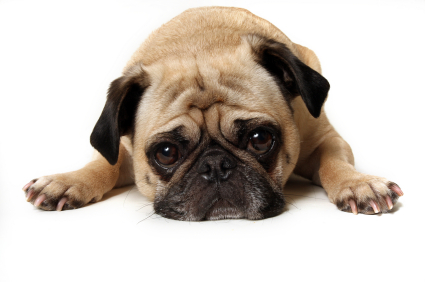 I wouldn't want your shopping experience to be a disappointment.
...
Wouldn't you rather
shop with someone who also has a

passion

for sewing
and
happy

to provide on-going support
and follow up service you might need?
Guarantee
Your No-Nonsense
~ 60 Day ~
100% Money Back Guarantee...
This machine comes with our No-Nonsense, 60-Day, 100% Money Back Guarantee!
In the unlikely event when the machine doesn't meet your expectation, be sure to contact us within sixty (60) days.
We want you to have plenty of time to feel absolutely certainthat you have what you've paid for!

If you're not 100% happy simply let us know and return the machine in original condition and packaging.
We will send you a full refund (excluding postage) promptly and courteously - No Questions Asked.
That means No Risk to You whatsoever!
Warranty
You get a Two Year Warranty with us!
That's Right.
Because you are dealing with a

Trusted Seller

who is not only a Passionate Fellow Sewist, but also Fully Supported by Sewing Industry Stalwarts with 48 years of experience combined.

We give you a

Two-Year, Back-to-Base Warranty,

no less than any brick-and-mortar shop.
Many of our customers keep coming back because they know that
we take care of our customers in time of need.
Because

to us, you're not just a transaction.
You Are

Part of the Sew Much Easier Family

and we mean it.
That means we are providing You with our own
Full 2 Year Back to Base Warranty
covering all Manufacturing Faults,
so you have nothing to worry about when you shop with us!
Here is the deal:
You get a Two-Year, Back-To-Base Warranty with us!
That's Right.

Not 12 months.

You get a FULL 2 Years,

24 months in total - from the date of purchase.
We believe in the product so much, we are Giving You More than just the bare minimum!
Why?
Because your peace of mind is important to us.
When You purchase from us, You are automatically under OUR warranty.
No need to send warranty cards back to us - We will simply keep your details on file and contact you from time to time just to make sure you're happy.
The warranty is a return to base warranty, so in the unlikely event your machine needs repair from manufacturing faults, simply return it to us with shipping charges prepaid from your end.
You may want to
hold on to the original box with ALL internal packaging
, so that your machine is well-protected if and when you ever need to send it anywhere.
We cannot accept COD or unpaid deliveries.
We take care of the repair AND courier it back to you for FREE.
If your machine is unrepairable then we reserve the right to either replace your machine or give you a full refund of your purchase price excluding delivery costs. Please see our terms for full details.
We count on you to help us look after you.
As with all warranties, a few reasonable conditions do apply.
Please read on:
Damage caused by neglect or misuse of the product is not covered. This includes using the item outside it's recommended limits, or not adhering to the recommended usage guidelines contained within the product user guidelines contained withing the product user guide.





Wear-and-Tear or Expendable parts are not covered. Including but not limited to things like needles, belts, springs, light bulbs, bobbins, bobbin cases, thread cutters and needle plates that will need replacement from time to time.



Approval to return your machine to us under warranty must be granted before you send it because we need to know what the issue is in order to work out the best solution for you.

Refer to our full terms and conditions for more details on this warranty.
When you buy from us you are accepting these terms and conditions.
At any stage if you have a question,
all you need to do is contact us via email and we will respond to you promptly and courteously.
We are here for you......



...... and always do our best to resolve any concerns with a

positive

outcome.
Shop with Confidence - We Look After You with Genuine Warranty!
Go Ahead And

Grab Yourself a Great Janome NOW
And Enjoy Your Next Sewing Adventure!
Still Deciding?
Check Out What Other Happy Janome 644D Owners Say About Their Overlocker...

"Before I bought this, I had a hard time deciding between the Janome 644D and the 744D.

I had assumed that the 744D must be better because it is newer and it's supposed to be 'the next model up'.

But after speaking to the ladies at my sewing group I've decided the 644D is the way to go.

I found out the main difference between the two models is that 744D has a free arm. Still, I was told by everyone that 644D is heavier, easier to use and in general, a better machine. They were absolutely right. I LOVE my 644D and I haven't stop sewing yet!"

- Barbara, a Happy Customer

"Great machine! Now I'm wondering why I waited so long to purchase an overlocker.

I thought it would be hard to learn how to use, but it's not.

Threading is easy if you can follow instructions. I practiced on scrap material to get the feel for it, and it only took about 15 - 20 minutes.

Now I can't wait to get in the sewing room each day. I love my 644D!"

- Di, a Happy Customer

"I love this overlocker! I love to sew and wanted to be able to finish my work in a professional manner.

So much easier to access inside to thread. Sews great. I love using the rolled hem stich. Got it in time to make my daughters baby bedding that has lots of ruffles & it performed beautifully.

Would reccomend it to anyone who loves to sew... if you take the time to learn and practice first, you will love this machine. I can't stop using it and the easy thread techniques with the instructions and DVD make it a breeze to change the thread.

If you're looking to buy an overlocker - this is the one. Can't go wrong with a Janome."

- Anne, a Happy Customer

"Great little machine, especially for the money. Would recommend it to anyone who is either learning to sew or who is experienced."

- Elizabeth, a Happy Customer

"Just received my new 644D and set it up this morning.

Upon opening the box I discovered the overlocker came threaded and to my delight I discovered that this machine not only uses the big spools but you can use the small spools of thread as well.

This is a wonderful overlocker. Not only does it come with all the necessary tools, but it also comes with an instruction DVD, as well as a little storage box and a bin that you can hook onto the machine!

Being a beginner sewer and know barely anything about sewing machines or overlockers, I found the manual that comes with the machine pretty straight forward and easy to read.

I've had no trouble at all and I can definitely say this machine is very user friendly for beginners - I highly recommend it."

- Judy, a Happy Customer

"I surprised my wife by getting her this overlocker, even though she had told me she didn't really need or want one.

Truth be told, I reckon she only said it because she was a little intimidated by overlockers in general, concerned that they were too complicated for her to learn.

So anyway I ignored her and bought a Janome 644D. After she got over her surprise, she really liked the machine, and was able to thread and use it pretty easily.

Now that my wife has an overlocker, she tells me that she will be using it all the time! So much for 'not wanting' one, eh?

If you want a reasonably priced, well engineered and easy to use overlocker, I can truthfully recommend the Janome 644D. My wife loves hers and you know what they say - happy wife, happy life."

- Rob, a Happy Customer
This machine is ideal for:
beginners who want to learn how to sew,
aspiring young designers and stylists,
parents who want to make a few things for their kids,
experienced sewing experts upgrading to a new machine,
teaching facilities,
dressmaking / tailoring professionals,
quilters / patchworkers needing to finish raw edges for pre-washing,
textiles artists,
and other creative individuals.....
If any of these sounds like you....
..... then the team here at SewMuchEasier are ready and waiting to get your Janome 644D Overlocker on its way to you, delivered anywhere in Australia!
In a few short days your parcel will arrive....
.... and when you open it up you'll find your new Janome 644D safely tucked inside.. all threaded up ready to go. With a DVD to help you along too... woohoo!
Plug it in and hear it purr happily as you test drive the various stitches....
Imagine the sewing creation you can wizz up, so quickly and easily....
All you need to do to make it happen is...
Simply
Go Ahead
And
Click The Buy Button
To Secure Yours Now!
P.S.
Remember when you shop with SewMuchEasier, all your purchases come with our 60 Day No Nonsense Money Back Guarantee... No Questions Asked! Not 7 days, not 14 days, or even 30 days... You have
TWO WHOLE MONTHS to be 100% sure you are happy with your purchase!
So you've got nothing to lose from buying right away.
P.P.S.
Act now to take advantage of our
FREE BONUS
of five personal emails to me (Shelley) for technical advice or anything sewing related. Hurry! Don't miss out...
P.P.P.S.
Don't forget our
Genuine Peace-of-Mind Warranty
to protect against any manufacturing faults.
REMEMBER:
Your Warranty would be best covered by a trusted online seller.
You get MORE for your money by dealing with an Experienced Specialist in Sewing...!!
We know sewing. But you know best.
Sometimes things don't work out according to plan. Not to worry - we have a 60 Day Money Back Guarantee to support you.
Your No-Nonsense 60 Day
100% Money Back Guarantee*
In the unlikely event when the item doesn't meet your expectation, be sure to contact us within sixty (60) days.
The benefits under this Guarantee are in addition to other rights and remedies under a law in relation to the product you have purchased.
We want you to have a plenty of time to feel absolutely certain that you have what you've paid for!
If you're not 100% happy simply let us know and return the item in original condition and packaging.
We'll send you a full refund (excluding postage) promptly and courteously - No Questions Asked.
So you can be sure you'll be happy with your purchases!
*Looking for the fine print? Check our terms and conditions for details.
Be The First To Review This Product!
Help other Sew Much Easier users shop smarter by writing reviews for products you have purchased.
Can't wait for it to arrive? We will get it to you ASAP.
Prompt Shipping - Your package will be sent promptly once payment is cleared. Usually it will be dispatched the next business day.
Combined Shipping - Want to save even more? We are happy to combine shipping for multiple items in your cart... it gets worked out when you check out.
Packaging and Sending - All your items will be packed well. We do everything we can to ensure your package arrives safely. In the unlikely event something does go wrong, simply contact us and we will do our best to resolve your concers.
Packaging Materials - We support "green policies" and recycle clean packaging where possible. Sometimes brand names on packaging may not necessarily match the content.
Simply click "Add to Cart" now and complete checkout so we can get it on it's way to you.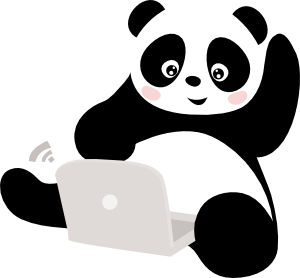 Would you like more information on this item?
Can we clarify anything else for you at all?


Please feel free to use the form below, or email hello@sewmucheasier.com or phone 1300 88 11 59.

Your message will be responded to ASAP, usually within 24 hours during business hours, Monday to Friday 9am to 5pm Australian Eastern Standard time.
---