Open Toe Applique Foot Metal (Suits Low Shank 7mm and 5mm machines)
Now You Too Can Master

The Fine Art
Of Machine Applique....
Simply, Quickly And FUN!
Imagine if you could
Finish ALL those applique projects of quilts and bags on Your Very Own domestic sewing machine,
Done in Your Spare Time, and all in the Comfort of Your Own Home!

"I can now see what I'm doing when I zigzag my applique work! No more hand stitching or fudging on the machine! Why I didn't get one of these years ago is beyond me..."

- Helen, a Happy Customer
What would it be like to NEVER have to do your applique manually - and
NO more UFOs (Un-Finished Objects)
piling up in your sewing room, Ever Again?
What if doing applique on your domestic sewing machine was easier than you think?
Often the hard part is to come up with exactly the right tool, for the right job, at the right price.
Formally trained as a Fashion / Textile Designer - now a Quilter & Patchwork Teacher - I have spent the last 10 years teaching others and sharing the joy of Patchwork Quilt making.
The Substantial Saving of Time and Effort that I have witnessed my students achieve - time and time again - by learning Machine Applique is simply amazing...!
There is no doubt that in order to create beautiful machine applique, you need to practice.....
But the first step in becoming an accomplished machine artist is having the right tools.
The Secret Weapon Of Successful Free-Motion Machine Quilting Is an Open Toe Applique Foot.
This Generic Applique Foot is the perfect partner for your Top Loading Low Shank Janome Computerised Sewing Machine, such as a Janome 19110 (which we also sell. See our other listings).
This foot also fits your Basic Front Loading Janome models, such as Janome RE1306 (available from K-Mart).
Designed to fit all Top Loading & Basic Front Loading Janome Models with Low Shank
, it has been made to equivalent specification by a reputable manufacturer and it has the same quality workmanship.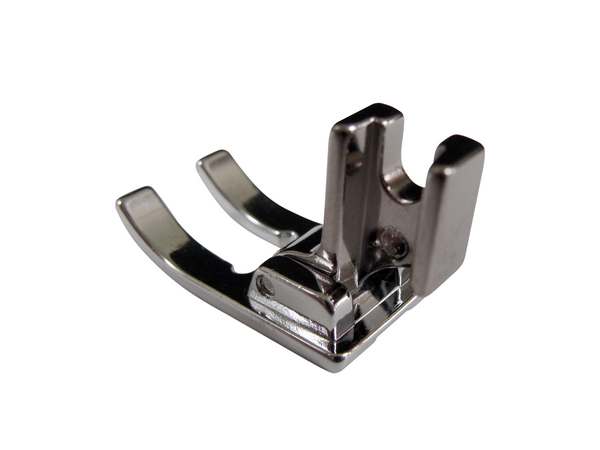 This Open Toe Applique Foot is ideal for precision embroidery, appliquÃ?©, cut work and monogramming.
Nothing stands in the way of your creative vision. The cutout on the underside of the foot accommodates satin stitching and blanket stitching.
Sometimes called an
"Open Toe Embroidery Foot"
, the open front ensures greater visibility while sewing, it has a stitching area wide enough for maximum stitch width without compromising control.
The toes of the foot are shorter, compared to a regular zigzag foot, for greater maneuverability while sewing (you can turn the fabric more easily for smoother stitching lines, an important asset when embellishing fabric)!
The bottom of the foot has a rectangular shaped indentation
, which allows even satin / blanket stitching to glide under the foot without dragging. The angle in the indentation makes it possible to turn curves easily.


This foot goes onto your machine just like any other screw-on presser foot, and it is designed to fit most top-loading & some basic front loading domestic machines with Low Shank.
When you try to do applique or embroidery WITHOUT an Open Toe Foot, you will find:
The stitches are not quite aligned with your designs, because there's limited visibility.
Your finished stitches get caught under the presser foot.
Worse of all, it's very likely that you will need to unpick damaged stitches and start again! Ever tried unpicking satin stitch or blanket stitch? Not fun.....
Why?
Because your machine's regular presser foot is designed to keep the layers of fabric tightly held
(that means no room for the raised satin or blanket stitches you've built over the edges of your design).
This causes the stitches to lose their sheen from the friction, and sometimes get caught and become damaged..... and that's where your problem begins.
So, What's a Quilter to Do?
Get an Open Toe Foot Now...
And Experience The Difference For Yourself...!
An Open Toe Foot will allow you to do applique & embroidery freely.
With no obstruction in your way, there is far greater control and you can see exactly where your stitches go..... VERY useful when you've got intricate designs and you will be amazed at how much you can do by machine!
Sure, there is NOTHING wrong with hand applique, either Buttonhole or Needle-Turn. In fact, I'm a huge fan of handworks and still have a few on the go..... but that's exactly the point: there are the special projects that you reserve for handworks; and then there are those other commitments when you NEED to have your quilts finished by a certain date (like Christmas)... Help!
With machine applique, you do not need to have perfectly even hand stitches for either Buttonhole or Needle-Turn techniques. And no more RSI!
Instead, you get to zoom 'em up on your machine. Of course,
the more you practice, the more comfortable you will become...
"With a bit practice, I was amazed how much I blitz through my UFOs. This foot is a great addition to those that come with my Janome sewing machine. Now my applique quilts get done like never before. Thank you!"

- Jo, a happy customer

Since there is no need to worry about the time you DON'T have, how about

tackling all those super-cute, modern applique quilt projects

, such as designs by "Don't Look Now!".....? Whip one up next weekend!
What's more, the clear-view foot offers excellent visibility while you go around the shapes.....
you have so much control and always know where you're going!
The built-in "groove" or indentation underneath protects your finished satin stitches or blanket stitches, as you move along quickly without having to worry about any damages to your perfect stitches.
You will end up with
snag-free, neat curvy lines, as fancy or as simple as you wish....
Perfectly versatile to suit your theme and fabric choice!
Not a Quilter?
You will still find plenty of use for your Open Toe Foot:
It??s great fun to do embroidery with your sewing machine without going completely free-hand, since the stitching is still controlled by the machine (because the feed dog remains in its place).
Perfect for those just learning how to do machine embroidery!
"with this foot I was able to applique numbers on the back of my daughter's sports uniform for the whole team. You wouldn't believe how easy it is!"

- Beth, a Happy Mum
In fact, an Open Toe foot is used any time you want to have greater control and visibility, such as
Darning or mending - save money and get more wears out of your favorite jeans!
Embroidery - got some unique designs you'd like to put on fabric? Pencil it and stitch over so you can wear your very own designs.
Monogramming - simply by selecting a zig-zag stitch and fill in the letters with manual control.
Thread Painting - unleash the artist in you by having a go at creating your very own painting in colourful threads!
I am so sure that you are going to love this Open Toe Foot, that
I am willing to completely guarantee it!
I will tell you more about the guarantee in a moment.
But first, as a special thank you for buying from us, you will receive the following super bonuses:
Super Bonus Number 1 -
Be Kept in the Loop for Any Specials and Limited Offers
From time to time we come across great products and share specials deals exclusively with our valued customers. By purchasing from us you are automatically a valued part of our community. Enjoy!
Super Bonus Number 2 -
Valued at $275, Yours FREE!
5 Personal emails to me (Shelley)
- Gain expert advice from your online fashion design, quilting and sewing craft expert. Ask me your most burning questions for anything to do with how to use your walking foot, sewing, patchwork and colour selection. What better opportunity than being able to communicate one on one with someone qualified to give you the right advice? This alone makes this an outstanding offer unique anywhere!
Plus, with our money back guarantee you really have nothing to loose...
Your No-Nonsense 60 Day
100% Money Back Guarantee...
This item comes with our No-Nonsense, 60-Day 100% Money Back Guarantee!
In the unlikely event when the item doesn't meet your expectation, be sure to contact us within sixty (60) days.
We want you to have plenty of time to feel absolutely certain that you have what you've paid for!
If you're not 100% happy simply let us know and return the item in
original condition and packaging.
We will send you a full refund (excluding postage) promptly and courteously - No Questions Asked.
That means No Risk to You whatsoever!
Grab yours now and you can experience:
Go as fast or as slow as you wish...... Absolutely Stress-Free!
Get your quilt Done On Time for that special occasion (instead of staying on some machine quilter's waiting list): whether it be a birthday, anniversary, or wedding!
Save bucket loads of Money - so you can go fabric shopping (YAY)!
A sense of achievement, because you've made something from start to finish.
No more piles of unfinished projects - instead, you will churn out lots of quilts and other goodies for your family to enjoy this winter!
Professional finish to everything you've made - your friends will be dying to know your secrets.....
Why Wait?.. Simply
Scroll Up
And
Buy Yours Now!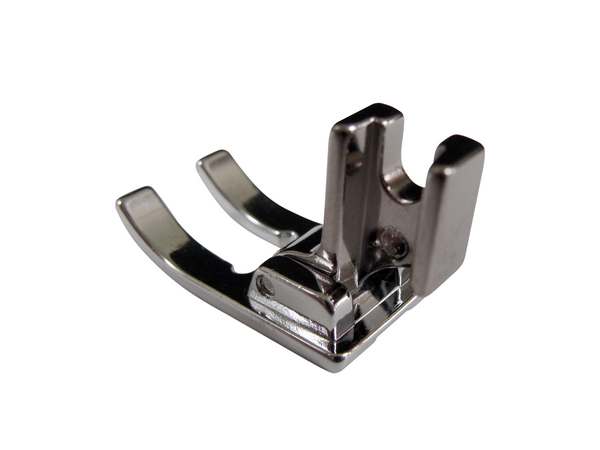 This Open Toe Foot is NOT for you if:
Your machine does NOT have Top Loading Bobbin with Low Shank.
You are not prepared to put in the time to practice using this darning foot for free motion quilting or embroidery.
You prefer to pay more for a branded darning foot.
This Foot is ideal for:
Beginners who want to learn how to applique & embroider on their machine,
Parents who want to make a few things for their kids,
Experienced sewing experts wishing to take their sewing to the next level,
Teaching facilities,
Dressmaking / tailoring professionals,
Patchwork / quilters,
Textiles artists,
and other creative individuals.....
If any of these sounds like you we're ready to get your Open Toe Foot on its way to you,delivered anywhere in Australia!
What happens when you want to purchase it from a sewing store...?
More often than not, you will have to phone around to locate the actual part number, then call all of the Sewing Machine Shops to compare prices, and see if there is one in stock, and if they can order one in for you...... and then wait anywhere from one to six weeks for the foot to arrive at the shop.... and then wait to receive it from the shop if you cannot go and pick it up (I know this, because I went through this exact same thing when I had to buy my very first walking foot for my old machine....).
In this same amount of time,
You could have finished the quilt already!
And what's more.... the money you invest in this amazing and essential tool is nothing to what you could receive back...
This is a fantastic opportunity to get your unfinished projects completed and turn them into family heirlooms to be loved and admired by all!
BUT....
Make Sure You Act Quickly.
We Have Only A Few In Stock.
Be Sure To Get Yours Now While Stocks Last!
Simply
Click The Add To Cart Button
To Get Yours Now!
P.S.
Remember when you shop with us, all your purchases come with our
60 Day No Nonsense Money Back Guarantee... No Questions Asked!
Not 7 days, not 14 days, or even 30 days... You have TWO WHOLE MONTHS to be 100% sure you are happy with your purchase!
So you've got nothing to lose from buying right away.
P.P.S.
Act now to take advantage of our
FREE BONUS
of five personal emails to me (Shelley) for technical advice or anything sewing related. Hurry! Don't miss out...
We know sewing. But you know best.
Sometimes things don't work out according to plan. Not to worry - we have a 60 Day Money Back Guarantee to support you.
Your No-Nonsense 60 Day
100% Money Back Guarantee*
In the unlikely event when the item doesn't meet your expectation, be sure to contact us within sixty (60) days.
The benefits under this Guarantee are in addition to other rights and remedies under a law in relation to the product you have purchased.
We want you to have a plenty of time to feel absolutely certain that you have what you've paid for!
If you're not 100% happy simply let us know and return the item in original condition and packaging.
We'll send you a full refund (excluding postage) promptly and courteously - No Questions Asked.
So you can be sure you'll be happy with your purchases!
*Looking for the fine print? Check our terms and conditions for details.
Be The First To Review This Product!
Help other Sew Much Easier users shop smarter by writing reviews for products you have purchased.
Can't wait for it to arrive? We will get it to you ASAP.
Prompt Shipping - Your package will be sent promptly once payment is cleared. Usually it will be dispatched the next business day.
Combined Shipping - Want to save even more? We are happy to combine shipping for multiple items in your cart... it gets worked out when you check out.
Packaging and Sending - All your items will be packed well. We do everything we can to ensure your package arrives safely. In the unlikely event something does go wrong, simply contact us and we will do our best to resolve your concers.
Packaging Materials - We support "green policies" and recycle clean packaging where possible. Sometimes brand names on packaging may not necessarily match the content.
Simply click "Add to Cart" now and complete checkout so we can get it on it's way to you.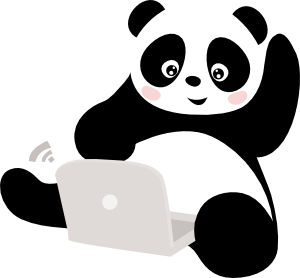 Would you like more information on this item?
Can we clarify anything else for you at all?


Please feel free to use the form below, or email hello@sewmucheasier.com or phone 1300 88 11 59.

Your message will be responded to ASAP, usually within 24 hours during business hours, Monday to Friday 9am to 5pm Australian Eastern Standard time.
---