Dylon Intense Black Fabric Dye - Machine Dye Pod x 2 Packs
SAVE 41%!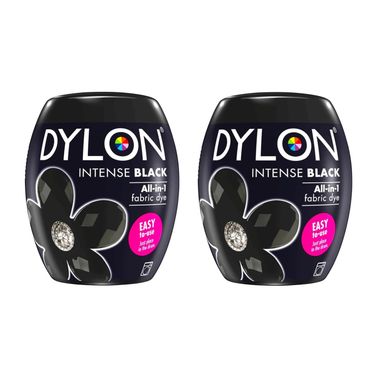 Click to view larger images or other views or videos
SAVE 41%!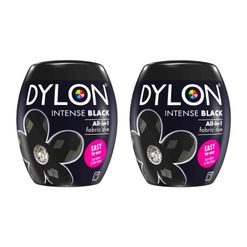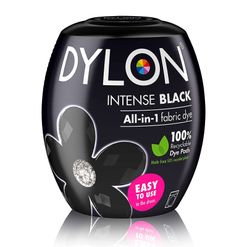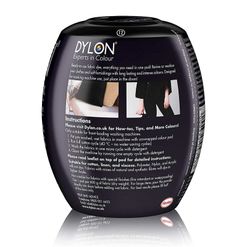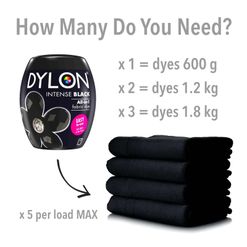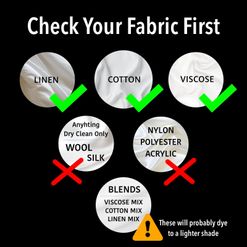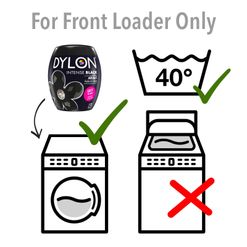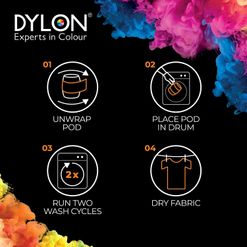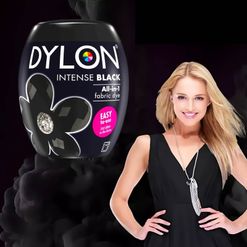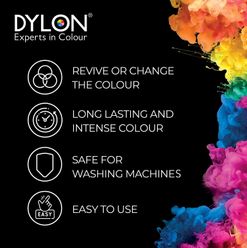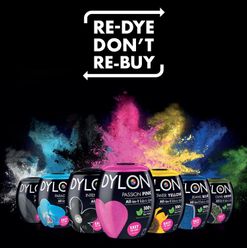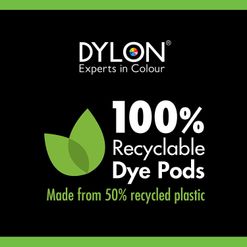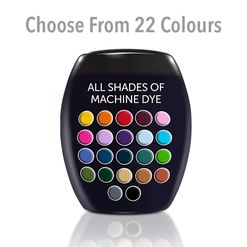 Swipe for more. Tap to enlarge
Click to view larger images or other views or videos
33,223 Happy Customers Served
Finally: this No-Mess Fabric Dye can turn your garment BLACK in just a couple of machine cycles!
The Dylon Intense Black Machine Dye Pod is an easy to use, all-in-one fabric dye.
Designed specifically for use in a front-load washing machine, it will dye garments made of cotton, linen, and viscose fabric into a rich, intense shade with good results, and NO mess. Simply place this pod in the drum of the washing machine and away you go!
Made in the UK, the Dylon Machine Dye Pod is perfectly safe for your washing machine. Quick and easy - each 350g pod will dye 600g of fabric. Use more than one pod for larger / heavier items such as sheets or towels, or a single pod for smaller items such as singlets and tea towels.

2 x 350g Dylon Intense Black (2204430) Col. 12
The shade that flatters everyone, Black will always have an air of classic, chic sophistication. With Dylon's Intense Black, your blacks will be at their best: rich, intense and profoundly dark - instantly lifting your orinary garments into something special!

Here are a few reasons WHY you'll LOVE using Dylon Fabric Dye Pod...
No mess, easy to use. Everything you need is in the pod! Simply let your washing machine do the work.
Dylon Fabric Dye Pods are completely safe for your front-load washing machine!
All-in-1 formula to revive or change the colour of your clothes, fabric, and soft furnishings.
This washing machine dye provides perfect, long-lasting and intense colour results.
Revive worn items by re-dye (not re-buy). Better for your wallet, better for the planet!

The shade you achieve will depend on 3 things:
FABRIC TYPE: Cotton, linen & viscose will dye to full shade, Polyester/cotton & polyester/viscose mixes will dye to lighter shade, Wool, silk, polyester, acrylic, nylon & fabric with special finishes e.g. 'dry clean only', cannot be dyed with Dylon pods

FABRIC AMOUNT: One pod (350g) will dye up to 600g of fabric (e.g. jeans, bath towel, double sheet) to the full shade & up to 1.2kg of fabric (e.g. double duvet) to lighter shade, Multiple pods will dye larger amounts to full shade, e.g. 2 pods for 1.2 kg (e.g. double duvet) or 3 pods for 1.8 kg. You can up to 5 pods into a single load - but check the maximum capacity of your washing machine first!

ORIGINAL FABRIC COLOUR: Remember, colour mixing rules apply, e.g. blue dye on red fabric gives purple. Patterned fabric will often still show through. The best results will be achieved on stain-free, clean fabrics. Because stains and bleach marks are not always covered when dyeing and may still be visible.

DIRECTIONS
First, weigh dry fabric to ensure you have the correct amount of pods (1 x 350g pod will dye 600g of fabric)
Once you are ready: Pre-wash your garment / fabric leave them damp in the drum.
Just peel off lid, put the pod directly into the drum of the washing machine and run 40 C degree celcius cycle.
Run another 40C cycle with detergent.
Dry fabric away from direct heat & sunlight

HELPFUL HINTS
Use ONLY front loading automatic washing machines. Do not use in launderette machines or top-loading machines
Don't dye more than half machine's maximum load to avoid crowding which will give patchy results.
Don't use more than five pods of dye at once
Don't need to add salt or anything with these pods - everything you need is inside the pod!
Final result may not cover stains, faded areas or bleach marks.
To ensure no dye is left in machine after dyeing, use a dishwashing tablet (YES - from your dishwasher) & run the machine empty on long cycle.
Wipe down your washing machine door seal properly before using the machine for a normal load.
Wash your freshly dyed garments separately or with similar colours for first two washes to remove any excess dye.
Polyester stitching will not dye. Blended fabric with more than 20% polyester or other sythetic fibres may not take a full shade.
Avoid dying high percentage of synthetic fibres suck as Goretex, Lycra, Nylon, Polyester, Spandex / Elastene
Always read the full instructions in pack before use.

Which natural fabrics can I dye?
Generally, natural fabrics are very accommodating to permanent colour. The vast majority can be dyed with great results.
The most common of these are:
Cotton
Linen
Viscose / Rayon / Bamboo
Denim
Flax
Jute
Ramie
Canvas
However - certain natural fabrics prefer to be washed by hand (therefore DO NOT use these pods with them). These include the likes of silk, wool, cashmere and mohair. ­­

Which natural / synthetic blends can I dye?
Mixes of natural and synthetic fabrics make up a significant part of textiles today. The most common blends found on clothing and home textile labels include:
Cotton / Polyester Blend
Viscose / Polyester Blend
Linen / Silk Blend
While a great many can be successfully machine dyed, not all blends were created equal. The challenge is how to tell which ones can be dyed and what the results might be. Luckily, this is easy – it comes down to ratios.
This is because synthetic fibres reject domestic dyes so in any blend, it is up to the natural fibres to pick up the colour. The larger the synthetic component, the less dye gets picked up, which results in a lighter (or more diluted) shade. For example, if you want to machine dye a white cardigan navy blue and it is 69% cotton, 19% polyester and 12% viscose, it will work beautifully. The end colour will just be slightly less concentrated than the colour on the pack.
When there is too much synthetic fibre in a blend, however, the dye becomes ineffective. For this reason, DYLON recommends not dyeing any fabric in which the synthetic element is greater than 20%. Everything else – from trousers to curtains to throws – is up for grabs and can produce wonderful results.

READY TO HAVE A GO?
Enjoy a perfect, long-lasting and intense colour results from this washing machine dye!
Easy Returns - 60 Days Money Back
Still Not Sure? That's Okay.
We understand. Because sometimes it's hard to know if you really want something, right?
Especially when shopping online!
That's why we provide 60 Day Money Back Easy Returns* to support you.
Because we know sewing - but You Know Best :-)
Your No-Worries
~ 60 Day ~
100% Money Back Guarantee...
Your purchase from us comes with our 60-Day Easy Returns option!*
In the unlikely event if it doesn't work for you in any way, simply contact us. You have sixty (60) days to try things out.
There's no rush. Take your time.
Beacuse we want you to have plenty of time to feel absolutely certain that you're enjoying what you've chosen!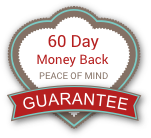 If you're not 100% happy - simply let us know and return the item in
brand new condition
, including
all original packaging intact
.
We will send you a full refund (excluding postage) promptly and courteously - No Worries!
Ready to Give it a Go?
Simply Add to Cart Now.
* Looking for the fine print? Check our terms & conditions for details*
Payment to Suit You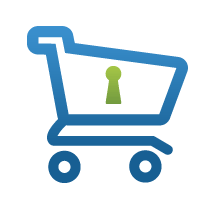 Shopping Online is Secure with us!
Just so we can get your item to you ASAP, we ask that you
complete payment within 5 working days
from committing to buy.
Please
let us know by email
if you would like to make other arrangements, such as waiting to purchasing other items for combined postage or waiting for pay day.
PayPal
- We reccomend payment via PayPal because it is fast, easy and secure. Simply choose
PayPal
when you check out.


Shop Now, Pay Later
- Want it NOW and can't wait til pay day? No worries. Just use
Afterpay
or
zipPay
when you check out. They will look after your installments, and we send your order now!


Layby
- If you're happy to wait, our good old-fashioned Lay-by is easy and stress-free. Simply choose
Direct Deposit
at checkout, transfer the first instalment (a quarter is ideal), and send us a quick email to confirm your layby. We'll send your goods when it's all paid in full.

Credit Cards
- To pay with
Visa
or
Master Card
, please
choose
Credit Card
as your payment method when you check out. Nice and secure.


For
American Express
, make sure you choose
PayPal
and follow their prompt to checkout with your AMEX card (instead of PayPal funds). You don't need to have a PayPal account to do this.

Bank Transfer
- Choose
Direct Deposit
as your payment option and our bank details will be made available to you on checkout.
NOTE:
Please use your name with a post code as Bank Reference when making payment. If you have an order reference starting with "N", you can use that one.

Remember
to
send us a quick email
whenever you've done a Bank Transfer, so we can keep an eye on your payment!
IMPORTANT:
Because your order is processed promptly once funds are cleared, there won't be time to make changes to shipping details, So
When You Complete Checkout
please help us by double checking we have the following:
Correct Physical Address

. Most of the time

PO Box

is fine, though we may ask you for a physical address if we end up using a courier instead of Aust Post.


Phone Number

for the delivery driver.

Any Special Delivery Instructions

.
Order Now - Before You Miss Out!
Delivery
Now, Let's Get Your Order On Its Way To You!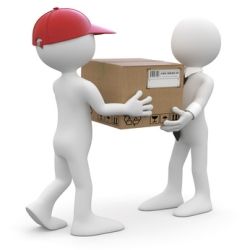 How long will it take to receive my order?
All fully paid orders placed by 5pm Monday to Thursday will be processed overnight and ready to send by our warehouse - normally the next day or following business day.
Orders placed on Friday and Weekends will be processed on Sunday night - because our warehouse operates Monday to Friday except Public Holidays.
Once it leaves our warehouse,
the actual time frame is up to the delivery services
. This can vary depending on your location and road conditions.
Any delivery time estimates shown are
estimates only
- so please use it as a guide line.
You'll receive a few email updates from our system as your order progresses, so please stay tuned on these!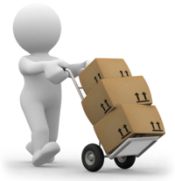 How will my order be sent?
We use a dispatch system that works out the most efficient way to send your order.
This way the postage works out fair and reasonable, and your parcel reaches you quickly as well -
because we know you can't wait!
That means your parcel
may reach you by either

Courier

or

Aust Post.
In general, larger items tend to be delivered by couriers, while small items tend to go by Aust Post.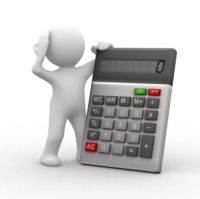 How is my postage calculated?
Great question.
Depending on
weight
and
dimension
, some times we are able to do Flat Rate across Australia, so the postage is the same no matter where you are.
Other times we use the Built-in Calculated system provided by Aust Post, and your postage is calculated
based on YOUR location.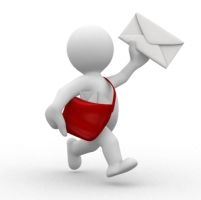 Can I get it delivered to my P.O. Box?
Depends on the item (and its dimensions), because
Aust Post have size restrictions
and couriers are NOT allowed to deliver to a P.O. Box.
Please check with us when in doubt.
If you have nominated a P.O. box, and the item is within Aust Post size, then it will go by Aust Post. Most of the time, this
is
the case.
When your item is too big, or being sent directly from our supplier, then we need you to provide a physical address so we can send a courier.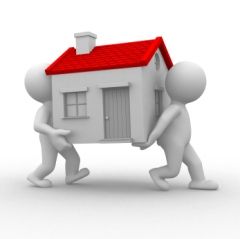 Can I get my order sent to a different delivery address?
Your sure can!
When you check out, you can choose to ship your order to your billing address or a different address.
Simply choose the second option, and then fill in the shipping address of where you want you parcel sent.
Please double check we have Your Correct Address so your order can find its way to you!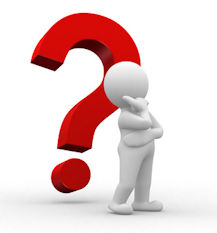 What if courier services are not available in my area?
Some locations are outside of courier services....
In these cases we CAN arrange for your order to be deliverd to your local post office.
But please
provide us with a street address
(street number & name) - even if it is the only Post Office in town - as if it is an office address.
A phone number would help too - this will avoid delays.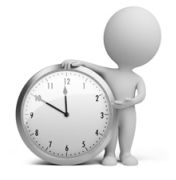 What if I need my order urgently?
No worries, we will do our best. Just let us know.
Please give us as much notice as possible - especially for special occasions like birthdays!
In most cases, we CAN
arrange an upgrade
from Regular Post to Express Post for a little extra.
Please contact us first so we can update your invoice to show the correct amount.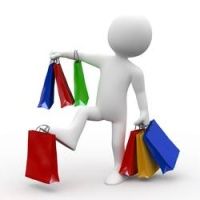 Do you offer combine shipping?
I want to order more than one item...
Sure! Please
"Add to Cart"
for all the items you want and let the system work it out for you.
If you're unsure, let us know.
A quick message is all we need.
This way we can double check the postage for you. Simple!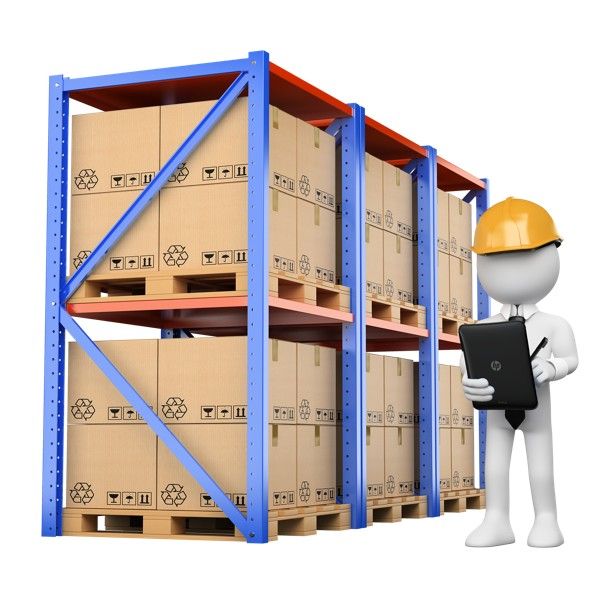 Can I pick up my order?
No. Sorry - unless you're picking up furniture directly from our supplier.
Because most of our items are located in a commercial warehouse - with
NO public acess
.
There is no shop front - because that's how we can pass on the savings to you!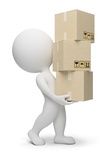 Some useful things you might want to know:
Combined Shipping

- We are happy to combine shipping for multiple purchases based on the combined weight and dimensions of your items, so add what you like to cart as you go, and check out our shop to see what else you like... you never know what you might find!

All items we sell are

Stored in a Clean and Smoke Free Environment

so You can Rest Asured they will be In Top Condition when they arrive at your place.


Packaging & Sending

- All your items will be packed well and we do everything we can to make sure you package arrives safely. In the unlikely event something does go wrong with your package, please contact us via email. We do our best to resolve any concerns.


Prompt Shipping

- Your package will be sent to you promptly once payment is cleared. In most cases it will be dispatched the next business day.


Packaging Materials

- We endeavour to support "green policies" and recycle

clean

packaging materials whenever possible. Brand names on packaging material may not necessarily match the content.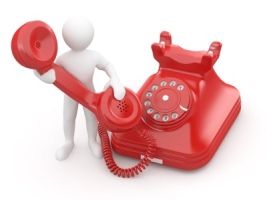 !!! IMPORTANT !!!
The Courier Needs Your Phone Number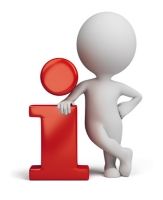 When you're completing check-out please
make sure your

best day time phone number

is included - because the courier requires a phone number.
Generally they may never ring you - and they tend to just turn up anyway. But their office needs to have your phone number on file for "just-in-case".
If you have any special delivery instructions, please let us know.
It is
best to providing these details by

sending us a quick message
- this means your parcel will be dispatched to you faster.
Act Now and We'll Get It To You ASAP!
Why Shop With Us?
Because we're here for you.
and your sewing needs.
Sew Much Easier is founded
by
a sewists,
for
fellow sewist :-)
We're a surprisingly small team that put a great deal of thoughts into what we do and how we do it. We stock only a handful of curated sewing goodies - each one carefully
hand picked and tested
ourselves.
Everything we stock
only
make it to our online store
if
we absolutlely LOVE them - for our
own
sewing. Because we're only interested in handing over
what YOU would be happy with
.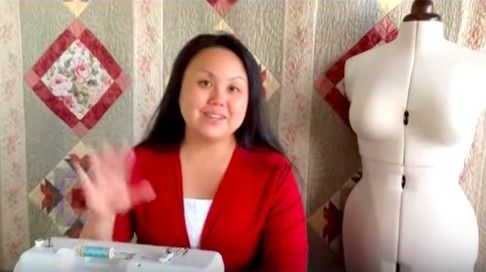 Hi, I'm Shelley.
I confess that I'm a fabric addict. And I love nothing more than geeking out over the ins-and-outs of sewing machines - and all the bits that come with it. Presser feet are my specialty :-)
I've been
sharing my passion
of sewing all my life - with a career in fashion design and patchwork teaching - and now
I serve fellow sewist everywhere
by delivering sewing goodies to your door. And that's only the beginning.
Long after your first purchase - whether it's a sewing machine, dressmakers dummy, or some bobbins - we'll be there to
celebrate your joy
in the simple act of making something by hand.
Simply drop us a line and...
we'll be there whenever you need help. Any time.

xoxox
P.S.
I know you're a savvy shooper. And you understand the value of
Buy Well, Buy Once.
Because you want to be
100% confident in the quality
of your purchase, so that you can be 100% confident in your sewing!
That's Why...
I'd like
to make sure You are

100% Happy
- so take your time, take a couple of months - get to know your sewing goodies from us.
And in case you change your mind - No Worries. Because shopping online should be stress-free!
Give it a Go Today. You'll be glad you did.
So, Go Ahead!
P.P.S.
Join
Thousands of Happy Sewists
Australia-wide, and be part of our caring creative community. Contact me (Shelley) any time for technical advice or anything sewing related.
Stay in touch - I'm here for you
:-)
Last but Not Least...
When you've made something with goodies from us...
Remember to send me a photo.
Because I'd LOVE to see Your Work!
Got a Question?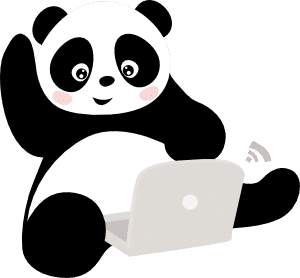 Where Are We?
While Melbourne is our home, most of our goodies are kept in a commercial warehouse in Sydney. They aren't open to the public and there's NO shop front.
That means for most items...
We are Not Able to Offer Pick Up.
Instead we provide fast & low cost delivery to your door :-)
The Only Exception is for Furniture - pick up can be arranged from the supplier directly.
Would you like
more information
on this item?
Can we
clarify anything else
for you at all?
Please feel free to Call

1300 88 11 59



or Send Us a Message anytime

.

Your message will be responded to ASAP, usually within 24 hours and during business hours, Monday to Friday 9am to 5pm Australian Eastern Standard time.

In case the phone line is busy - please leave a clear message with your contact number (including area code) and we'll call you back.

Cheers

!



Reviews
Be The First To Review This Product!
Help other Sew Much Easier users shop smarter by writing reviews for products you have purchased.