Self-Healing Mat Complete Set + Olfa Blade
SAVE 12%!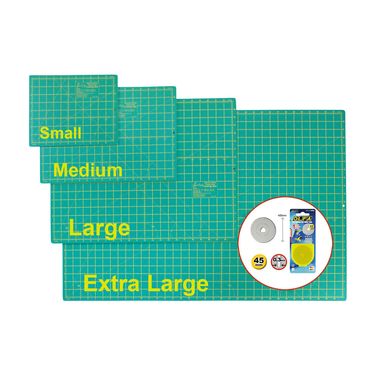 Click to view larger images or other views or videos
SAVE 12%!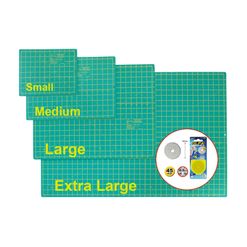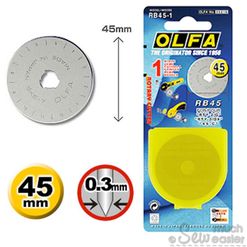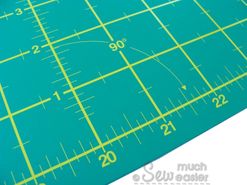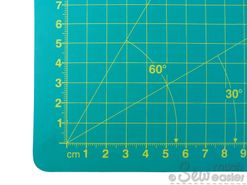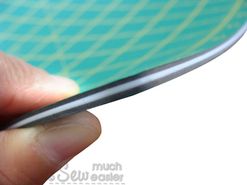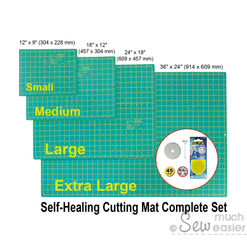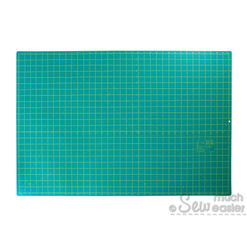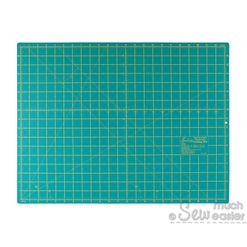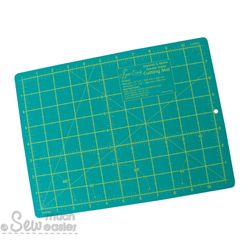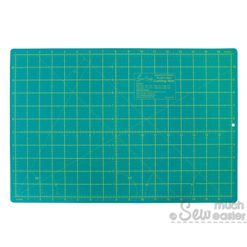 Swipe for more. Tap to enlarge
Click to view larger images or other views or videos
33,220 Happy Customers Served
Rotary Cutting Safety 101:
Read this

BEFORE

you cut
To learn

the secret

of protecting
your wrist, your blades and your table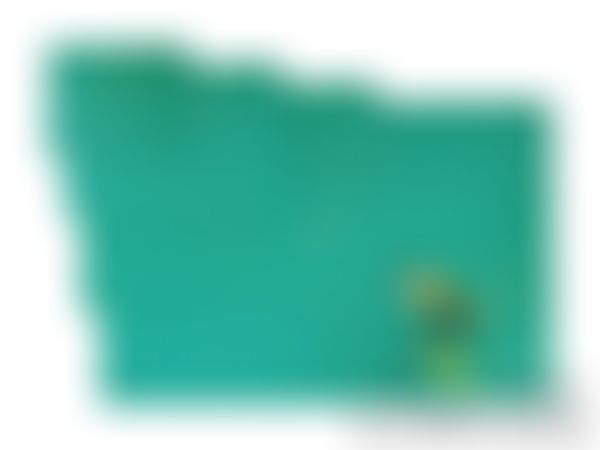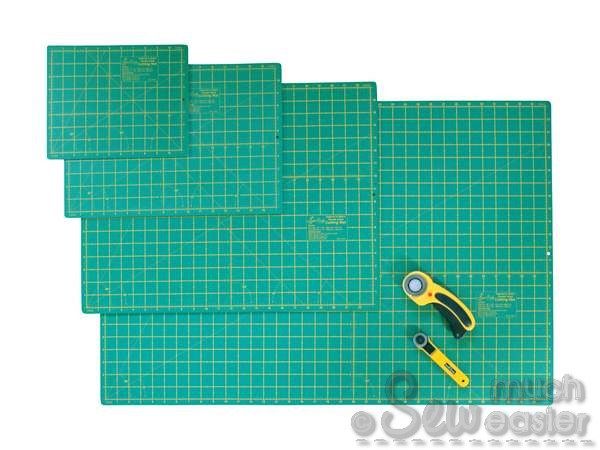 NOTE: Olfa Rotary Cutters NOT included. This listing is for self-healing mats ONLY.
You are looking at
The Complete Set
of Cutting Mats
(set of four)
~ Extra Large, Large, Medium & Small ~
Plus, a

BONUS

45 mm OLFA Blade!
If you're looking at this Rotary Cutting Mat Set, chances are...
You're learning to make patchwork quilts, and you need them for class.
You're doing scrapbooking / papercraft, and need to protect your table.
You're fed up with sore wrists from repetitive scissors cutting - there's got to be an easier way!


You're Not Alone. T

here is NOTHING more frustrating than damaged table surfaces and wrist pain - from doing the craft you love!


"I don't quilt but I do papercraft, scrapbooking etc.

Using a proper self-healing cutting board sure beats having to cut on a stack of newspaper and throwing it out afterwards.

I used it in making many Christmas gifts this year and it did all that I hoped it would - my blades are lasting longer and the mat prevented cuts in my table. This mat has held up to all of the abuse I've put it through so far and I'm amazed.

I would buy this mat again and would recommend it to anyone. Thanks for a great product!"

- Christine, a Happy Customer

Ask anybody who does patchwork / papercraft.....

Rotary Cutting is The BEST invention since sliced bread!!
But most people are dangerously unaware:
you NEED to know how to rotary cut safely.
Because the

blades are made of surgical steel

. They are Extremely SHARP.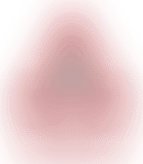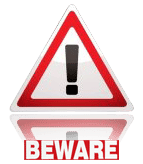 That means you want to protect THREE things:
1. Your cutting surface
(which is normally a table top)
2. Your blades
(they can wear out quickly when they hit inappropriate surfaces. In the same way that fabric scissors get damaged when cutting paper).
3. Your hands
(because the blade can slip and accidentally cut your fabric-holding hand, or strain your wrist when you repeatedly push down on hard surfaces).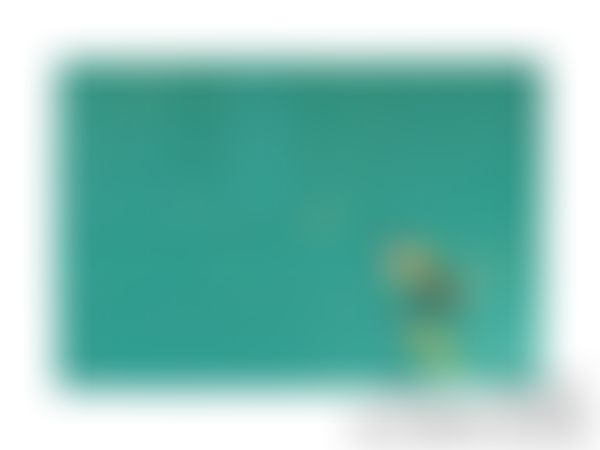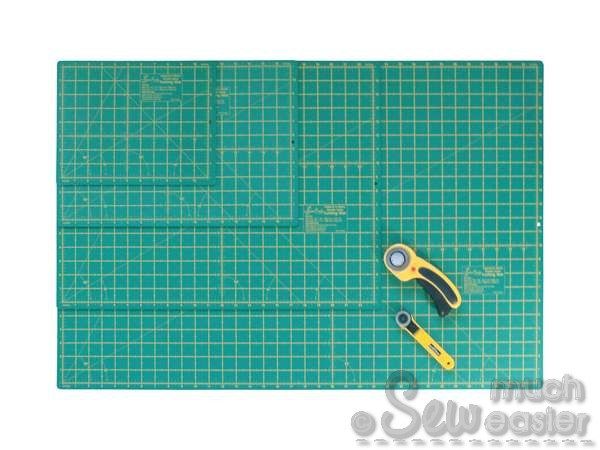 NOTE: Olfa Rotary Cutters NOT included. This listing is for self-healing mats ONLY.
Here's a little bit of insider information...
Having worked for a decade or so behind the scene in the clothing industry, I was formally trained as a Fashion Designer - and later spent
10 years teaching
others the joy of patchwork. I like to share insider tricks, and I believe in doing things properly.
So you see, rotary cutting safety is one of the most important issues, and I have been known to make a song and dance out of it - for good reason too....
You wouldn't want to attend a fun-filled sewing classes and then to come home scarred for life, because someone (or goodness forbid - you) seriously hurt themselves in class. Would you?
And that's why I want you to knows about this......


The Secret

of staying safe when cutting is

a Self-Healing Rotary Cutting Mat.

Better Still, have

the Complete Set

...!!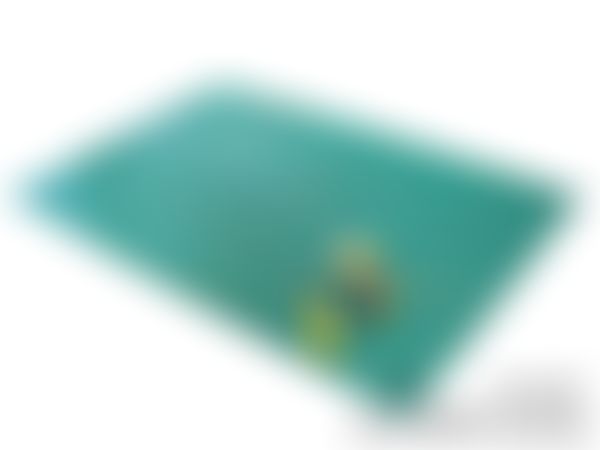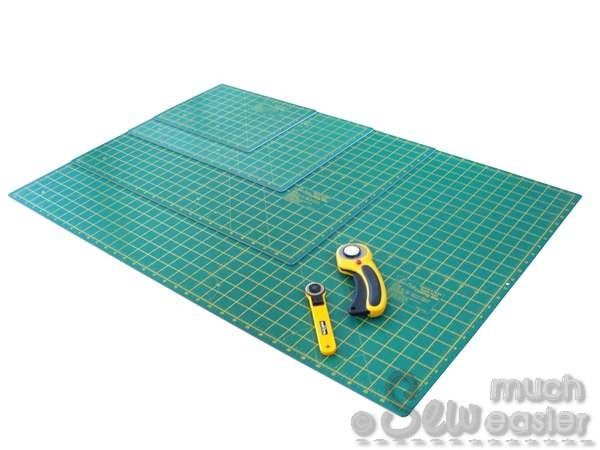 NOTE: Olfa Rotary Cutters NOT included. This listing is for self-healing mats ONLY.
You are looking at the
Complete Set

of Mats ~ Extra Large, Large, Medium & Small ~
That's FOUR (4) Mats all up!
Plus, a

BONUS

45 mm OLFA Blade!
Here's a brief introduction on all the different sizes:
Next - Grab yourself a set of
Self-Healing
Rotary Cutting Mats in ALL Size...
So you don't need to worry about damaged tables and blades anymore!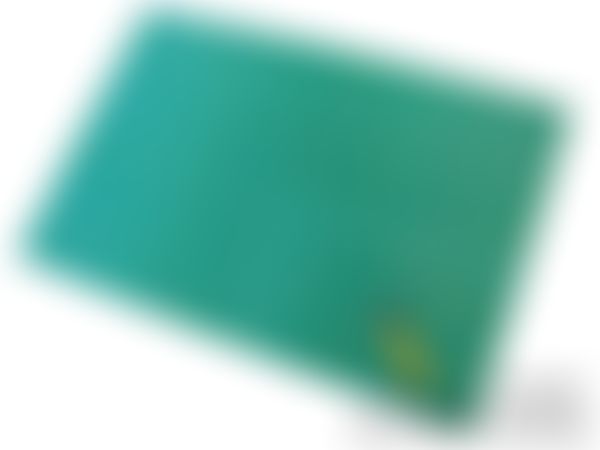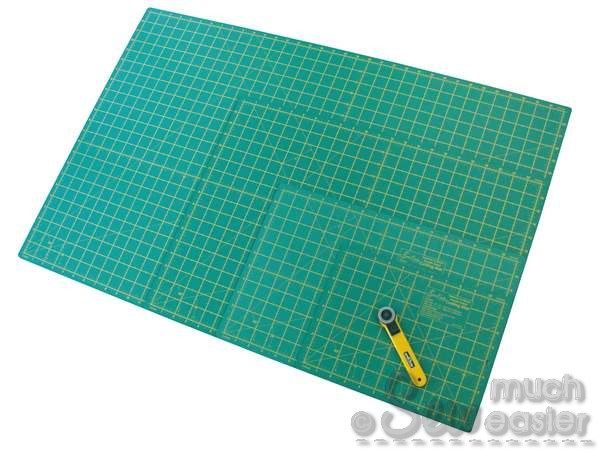 NOTE: Olfa Rotary Cutters NOT included. This listing is for self-healing mats ONLY.

"I bought this cutting board to use for quilting. I love it!

I even use the board and rotary cutter for cutting patterns for clothes because this one is BIG.

It's perfect for my needs and has no sign of wear even though I have used it quite a bit.

I store it flat under a pile of things under my bed and still I haven't scratched it or damaged it at all. Amazing!"

- Wendy, a Happy Customer

Let's See What We've Got Here: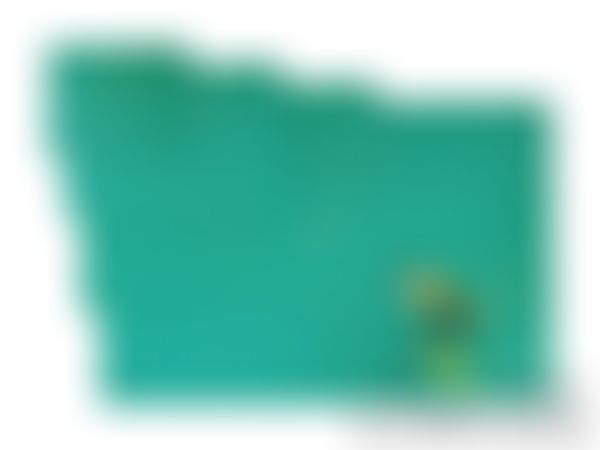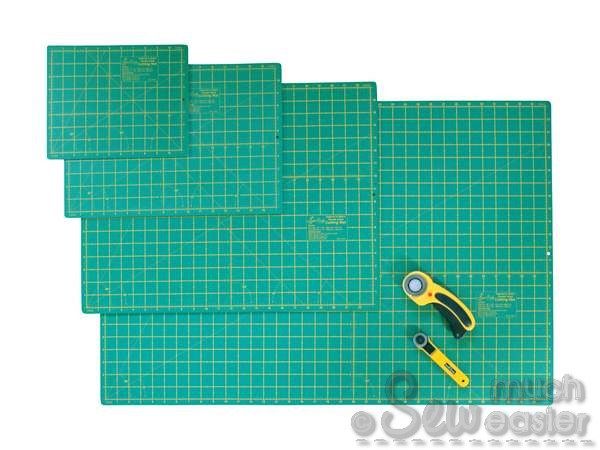 NOTE: Olfa Rotary Cutters NOT included. This listing is for self-healing mats ONLY.


1 x Extra Large:
36" x 24"
(larger than A1)


1 x Large Size:
24" x 18"
(larger than A2)


1 x Medium Size:
18" x 12"
(larger than A3)


1 x Small Size:
12" x 9"
(larger than A4)


Plus:
1 x OLFA Spare Blade
RB45-1
(45 mm)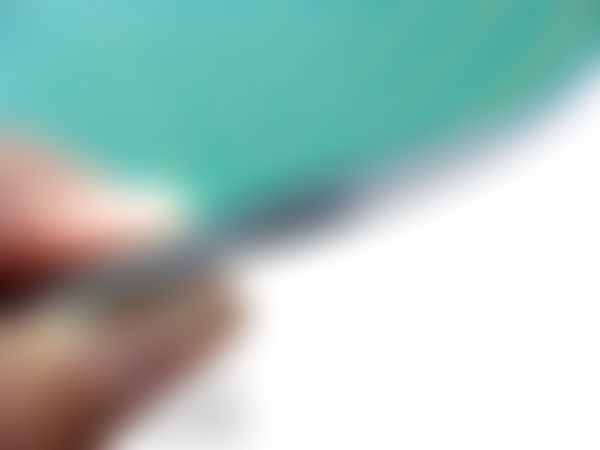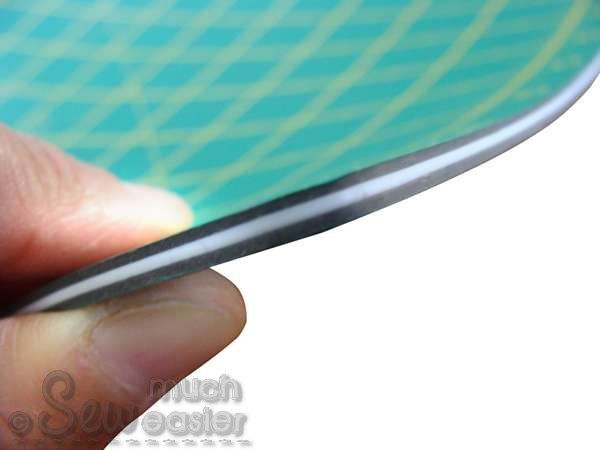 Genuine Sew Easy Self-Healing Rotary Cutting Mat
is the best value in the market
Having the COMPLETE set covers your rotary cutting needs.

While the

larger mats are

great size for your sewing room

, the smaller mats are

perfect to take to classes and sewing retreats.

They can protect ALL your cutting surfaces such as dining tables, kitchen bench tops or your desk.
Self-healing professional quality - these rotary mats are especially designed so that

your blade lasts longer.

Made of

exclusive 5 layer construction for extra strength

- this mat is 3mm thick (that's TWICE as thick as Olfa), so you KNOW it is

made to last!

Contains Imperial and Metric measurements

(inches on one side, cm on the other)

with a matt, suede-like surface to

reduce the risk of slipping

.

Double sided

for double the life-time - with grid lines in inches clearly marked on one side and centimeter on the reverse side -

it's like getting TWO mats with the price of ONE.

Protect your work surface, your blades AND your hands:

there is enough "give" in the mat to

minimise hand fatigue.

Who says "no pain, no gain" anyway...?

Best Value

for your money -

Top Quality at affordable prices.

Why pay more

for a better-known brand-name?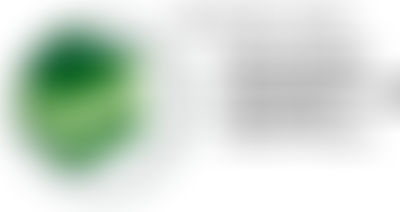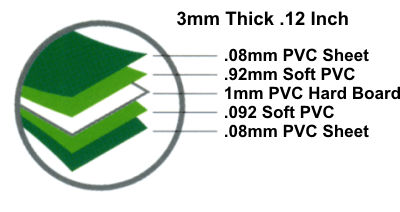 "Sew Easy makes very good, long-lasting cutting mats.

This is the fourth I've purchased over the last 20 years . . . not because they wear out (the first one I bought is still just fine) but because I need a mat every place I could possibly want to cut . . . sewing room, of course, kitchen, bedroom, and this new one is for our holiday house.

You can take the girl away from the quilt room, but then the girl just has to take the quilt room with her!

I write quilting patterns and make all my own design samples, so the mat(s) are used often. No problems in the last 20 years . . . never had to retire any of my mats, but have used up a couple other brands."

- Rose, a Happy Customer
And Here's Your Bonus: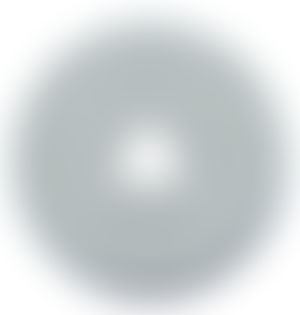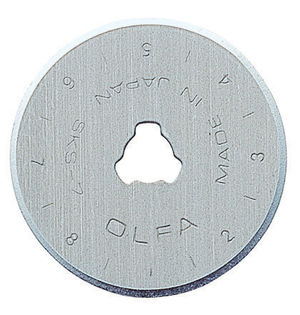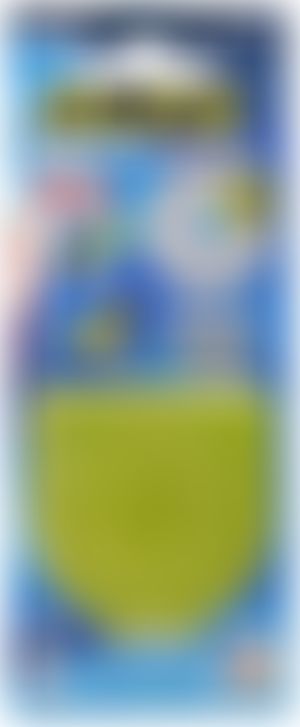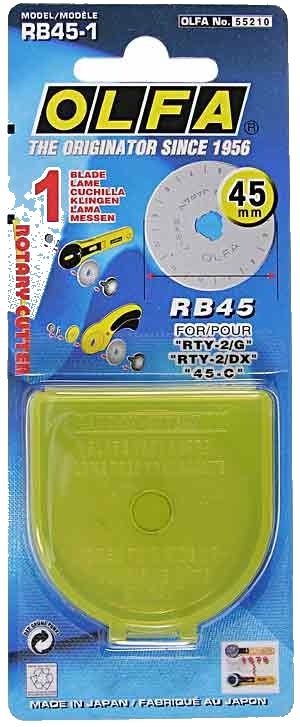 This
45mm Genuine Olfa
RB45-1
(one spare blade)
Rotary Cutter Blade
is the most popular size and suits most brands of cutters
.
The circular rotary blades are razor sharp - made from

quality tungsten steel

to last longer -

save money to spend on more fabrics

(YAY)!
Cuts up to 6 layers of fabric, Olfa blades are known for their unparalleled sharpness - this is why your patchwork pieces will

turn out perfect, every time!

A spare blade on hand: for those who are serious about their quilt making sessions - hey, when you're on a roll,

why let a blunt blade stop you ?!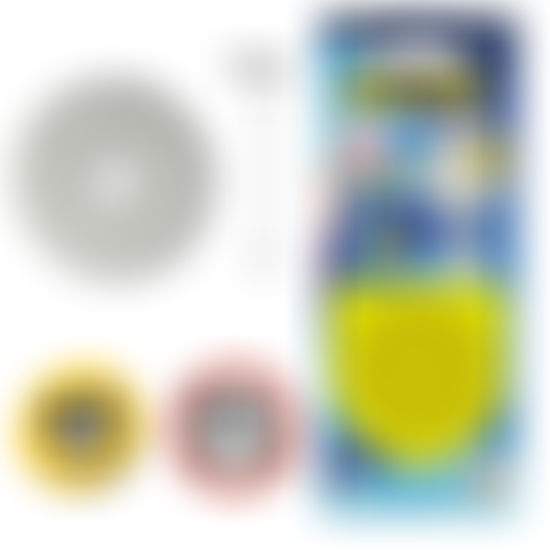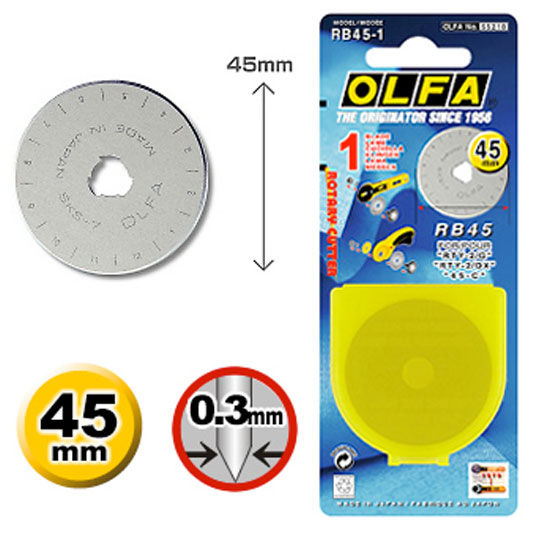 Together with your own favourite

Rotary Cutting Ruler

&

Rotary Cutter

....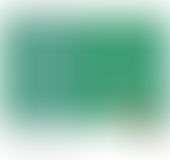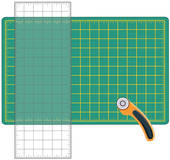 You can

master the most efficient method in cutting fabric

while staying safe

Just like

cutting a pizza

-

quickly, easily and accurately

EVERY TIME!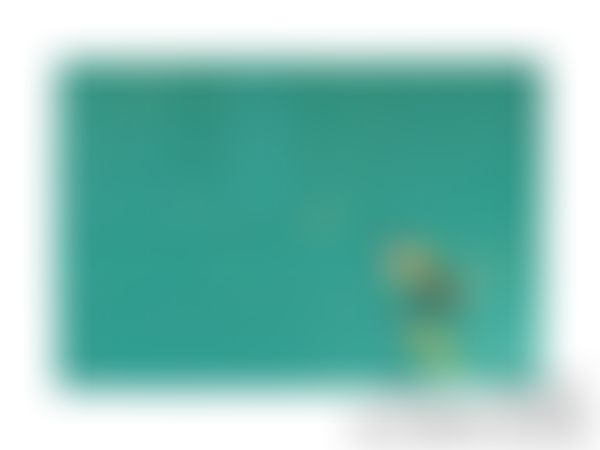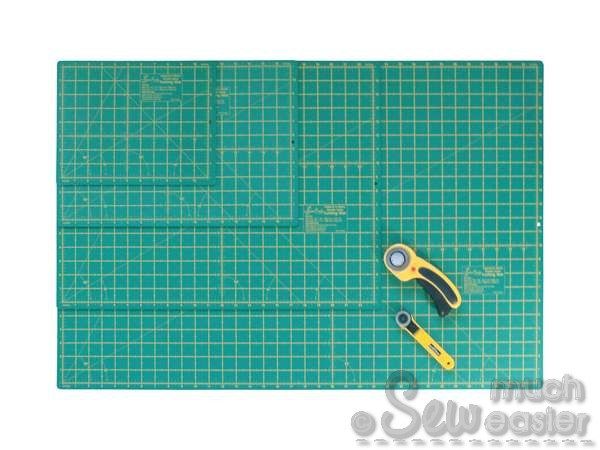 NOTE: Olfa Rotary Cutters NOT included. This listing is for self-healing mats ONLY.
One More Thing:

Size Does Matter.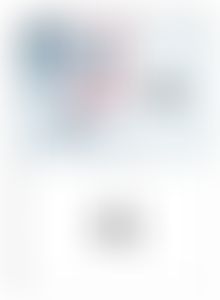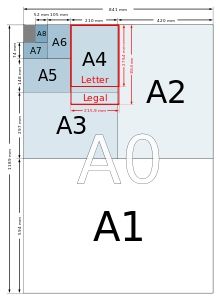 There - I said it :-)
One of the questions we get ask most often is:
How big is this mat? How does it compare to A1?
Here's the Fact -
The

Extra Large

Cutting Mat is

BIGGER than A1.
(other sizes are also larger than the closest "A" paper sizes)
See, when it comes to sizing, most people are familiar with the "A-Series" Paper Sizes, because our printers and photocopiers take A4 size paper. And this sizing is pretty much used everywhere in the world (apart from the US and Canada).
The mat sizing, however, goes slightly beyond that. Based on the understanding that standard sized paper would be cut on these mats, they have been made to "Architectural Sizes" ("Arch" for short) so that the "A-Series" papers are slightly smaller and can be cut on the mats easily.
Let's compare the Extra Large -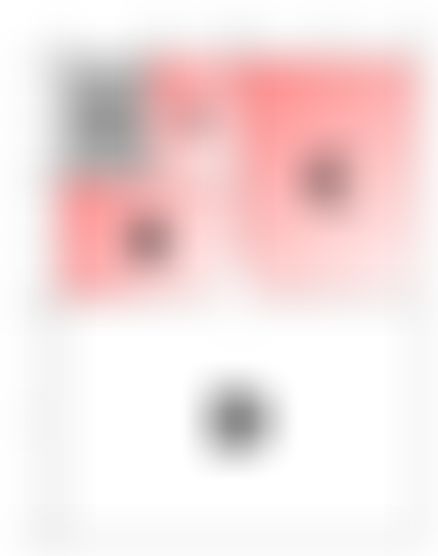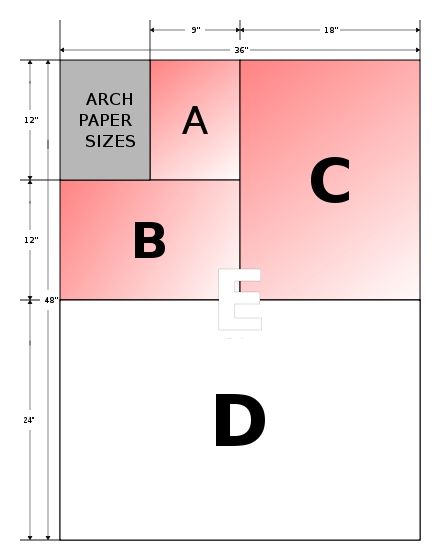 A1 Paper measures: 841 mm x 594 mm
Our

Extra Large

measures:


914 mm x 609 mm


(equivelant to "Arch D" size)
However -
The maximum

Grid marking

(i.e. the yellow lines printed on the mat) is 35" x 23" on one side, and 88 cm x 58 cm (880 mm x 580 mm) on the other.
Here, You Get the COMPLETE Set - ALL 4 Sizes...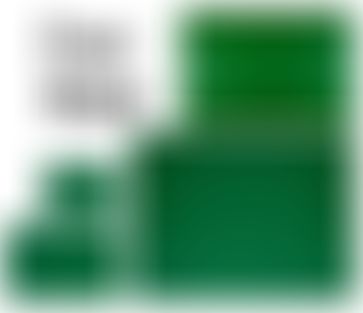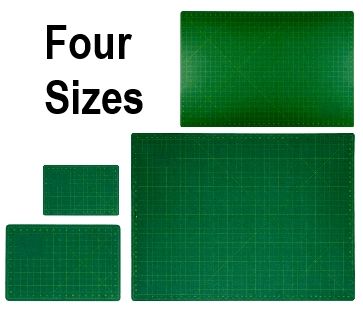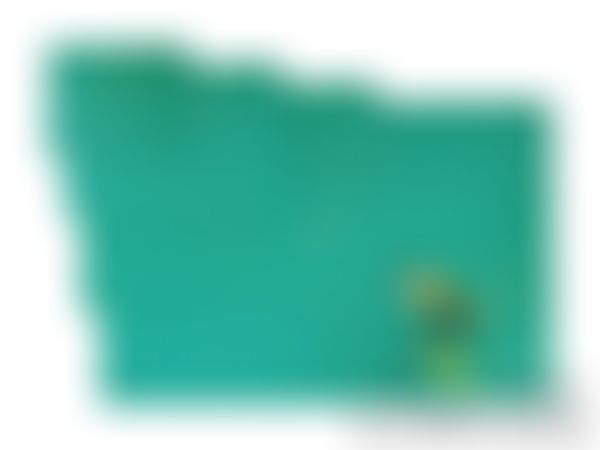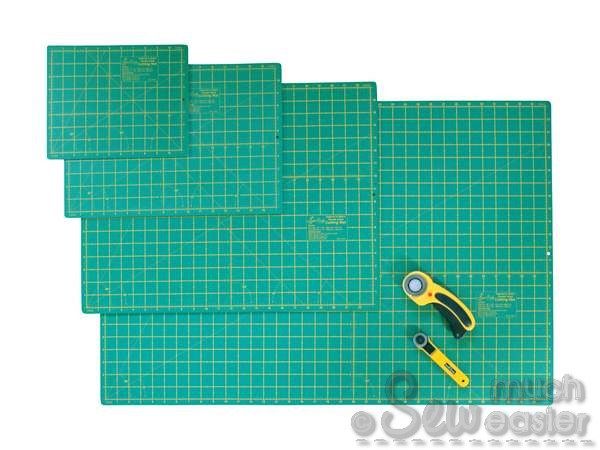 NOTE: Olfa Rotary Cutters NOT included. This listing is for self-healing mats ONLY.
Care Instruction
s:


With a bit of common sense and care, your cutting mat will last for years!
Avoid Extreme Temperature

Do Not Leave in Car

Do Not Bend or Roll

Keep Away from Heat & Iron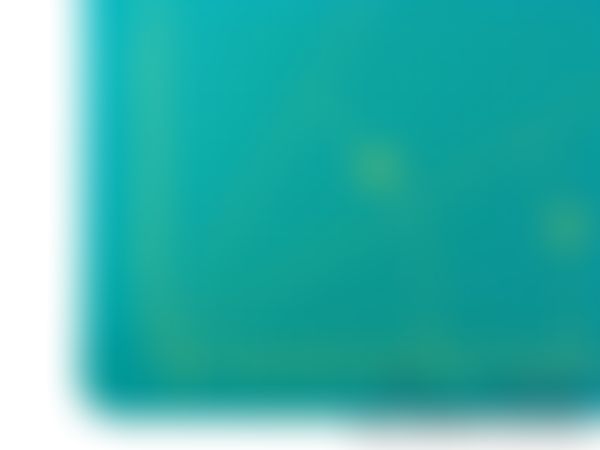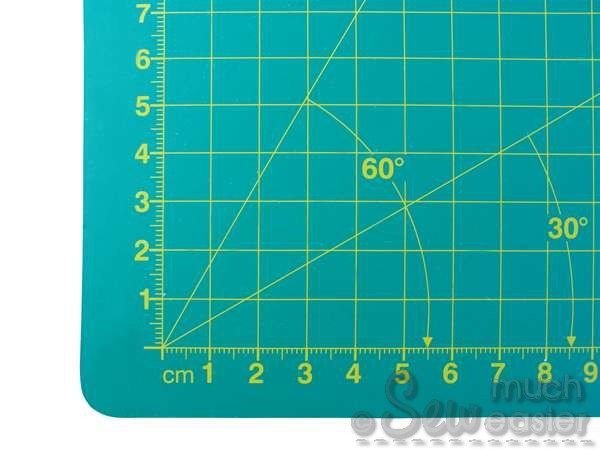 "This mat is a great addition to my 'sewing area' in my home.

I can cut with my rotary cutter and know that I am not cutting anything but my fabric. Brilliant!

Every quilter should own this cutting mat. This self healing mat will be a part of my sewing essentials for years to come."
- Michelle, a Happy Customer
Warning:

Don't Put Up with Your Tired Old Mat.....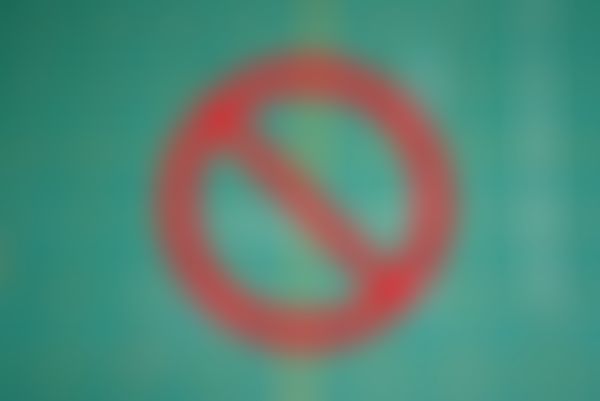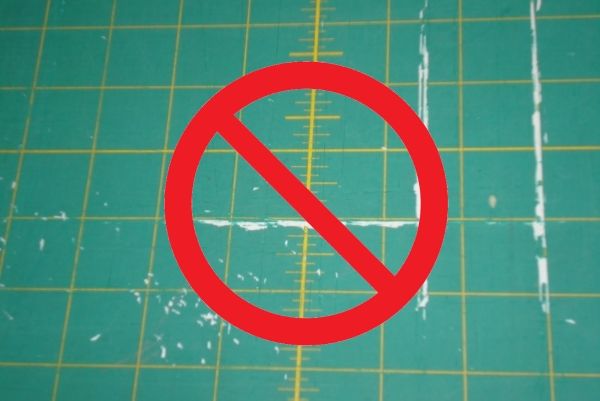 If your mat looks like this, then

you WILL compromise the end results

of your current project.
Think about it -

why pay good money for quality fabric and sharp new blades only to have them damaged by a worn-out mat?

Is it really worth it?
Order Yours
Now.
You

Deserve

a new Cutting Mat!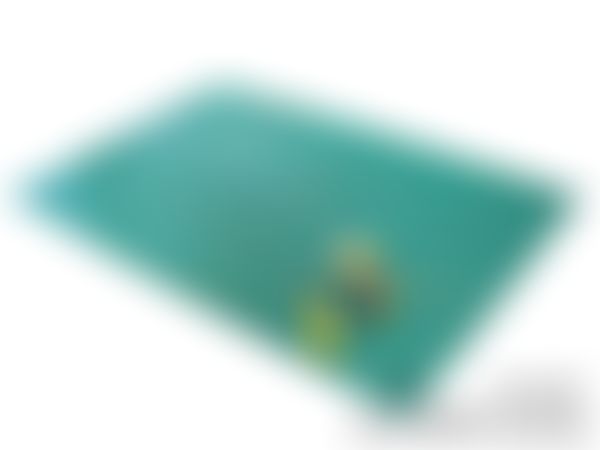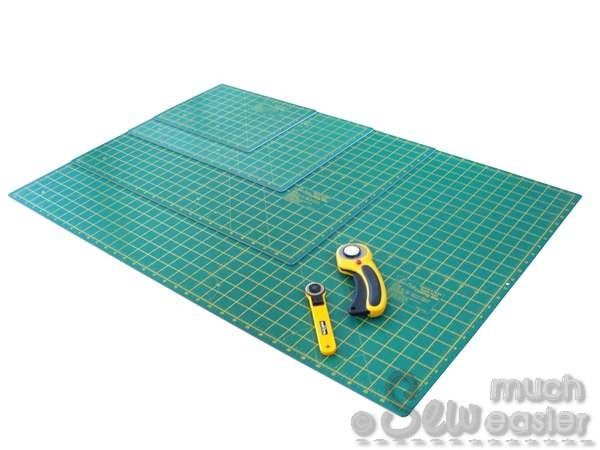 NOTE: Olfa Rotary Cutters NOT included. This listing is for self-healing mats ONLY.

"I bought the mat for use with sewing/quilting.

I am a beginner and wasn't sure at the start if I needed something like this (with a rotary cutter) before I knew how much use I would get out of it. I have to say, even if the first quilt is the only one I do, this was well worth it.

It makes all the measuring and cutting so much easier. My husband also uses it for building/mending his model planes and really likes it."

- Kristie, a Happy Customer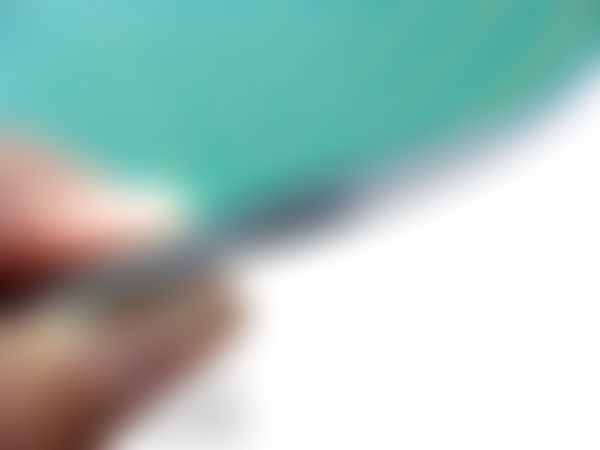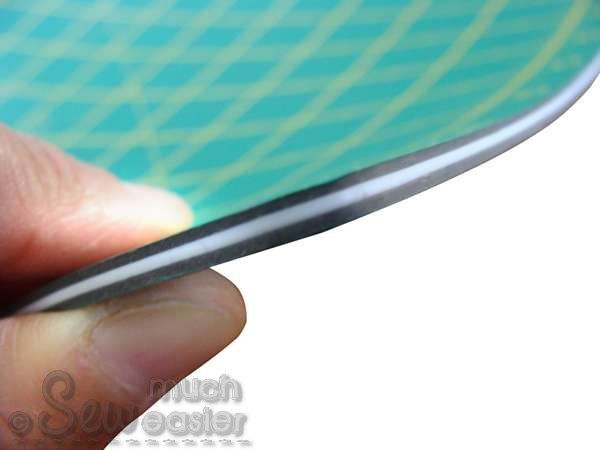 Self-Healing: Myth or Fact?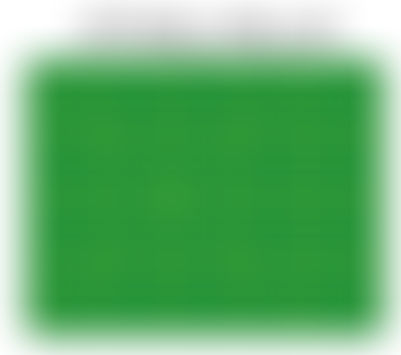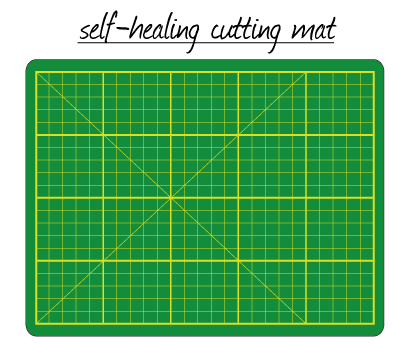 So, how "self-healing" is a Self-Healing cutting mat supposed to be?
First thing to be aware of is this:
NOT all cutting mats are created equal.
In fact a lot of the cutting mats out there are NOT self-healing at all (so do look at the fine prints when you shop for a cutting mat. This is especially true for the "bargain priced" mats).
You may have already realised that's why prices seem to vary a lot - and in this case you don't always get what you pay for.....
See, it takes a fair bit of work to create a self-healing mat. You need multiple layers of materials of varying softness and desity, and the secret of success depends on getting the mix
just
right.
These
mats we stock are thicker and heavier than some of the better-known brands
, AND they are genuinely
double-sided to give you TWICE the lifespan
(that's like two mat for the price of one)!
Have a closer look at their construction: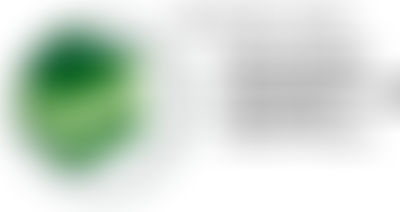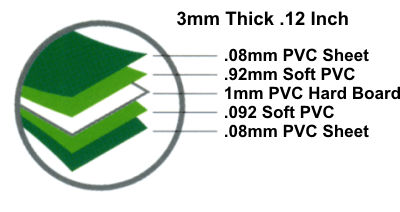 So How Does a Cutting Mat Self-Heal?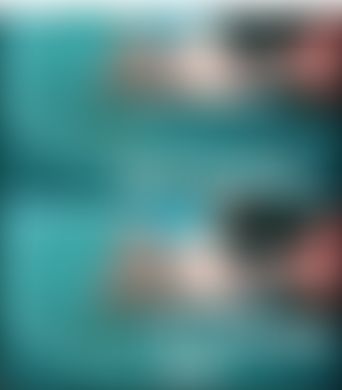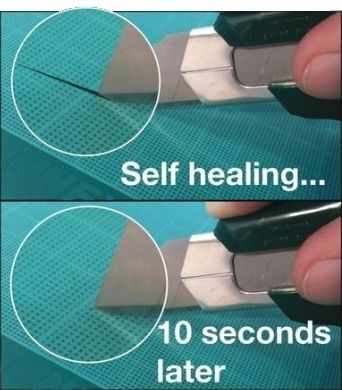 Let's - I will do my best to explain this. Think of the soft PVC layer (just underneath the surface) as a really firm layer of jelly.
When you dip the tip of your butter knife into some jelly, as long as you do not cut through it, the marks made by your knife isn't really visible after a few seconds. Even though the cut IS there, the surrounding jelly

move back in and close the gap

or mark left by the knife. Well, the density of the PVC in the board sort of behaves like that too.
Now, this is true providing you

DO NOT repeatedly cut into the same spot.

Because the exact position of each individual cut isn't going to be identical every time, the effect of repeated cutting in the same spot would be similar to hacking a log with an axe - a little bit of PVC gets hacked away each time, and a gap will be left behind from the missing bits of PVC.
The idea of self-healing mat is based on the fact that when you cut, the chance of you cutting into exactly the same spot ALL the time is highly unlikely.

That means the PVC material will have a chance to push back into each other and close the gap made by the knife.
There, self-healing done!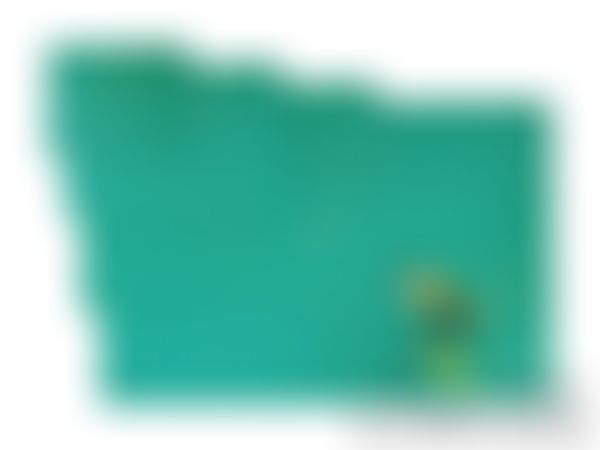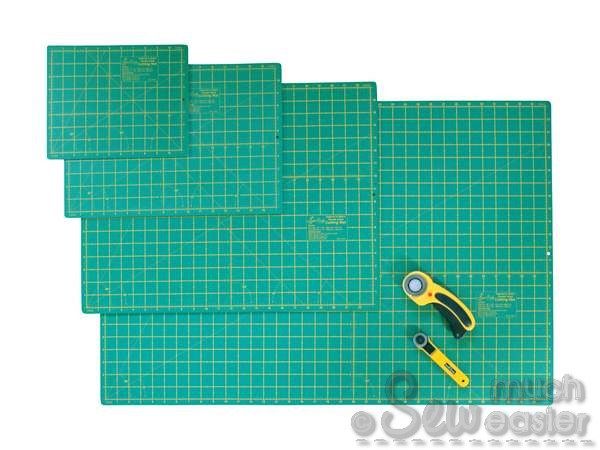 NOTE: Olfa Rotary Cutters NOT included. This listing is for self-healing mats ONLY.
And that brings me to the NEXT point...
Which Line to Follow? The Ruler or The Mat?
This is another question frequently asked by beginners.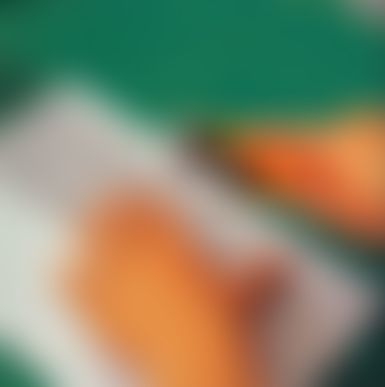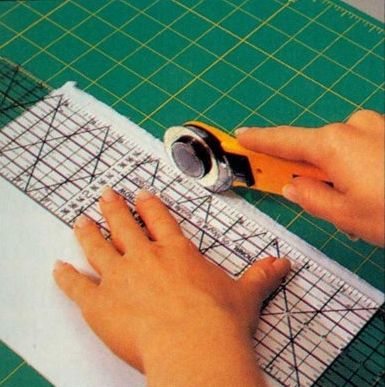 My answer is ALWAYS the same:



Use the Lines on your Ruler, NEVER your Mat.
Why is that?
Because when you lay your fabric to cut, the fabric goes on top of the mat, and the ruler goes on top of the fabric.
That means it is ALWAYS easier to see the lines and measurements on your RULER.
And, since your fabric covers the mat, not only is it harder to see the lines on your mat, it also takes much longer (not to mention fiddly) to try and line up your fabric with the lines on your mat!
Most importantly, by using the lines on your mat, you end up cutting repeatedly into the SAME places over and over, this prevents your mat from healing, and shorten the lifespan of your cutting mat dramatically - which means it WILL become costly, because you need to replace your mat frequently (excellent for the people selling mats, not so great for you).
So, it is BEST that you rotate and move as you take the next cut, to make sure that you utilise the whole surface evenly, rather than just cutting in certain areas.
You WILL

get the most out of your mat

this way.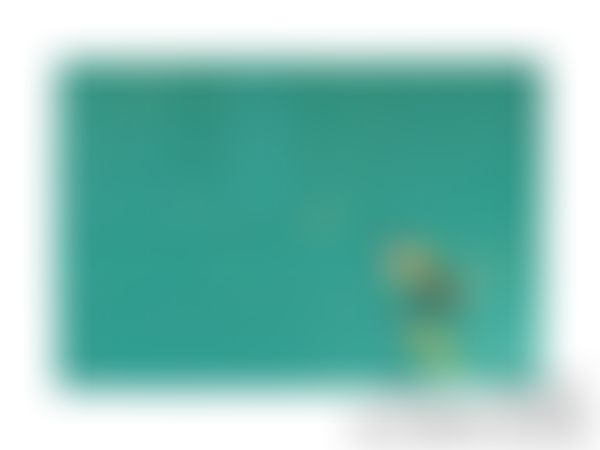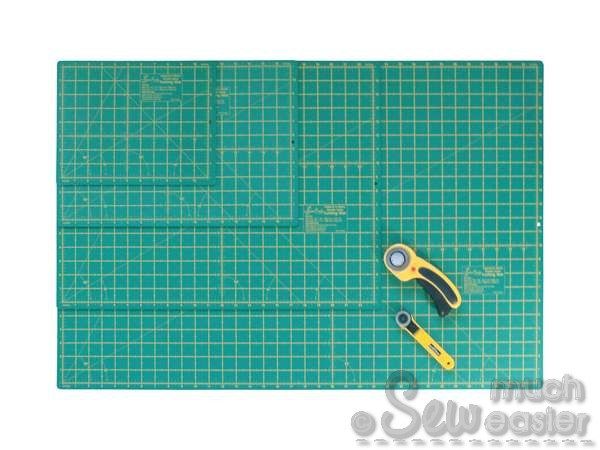 NOTE: Olfa Rotary Cutters NOT included. This listing is for self-healing mats ONLY.
Bonus Tip: How to Keep Your Mat in Top Condition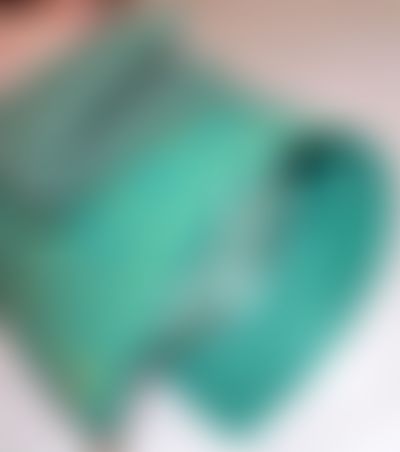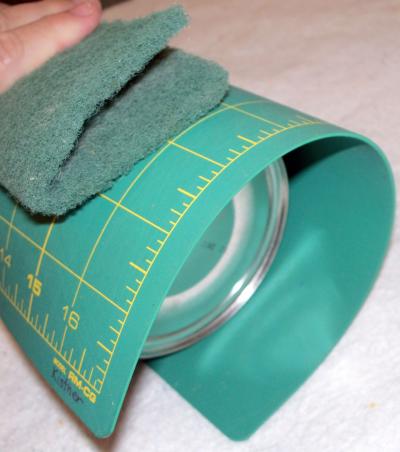 You know how some fabric leave a trial of fibre and fluff behind? They will do that on your cutting mats too.
This is especially true if your blade is getting blunt - it means instead of cutting every filament cleanly, some of the fibre and fluff can get pushed into the cut-marks of your cutting mat,

While this might look unsightly, the real issue is that the fibre and fluff sit INSIDE the gaps and this will prevent your mat from healing!
While some people suggest using sand paper, I find that sandpaper takes a layer off your mat, so it is not a sustainable method (imagine wearing your mat down over time just by repeated sanding).
I came across a nifty solution which I will share with you here:
"To clean the fabric "whiskers" from my rotary cutting mat, I DRY-scrub it with a "greenie", which is really designed for scrubbing dishes. (It reminds me of A/C filter material.)

There is a TRICK to removing ALL of the fabric particles from the cuts in the mat. I just gently bend the cutting mat over the edge of the table or over a coffee can. This opens the cuts, and the greenie grabs the fuzzies out."

Courtesy of Kathryn Kistner in Texas
Originally published in TriftyFun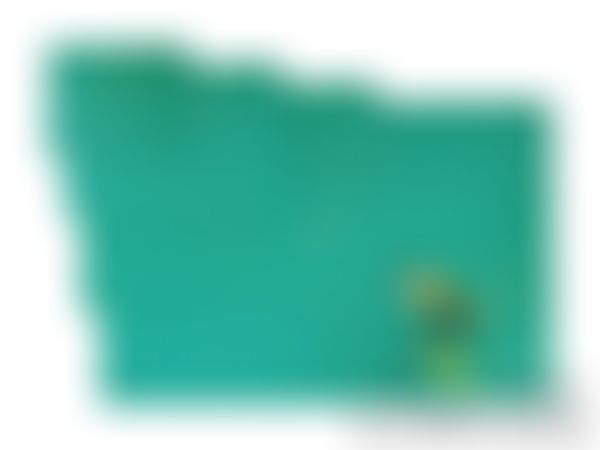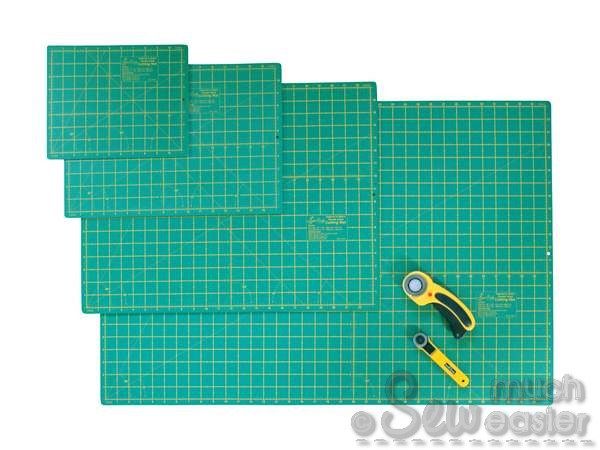 NOTE: Olfa Rotary Cutters NOT included. This listing is for self-healing mats ONLY.
Rotary Cutting vs. Scissors Cutting

Did You Know?



Cutting with scissors often means holding your wrists in an

awkward

position....
.... especially with small movements and tedious repetitions (
like hand-cutting your pieces for patchwork

).
This can cause
injury

to your wrist over time.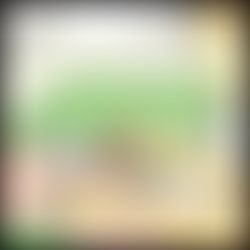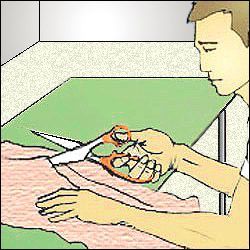 When you use the method above, you will get sore hands.
And when you go to sew the pieces, you will find:
The pieces are not always identical in size, and may not fit together 100%
By the time you've sewn quilt blocks using these pieces, your blocks end up different sizes
Now, you go to assemble the blocks together, and find that you need to ease the bigger ones or stretch the smaller ones. Not fun....
Worst of all: once all the blocks are sewn together, you realised that your quilt top is all wobbly and bubbly, and most of the seams are not straight any more....!
Why?
Because of the easing & stretching you've had to do, all cause by very small size variation in the pieces you've cut by hand.
You see, a fraction of extra pencil line here and there on EACH little piece eventually add up to quite a bit, which contribute to all your blocks being different sizes....
Which means you either need to ease & stretch to make the blocks fit together.....
This causes some excess fabrics or tight spots on your finished quilt top, and that's where your problem begins... just try quilting one of these tops!
So, What's a Quilter to Do?
Get some Rotary Cutting gear and Experience the Difference for yourself...!
What this method does is simply eliminating the need to mark and cut individual patches of fabric.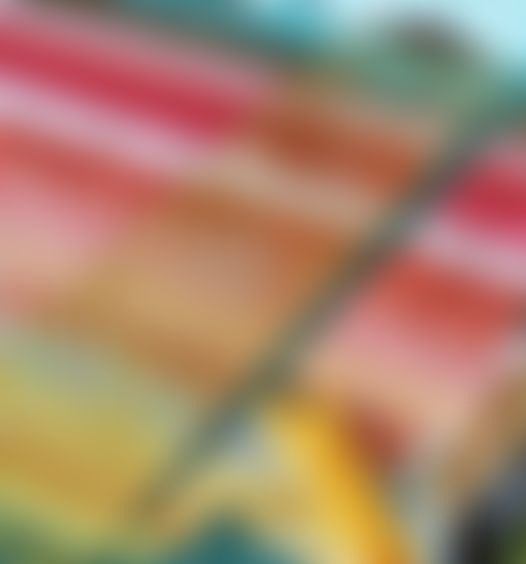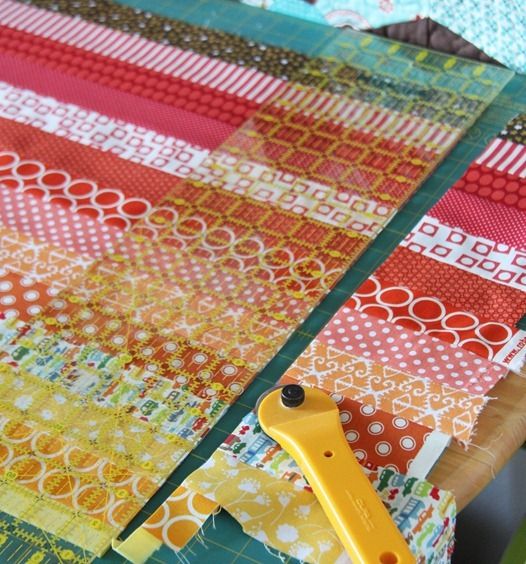 Note: this image shown for demostration purposes. Accessories not included in this listing.
By placing your fabric (pressed first for best results) on the cutting mat, and the ruler gets placed on the fabric where you would like to make the cut, then using the edge of the ruler as a guide, run the rotary cutter along it with firm, even pressure.
This method speeds up the cutting process considerably.
By allowing
multiple layers of fabric to be cut at once
(up to 6 layers, but I mostly do 4)....
you can really save time!
Once you've got the knack of squaring up, you can be certain that all your pieces will be identical.... that means your quilt will turn out looking professional, and you will really enjoy sewing the blocks together!
You will end up
getting more
quilts done, completely
stress-free
..... everyone will ask you to make them a quilt... and guess what?!
Now you CAN...!!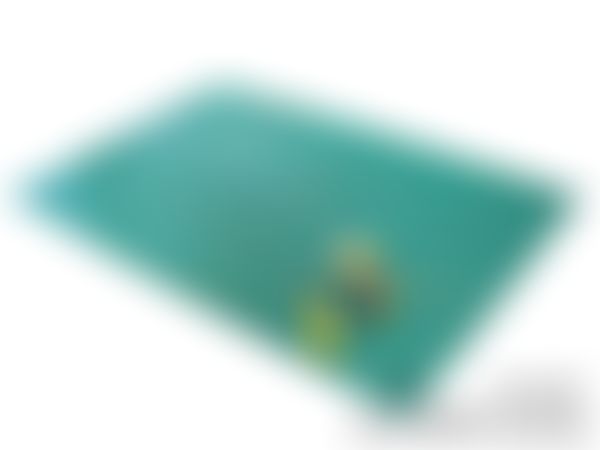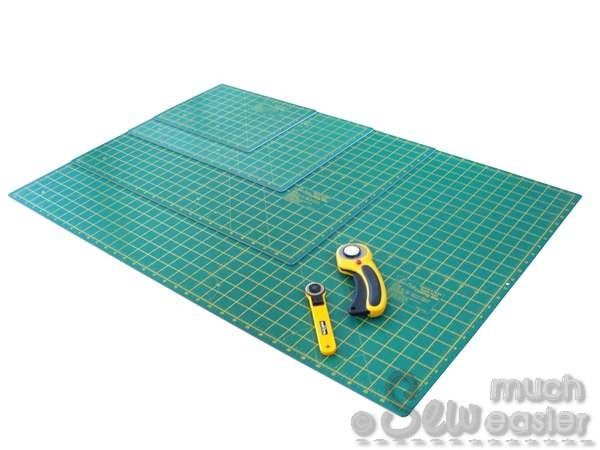 NOTE: Olfa Rotary Cutters NOT included. This listing is for self-healing mats ONLY.
What else is it good for....?
Trimming photos for

scrapbooking

- getting your wedding album done has never been easier!
Speedy Christmas wrapping - simply cut what you need from a roll.... another fiddly chore made simple for you so you

have more time to enjoy the holidays

.
Great system for preparing artwork for picture framing.

Perfect square

corners every time!
The mat makes a useful permanent fixture on your desk. The "give" provides a perfect surface for drawing, writing and tracing.

Save some hand strain, prevent scratched table top and get better results

all in one go.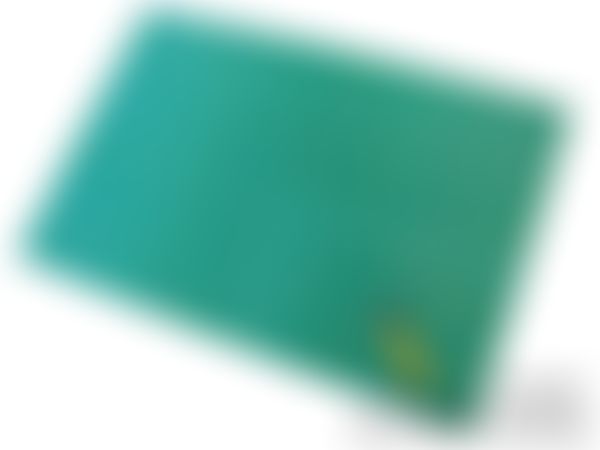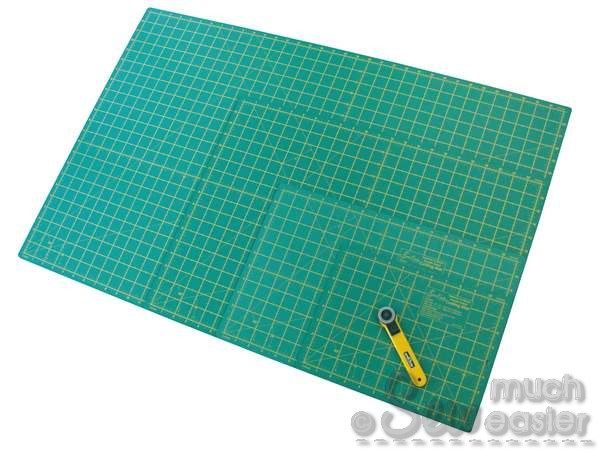 NOTE: Olfa Rotary Cutters NOT included. This listing is for self-healing mats ONLY.

"I received this product about 6 months ago and absolutely LOVE it!

I made a king size rag quilt, using this mat to do all of my cutting, and there are no obvious cut marks on the mat! It still looks like new!

I also like having two sides to cut with! I rotate and flip my mat so that it wears evenly and I hope it lasts through many more projects!

The mat is very heavy duty, I have no doubt that I will enjoy using mine for years!"

- Margaret, a Happy Customer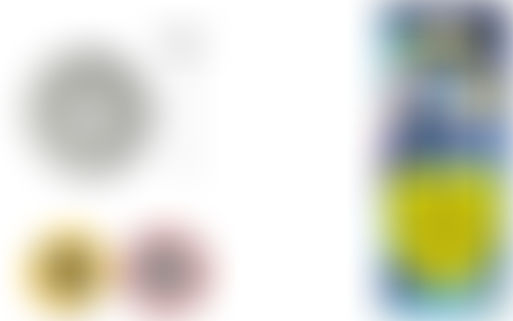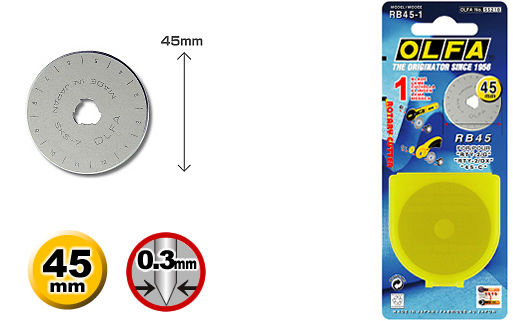 "I use this mat a lot with my quilting, it is a great size, and so far has held up wonderfully!

I just ordered a 2nd mat, not because the 1st one is worn out, but because the price is too good to pass up.

I still have nothing but great things to say about this mat because I use it probably every couple of days, and when I use it, I USE it.
I also compared this mat with Fiskars and Olfa brand mats, and this mat is much thicker, more pliable, and has stayed beautifully flat.
So, summing up, I still highly recommend this mat. I also say it is a bargain if you compare the cost of an Olfa mat to it.
Highly recommend this mat!"

- Kath, a Happy Customer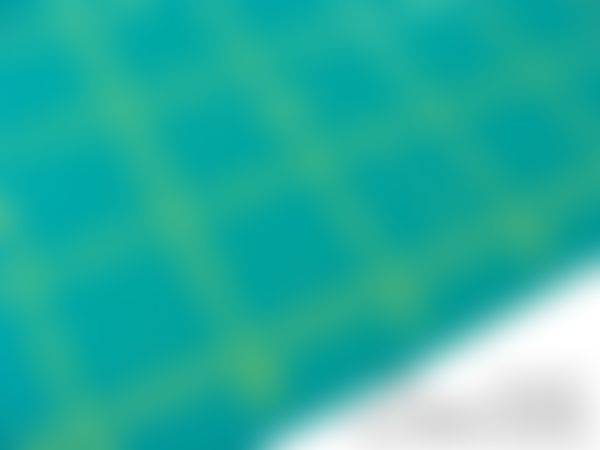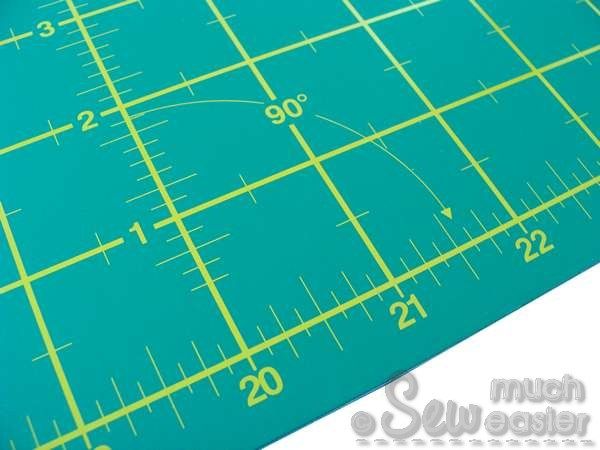 "My old mat had way too many scratches and was no longer flat due to being rolled up and sitting on something that put a dent in one side.

Enter this monster mat. More than just a cutting board, it's a mouse pad, a desk pad, an anything pad.

The green colour is perfect against the medium oak desktop. It is so nice I keep it out all the time.

If you need a cutting mat that's large for modeling, sewing, or other craft work, this is the one. It cleans easily with soap & water, Windex, or other spays.

A perfect cutting pad with multiple uses. I recommend it."

- Ben, a Happy Customer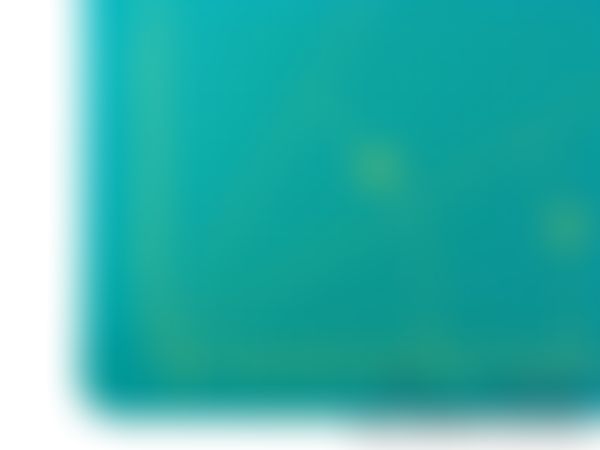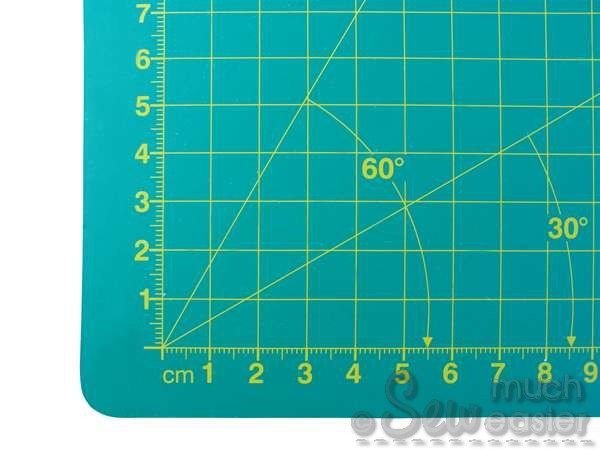 Not a Quilter?
See What Two Of Our (Very Innovative) Customers Get Up To With Their Rotary Cutting Mat:
"This mat is awesome!

I use it to measure all of my products before I send them. This gives me a fast and accurate way of doing this task.

Now I don't have to use a ruler for each item, I just lay them flat on this mat and follow the lines. I am very satisfied.

This mat is very sturdy and well made. I use it in my own warehouse setting yet I have not seen any type of wear so far. The key is to store it flat, and away from heaters.

I would highly recommend this to any one who needs t measure fast and accurate."
- Elizabeth, a Happy Customer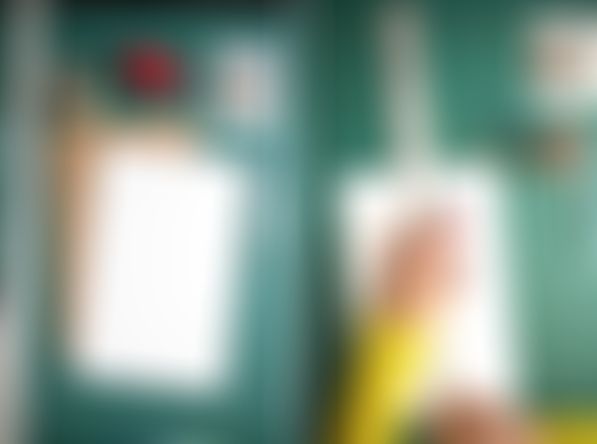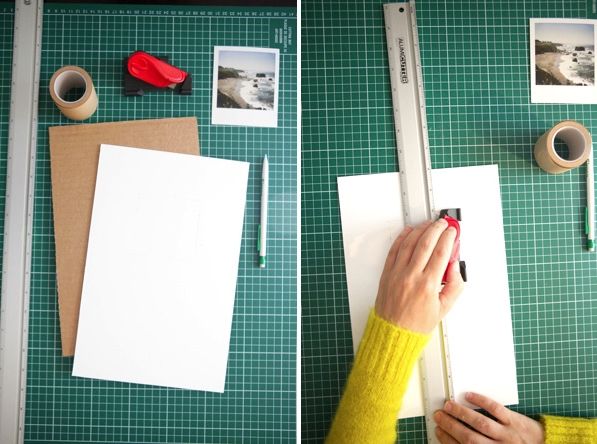 "I got tired of the cut marks on our table, so I bought this for my wife.
It has been working great for her.

The product quality is fantastic and it's nice to have it double-sided.

When she isn't using it I find myself wanting to use it as a giant mouse pad. I am a computer junkie and often set up computers on her sewing table, which is big enough that they tend to sit there for a few days.

I really like the resistance this cutting mate offers as a mouse pad. I am thinking of purchasing a smaller one for my desk area that my computer and peripherals can sit on. So i don't have to worry about a mouse pad, because this thing is very durable."
- Rob, a Happy Customer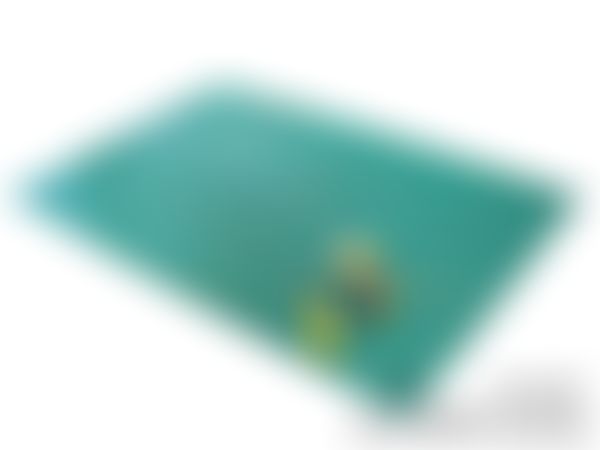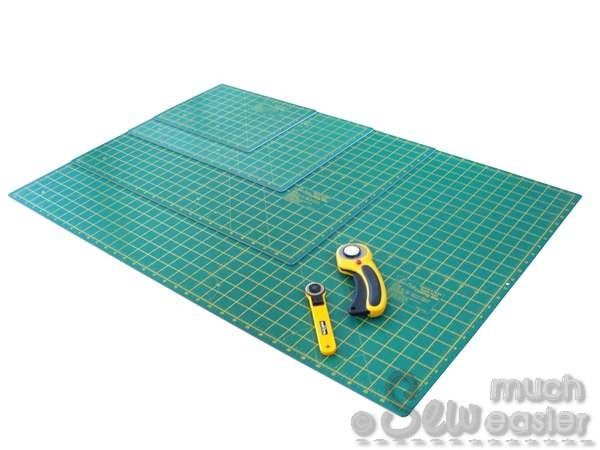 NOTE: Olfa Rotary Cutters NOT included. This listing is for self-healing mats ONLY.
The response for using self-healing cutting mat has been phenomenal.
Here is what other people are saying about it:

"We bought this mat to cut large pieces of fabric that were incredibly inconvenient to cut on our 12" x 16" cutting mat.

You absolutely can't beat the value for a mat this large, and it's been wonderful to make a single long cut, instead of many small cuts, where you have to readjust both the pattern and the fabric (which is usually bulky and slippery, in our case.)

Both sides of the mat can be used to cut on, and both have rulers and grid lines, which means we'll get twice as much use out of this mat as any of our previous mats. We've also had a few quote-unquote self-healing mats that ended up with pretty deep, carved cuts. The mats were still useable, but the fuzz from the thicker pile fabrics we use would stick to those cuts, which was a nuisance.

So far, with this mat, no cuts have been that deep (though time will tell.)

Bottom line: we should have bought this mat ages ago.

- Denise, a Happy Quilter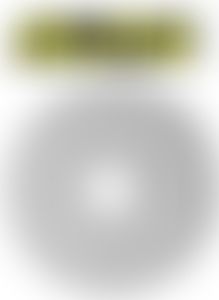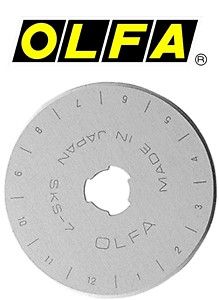 "The quality of this mat is top notch. I use it with my rotary cutter and have not had any marks on the mat yet.

The mat is fairly heavy so it doesn't move around on the table, which is a good thing. There are a lot of measurement marks for quilting and lining up straight cuts. I find it to be the perfect size, not too big and not too small. It takes up about half of my dining room table.

I found the price to be good, too, in comparison to buying a mat from a brick and mortar store. I would buy one of these again if I needed to, and I recommend it to others."
- Sue, a Happy Customer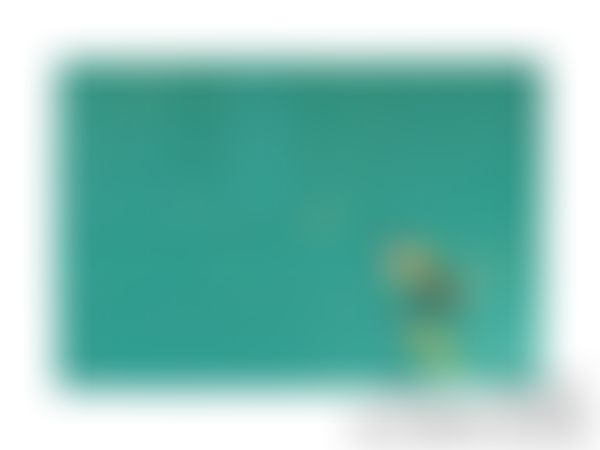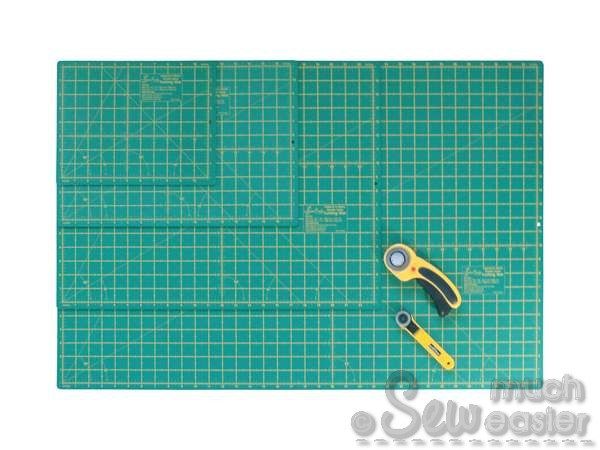 NOTE: Olfa Rotary Cutters NOT included. This listing is for self-healing mats ONLY.
Grab yours now and you can experience:
Precision cutting like a pro -

Done Quickly & Easily.

Save Time

and Get your project done - already!
Do it Right in the first place - so you can

Avoid

pains :-)

A sense of achievement

, because you've solved your own problem.

No more frustration

- just your finished project and satisfaction!
Be proud and tell everyone:

"I made this!"
So the Only Question is:
Should you get just ONE for yourself,
or Grab a Second set for a friend?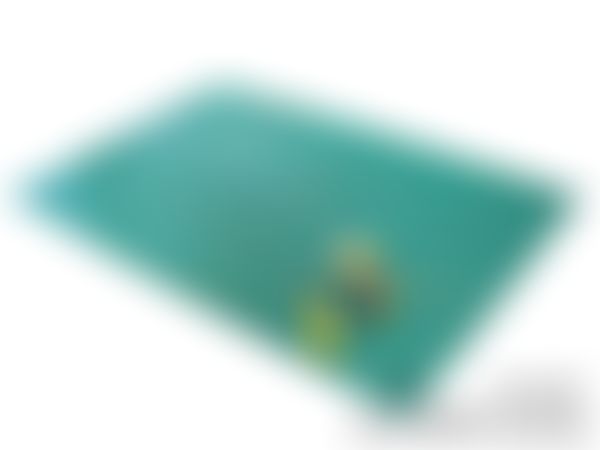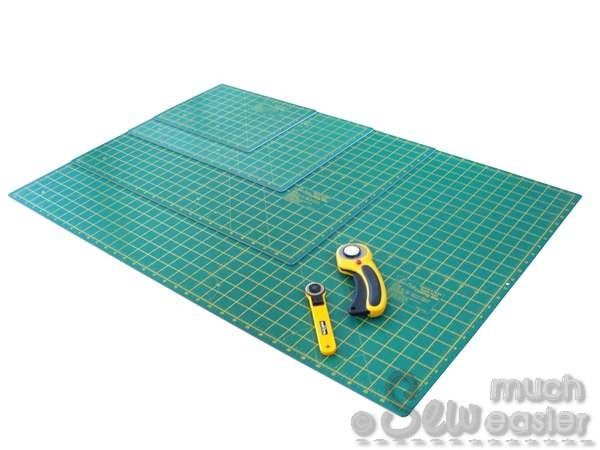 NOTE: Olfa Rotary Cutters NOT included. This listing is for self-healing mats ONLY.
Simply

Click The Add To Cart Button

To Get Yours Now!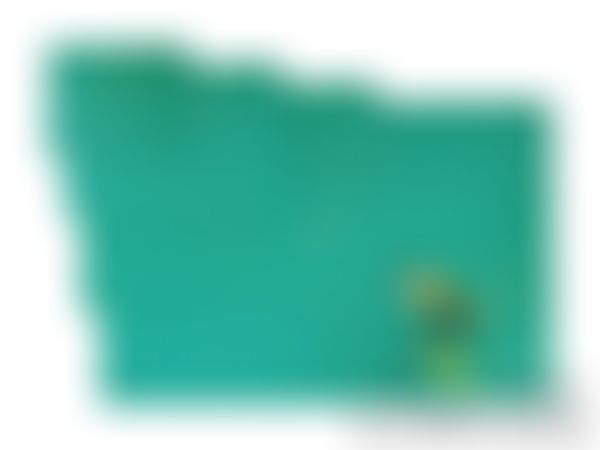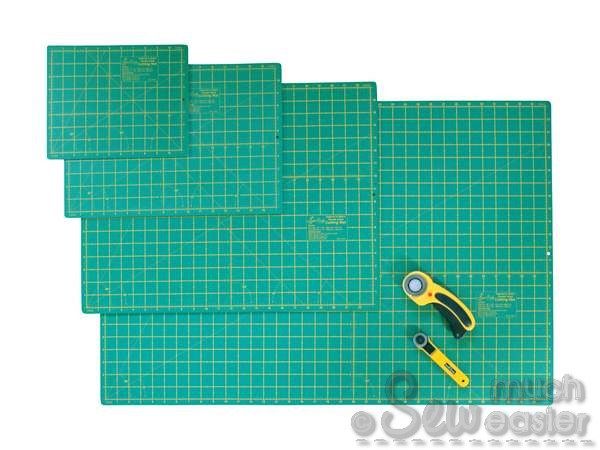 NOTE: Olfa Rotary Cutters NOT included. This listing is for self-healing mats ONLY.
Easy Returns - 60 Days Money Back
Still Not Sure? That's Okay.
We understand. Because sometimes it's hard to know if you really want something, right?
Especially when shopping online!
That's why we provide 60 Day Money Back Easy Returns* to support you.
Because we know sewing - but You Know Best :-)
Your No-Worries
~ 60 Day ~
100% Money Back Guarantee...
Your purchase from us comes with our 60-Day Easy Returns option!*
In the unlikely event if it doesn't work for you in any way, simply contact us. You have sixty (60) days to try things out.
There's no rush. Take your time.
Beacuse we want you to have plenty of time to feel absolutely certain that you're enjoying what you've chosen!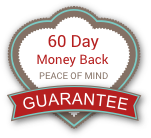 If you're not 100% happy - simply let us know and return the item in
brand new condition
, including
all original packaging intact
.
We will send you a full refund (excluding postage) promptly and courteously - No Worries!
Ready to Give it a Go?
Simply Add to Cart Now.
* Looking for the fine print? Check our terms & conditions for details*
Payment to Suit You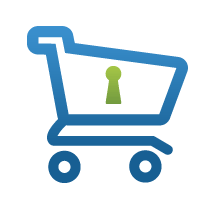 Shopping Online is Secure with us!
Just so we can get your item to you ASAP, we ask that you
complete payment within 5 working days
from committing to buy.
Please
let us know by email
if you would like to make other arrangements, such as waiting to purchasing other items for combined postage or waiting for pay day.
PayPal
- We reccomend payment via PayPal because it is fast, easy and secure. Simply choose
PayPal
when you check out.


Shop Now, Pay Later
- Want it NOW and can't wait til pay day? No worries. Just use
Afterpay
or
zipPay
when you check out. They will look after your installments, and we send your order now!


Layby
- If you're happy to wait, our good old-fashioned Lay-by is easy and stress-free. Simply choose
Direct Deposit
at checkout, transfer the first instalment (a quarter is ideal), and send us a quick email to confirm your layby. We'll send your goods when it's all paid in full.

Credit Cards
- To pay with
Visa
or
Master Card
, please
choose
Credit Card
as your payment method when you check out. Nice and secure.


For
American Express
, make sure you choose
PayPal
and follow their prompt to checkout with your AMEX card (instead of PayPal funds). You don't need to have a PayPal account to do this.

Bank Transfer
- Choose
Direct Deposit
as your payment option and our bank details will be made available to you on checkout.
NOTE:
Please use your name with a post code as Bank Reference when making payment. If you have an order reference starting with "N", you can use that one.

Remember
to
send us a quick email
whenever you've done a Bank Transfer, so we can keep an eye on your payment!
IMPORTANT:
Because your order is processed promptly once funds are cleared, there won't be time to make changes to shipping details, So
When You Complete Checkout
please help us by double checking we have the following:
Correct Physical Address

. Most of the time

PO Box

is fine, though we may ask you for a physical address if we end up using a courier instead of Aust Post.


Phone Number

for the delivery driver.

Any Special Delivery Instructions

.
Order Now - Before You Miss Out!
Delivery
Now, Let's Get Your Order On Its Way To You!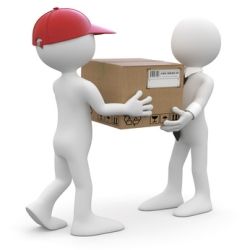 How long will it take to receive my order?
All fully paid orders placed by 5pm Monday to Thursday will be processed overnight and ready to send by our warehouse - normally the next day or following business day.
Orders placed on Friday and Weekends will be processed on Sunday night - because our warehouse operates Monday to Friday except Public Holidays.
Once it leaves our warehouse,
the actual time frame is up to the delivery services
. This can vary depending on your location and road conditions.
Any delivery time estimates shown are
estimates only
- so please use it as a guide line.
You'll receive a few email updates from our system as your order progresses, so please stay tuned on these!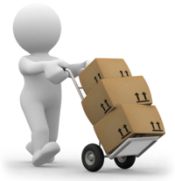 How will my order be sent?
We use a dispatch system that works out the most efficient way to send your order.
This way the postage works out fair and reasonable, and your parcel reaches you quickly as well -
because we know you can't wait!
That means your parcel
may reach you by either

Courier

or

Aust Post.
In general, larger items tend to be delivered by couriers, while small items tend to go by Aust Post.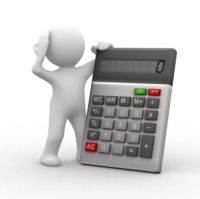 How is my postage calculated?
Great question.
Depending on
weight
and
dimension
, some times we are able to do Flat Rate across Australia, so the postage is the same no matter where you are.
Other times we use the Built-in Calculated system provided by Aust Post, and your postage is calculated
based on YOUR location.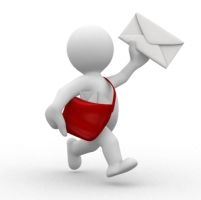 Can I get it delivered to my P.O. Box?
Depends on the item (and its dimensions), because
Aust Post have size restrictions
and couriers are NOT allowed to deliver to a P.O. Box.
Please check with us when in doubt.
If you have nominated a P.O. box, and the item is within Aust Post size, then it will go by Aust Post. Most of the time, this
is
the case.
When your item is too big, or being sent directly from our supplier, then we need you to provide a physical address so we can send a courier.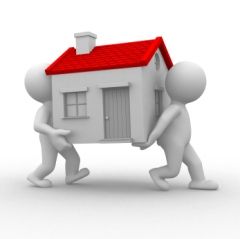 Can I get my order sent to a different delivery address?
Your sure can!
When you check out, you can choose to ship your order to your billing address or a different address.
Simply choose the second option, and then fill in the shipping address of where you want you parcel sent.
Please double check we have Your Correct Address so your order can find its way to you!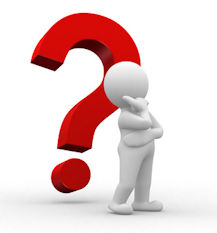 What if courier services are not available in my area?
Some locations are outside of courier services....
In these cases we CAN arrange for your order to be deliverd to your local post office.
But please
provide us with a street address
(street number & name) - even if it is the only Post Office in town - as if it is an office address.
A phone number would help too - this will avoid delays.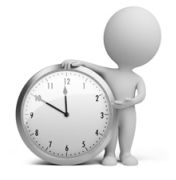 What if I need my order urgently?
No worries, we will do our best. Just let us know.
Please give us as much notice as possible - especially for special occasions like birthdays!
In most cases, we CAN
arrange an upgrade
from Regular Post to Express Post for a little extra.
Please contact us first so we can update your invoice to show the correct amount.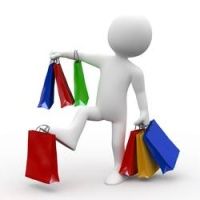 Do you offer combine shipping?
I want to order more than one item...
Sure! Please
"Add to Cart"
for all the items you want and let the system work it out for you.
If you're unsure, let us know.
A quick message is all we need.
This way we can double check the postage for you. Simple!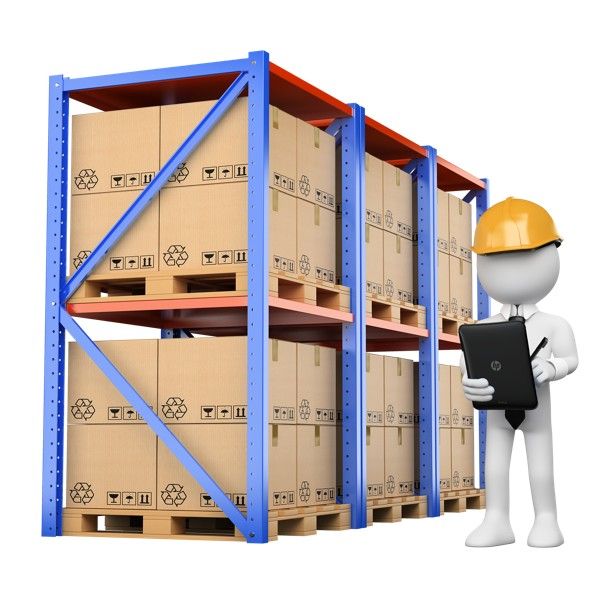 Can I pick up my order?
No. Sorry - unless you're picking up furniture directly from our supplier.
Because most of our items are located in a commercial warehouse - with
NO public acess
.
There is no shop front - because that's how we can pass on the savings to you!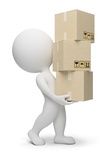 Some useful things you might want to know:
Combined Shipping

- We are happy to combine shipping for multiple purchases based on the combined weight and dimensions of your items, so add what you like to cart as you go, and check out our shop to see what else you like... you never know what you might find!

All items we sell are

Stored in a Clean and Smoke Free Environment

so You can Rest Asured they will be In Top Condition when they arrive at your place.


Packaging & Sending

- All your items will be packed well and we do everything we can to make sure you package arrives safely. In the unlikely event something does go wrong with your package, please contact us via email. We do our best to resolve any concerns.


Prompt Shipping

- Your package will be sent to you promptly once payment is cleared. In most cases it will be dispatched the next business day.


Packaging Materials

- We endeavour to support "green policies" and recycle

clean

packaging materials whenever possible. Brand names on packaging material may not necessarily match the content.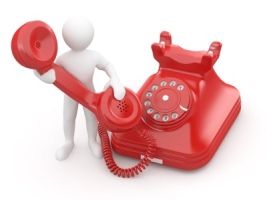 !!! IMPORTANT !!!
The Courier Needs Your Phone Number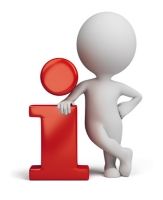 When you're completing check-out please
make sure your

best day time phone number

is included - because the courier requires a phone number.
Generally they may never ring you - and they tend to just turn up anyway. But their office needs to have your phone number on file for "just-in-case".
If you have any special delivery instructions, please let us know.
It is
best to providing these details by

sending us a quick message
- this means your parcel will be dispatched to you faster.
Act Now and We'll Get It To You ASAP!
Why Shop With Us?
Because we're here for you.
and your sewing needs.
Sew Much Easier is founded
by
a sewists,
for
fellow sewist :-)
We're a surprisingly small team that put a great deal of thoughts into what we do and how we do it. We stock only a handful of curated sewing goodies - each one carefully
hand picked and tested
ourselves.
Everything we stock
only
make it to our online store
if
we absolutlely LOVE them - for our
own
sewing. Because we're only interested in handing over
what YOU would be happy with
.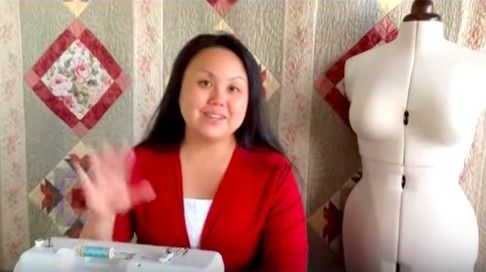 Hi, I'm Shelley.
I confess that I'm a fabric addict. And I love nothing more than geeking out over the ins-and-outs of sewing machines - and all the bits that come with it. Presser feet are my specialty :-)
I've been
sharing my passion
of sewing all my life - with a career in fashion design and patchwork teaching - and now
I serve fellow sewist everywhere
by delivering sewing goodies to your door. And that's only the beginning.
Long after your first purchase - whether it's a sewing machine, dressmakers dummy, or some bobbins - we'll be there to
celebrate your joy
in the simple act of making something by hand.
Simply drop us a line and...
we'll be there whenever you need help. Any time.

xoxox
P.S.
I know you're a savvy shooper. And you understand the value of
Buy Well, Buy Once.
Because you want to be
100% confident in the quality
of your purchase, so that you can be 100% confident in your sewing!
That's Why...
I'd like
to make sure You are

100% Happy
- so take your time, take a couple of months - get to know your sewing goodies from us.
And in case you change your mind - No Worries. Because shopping online should be stress-free!
Give it a Go Today. You'll be glad you did.
So, Go Ahead!
P.P.S.
Join
Thousands of Happy Sewists
Australia-wide, and be part of our caring creative community. Contact me (Shelley) any time for technical advice or anything sewing related.
Stay in touch - I'm here for you
:-)
Last but Not Least...
When you've made something with goodies from us...
Remember to send me a photo.
Because I'd LOVE to see Your Work!
Got a Question?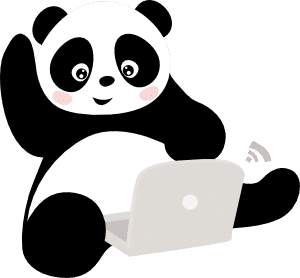 Where Are We?
While Melbourne is our home, most of our goodies are kept in a commercial warehouse in Sydney. They aren't open to the public and there's NO shop front.
That means for most items...
We are Not Able to Offer Pick Up.
Instead we provide fast & low cost delivery to your door :-)
The Only Exception is for Furniture - pick up can be arranged from the supplier directly.
Would you like
more information
on this item?
Can we
clarify anything else
for you at all?
Please feel free to Call

1300 88 11 59



or Send Us a Message anytime

.

Your message will be responded to ASAP, usually within 24 hours and during business hours, Monday to Friday 9am to 5pm Australian Eastern Standard time.

In case the phone line is busy - please leave a clear message with your contact number (including area code) and we'll call you back.

Cheers

!



awesome

By:

Liz Bell

on 19 April 2016

great product, great value.

(5)
Top Value

By:

Valerie

on 2 January 2015

I planned to purchase an additional mat to place on my cutting table and while checking the sizes I could not believe that I could get 1 mat of each size for the price from Sew Much Easier especially as I knew the mats were of a good quality. I am so happy with my purchase and I also bought some glass headed pins which are slightly longer than the ones I already had so I am delighted with my whole order which I received in record time in spite of it being Christmas holiday time.

(5)
Excellent Quality

By:

Happy Customer

on 20 March 2014

Really pleased with these mats. The quality is excellent and much thicker (and cheaper) than the Olfa mats. Definitely happy with this purchase. Postage was super fast too.

(5)