Sew Easy 100% Polyester Batting (254cm Width) - Whole Roll 15m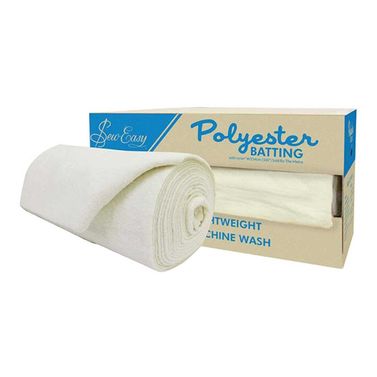 Click to view larger images or other views or videos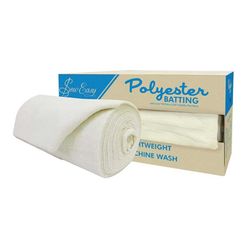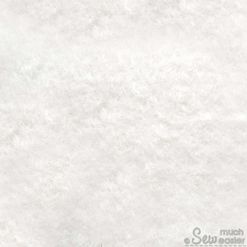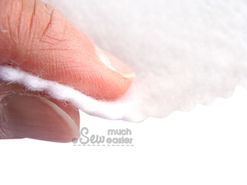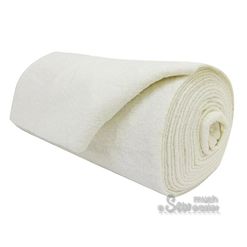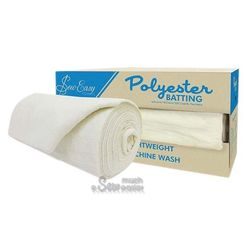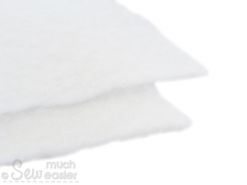 Swipe for more. Tap to enlarge
Click to view larger images or other views or videos
33,220 Happy Customers Served
Finally, Best Quality batting for Charity Projects...
Affordable
&

Hypoallergnic


So your handmade quilt gives Love to All!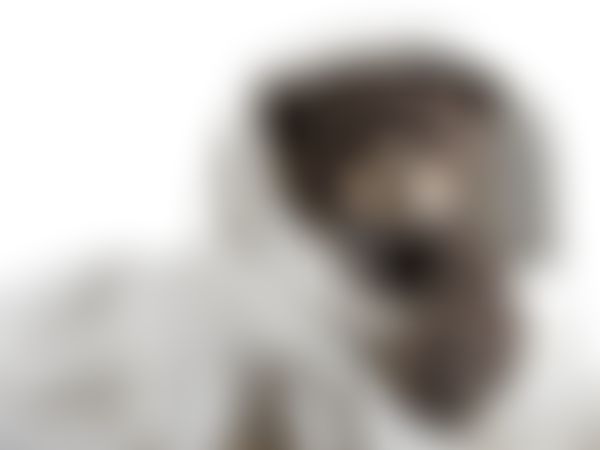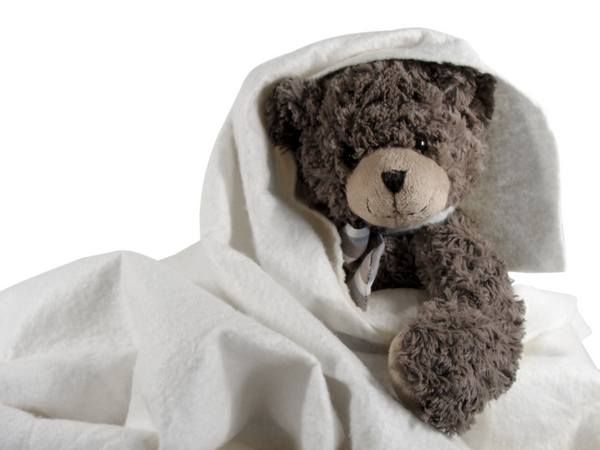 Note: Teddy Bear is NOT included. We sell batting only.
~ Order by the WHOLE Roll
.... and
Save
~


This Top Quality Batting is $ 17 /m

..... the width is 254cm (100 inchs)
..... this is a 15 metre roll
, so....
..... it'd normally cost you $255. Unless...
..... you order it by the roll, and SAVE $$$

*NOTE: Please Allow up to 10 working days to receive your roll of batting- because we need to order it in just for you.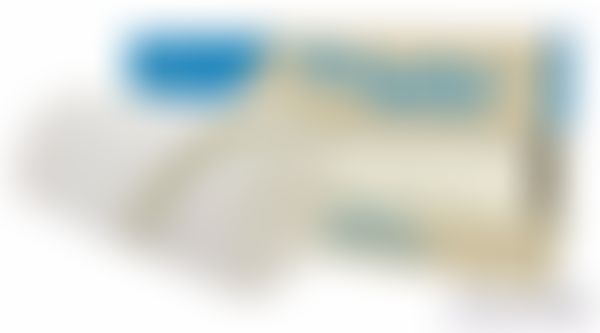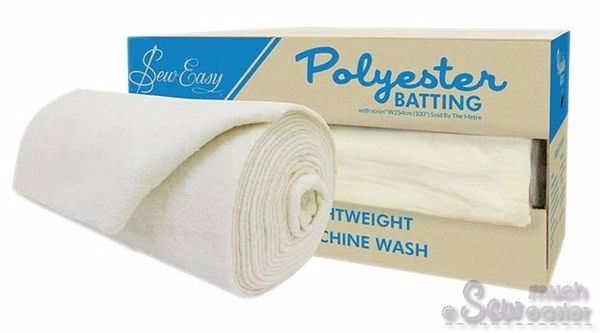 Imagine if you made

the softest quilt for those in need

from scratch....

Knowing that your recipients, too, will experienced the
Love & Care
- by enjoying YOUR quilt all year round!

"Since I retired recently, I have made dozens of charity quilts with my guild. I can finish two lap quilts or 4 baby quilts in a week. Yes, I go through a lot of batting.

That means I had to find good quality batting within my budget, as I am now living on a retirement income. And I was delighted to find this product by the roll online. It was even cheaper than Spotlight on sale.

I like how this batting is light so that it isn't too heavy for a child and it is very easy to quilt under my longarm machine."

- Margaret, a Happy Customer


By Now, You've made a few quilts. And you realise......
Quality Quilt Batting doesn't come cheap.


Buying by the Meter Adds Up. FAST.
But you still have So. Many. Quilts to make...
I know. I feel the same.
Having worked for a decade or so behind the scene in the clothing industry, I was formally trained as a Fashion Designer - and later spent
10 years teaching
others the joy of sewing & patchwork quilting. I'm constantly inspired by new fabric - that means I have more than one project on the go, ALL the time.
So I know that buying batting by the meter
end up costing a fortune.
There has to be a better way... right?
There is no doubt you should
Never Skim on Quality
, because YOUR charity quilts have taken you hours to complete. They will be used by those in need - AND endure frequent washing. That's Why...
Compromising Quality for the sake of Saving... Just Doesn't Make Sense. Even for Charity.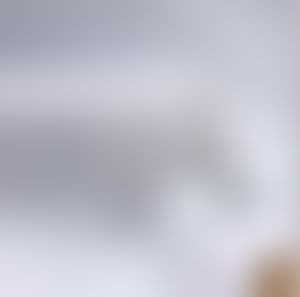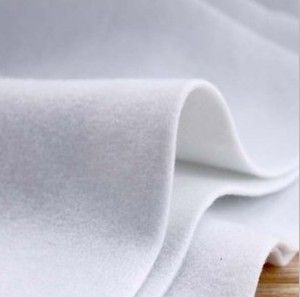 What's the solution, then?
The Seasoned Quilter's Secret of SAVING
is simple -
Buy Batting by the Whole Roll
.

And
that's why they go with
100% Polyester

(200 gsm) by Sew Easy.
You are looking at a
Whole Roll

of Batting in
100% Polyester

Approximate Measurement:
15 mts x 254cm or 49' feet x 100" inches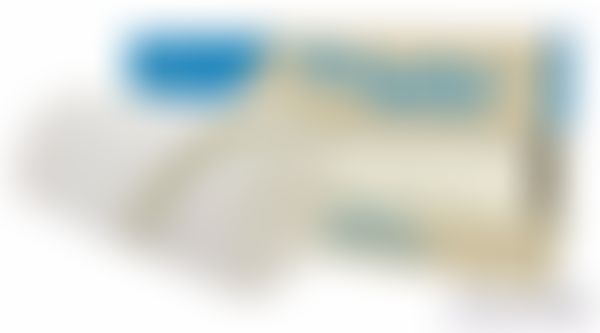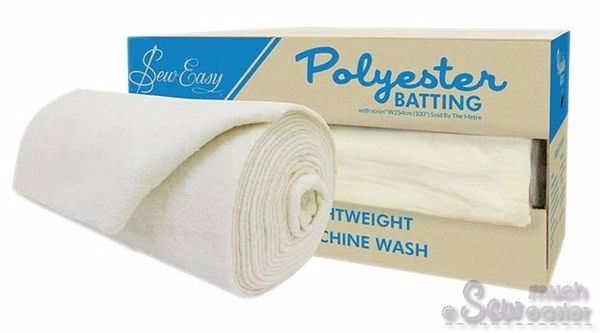 How thick is this 100% poly batting?
Roughly 4 to 5 mm... by my ruler :-)
Sew Easy describes it as "Low to Medium Loft" - a little bit lighter in weight compare to 100% Cosy Cotton, though the thickness or "loft height" is a fraction more than cotton.
Traditionally, polyester wadding (i.e. Dacron) tend to VERY puffy - almost like cushion insert - which makes it difficult to quilt because it is bouncy and near impossible to control.
That's because poly waddings were originally intended for upholstery use. And that's why quilts made of this sort of batting are commonly "tied" rather than "quilted". More like your microfibre doona, if you like.
Unlike the other synthetic battings, the Sew Easy 100% Poly Batting is softer, and behaves more like felt or cotton batting (have a look at the close-up photo below) - it is NOT as airy and fluffy as the old high-loft polyester batting, and doesn't have the "hard" scrim like other cheaper battings - that means
it is easier to quilt - with great results!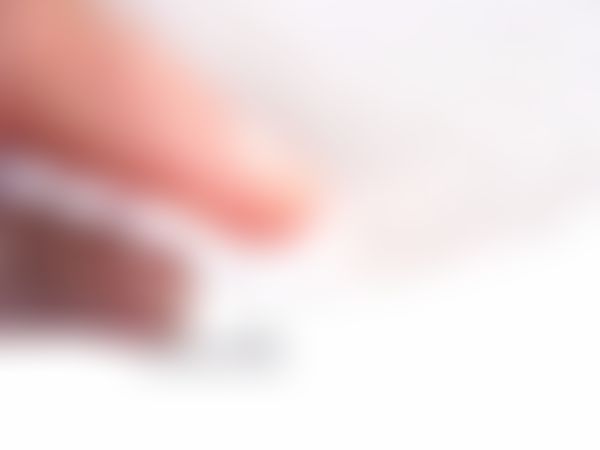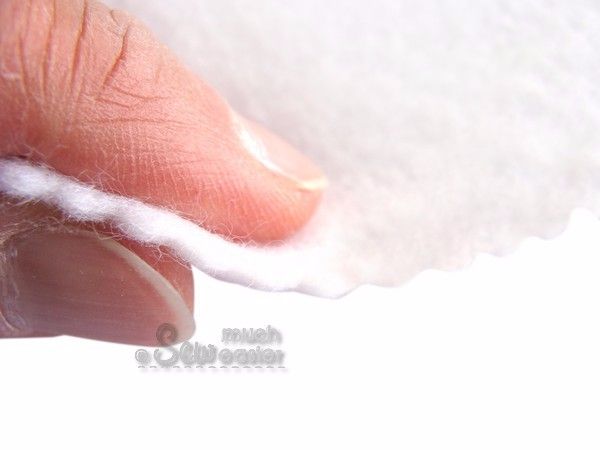 What's so good about using 100% poly batting?
Sew Easy Poly Batting (sometimes known as Wadding) was created based on demand from Australia's quilters.
Strong and holds it's shape well - with Minimal Shrinkage!

Hygenic - Because it is immune to moths and mildew
High loft that offers warmth without the weight
Non-allergenic - even for the sensitive

Durable and Ideal for frequently laundered items

It has a softer hand feel similar to cotton blends, with a slightly higher loft than 100% bamboo, and needle-punched for improved breathability. If you love the loft of polyester and the softness of cotton, you'd love this poly batting - because it gives you the best of both worlds!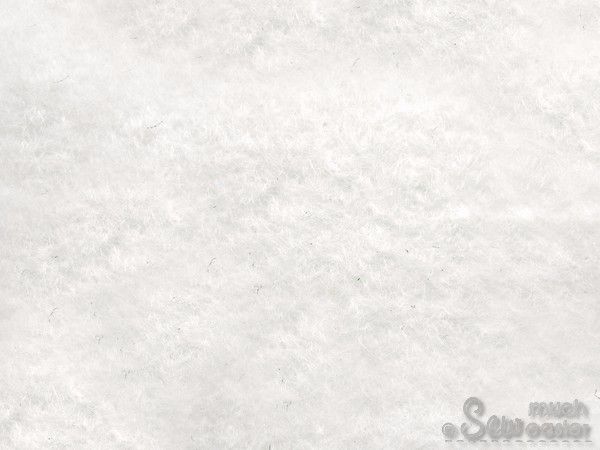 Does this batting shrink?
When it comes to shrinkage, ALL needle-punched waddings / battings (which covers just about every brand you can buy) have it, no matter what type of natural fibre (i.e. cotton, bamboo, wool, or any mixture from these).
Having said that - this particular poly batting is VERY stable and has less than 1% or 2% shrinkage, which makes it more suited to modern quilt designs that doesn't require the antique-like wrinkled effect like cotton or bamboo.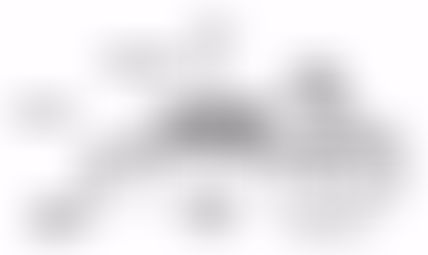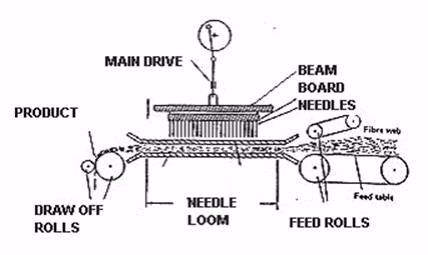 How is this 100% poly wadding made?
The proper term is "needle-punched".
It means loose fibres have been put through a machine that has millions of needles (but no thread), and the loose fibres are being "punched" into whole pieces before being rolled into huge rolls.
Think of it like how they make felt - there is no weaving involved and no grain lines to worry about. And just as easy to quilt as other popular battings in natrual fibre - like cotton!
This batting contains scrim. What is "scrim"?
Scrim is a thin, non-woven base layer that provides structure for loose fibre to cling on to, when the batting in being made - minimal but essential. ALL needle-punched waddings / battings contains scrim, though in varying weight and drape.
Unlike some other battings in the market - which can feel like there's some interfacing embedded within the batting - Sew Easy batting uses a super-fine scrim that is barely detactable, and you can
enjoy the drape and softness
from the beautiful fibre - which also means it's easy to quilt, even easier to care for!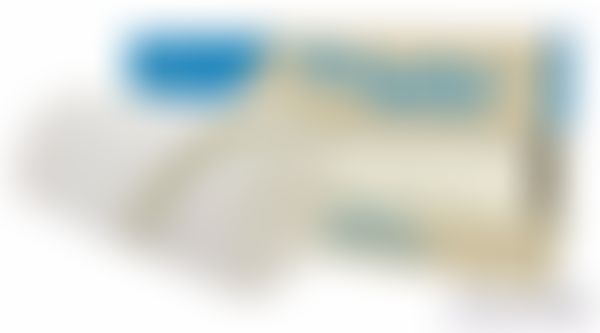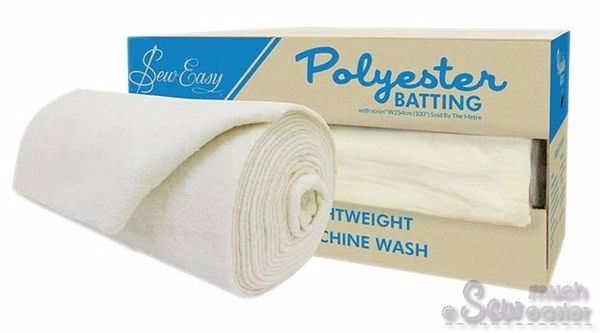 I heard that "bearding" can a problem with batting. What's "bearding"?
Ah, Bearding, the unsightly problem of the fibres from the batting working their way through the surface of quilt. This can be a common problem with poor quality wool or polyester battings.
Sew Easy takes care of ths by using only the best quality fibres, while rnning their needle punch machine at just the right speed, and apply the right finishing.
What you get is a
soft and even finish, that bearding is no longer an issue.
So you don't have to worry about it. Hooray!!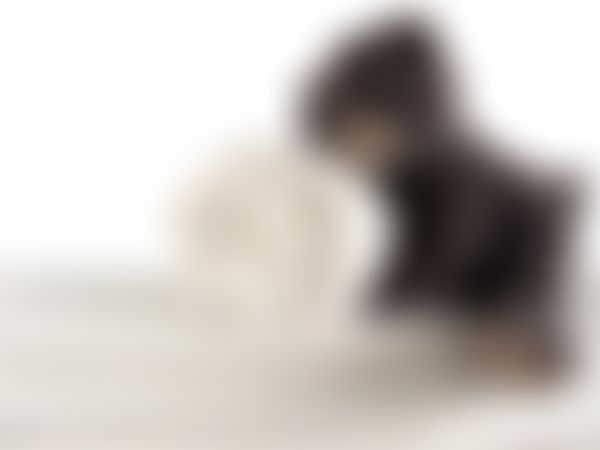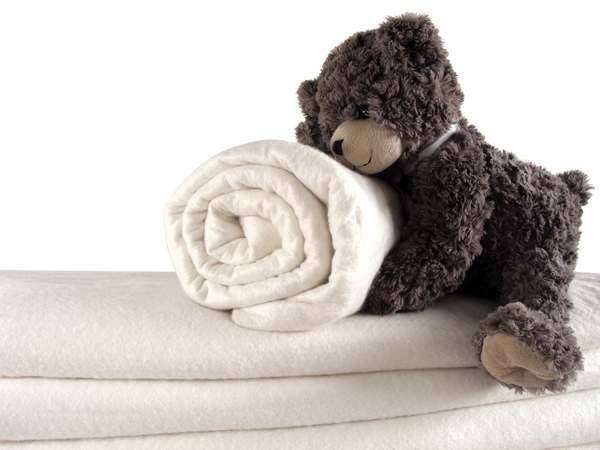 Note: Teddy Bear is NOT included. We sell batting only.

Can I pre-wash the poly batting?


No. There is no need anyway - because it has minimal to no shrinkage, about 1% ~ 2% or less.
Only wash your quilt when it is ALL finished, so the fibres in the batting are encased inside your fabric and not exposed - this way you won't end up with fluffy pieces everywhere!

"I've used this batting before in a baby quilt - I was so impressed by how well it washes that I just had to get more for another one!

This batting is good quality, and the price unbeatable (and I did compare prices from other sites and stores!)

Buying by the roll save me heaps, and delivery was speedy and it arrived exactly as estimated. I'm happy."

- Patricia, a Happy Customer



Sew Easy 100% Polyester batting is your choice because:
Everyone knows that Sew Easy is a trusted name in the quilt world, because they only use quality materials to produce the best value quilt batting with is:
Soft and Easy to quilt.... even

beginners can create impressive results!

Top Quality without the price tag -

your charity project goes a long way!

Hygienic & Ideal for frequent washing -

prefectly practical for everyday use

.
Ideal for machine quilting because it is so soft and light weight -

get your quilt done before you know it...

Needle punched to limit distortion so

your quilt will always stay in shape

and wash up nicely - ideal for childrens quilts!
Anti-bacterial & Anti-fugal - peace of mind for the lucky recipients of

your special gift!

Non allergenic -

perfect

for those with allergies

and other special needs.
Fine scrim to lock in fibres and prevent fibre movements - you can concentrate on simply quilting your best!
No bearding or shedding like some other battings - so your quilt can be loved and washed for years to come!

Quilt up to 8" (or 20cm) apart to accommodate even the simplest quilting - you can

get lots of quilts done in a short time

. And share your generosity more frequently!


Made especially for Quilters

under stringent standards - you know that you're getting the real deal.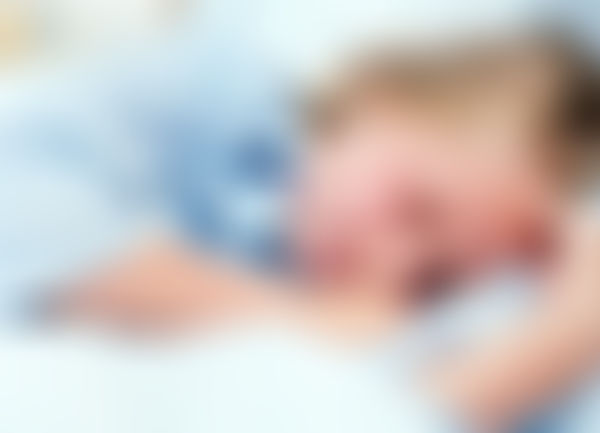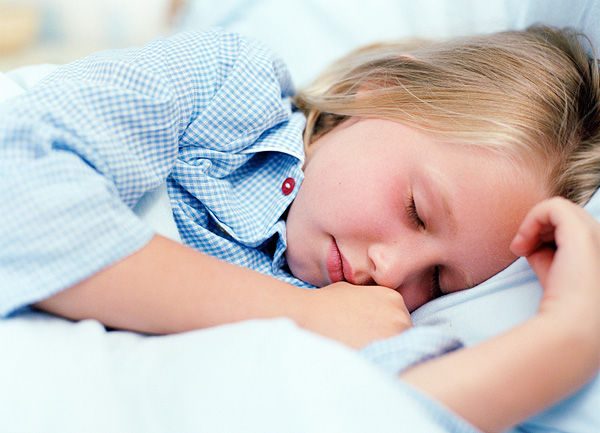 "Best price around!

I've been using this at school for a sewing class I am teaching, and the kids love it. Easy to use and very economical by the roll.
"


- Lauren, a Happy Customer



Did You Know...?
Good quality sythetic quilt batting is perfect for those suffering allergies as compared to natural down, feather or wool quilts. They are also much lighter!
The latest wadding manufacturing techniques, especially in the synthetics range, are designed for summer and winter - with greater breathability - and great for those with allergies. Because the polyester fibres have been treated for allergy sufferers.
Polyester these days is much more breathable than of old.
There's nothing wrong with using budget polyester batting for quilts especially for everyday use, and ideal for babies and toddlers because you can wash the quilts as often as you wish!
If you have been looking for a practical bedding material to make quilts for
your little one
, give this a try!
Care Instructions
To ensure your batting lasts as long as your quilt, please take the best of care when washing.
Machine wash in warm water with mild detergent on a gentle cycle.
Machine spin on medium to fast cycle to remove excess water.
Allow to dry flat in shade (to avoid fabric fading).

Make sure it is completely dry.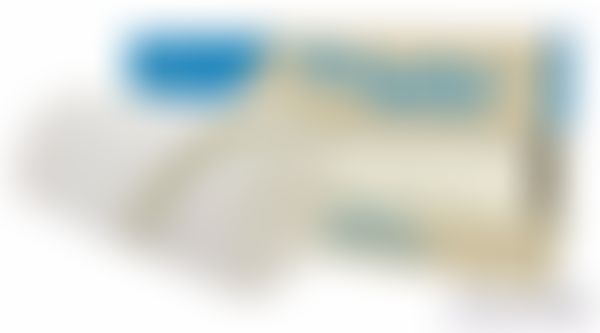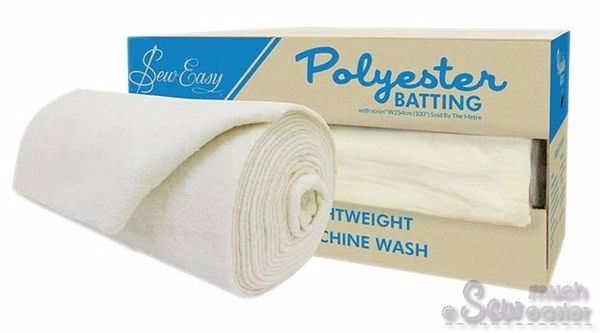 Wanna
Do Even More For Our Environment

and
also

Save Money

at the Same Time??

We know you do.

This is why

we reduce excess packaging

by ordering whole rolls instead. See picture above.

You

will receive your Poly Batting neatly rolled up inside a carboard recyclable box

ready to go.

This is how we are also able to

keep our prices low

and pass on the

savings to you

...!!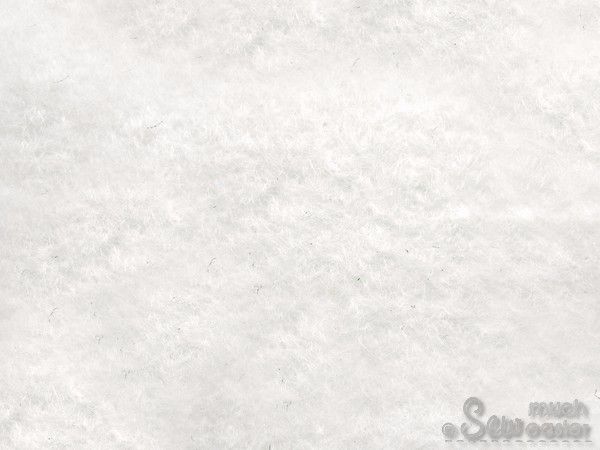 "Good batting, good price. Can't go wrong with this stuff.

This whole roll is a lot more than I need of this, but it was way cheaper online than at the shops. This came really fast, and will work perfect for me. It's not too stiff or too soft. It's the perfect texture and thickness."

- Rachel, a Happy Customer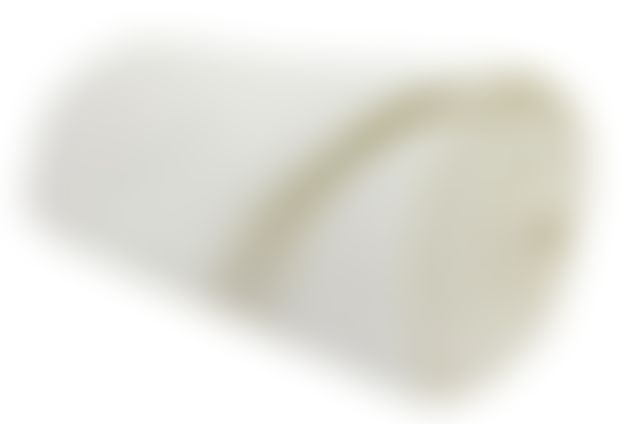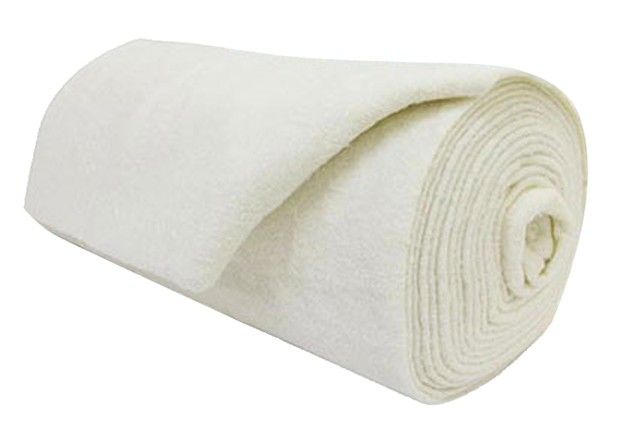 Grab yours now and you can experience:
Save bucket loads of Money - so

you can go fabric shopping (YAY)!

A sense of

achievement

, because you've made something from start to finish.
No more piles of unfinished projects - instead, you will

churn out lots of quilts and other goodies

for your family to enjoy this winter!
Simply
Scroll Up
And
Click
The Button To Get Yours Now!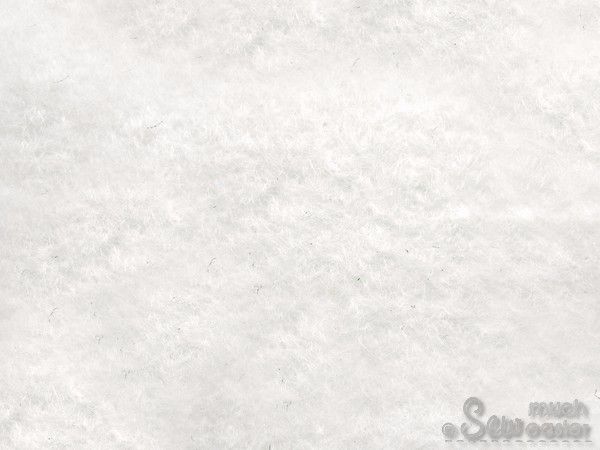 This Sew Easy Batting is ideal for:
Prolific Quilters who sees value in getting a whole roll

Caring individuals who want to minimise their carbon footprint
Sewing Guilds and Clubs,

Teaching facilities,
Lovers of handmade bags and soft furnishings
Textiles artists,
and other creative individuals.....
If any of these sounds like you

we're ready to get your Sew Easy Batting on its way to you,

delivered anywhere in Australia!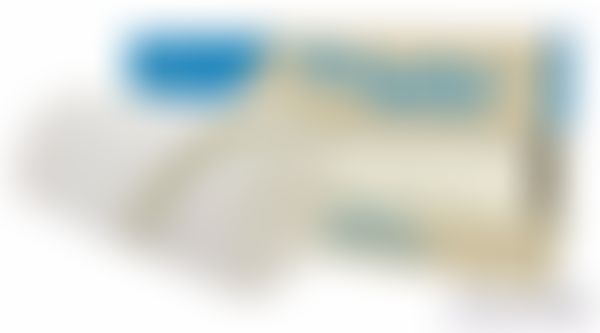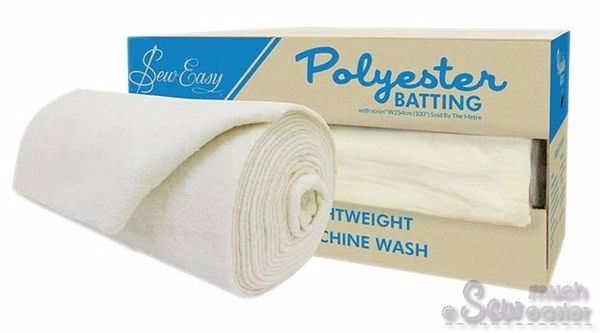 And what's more.... the money you invest in this amazing and essential material is nothing to what you could receive back...
This is a
fantastic
opportunity to get your unfinished projects completed
and turn them into
family favourites to be loved and admired by all!
BUT....
Make Sure You Act Quickly.

We Have Only A Few In Stock.


Be Sure Get Yours Now While Stocks Last!

Note: Teddy Bear is NOT included. We sell batting only.
Easy Returns - 60 Days Money Back
Still Not Sure? That's Okay.
We understand. Because sometimes it's hard to know if you really want something, right?
Especially when shopping online!
That's why we provide 60 Day Money Back Easy Returns* to support you.
Because we know sewing - but You Know Best :-)
Your No-Worries
~ 60 Day ~
100% Money Back Guarantee...
Your purchase from us comes with our 60-Day Easy Returns option!*
In the unlikely event if it doesn't work for you in any way, simply contact us. You have sixty (60) days to try things out.
There's no rush. Take your time.
Beacuse we want you to have plenty of time to feel absolutely certain that you're enjoying what you've chosen!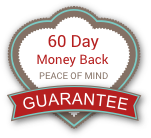 If you're not 100% happy - simply let us know and return the item in
brand new condition
, including
all original packaging intact
.
We will send you a full refund (excluding postage) promptly and courteously - No Worries!
Ready to Give it a Go?
Simply Add to Cart Now.
* Looking for the fine print? Check our terms & conditions for details*
Payment to Suit You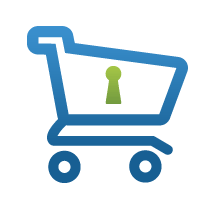 Shopping Online is Secure with us!
Just so we can get your item to you ASAP, we ask that you
complete payment within 5 working days
from committing to buy.
Please
let us know by email
if you would like to make other arrangements, such as waiting to purchasing other items for combined postage or waiting for pay day.
PayPal
- We reccomend payment via PayPal because it is fast, easy and secure. Simply choose
PayPal
when you check out.


Shop Now, Pay Later
- Want it NOW and can't wait til pay day? No worries. Just use
Afterpay
or
zipPay
when you check out. They will look after your installments, and we send your order now!


Layby
- If you're happy to wait, our good old-fashioned Lay-by is easy and stress-free. Simply choose
Direct Deposit
at checkout, transfer the first instalment (a quarter is ideal), and send us a quick email to confirm your layby. We'll send your goods when it's all paid in full.

Credit Cards
- To pay with
Visa
or
Master Card
, please
choose
Credit Card
as your payment method when you check out. Nice and secure.


For
American Express
, make sure you choose
PayPal
and follow their prompt to checkout with your AMEX card (instead of PayPal funds). You don't need to have a PayPal account to do this.

Bank Transfer
- Choose
Direct Deposit
as your payment option and our bank details will be made available to you on checkout.
NOTE:
Please use your name with a post code as Bank Reference when making payment. If you have an order reference starting with "N", you can use that one.

Remember
to
send us a quick email
whenever you've done a Bank Transfer, so we can keep an eye on your payment!
IMPORTANT:
Because your order is processed promptly once funds are cleared, there won't be time to make changes to shipping details, So
When You Complete Checkout
please help us by double checking we have the following:
Correct Physical Address

. Most of the time

PO Box

is fine, though we may ask you for a physical address if we end up using a courier instead of Aust Post.


Phone Number

for the delivery driver.

Any Special Delivery Instructions

.
Order Now - Before You Miss Out!
Delivery
Now, Let's Get Your Order On Its Way To You!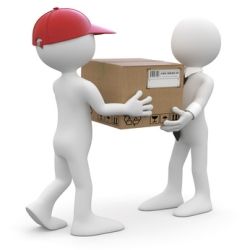 How long will it take to receive my order?
All fully paid orders placed by 5pm Monday to Thursday will be processed overnight and ready to send by our warehouse - normally the next day or following business day.
Orders placed on Friday and Weekends will be processed on Sunday night - because our warehouse operates Monday to Friday except Public Holidays.
Once it leaves our warehouse,
the actual time frame is up to the delivery services
. This can vary depending on your location and road conditions.
Any delivery time estimates shown are
estimates only
- so please use it as a guide line.
You'll receive a few email updates from our system as your order progresses, so please stay tuned on these!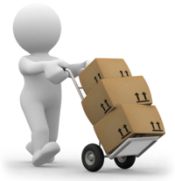 How will my order be sent?
We use a dispatch system that works out the most efficient way to send your order.
This way the postage works out fair and reasonable, and your parcel reaches you quickly as well -
because we know you can't wait!
That means your parcel
may reach you by either

Courier

or

Aust Post.
In general, larger items tend to be delivered by couriers, while small items tend to go by Aust Post.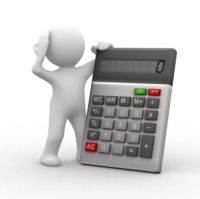 How is my postage calculated?
Great question.
Depending on
weight
and
dimension
, some times we are able to do Flat Rate across Australia, so the postage is the same no matter where you are.
Other times we use the Built-in Calculated system provided by Aust Post, and your postage is calculated
based on YOUR location.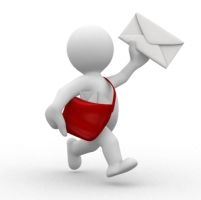 Can I get it delivered to my P.O. Box?
Depends on the item (and its dimensions), because
Aust Post have size restrictions
and couriers are NOT allowed to deliver to a P.O. Box.
Please check with us when in doubt.
If you have nominated a P.O. box, and the item is within Aust Post size, then it will go by Aust Post. Most of the time, this
is
the case.
When your item is too big, or being sent directly from our supplier, then we need you to provide a physical address so we can send a courier.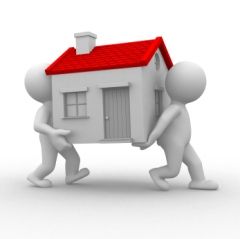 Can I get my order sent to a different delivery address?
Your sure can!
When you check out, you can choose to ship your order to your billing address or a different address.
Simply choose the second option, and then fill in the shipping address of where you want you parcel sent.
Please double check we have Your Correct Address so your order can find its way to you!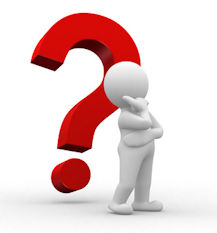 What if courier services are not available in my area?
Some locations are outside of courier services....
In these cases we CAN arrange for your order to be deliverd to your local post office.
But please
provide us with a street address
(street number & name) - even if it is the only Post Office in town - as if it is an office address.
A phone number would help too - this will avoid delays.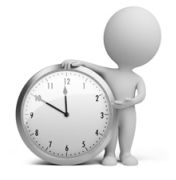 What if I need my order urgently?
No worries, we will do our best. Just let us know.
Please give us as much notice as possible - especially for special occasions like birthdays!
In most cases, we CAN
arrange an upgrade
from Regular Post to Express Post for a little extra.
Please contact us first so we can update your invoice to show the correct amount.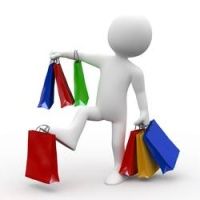 Do you offer combine shipping?
I want to order more than one item...
Sure! Please
"Add to Cart"
for all the items you want and let the system work it out for you.
If you're unsure, let us know.
A quick message is all we need.
This way we can double check the postage for you. Simple!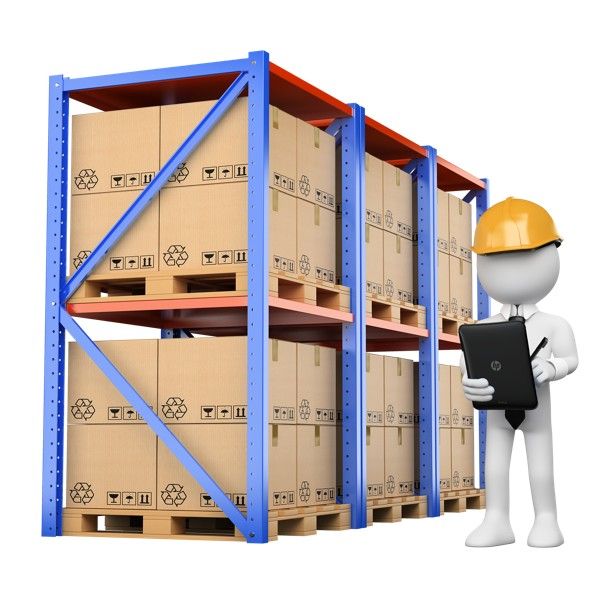 Can I pick up my order?
No. Sorry - unless you're picking up furniture directly from our supplier.
Because most of our items are located in a commercial warehouse - with
NO public acess
.
There is no shop front - because that's how we can pass on the savings to you!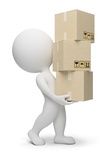 Some useful things you might want to know:
Combined Shipping

- We are happy to combine shipping for multiple purchases based on the combined weight and dimensions of your items, so add what you like to cart as you go, and check out our shop to see what else you like... you never know what you might find!

All items we sell are

Stored in a Clean and Smoke Free Environment

so You can Rest Asured they will be In Top Condition when they arrive at your place.


Packaging & Sending

- All your items will be packed well and we do everything we can to make sure you package arrives safely. In the unlikely event something does go wrong with your package, please contact us via email. We do our best to resolve any concerns.


Prompt Shipping

- Your package will be sent to you promptly once payment is cleared. In most cases it will be dispatched the next business day.


Packaging Materials

- We endeavour to support "green policies" and recycle

clean

packaging materials whenever possible. Brand names on packaging material may not necessarily match the content.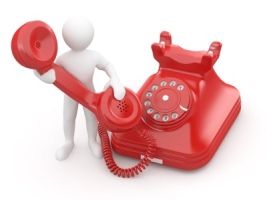 !!! IMPORTANT !!!
The Courier Needs Your Phone Number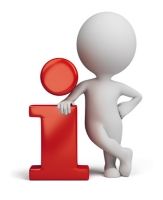 When you're completing check-out please
make sure your

best day time phone number

is included - because the courier requires a phone number.
Generally they may never ring you - and they tend to just turn up anyway. But their office needs to have your phone number on file for "just-in-case".
If you have any special delivery instructions, please let us know.
It is
best to providing these details by

sending us a quick message
- this means your parcel will be dispatched to you faster.
Act Now and We'll Get It To You ASAP!
Why Shop With Us?
Because we're here for you.
and your sewing needs.
Sew Much Easier is founded
by
a sewists,
for
fellow sewist :-)
We're a surprisingly small team that put a great deal of thoughts into what we do and how we do it. We stock only a handful of curated sewing goodies - each one carefully
hand picked and tested
ourselves.
Everything we stock
only
make it to our online store
if
we absolutlely LOVE them - for our
own
sewing. Because we're only interested in handing over
what YOU would be happy with
.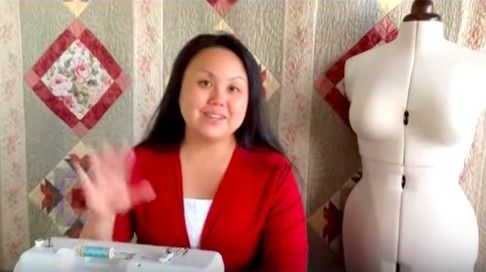 Hi, I'm Shelley.
I confess that I'm a fabric addict. And I love nothing more than geeking out over the ins-and-outs of sewing machines - and all the bits that come with it. Presser feet are my specialty :-)
I've been
sharing my passion
of sewing all my life - with a career in fashion design and patchwork teaching - and now
I serve fellow sewist everywhere
by delivering sewing goodies to your door. And that's only the beginning.
Long after your first purchase - whether it's a sewing machine, dressmakers dummy, or some bobbins - we'll be there to
celebrate your joy
in the simple act of making something by hand.
Simply drop us a line and...
we'll be there whenever you need help. Any time.

xoxox
P.S.
I know you're a savvy shooper. And you understand the value of
Buy Well, Buy Once.
Because you want to be
100% confident in the quality
of your purchase, so that you can be 100% confident in your sewing!
That's Why...
I'd like
to make sure You are

100% Happy
- so take your time, take a couple of months - get to know your sewing goodies from us.
And in case you change your mind - No Worries. Because shopping online should be stress-free!
Give it a Go Today. You'll be glad you did.
So, Go Ahead!
P.P.S.
Join
Thousands of Happy Sewists
Australia-wide, and be part of our caring creative community. Contact me (Shelley) any time for technical advice or anything sewing related.
Stay in touch - I'm here for you
:-)
Last but Not Least...
When you've made something with goodies from us...
Remember to send me a photo.
Because I'd LOVE to see Your Work!
Got a Question?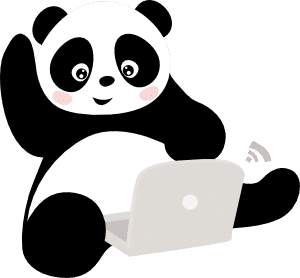 Where Are We?
While Melbourne is our home, most of our goodies are kept in a commercial warehouse in Sydney. They aren't open to the public and there's NO shop front.
That means for most items...
We are Not Able to Offer Pick Up.
Instead we provide fast & low cost delivery to your door :-)
The Only Exception is for Furniture - pick up can be arranged from the supplier directly.
Would you like
more information
on this item?
Can we
clarify anything else
for you at all?
Please feel free to Call

1300 88 11 59



or Send Us a Message anytime

.

Your message will be responded to ASAP, usually within 24 hours and during business hours, Monday to Friday 9am to 5pm Australian Eastern Standard time.

In case the phone line is busy - please leave a clear message with your contact number (including area code) and we'll call you back.

Cheers

!



Polyester batting

By:

Jacqui s Hall

on 26 March 2021

Excellent service and Excellent Product Thank you so much for all your help.

(5)