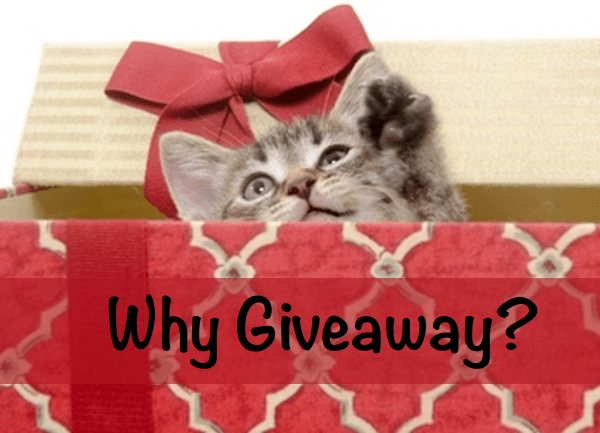 Why Giveaway?
Have You Ever Wondered...
Why We Give Stuff Away Every Month?
And not just any old stuff, either.

Whether you've joined us just recently, or have been entering our monthly lucky draw for a while; you might have noticed our Monthly Prizes are actually some of our most popular things - like our Diana Mannequin , Oliso Iron , an  Entire Roll of Quilt Batting. We even give away a brand new Janome - twice a year! 
 

So, why am I doing this?

A lot of people might be thinking:
"No doubt they want more people on the mailing list. Like most retail shops."


But there's more.

This is something I rarely talked about.
 
The purpose of my email is to make YOUR day.

Of course, there could just be one winner for the lucky draw each month.... and I get to make that one person's day. That could be you.

But I want to do more for you... whether you happen to be the winner or not.

My intention is to touch base with you, on a regular basis. Share a few thoughts, useful tips, a story, a little discount, and maybe a quick Thank You - for making time and space to hand-craft something from the heart.

In a world where we are all getting so much busier, bombarded by more bad news than good, everything moving so much faster around us - it takes courage to choose the opposite. 

Deliberately, you and I choose to do things slower - stitch by stitch - mindfully, whole-heartedly. Together, we can show the world what is possible :-)

If my email happens to be the one piece of good on your radar that day - then I've done my bit. Because making your day also makes mine.
In fact, this video really sums it up...

Cool, huh?
Such simple little thing could make such difference. Imagine the possibility if we can each do a little something like this... ...
If this resonates with you...

Feel free to make someone else's day - in your own way. A simple word or two is all it takes, along with a hug for best results :-)

Better still, invite them to join the  Lucky Draw .
Happy Sewing - and Good Luck!




xoxox


P.S. Is there something in our store that you'd LOVE to win - but  not already on our prize list ?  Simply Email Me to let me know!

P.P.S. If you're just joining us - Welcome!

Here's a quick tour to show you what we actually do behind the scene:
https://www.sewmucheasier.com/behind-the-scene-tour