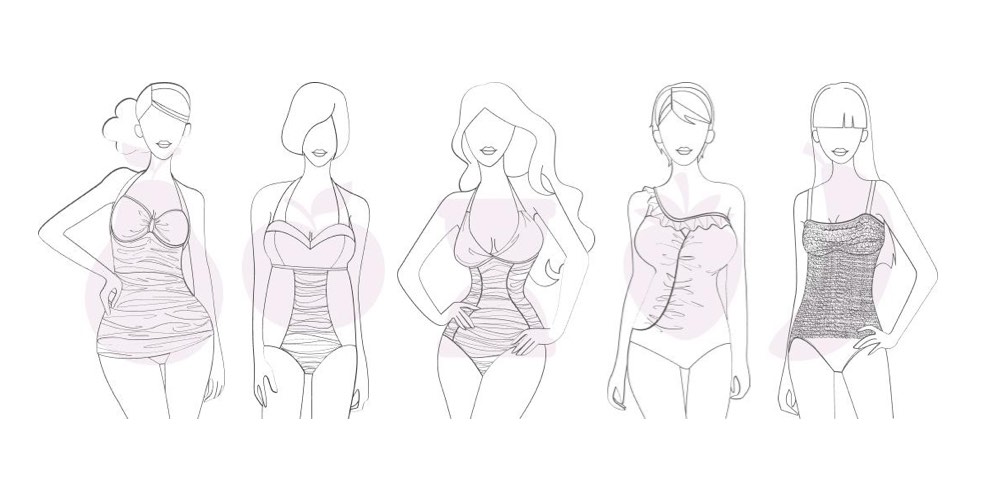 Body Shape Guide for Sewing
Have you ever spent ages making a garment, only to find this painstakingly-created outfit does nothing for your figure?

Let's help you avoid that from the start...

Here's a quick guide to help you decide what's best for your shape - before you start choosing a sewing patterns or cutting into that beautiful fabric you've been saving for a special occasion.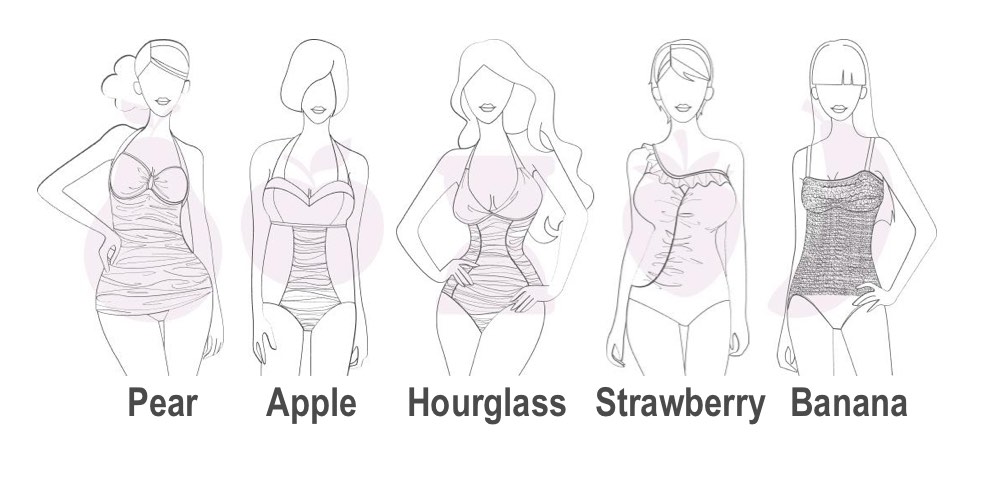 Let's talk fruit shapes...
Pear
Apple
Hourglass
Strawberry
Banana
Pear (also known as "Triangle")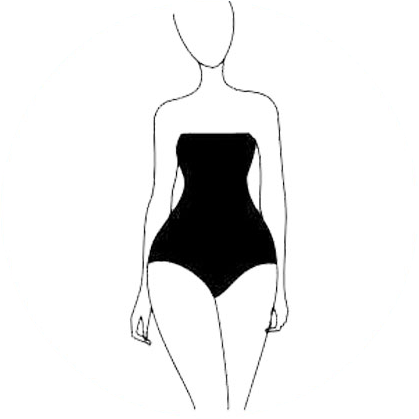 Typically Has:

Narrow shoulders, a neat bust & waist, wider hips & curvy thighs

Flattering Styles:

Create a wider shoulder line
A-line skirts work best
Hem length should be on your knee to show off shapely calves
Pear is the most popular body shape - you're in good company with more than half of the female population!

Beside curvy lower halves, you might have slimmer upper torso, defined waists & smaller busts. Instead of covering up your lower half, highlight the upper body and elongate from the waist down to balance your figure.

Dresses

Fit and flare dresses that are fancy on the top include frills, shoulder-baring and V-neck styles, cinched at the waist and flare on the bottom. Dresses that fit this shape should emphasise the shoulders, torso and waist. Try an A-line or wrap dresses. Any volume should be at the top.

Tops & Bottoms

Look for tops and jackets that will show off your slender upper body while creating a fuller illusion at the right places to achieve that balance with the larger hips.

For pants and skirts, go for darker colours and clean, straighter lines that give slimming or elongation effects.

Do...
Large V or U-necks
Cowl or Boat necks
Halters style tops
Sweetheart necklines
Prints, Frills and Ruffles up top
Larger lapels
Padding or embellishments on shoulders
Wide-leg or straight-leg pants and jeans
A-line skirts that are fitted at the hips
Darker colours on the bottom
Don't...
Tops and jackets with decorative patterns that cut off at the bottom
Tops that are shapeless or too tight
Pencil skirts which cling at the hips
Bottoms made of stiffer materials
Capri-style pants
Apple (also known as "Circle" or "Oval")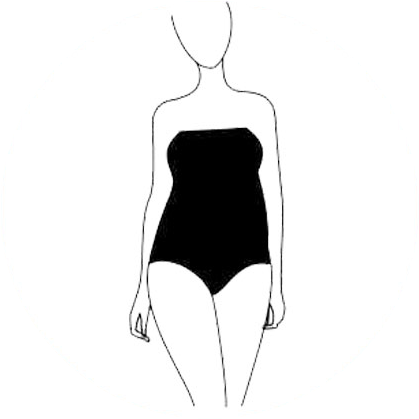 Typically Has:

A voluptuous bust, rounded tummy, slim hips / thighs.

Flattering Styles:

Open necklines
Draping & ruching that skims not cling
Clean tailored lines
More structured garments

Apples are the next popular shape, after Pears. You tend to have slimmer legs and thighs, and generally fuller through the middle, with little waist definition, narrow hips & a fuller bust.

The best styles are all about creating a little definition in the waist & flattering tummy. The trick here is to draw attention to your legs and minimise your midsection. Avoid figure hugging dresses or tops with skinny jeans.

Dresses

A-line or empire lines are ideal for you. Wear printed dresses or patterned jackets that add a layer to shift the focus. By creating symmetry all over your body with dresses that don't accentuate your waist, you can bring the attention to your arms and legs with full or 3/4th sleeves, even bare shoulders. Shorter hemlines or classic shift dresses with some structure would work.

Tops & Bottoms

Go for V or deep V necklines that created an elongated illusion of the torso. Find tops that enhance the volume to your bust and shoulders while also emphasising and defining your waistline.

For bottoms, stick to those that would enhance your natural curves and shape without adding extra bulkiness. You could also wear flared bottoms; palazzos etc. to create a balance.

Do...
Deeper V-necklines or wider necklines
Nipped in waists
Semi fitted or loose and drapey
Shirts and jackets that end at the hip
Pocketed cargo pants
Straight or slightly flared skirts
Bottoms that have a bit of a stretch
Don't...
Tight fitted tops
Small prints
Embellishments or ruffles around waistline and bust
Tucking in tops
Extremely short bottoms
Tight clinging or bulky skirts
Overly tapered trousers
Hourglass (sometimes called "Figure 8")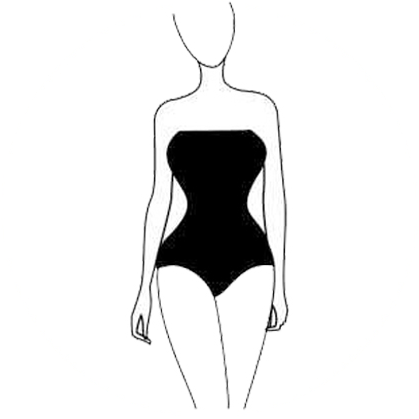 Typically Has:

Curvy bust & hips, a narrow waist, medium width shoulders, slim or shapely thighs

Flattering Styles:

Accentuate your curves
A-line and fitted silhouettes will be flattering

While hourglass isn't a fruit, it is the most sort after figure of the golden era with the likes of Marilyn Monroe & Elizabeth Taylor lighting the way. Embrace your curves by wearing feminine, figure-defining styles!

If you've been blessed with an hourglass figure, you'll be curvy in all the right places (boobs and butt) with a smaller waist. Your hips & shoulder measuring about the same.

Dresses

Since you have a well-balanced figure, your dress should follow the outline of these curves. Dresses that cinch at the waist will be your best fit - go with a belt at your natural waistline or below the belly button to showcase your waistline.

A-line dresses or similar cuts work well. V or plunge V and sweetheart necklines help you flaunt your upper body. If body hugging dresses are your thing, make the most of it, because not everybody has this!

Tops & Bottoms

With a feminine and curvy figure, ladies of the hourglass shape will just need to find the right tops to accentuate this while not appearing heavy.

Just about all women's bottoms can look great on you, when paired with the right top to show off your silhouette.

Do...
Scooped and V-necklines
Sweetheart necklines
Tops that sit at the waist
Clean lined jackets and coats which are well cut and fitted
Pencil skirts and A-line skirts
Jeans that are fitted around the hips and backside
Don't...
Higher necklines
Shapeless cuts
Baggy or over-sized garments
Babydoll tops or empire line
Embellishments around the hips and bust
Baggy and shapeless bottoms
Overly short skirts
Skirts that end at the thickest part of your leg
Strawberry (also called "Inverted Triangle")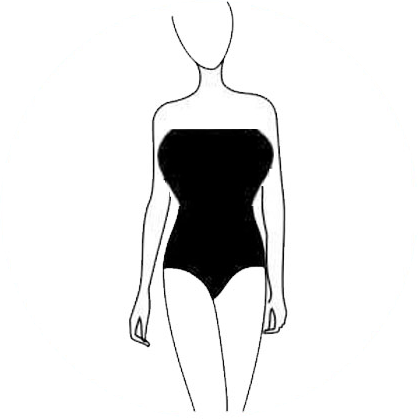 Typically Has:

Broad shoulder & larger busts. Medium waist with flat tummy, narrow hips & legs.

Flattering Styles:

Create balance by draw \ing attention away from your top half, while adding volume and curves to your bottom half.

Strawberries tend to have a fuller bust and wider shoulders combined with a slender waist and narrow hips.

The strawberry body shape is the opposite of a pear body shape. Go for outfits that emphasise the lower part of the body. The key is bust support and accentuating your slender hips - in fact, if your butt / hips look bigger, it's the right style for you!

Dresses

V-neck lines work well and create an illusion of narrow shoulders, so this should be your go-to neckline. Look for styles that are plain on the top and fancier on the bottom. The goal is to soften the shoulders by drawing the attention below the waist. Examples include A-line dresses, peplum dresses and swing dresses.

Tops & Bottoms

Since your hips are much narrower than your shoulders, pencil cut skirt, skinny jeans, etc. with any tops will look great. But, do make sure that there is not much layering or definition to your upper body because it needs no extra attention.

Go for items that lighten or slim down your upper half and minimise your broad shoulders, but without erasing your curves and bust. Aim to create more curves and fullness to achieve the perfect balance to your more rounded upper half.

Do...
V-necks and other open necklines
Strapless or asymmetric tops
Empire-waist tops
Large belts
Relax-fit pants with heavy pockets and embellishments
A-line skirt or skirts that flare out
Boot cut jeans
Straight-cut jeans
Don't...
Frills or ruffles on top
Shoulder pads or capped sleeves
Small prints and horizontal stripes
Embellishment around shoulders and bust
Skinny jeans
Banana (often referred to as "Column")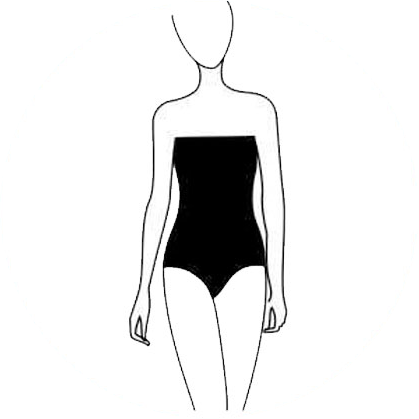 Typically Has:

Shoulder & hips the same width. Thicker waist with flat tummy, small to medium bust.

Flattering Styles:

Choose styles that create a waistline
Wider shoulder or hem lines will make your waist appear narrower.

Bananas are straight up and down - characterised by being evenly balanced from the shoulders to the hips with little to no waist.

You tend to have naturally flatter bellies, smaller busts & flat bottoms. Creating curves is the key - you want to trick the eye and create an illusion of curves with your clothing choices to avoid looking too column-like.

Dresses

Emphasising or enhancing curves with dresses that appears cinch in at the waist. Prints & patterns will be more flattering then block colours. Feminine styles that are frilled, collared or embellished will work in your favour. Dresses that add definition to your bottom and necklines that add volume to the upper body.

Tops & Bottoms

With a relatively straight shape and smaller bust, you want tops that create more curves and a more feminine silhouette by defining the waist. Sleeveless, strapless and sweetheart lines are your thing. Ruffled and layered tops, blazers, long jackets and capes add the much-needed drama here.

Aim to add curves to your bottom and legs while retaining the proportional balance between the upper and lower body.

Do...
Fitted blazers with shoulder pads to define your waist
Embellishments or pockets around the bust and shoulders
Tops that are flowy around the bust
Large back pockets
Figure hugging and low rise jeans
Pencil and A line skirts with cinched waists
Don't...
Vertical patterns as they emphasise your straight lines
Square neck tops
Fitted tops
Straight skirts
Baggy or shapeless styles
Too wide flares
Of course, everybody is different...

There are certainly more than 5 body shapes (Trinny & Susannah counted 12, no less). I've covered the 5 most common to keep it simple - and remember, this is just a guide.

So if you see a style you love and just have to make it… go for it!

The key is to know yourself, be kind and don't be afraid to have some fun. Find a few features you LOVE in yourself, make a garment to highlight them, then wear your me-made creation with pride. You deserve it :-)


~ Love your body, and let her love you back ~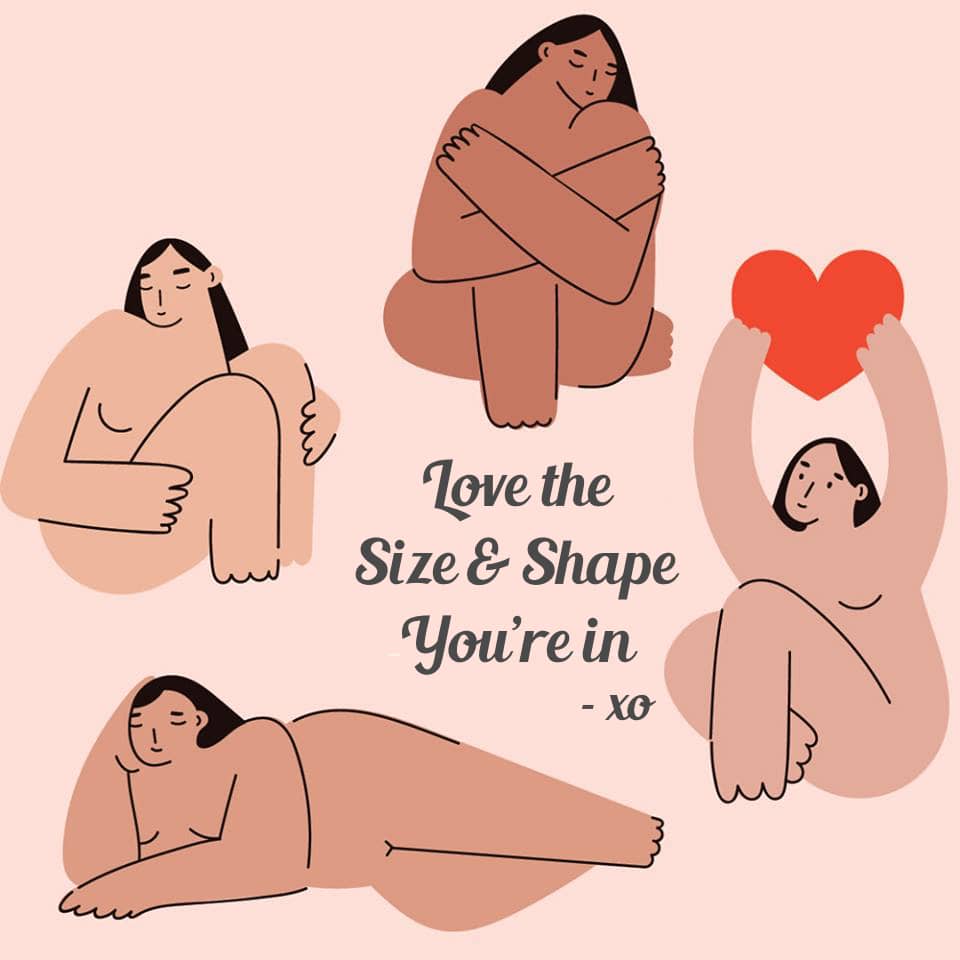 Inspired?
Enlist your body-double to create truly flattering outfits...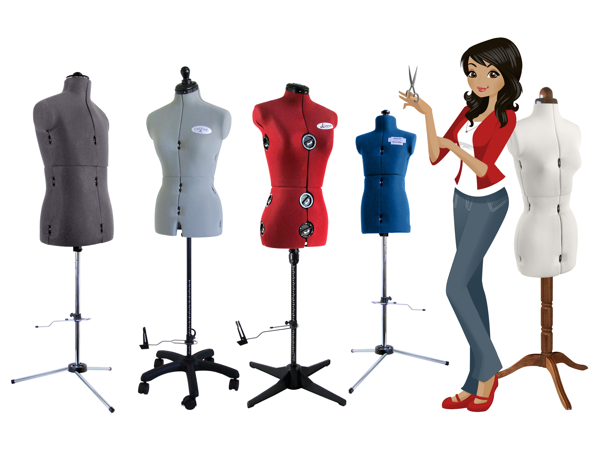 Here's a quick guide that helps you choose the right dressmaking mannequin :-)
Better still, you can downlod the eBook for free...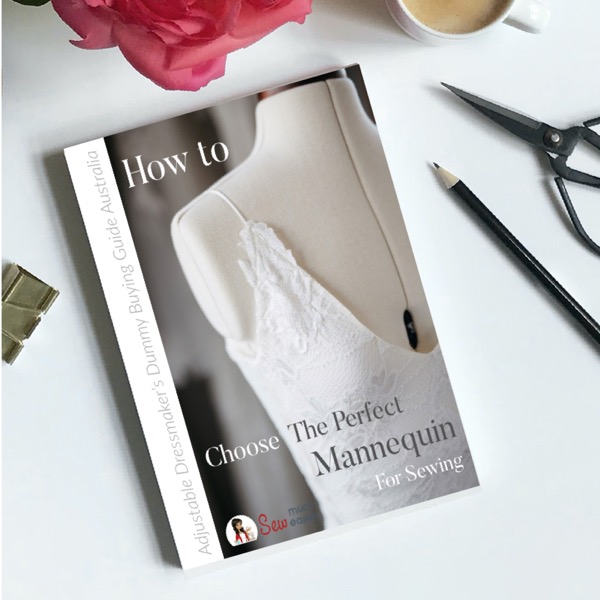 I thought long and hard about committing to the Lady Valet - at first I thought: so expensive!

I read so many reviews about the limitations of such devices, and almost talked myself out. On a whim I decided to go for the best - and I have to say, it is probably the best decision I ever made.

Although 'Phryne' is not properly adjusted yet, she is already in use and is so sturdy and elegant she is a work of art in herself.

I am so impressed with your company. Thank you!

Kind regards,
Margaret Davies. from Blackwood, SA 5051

So... What's your fruity shape?

What outfit have you made that you're particularly proud of?

Email me some photos because I'd LOVE to see your work :-)


Happy Sewing!




xoxox





P.S. I used to be extremely self-conscious about my body - this was wayyyy before I could rock my pink 50s gown - I went through some dark teenage years with eating disorders because there were just too much body-shaming out there.

That's why I think it's essential that we find a way to love our bodies - and teach other young women the same - no matter what shapes and size we happen to be.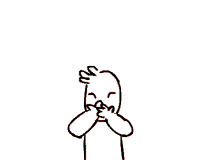 P.P.S. Wondering about what's on sale, right now?