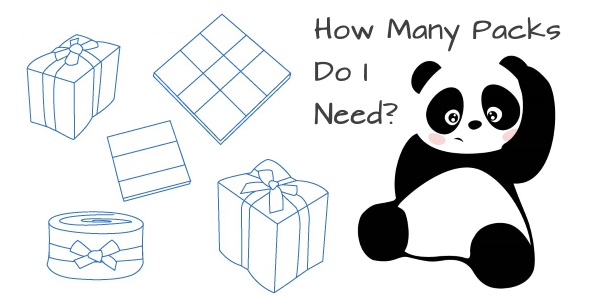 Pre-cut - What Size Quilt Does it Make?
This is a VERY popular question. So if you're wondering the same thing, read on….
So you ask: "How Many Packs do I need for a Queen size quilt?"
Here's the short answer:
If you are just stitching the precut pieces together, with no other additional fabrics, then you would need about:
Of course, this is a very "- ish" calculation, based roughly on the size of our queen size batting.
And here comes the long answer:
When it comes to making a patchwork quilt, there is NO such thing as "standard" size. For example – what I consider to be a perfect queen bed size might be very different to what you have in mind.
So the best way is to have a look at the particular style of your bed and how far you want it to hang over the sides (do you just want it to fit on top of the mattress area? Or do you want a fair bit to hang over the edge to have the "valance" effect? Do you want it to be long enough to cover the pillow? Or do you want it just long enough to cover the person?)
Once you've worked out the dimensions of the finished quilt, it is easy to count how many of these squares you actually need – assuming you are just going to join them straight up as squares in rows.
For example –
Each square from a Charm Pack is 5 x 5 inches, so take the seam allowances into consideration, you end up with 4 1/2 squares (which is around 11 cm x 11 cm).
It's easy to see how many squares you need in total to cover the quilt dimension you have in mind (allow a bit extra because quilting can eat up the overall size a bit). Then you can work out how many packs you need – there are normally 42 squares per pack.
How on earth did you work that out?
Easy, and I will explain – but first, do consider a few things….
Australian Bed Size
Most of the books and patterns in the patchwork world are written with common US bed sizes in mind.
To make sure the quilt you're making will look good on your bed, here are the Australian standard mattress sizes: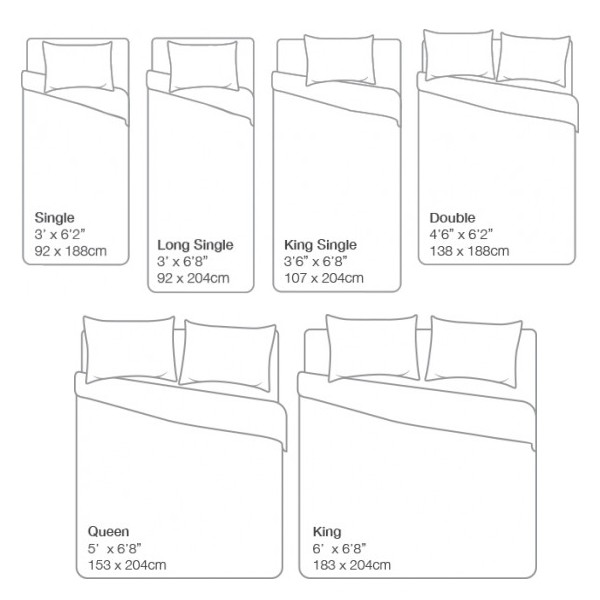 Now – here are the Common USA Quilt Sizes: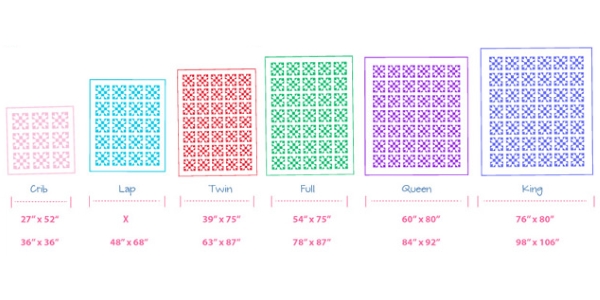 The first row of measurements shows the bed size, and the second row shows the quilt size. All in inches.
Quilt Size / Shape Considerations
Mattress / Bed sizes aside, your actual quilt size will still vary a lot, depending WHERE the quilt is going to spend the most time.
If it's simply going to be hung on a wall, then it's quite straight forward – simply measure the wall space.
And if the quilt will be placed on a bed, then thank about all the different configuration that your bed could be. After all, not all beds are placed in the middle of the room with space all around!
Here are some examples – with some design notes below:
1. This quilt is large enough to drape over three sides of the bed, giving a "valance" effect. Note how the clever border design really frames the bed.
2. If your bed has a header and footer, then it's best to have drapes only on the two sides – this way the quilt looks neat and making the bed is easy!
3. It's easy and effective to simply sew charm pack squares together, and see how an over-sized quilt looks causal, comfy and inviting.
4. For a more traditional look, put boarders on three sides and allow extra to cover the pillows, with applique for definition.
5. A day bed only really needs drape on the front side, and a few charm packs are all you need!
6. If your quilt is too small to cover the whole bed, not to worry. Just drape it over the the bed frame casually to add instant personality to any room.
7. Jelly Roll strips make this quilt one of the quickest and easiest. Notice how the quilt finishes at the top edge of the mattress with more lengths to cover the pillows.
8. Stitching up Layer Cake squares is probably the fastest way to put a quilt together, especially for a cot!
9. Sometimes all you need is a bed runner over your doona cover. a few Jelly Roll strips and a border becomes your very own original. A quick and satisfying project.
10. This sort of look is known as "bed topper", where the quilt covers just the top of the mattress, with minimal or no drape over the sides. This works well with bold and modern designs.
Other Things to Consider?
Block size and overall designs. I shall discuss these in details in a separate article….
Just a quick mention: some quilt blocks look better in pairs, while other look better if you have odd numbers of blocks in rows. Have a play!
Precut Fabric Coverage
Assuming you are just sewing the pieces together, straight out of ONE pre-cut pack with no other additional fabrics – this is the coverage area you'd get: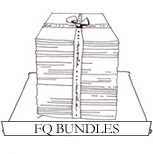 Fat Quarter Bundle
Each 40-piece pack covers an area of 140″ x 107.5″ (355.6 cm x 273 cm) approximately
Each 40-piece pack covers an area of 170.5″ x 68″ (273 cm x 172.7 cm) approximately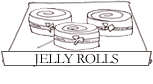 Jelly Roll
Each 42-piece pack covers an area of 84″ x 44″ (213 cm x 111.8 cm) approximately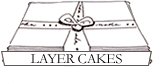 Layer Cake
Each 42-piece pack covers an area of 66.5″ x 57″ (168.9 cm x 114.3 cm) approximately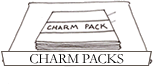 Charm Pack
Each 42-piece pack covers an area of 31.5″ x 27″ (80 cm x 68.6 cm) approximately
Pre-cut Batting Sizes
While there is NO such thing as standard patchwork quilt size, we do have some pre-cut batting that you can use as a guide to determine how many fabric packs you'd need:
King Size 100″ x 94″ (254 cm x 250 cm)
Queen Size 100″ x 83″ (254 cm x 210 cm)
King-Single 100″ x 59″ (254 cm x 150 cm)
Cot Size 50″ x 50″ (127 cm x 127 cm)
Remember, your batting / backing needs to be 3 to 4 inches (7 cm to 10 cm) bigger than your quilt top around all sides, because you need to allow some movements during machine / hand quilting, and also be able to trim and square up before binding.
Inspired?
Can't wait to have a go? Here are some pre-cut fabric to get you started….
https://www.sewmucheasier.com/pre-cut-fabric
So – what size quilt are YOU making?

xoxox
P.S. If you're new to the patchwork world, here's an article that explained all about pre-cut fabric:
https://blog.sewmucheasier.com/pre-cut-fabric-explained/

P.P.S. Ready to Grab some fabric so you can get started?
https://www.sewmucheasier.com/pre-cut-fabric/
Better yet - you can enjoy the Buy More & Save Deals:
Charm Packs: Add Any 4 to Cart (and the cheapest one is FREE)


Thanks for this Shelley it hepls alot.
cheers
Robyn

Many thanks easy to understand

- Ellen

I make quilts for Aussie Heroes Quilts and Laundry bag charity and their size is 42 by 75. This is the size to fit on the bunk of the ships.
- Sue N.

Hi this information is extremely useful, I live in NZ and don't have any kind of way of knowing how much material is required to make a quilt. I am just starting out at this and appreciate all the help I can get. Ta heeps
- Mary

Handy information
- Linda

Thanks very much,Shelley!
- Sandra

Thank you, very handy information
- Sylvia

Thank you!
- Donna

Thanks for the information Shelley. This will help me alot.
- Patricia