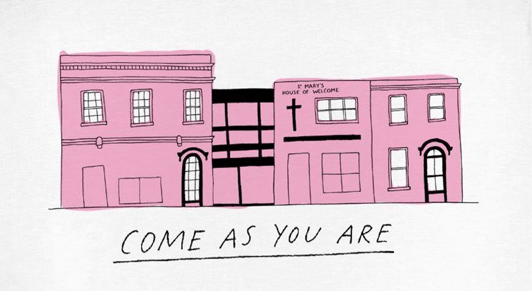 An Unexpected Phone Call
The phone rang...

It was a chirpy, but unfamiliar voice.

"I need to ask a huge favour.

Our sewing machine and overlocker both stopped working. We are desperate for replacements.

Can you help?"

Her name was Beck. She called from St Mary's House of Welcome.

They provide a safe place for people in need to drop in. The sewing machines were essential for their craft program to teach sewing skills - by making clothes, bags, cushions and accessories.

This is part of their social inclusion programs for those who feel alone & isolated. And the members are lost without the machines to sew with....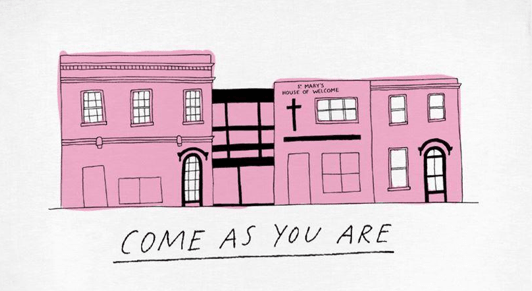 She wanted to know if I had any secondhand or trade-in machines I could spare.

I didn't...

Because in order to do trade-in properly you need a secondhand dealers license, which I don't. That means I can only sell brand new machines. Sorry...

Instead, I suggested a few places that do trade-ins, and also some larger retailers who have access to cheaper machines that don't cost them much.

Beck's voice dipped.

She said that they already tried local sewing machine dealers and major retailers. No one was willing to help. She found me online and thought it was a long shot, but worth the shot.

It was disheartening to hear that. Dealers who do trade-ins and big retailers are in prime position to help yet they turned her down. Sounds like I might be their last hope. These guys really need my help now.

But, what can I do to help? I explained to Beck that I have no secondhand machines, but I will see what I can do. "I'll call you back shortly." I said.

Within a couple of hours I had a solution.

You see, I do keep a few loan machines at my agent's place.

These are handy when my customers' machines go in for warranty repairs - this way they'd still have a machine to use while waiting, which keeps everyone happy.

But Warranty repairs are extremely rare....

Which is a good thing - because I only choose a small handful of proven, reliable sewing machines. That means I could spare a couple of loan machines - as long as they aren't all out on loan.

So I called my agent to make sure that they had at least one sewing machine and one overlocker available. Yep, they did.

So I called Beck to share the good news, then we made delivery arrangements.


What Turned Up in my inbox Next Really Made My Day...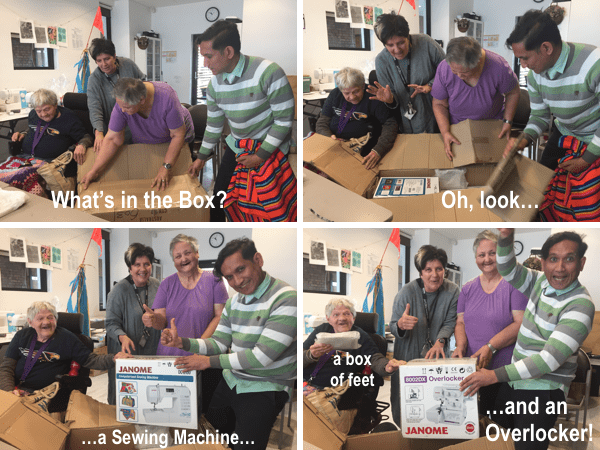 Hi Shelley,

They have arrived on Monday, we are so grateful these are amazing. Here are some photos of happy members of our craft group unboxing.

We absolutely this this kind gesture and [the machines] will be loved and looked after.

Thanks so much, Love You Heaps from St Mary's House of Welcome

Kind regards

Rebecca Ransom
Corporate and Community Engagement Coordinator

I'm so glad Beck took the long shot and called me. This gave me a chance to think outside the box and chipped in :-)

This is so worth it, don't you think?

Hi Shelley,
A Lovely deed indeed! The look on their faces alone would make you feel all warm inside. so many happy smiles.
Thank you.
Kind regards,
Jan

Awesome story Shelley



Lorraine

Love your good news stories Shelley and so glad you found a way to help what sounds like a very good cause. I bought a sewing machine from you a few years ago and it is a delight to use. Most recently it hemmed coloured swatches of fabric for my 4 yr old grandson to create "landscapes". He made a waterfall in a mountain that became a river and ran down to the sand and the sea. Creative play is vey special!
Best wishes, Linda

well done Shelley St Mary,s House of Welcome do such great work
Carolyn Schiavello

Good job Shelley. Its great you could help.
Nanette

Hi Shelley,
Thanks for sharing this inspirational email with us; a lovely read and wonderful to see how much your kind generosity meant to these people. Wishing you a great week ahead!
Sincerely,
Kylie

Thanks for sharing this story Shelley. I'm glad you were in a position to help.
Melinda