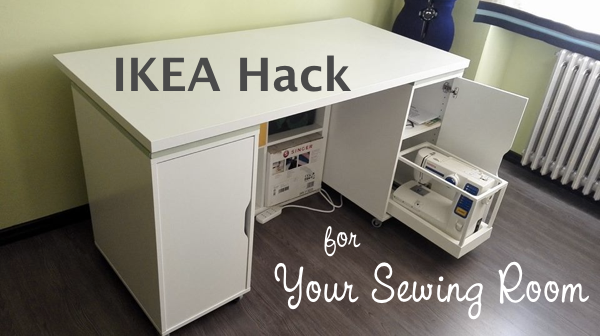 Sewing Room Furniture - IKEA Hack
Here's a clever IKEA Sewing Room Hack....
Smart Sewing Table
- with Sliding Tray for Sewing Machine by Cristina Marcon
This is a smart idea because it has a sliding tray that makes it easy to store the sewing machine when you don't need it. Makes it so easy to store and access the sewing machine.
IKEA pieces used:
LINNMON table top x 1 at 150 x 75 cm (art. 202.511.39)
ALEX storage unit x 2 (art. 601.928.26)
RILL casters x 2 packs totalling 8 pieces (art. 966.713.00)
KALLAX shelving unit x 1 (art. 202.758.14)
UTRUSTA pull out waste sorting tray x 1 (art. 702.461.12)
You Also Need:
Wood panel x 2 at 36cm x 58 x 3cm
Woodwork Glue
4 cm screws x 16
1.5cm screws x 32
Instructions:
1. Assemble KALLAX Shelving Unit and place it against the wall.
2. Next, assemble the 2 ALEX storage units but do not install the upper panel and the inside shelves yet. Mount RILL caster wheels under the ALEX units.
3. Then, turn the LINNMON table top upside-down and glue (as shown in the diagram) the two wood panels onto the table top.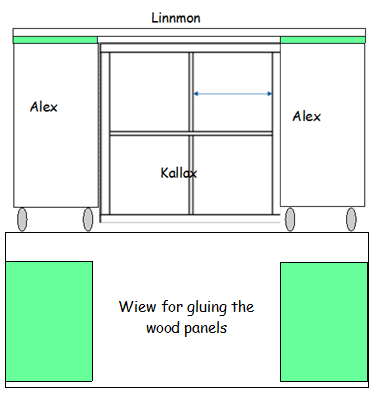 4. With the table top still on the ground, screw the two ALEX upper panels to the wood panels. You should avoid screwing the LINNMON table top directly onto the ALEX units because it is honeycomb inside. It won't hold.
5. After that, attach the ALEX units to the upper panels. Turn the desk right side up.
6. Lastly, mount the inside shelves and place UTRUSTA tray in the right ALEX cabinet.
Done!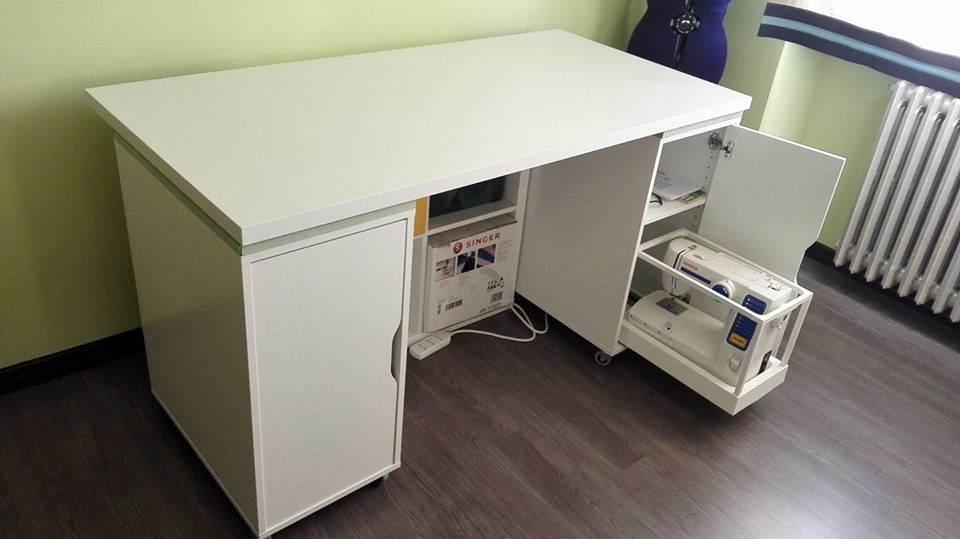 - Courtesy from Cristina Marcon via IKEA Hacker

Need a cutting table? No problem...

Cutting Table from 3 x Kallax Bookshelves
Just add legs / table top and you're done :-)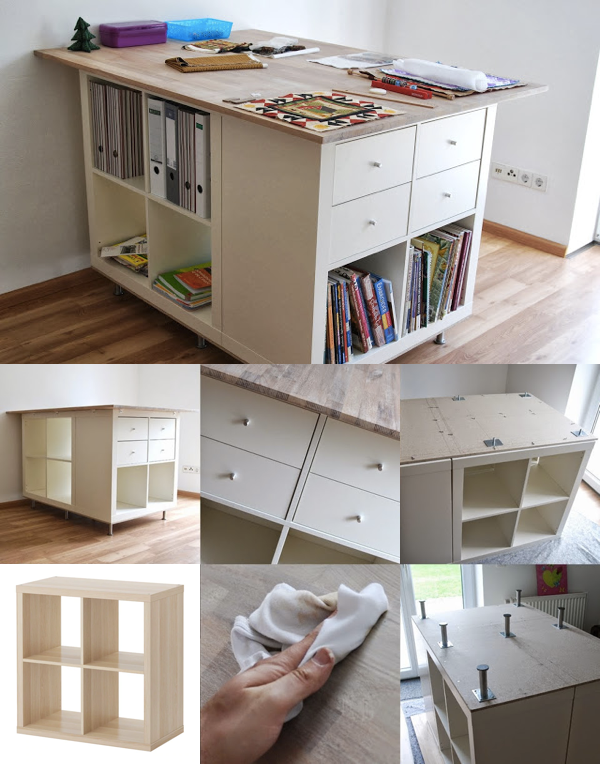 This clever lady literally took the best room in the house...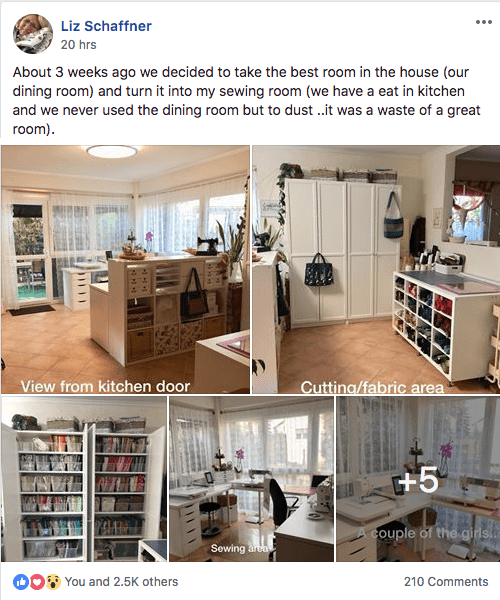 While an ideal sewing room floor plan might look like this...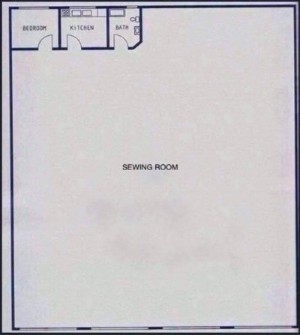 The reality is probably more like a cupboard...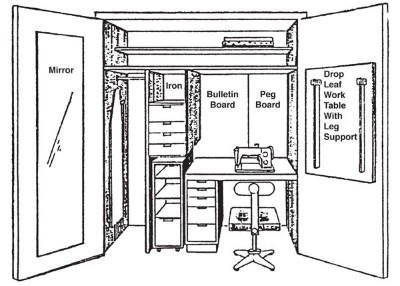 Not that there's anything wrong with that...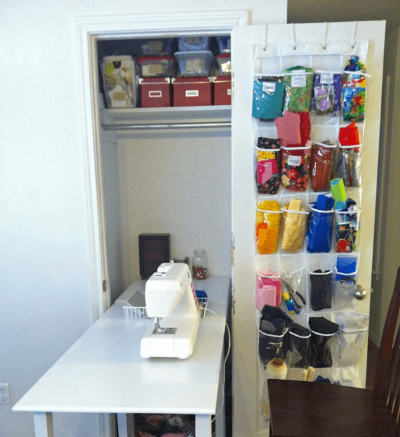 Because a mere cupboard can still be awesome!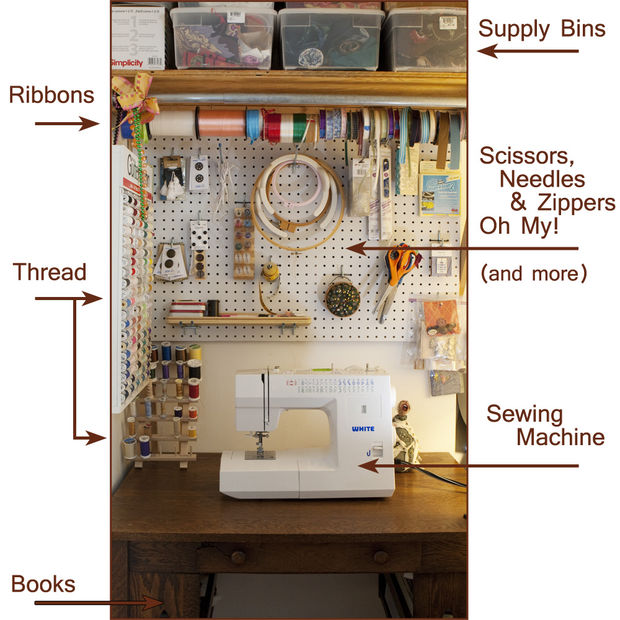 Better still...
If you have a small room, or even a corner somewhere, you can do amazing things with that space, with a bit of planning, and some imagination :-)
Here's a
little guide
I've put together to give you a hand with setting up your own sewing space - no matter what budget...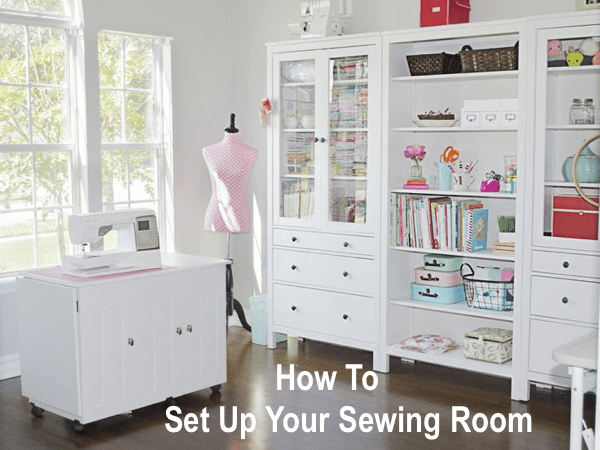 In fact, here's a quick Show & Tell...

From Kym - on of our lovely customers from Brisbane - who loves her new sewing room :-)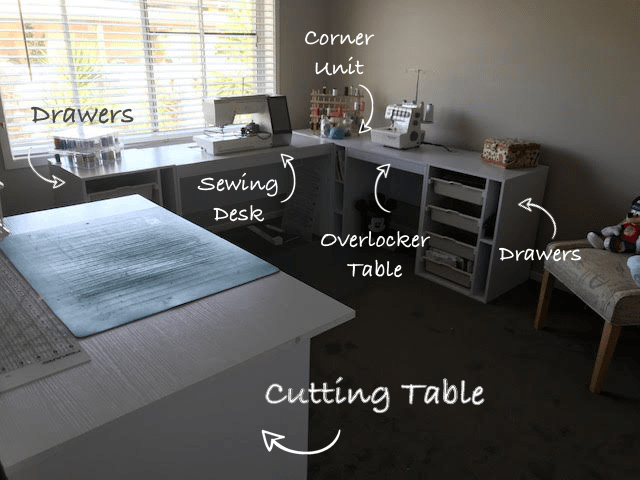 Hi Shelley

Here are some pics of my finished room... I love it!

Kym Baxter, UPPER KEDRON, QLD 4055

See how Kym's clever placement works in a fairly small room?
I LOVE what she has achieved with the space, and it's all done easily (and affordably) with
THIS
flat pack set:
Sewing Room Complete Set
Notice she got an
Extra
set of drawers....