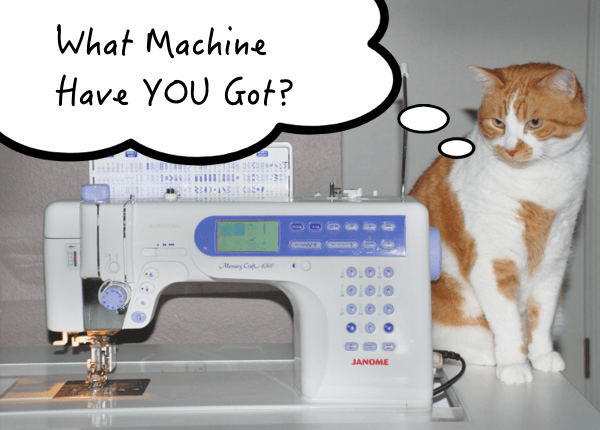 What's YOUR Sewing Machine?
What Sewing Machine Have YOU Got...?
Do you love it...??

Quick Question: What's YOUR sewing machine?

Is your machine...
an old one I've had for ages

a beginner's basic because I'm new / don't sew a lot

a decent one I've recently upgraded to

my dream machine I've waited for ages to get!

What brand / model is your machine?
Do you love it?

And... if you were to get a new one, what feature would you like to have - on your next machine? Have you got your heart set on anything?


Simply Send an Email and Tell me all about it :-)



Until Next Time - Happy Sewing!




xoxox


P.S. I've just added TWO brand new members to our little Janome family: Meet the New Semi-industrial & Janome DC6050 - they both come with a Quilting Extension Table and DVD too!



I have a Janome, that I have had for about 10years.
Would love to upgrade, but on a pension now.
Adele.

I have a Husqvarna Designer1. Old but very reliable, and still does amazing work.
I have had it for many years and it has been constantly serviced so it is almost as good as new. I love it! But I do have a problem finding embroidery patterns as they do not produce them now for my dear old machine.
If I could afford a new machine then it would need to do just what my current machine does.
Happy sewing,
Marjorie K

Hi Shelley,
I have two... The old Janome I inherited as a family heirloom and the Janome Skyline S7 I recently upgraded to when I realised how much I liked sewing and (especially) quilting.
The local sewing shop I bought my Skyline from very generously let me keep the heirloom, but gave me the trade-in price anyway.
Perhaps it was too old for the shop owner to bother refurbishing and selling or perhaps she is just a lovely person; either way I certainly appreciated it.
So, I now have them set up on opposite sides of the table, and both get used when I host a Saturday Crafternoon.
As for my dream machine? I think I have it.
Anything more fancy would be beyond my skill.
Though, I wouldn't mind a recessed alcove in my kitchen table to make quilting large pieces that little bit easier. And I would quite like an overlocker too.
So, I guess there are some features I'd look for!
Cheerio,
Kate

Depends on which sewing machine you are wanting to talk about i have 10, ranging from my latest that i brought a few weeks back, to my old treadle machine from england that came out in the 40's i think it was and i still sew on it when i want, i have a mixture of makes and models janome, singer, brother, phaff, husky. All work, and get used, from quilting, sewing clothes, embriodery, repair work, to making curtains and whatever else gets thrown my way.
- Sherrie

Hi,
I have a trusted bernina about 35 years old.
I love my bernina and would love a modern one with some computerised functions and lots of features for quilting. I'd also love a babylock overlocker!
Dreams!!
Julia

Hi Shelley,
I've got a Janome Skyline s5. I bought it almost 3 years ago and it was my very first machine. I choose it because I wanted something that could grow with me as I learned more. Fast forward a few years later and it's been used a bit but not as much as I had hoped! Know where I can buy some talent??


Thanks for the posts, I enjoy reading them!
Louise :)

The Pfaff Icon as I have 1 Creative Vision 5.5 and 1 Creative 4
Love both my girls
Elisabeth

I have two embroidery machines Janome300e & 500e
My sewing machine that I use the most is a brother I also have a Toyota machine a singer treadle and two Singer 221k singer sewing machines..lol
- Helen

I have 3 machines, a basic brother that I use when my grandkids or young nieces want to learn. Plus I have an old Bernina 830 record which I bought brand-new in the late 70s. My latest addition is another modern Bernina Aurora.
- Margaret H

Have 2 Janome machines-
12000 embroidery & Janome Horizon Memory Craft 7700QCP
LOVE them both - my pride and joys. My sanity :-)

L.G. DONNELLY


I've got a Brother Simplicity SL 300.I have always had Elnas but when I renewed it didn't want anything too high on the list as I didn't want one that did embroidery.
This is about 3 years old & suits me wonderfully.
- Pauline

Hi,
I have. Janome memory Craft 9900, I always wanted a Embroidery machine got it when I retired, will up grade one day.
Cheers,
Christine

I chose 3. a decent one I've recently upgraded to.
It's a Janome. My next one would have to be another Janome - only the quilting one.
I previously owned a Brother, was not happy at all.
I think once a Janome owner always a Janome owner.


- Kathleen G

Hi Shelley
I have a Janome MC11000SE and a Janome Overlocker, also a Cover Stitch Machine (that I bought but don't really know how to use). Then I have a Husqvana 960Q which I love and a small Elna tx which is so convenient to carry to classes. I have made many king size and queen size quilts, some embroidered, some patchwork - all with drop down sides, top and bottom borders too. I have so many accessories for the Janome MC11000SE and the Husqvana 960Q, that I would like to try out, but (even though I am retired), I find there are not enough hours in the day. I love reading your emails, Thanks ..... Linda

I have a Husquarna Viking Opal 650.
I upgraded from my old Singer about 2 years ago.
I love the sensor buttonholed. It's almost foolproof.
Any new machine should have that plug & go buttonholer, but I'd also like one that allowed me to do free form quilting with an attachment guide.
Cheers
Robyn B

Hi Shelley, I have now been quilting for 2 years and bought a
good machine straightaway as I had high hopes. I love my machine
which is a Janome horizon 7700.
I am thinking of purchasing an embroidery Machine in the near future
after I have done some research.
From Lane and Pete


Hi Shelley
I would love to a new machine, and would be happy with anything
Thanks
DONNA

Hello Shelley,
Unfortunately I no longer have a sewing machine

it was a Janome.
I have had it since I was 21 now I'm 53
I made all my daughters clothes as she grow up she is now 27,
I would love a sewing machine that I can put writing on my towels and such
patterns on fabric, make beds and jumpers for my dog, and maybe clothes for my grandchildren one day.
- Karen

I have 5. A treadle that works, my original Janome from 40 years ago, my mums 2 Berninas, a Brother simple modern one from an op shop. I also bought myself a Bernina overlocker. I mostly use the smaller Bernina and the Brother, as well as the over locker.
Rhonda

Hi Shelley I have a singer Quantum ... I am happy with it... it's been a good machine although getting old now... take care... cheers Robyne

A very old one that has been handed down to me. A Singer.
- Dianne P

Hi Shelley
I have a Husqvarna 2000 bought 46 years ago and a Husqvarna Designer SE LE which I purchased secondhand when I retired ten years ago as I wanted an embroidery machine.
I love it, sews and embroiders well. I have it serviced every year and have just had the motherboard replaced. Sometimes I would like a larger hoop area but can't justify the huge expense to get it. The 2000 hasn't been used in the last ten years although I was told to hang on to it as it is still a very good machine. The serviceman suggested I have him check it out before I use it in case the motor has seized.
Sewing keeps me sane, helps me make lovely quilts and sew on.
regards
Alison

I have a Janome 4000 - had it for ages.
Yes - I love it. My next machine would have Embroidery abilities.
- Belinda

I have 5 machines.
My first Pfaff which still works perfectly but is not computerised and has limited stitches but as a basic backup is perfect. Had a Borletti before that.
A Janome 1600P which is set up on my quilting frame and is programmed for quilting only.
A Brother 480 Embroidery only with small to medium frames and black and white screen images.
A Brother 1500D Sewing and Embroidery machine acquired because I was limited with what I could do on the small Brother. Mostly used for embroidery.
My favourite (and 5th in over 40 yrs) is Pfaff Quilt Expression 4.2.
I have always loved Pfaff mainly because they tend to be workhorses that Sew anything. Can't ever remember having trouble with any of them. Also the built in Walking Foot only they call it IDT(Integrated Duel Feed System).
-Elvira

Hi I have a pfaff expression 4.0. There's lots of things I don't like about it but I love the IDT and the wide throat . I also have a smaller Janine which i take to classes etc, it's light and sews beautifully , but the walking foot drive me crazy !!
- Wendy H

Hi Shelley
I have a 30 year old machine Pfaff
And a 25 year old brother
I would love to update but unfortunately at this stage I could see my self to do so
Love and enjoy your emails
Regards
Rita K

I have upgraded in the last year to a Janome skyline 7 I have found it excellent
Dianne

Bernina 1040 about 26 years old, still going great guns. A new one, possible Bernina, with a needle with a huge eye for old eyes.
Dawny

Hi
I'm number 3.
Still, have a drama with the little thread thing, it's supposed to help.
It doesn't.
Kerrie

I have 9 including 3 treadles
- Shirley

Janome DC6030 bought last year ...love it !!
- Barb

My answer is 4, My dream machine I have been waiting ages for It is a Janome 6600 I love it, I have had it for over a year and sew practically every day. I make quilts and laundry bags for Aussie Heroes Quilts and laundry bags, and have added The Pink Foundation to my charity makes this year. I love sewing. I love it for free motion, a large flatbed.
- Sue N

Hi I am very lucky . I have Janome embroidery machines350 E, 12,00 and quilting Janome 6600 plus a Janome coverstitch and overlocker, I also have an Elna overlocker and the Brother Embroidery machine 3500D and my dream machine 2, am very spoilt
Cheers
Dianne

Hi there,
I have a Janome SS2015, I've had it for about 40 years or there about.
I made my kids cloths and now making my grand children s cloths.
I've also lost a lot of weight so I've been altering some of my own cloths.
As I have had my machine for ages I would love to up grade to the 21st century.
I would love a machine that could handle my quilting projects and is computerised for me to try something new.
So my dream machine will go onto my wish list for another day.
Regards
Anne

Hi Shelly. I have a Bernina 830 that I bought when I was at uni doing fashion, 40 yrs ago. I have had a few other machines since then as I usually have two on the go at once but I always come back to my Bernina. I love it. It is so very versatile and does every thing I need. I recently moved house and have lost the box with all the extra feet in it and I am devistated. I am still hoping it will turn up, otherwise I will have to start buying them one by one.
Debbie

Oh i just love Janome.
Have had my Janome 6600P for 10 yrs now and would say its the best.
Have done everything from dressmaking furnishings and patchwork n quilting (although im not that proficient yet on the latter).
If I need to update my 6600p machine i think i would have to go to the new Janome 6700p it sounds great

- Valerie

Which one would you like to know? I have a few.
Janome DC2030 general take to lessons.
Brother 4000.
Husqvarna Viking SE. Only just been given, still learning
Pfaff. 7570, an original embroidery.
Also three old treadles, one is English Jones. 1925 in cabinet
Judy

Mine is 25 yrs old. It is a Janome but I can't remember the model.
As much as I love it I need a new one
Jenny

A year ago I bought the Janome MC8900. So far it is working well. I do however put it through its paces as I make ladies handbags and some of my fabrics and foam are pretty thick and at times it does struggle. If I bought another machine it would need to be either industrial (don't have the space for it in my sewing room) or at least one that is semi-industrial. I also bought at the end of last year the Janome Embridery machine 500e and love it.
Cheers
Elayne C

I have a Pfaff ambition, it has IDT which is like a walking foot, you can put it on or off easily, lots of stitches, middle of the range, good value
Jane G

Hi I have a memory craft400e which I love but would love a better model and also a janome 2050 which is great also but upgrading either of these would be fantastic
Sheryle

I chose 4. my dream machine I've waited for ages to get!
I have a Janome Skyline 7 I use for my fabric sewing I make bags for my hobby business, and need a good reliable machine.
I have a Bernina 1008 orphan I rescued to make my animal feed bags on.
This is a tough machine that I can easily stitch through the plastic in the feedbags.
I would love an embroidery machine it will compliment the rest of what I do with my bag sewing. Could individualise what I am making a little bit more.
- Colleen

Oh mine is a Singer, over 30 years old and I treat it as a dear friend, but know it's time for a new one.
I would love to have one I could be embroidery with a needle threader, the eyes are getting bit old.
- Kaye

Hi Shelley,
I have two Brother machines.
The first one is a Brother PQ1500, and it only does quitling, no fancey stitches,
The second one is Brother, Super Ace III, Quilters Edition. This is the one I use for all the sewing. It has fancy stitches, does buttonholes and is great.
I love them both but I don't do my own quilting, unless it is small so hardly use the PQ1500.
No I don't want a new one as they both work well.

Bye for now, Lilian

I have a 20yo Huskvana viking. My husband nearly died when i purchased it, as it was expensive at the time.
It has had lots and lots of use, and I am hoping to start learning to quilt this year.
I make lots of costumes, so quilting will be something very new to me.
I would like an embroidery machine as there are always things i see that i would love to do.
Main feature would be a good sized bed for easy sewing.
- Sharon

I have a new fancy husguvana and a 40 year old janome. (Approx)
I still love my old one and find it better to use than my new one!
- Margaret W

I have a Bernina that I bought last year. I love it but I am still learning to drive it. it is a B770
Fay

My machine is a beginner basic half price at target for mothers day because it's what I could afford. Its a brother gs2520and I think it does quite well at making gifts for my family and the occasional bit of clothing I make and if I continued to grow in ability and use of said machine I would love to upgrade in the future. I like to research and make sure I get the best bang for buck so I'm quite open to look at different brands and check out sales when I was able to upgrade. I also have a janome overlocker that was gifted to me after I borrowed it to make chair covers for a cafe "yay for free overlockers. "
- Katelynn

Hi Shelley,
I have a Janome MC3000 which I bought in Dec 1997. I can't believe it is 20 years old.
Every now and then I think I would like a newer fancier machine but my Janome has almost everything I want in a machine for the amount of sewing I do. A few more stitches would be nice, but then, would I use them?
If I ever did buy a another machine in the future it would definitely be another Janome and I would also keep my MC3000 as a spare.
I do enjoy your weekly sewing stories.
Regards
Kathy.

Hi Shelley,
I have a Singer that I bought new from Auction. It's a Singer Quantum 9920. I like it for all the different stitches but am always having trouble with the tension on straight sewing.
If I had another machine I would have just a very plain straight sewer with extra table to do quilting.
Don't get me wrong... I love my machine but need just a straight forward easy to use machine to have set up on my table for all the easy jobs.
Thanks for asking Shelley!
Love the emails by the way!!!
King Regards
Merran R

Number 4! Love it an it does what l want! It's a Jamone 6610
- Karen

Hi Shelley, My Bernina is about 25 years old and has served me well although it is a bit noisy !
I'd like a sewing machine that had software that meant I could do different things ,like quilting etc.
Regards Mair

Pfaff late 1980s and I still love it, but I do look at the wonderful things the modern machines do.
- Lynette

Hi Shelly
I have the Janome DC6050, I got it with the feet set deal..I love it!
I'm just getting back onto sewing and am making stuffed animals. I don't really have my heart set on anything new..Yet..LOL
Bonnie

My machine is an old Janine Combi DX. It is probably about 32 years old. I had it serviced three years ago and I have been using it since! My Husqvana has been stored away! ( too fussy!)
I like my manual wheel! My manual needle & my simple two thread overlocker at the other end of my machine!
I would only replace it with a machine I can quilt with!
I have really enjoyed seeing again after a big break!!
Sharon

Mine is an old one I've had for a few years.
It was a PFAFF QUILT EXPRESSJON 2048. And I do love it.
My next machine? EMBROIDERY IS A FUTURE PLAN TO ENHANCE MY QUILTING.
ALISON L

I have a Bernina 570QE which I like but would love the machine to hav3 a bobbin sensor to tell me when the bobbin is about to run out.
- Christine

Shelley,
I have several machines - My pride and joy is a Bernina 1260 that I have since 1994 and I use it 75% of the time . For classes I have a Janone My Style 26 which was again purchased in 1994 for my daughter to learn on but she wasn't interested and it is lighter to take to classes. For embroidery I have a Janone 9000 plus a Brother embroidery machine. For quilting I have the Janone 1600P. I also have a Baby Lock overlocker.
Not sure what brand of machine I would purchase but I would like it to have the walking foot features built into. Needle up and down is essential, also the automatic cutting off feature, a wide throat, easy threading, most of all a perfect straight stitch feature, that I can used for piecing and change so I can use it for quilting.
take care
Jan P
Melbourne, Australia.

I have a Janome Memory Craft 5700,It was bought for me in January 2001 and is used nearly everyday and almost worn out from use. It is a beautiful machine and will need replacing very soon.
- Jacqui

I have 3 sewing machines
1) Pfaff 2027 had it 39 years
2) Pfaff classic quiltstyle 2027
3) Janome 1600
- Linda

Hi Shelley
I have a Janome DC6030 computerised sewing machine that I bought from you a little over 2 years ago, so I guess I'd say it is a pretty good one that I upgraded to.
Although I got off to a bit of a rocky start with it due to the stitches being uneven and the bobbin tension being a little off, I'm happy to say things have settled down and it is sewing beautifully now. I'm not sure what happened - it's like it needed to be "run in" like a new car.
Anyway, it's all good now, and I enjoy working with it.
I bought it mainly so I could give my daughter my old Janome machine which is a Decor Excel Pro 5124. That is also a really good machine that I enjoyed using.
I'm happy with my current machine - it has all the features I need - I mainly sew quilts so don't really go in for any of the fancy embroidery or anything like that.
Thanks for your friendly emails, I enjoy reading all the little tips and tricks, and appreciate that you are willing to help and give advice whenever needed. Keep up the good work.
Regards
Kathy B

My sewing machine.
I have had five sewing machines in my life. The first two were second hand. At age 10 my grandmother handed on her knee operated Singer machine that had no back stitch, only forward. I made all my own clothes, did a lot of patchwork and quilting and made baby clothes on that old thing.
Then I was 32 and having my second baby when my stepmother passed on her old machine and I learnt all about back stitch and zig zag. Later I traded it in for a Toyota and years after that I bought a Berlina.
The Berlina was wonderful - it's weight on the table helped me speed through denim patchwork and thick cloth for stage scenery and costumes for 20 years, but it was quite heavy to move around.
I've now had a little Janome for 10 years - I think it is a 5030 - it's called a quilter but I'm not sure why except it does have a quilting foot/kit. I like it because it is much lighter in weight than previous sewing machines. As I am now 70 I need a lighter machine if I am to move it off the dining room table.
But the Berlina had a wonderful feature which the Janome does not have - an excellent light that shone right onto where I was sewing.
The Janome's light is almost useless and I have to use a separate lamp close to the machine, which I've never had to do before.
My eyesight, with glasses, is good enough to thread needles but I do like to light up my sewing area - especially with dark colours.
All my sewing machines have had their own personalities with strengths and weaknesses. But at my time of life, if I were to get a new machine, a good light in the right place, is what i would look for before fancy stitches.
Janine C - still sewing happily.

Hi Shelley
I recently upgraded to my beautiful Huskvarna Viking Topaz 50.
It's my dream machine and I really love it.
My previous machine was a Singer that was 34 years old, regularly serviced and still running well. I gifted it to an older friend who was in need of a machine for a few projects.
Deb

Hi Shelley
I have an old ElnaSU top of the range next day. I love it and it's my go to.
About two years ago I bought a Janome horizon, it does everything I could imagine ever wanting to do and more.
But do you know what! It's still in its box with the original plastic wrapping around box
Love Sandy

I have a Janome Horizon 8900, having previously had a Janome 9000 for approximately 20 years. Luv them both.
Karen

Hi Shelley, my machine is a Bernina 1982 Jubilee model. My hubby bought it second hand for $150 in 1994. I love it, and it has hardly missed a beat. The mechanic who services it said to hang on to it, as it's a good strong machine, with very long lasting cogs etc. so it should last a very long time, unlike a lot of the electronic, computerised ones. I also have two Bernini over lockers. One basic one, which currently needs servicing, and a later model differential feed one, which was gifted to me by an older lady who couldn't see well enough any more to use it. I love sewing, and I'm getting a fair bit of casual paid work for dressmaking and alterations in our rural community. Thanks for your interest,
Shirley E

A Bernini QE 440 I have had it for 10 years I also have a 40 year old Bernini Nova I love my machines
Bev

Bernina 430 with emb
Bernina 750QEE
Next machine a multi needle
- Cathy

Have just recently bought a Brother NQ1800 sewing machine. Beautiful machine but very
Disappointed to find out the ¼ foot with guide is not ¼ but 3/8.
Especially near finish of a very intricate quilt. Had to undo 28 log cabin blocks and redo on old machine.
Cannot use the Janome foot on the brother machine.
- Brownyn

Hi Shelly, I have a Janome Horizon 8900 sewing machine I have had it just over 4 years & am very happy with it.If I was to buy a new one I would upgrade to the next model.
Happy sewing
Shirley

My machine Janome DC 4030 and is some 9 years old now n still going okay. I dream of owning Janome Horizon but as well am now due to unforeseen circumstance that is unlikely to happen.
I also own Janome My Lock which is 4 threader and as I brought it second hand it's only value is too me
Regards Marise

Hi there
I have a 32 year old Janome which has never let me down for basic sewing. I do a lot of quilting and knit sewing now and my machine is just not suited to the tasks.


- Lynda

My machine is exactly the one in your picture, love it. If I were to get another it would be an extra machine to this one. Would love an Janome embroidery machine
- Margaret

I have a ten year old Janome, it's been a CHAMPION. I would get another Janome in the unlikely event of old faithful's death!
- Anne

I have a Janome DC4900 and I love it. It does all I want.
Gaylene

Hi Shelley
Love your little stories


Any way I have Janome memory craft 4800 andddddd I love it
But In saying that would so much love a machine with bigger throat ( if thats whats its called)
Cheers Dorothy

HI Shelley,
I have recently bought a Janome MC 6600, due to the fact that my beloved Husqi would only work Half a beautiful buttonhole, I went through a uni course with that machine. What I would like to see on any sewing machine, is a cat guard, to prevent playful paws getting caught., and safty nets for threads for the same reason
Rosemarie

I have a Janome 7700, which I love for almost everything. My only issue is trying to sew Jean hems or anything with a thick hem, I always have to use the Gene Magic and even then, the feed dogs don't aways want to feed the fabric through. I love the embroidery stitches and if I could, wouild upgrate to the next Janome from this one
Viv C

My machine is an old one ive had since whenever.
Apart from a regular service, it just keeps on stitching, but the features of a newer machine would be lovely, rather than the solid clunk clunk from mine!
Its an older Janome model.
Would love something that makes my quilting & free motion embroidery, look anything but done by hand. Some of my work is very second rate looking, not so much as character, as just a bad job, & I spend a fair bit of time unpicking!!
Tina

hi Shelley i have a few machine here i have been sewing 25 years i learnt from my mum
i still have thefirst machine a old singer 185k i have retired her to the shelf along with my second machine a pinnock 250 that was giving to me by my mum its
42 years old and i had a janome 10001 sewing/embroidery (gone to heaven) and i got then i got the little elna elina 40s then the newer janome 8900qcp and the janome over locker and brother 7700p embroidery machine and have just purchased a avanti quilting machine with a frame and 6 months ago i purchased a janome 1600p i make bags and quilts and some clothing i have to say i'm a janome girl !!
Bernadette

Hi Shelly
My machine is a husvana and is 44yrs old in august, i got it two days before my eldest son was born, it did a lot of sewing in its early days up to about 15yrs ago, now only ococcasionally i also have a janome overlocker which is about 30yrs old


Have lost my sew mojo and hope one day it comes back


Love your emails so hopefully the day will be soon that it calls me back

- Michelle

Hi Shelley!
I got my pretty much dream machine of sewing machines last October! I sold my beloved no longer used 20+ year old 4800p, as well as my only 2 year old 6600p and 1600p and bought the newly released amazing awesome 6700p! To state I'm in love is an understatement! It has everything I wished for, and nothing I disliked about the 6600 and 1600! My new 6700p is the beautiful love child of them both! Thank you Janome for making my dreams come true!


♥️
Kind regards,
Leanne

Hi Shelley
I have recently (June 2017) bought a Pfaff Creative Performance – it has a lovely big throat for quilting and is also an embroidery machine – still learning as have never done embroidery before but more of a learning curve is that it is an electronic machine – I have semi-retired a 33 year old manual Pfaff. But so far I'm loving it!!
As an aside, I am also a Girl Guide Leader and have just bought 3 Janome Sewist machines for the girls. Still in the box at this stage – project for next week!
- Jackie