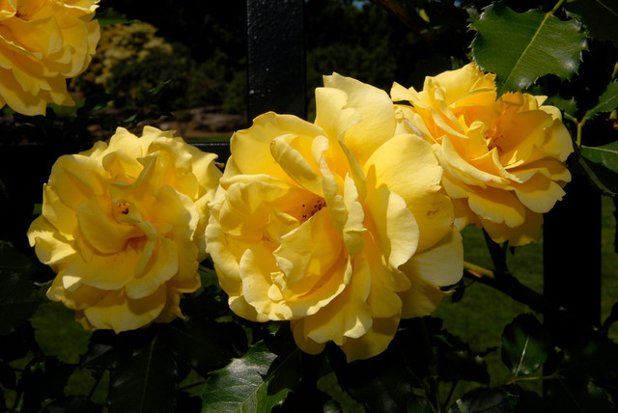 Mum & Yellow Roses - a Secret Quilt in the Making
My Mum LOVES Yellow Roses.
So much so, that one Mother's Day when I surprised her with THE most beautiful standard rose I could find - almost taller than her, amazing perfume, and happily blooming. It was perfect.

Did Mum love her surprise?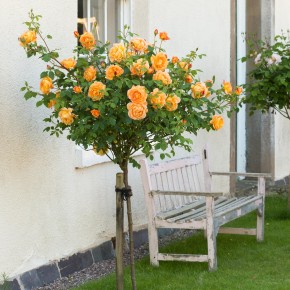 Well...


Mum's instant reaction was:

"Oh, I wish it was yellow!"

Yes - those roses were apricot. That was the only problem - the nursery didn't have any yellow roses.

Boooo....

That was when I knew just the thing to do...

I had to make Mum a Yellow Rose Quilt.

And of course I'd keep it a secret so it would be a surprise :-)

I was newly bitten by the quilting bug at the time. One of the first thing I fell in love with was needle-turned applique - so I signed up to a class at my local quilt shop. This would be my first needle-turn project.

The project was a 12-block rose sampler quilt, even the borders were heavily covered in applique roses. Totally not for the fainted-hearted, and certainly no beginner project.

But...
It was perfect.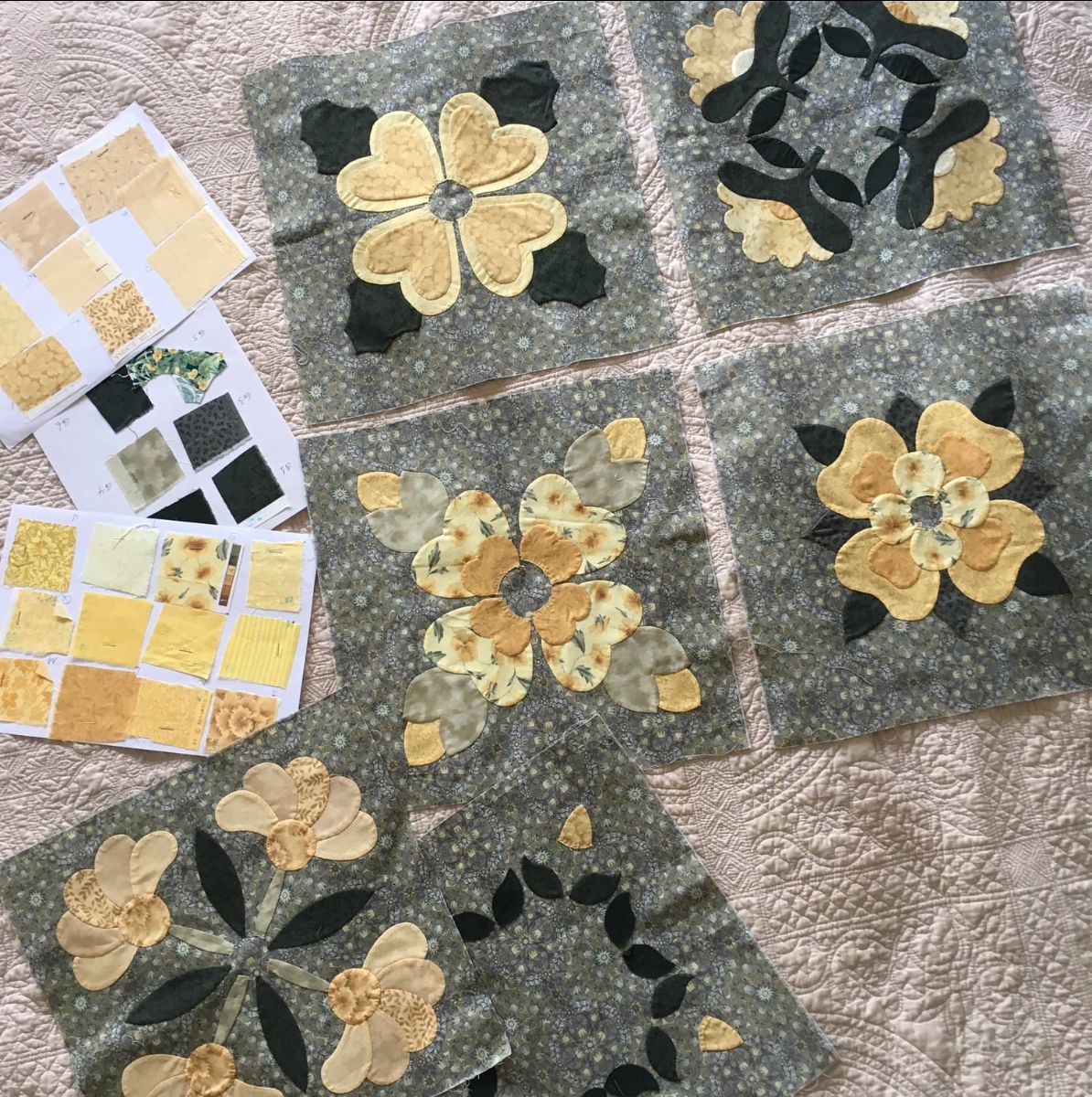 Clearly, I had no idea the amount of work I've just committed to.
Beside, I also chose a VERY tricky (but oh-so lovely) background fabric, by
William Morris
- what was I thinking?
It was near impossible to trace the designs on my background fabric (wish I had
one of these
).
Though once I got over the learning curve, it was so much fun choosing the fabric, deciding what colour to use where, and figuring out the layers. The hand stitching part was therapeutic, even if it took ages....
I LOVED the challenge of making my stitches tiny and even.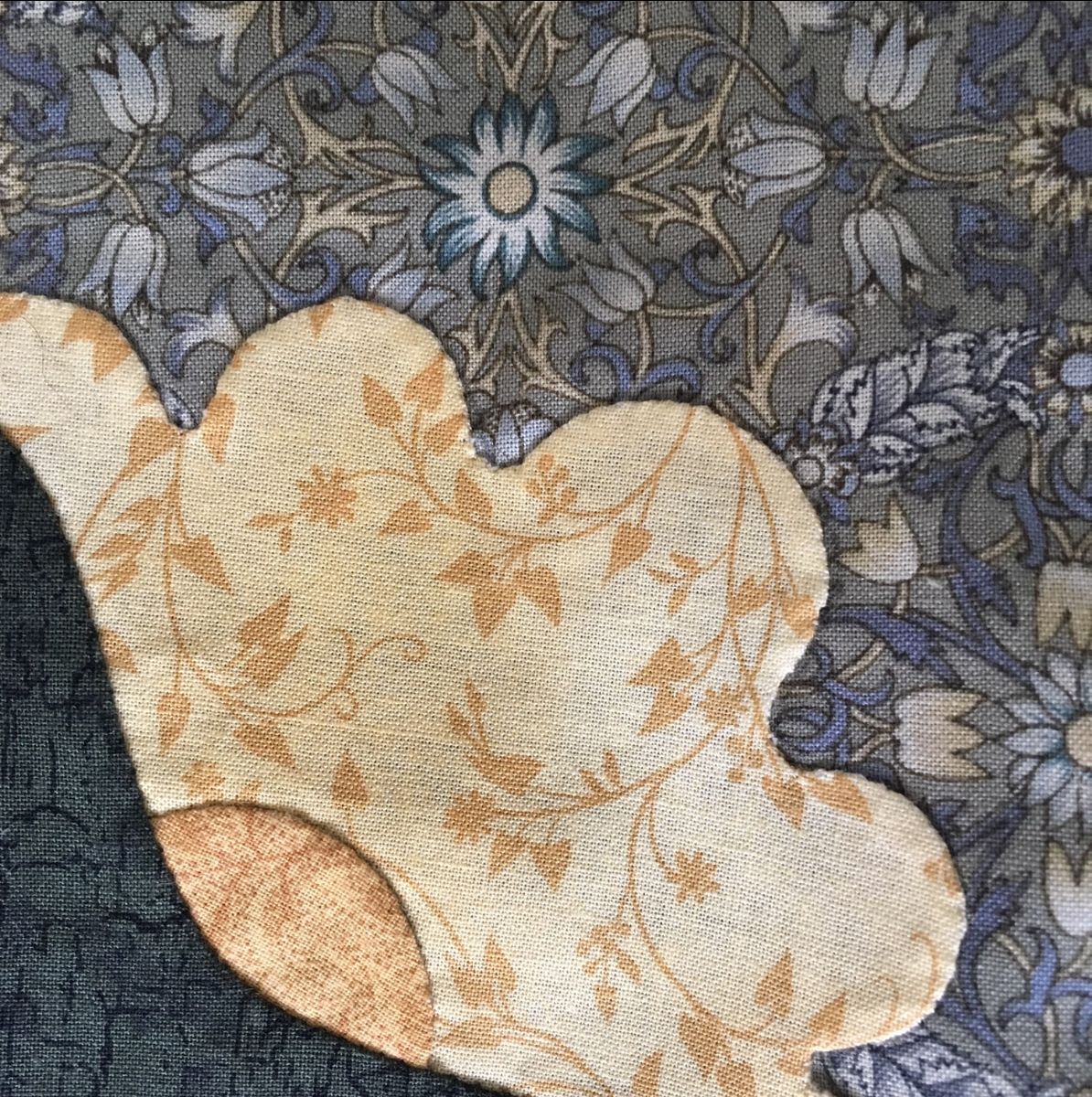 Though I only managed to finish five and a half out of 12 blocks...
Because something unexpected happened.
(you can read about that
HERE
)
After that, my stitches were no longer small, and they definitely weren't even.
So I put it away as my UFO (un-finished object).
Fast forwarding a few years, I started
THIS
business which becomes my entire life. Best thing ever, I might add. It was perfect.
But...

The Yellow Rose Quilt stayed hidden, unfinished.
It wasn't forgotten though. You see, during my massive
fabric destash
, it was one of the very few things I kept. Because I would still like to finish it for Mum, one day.
In fact, bringing the pieces out today for photos (so that I can tell you this story) got me thinking about some other ways to finish it...
I came across this beauty.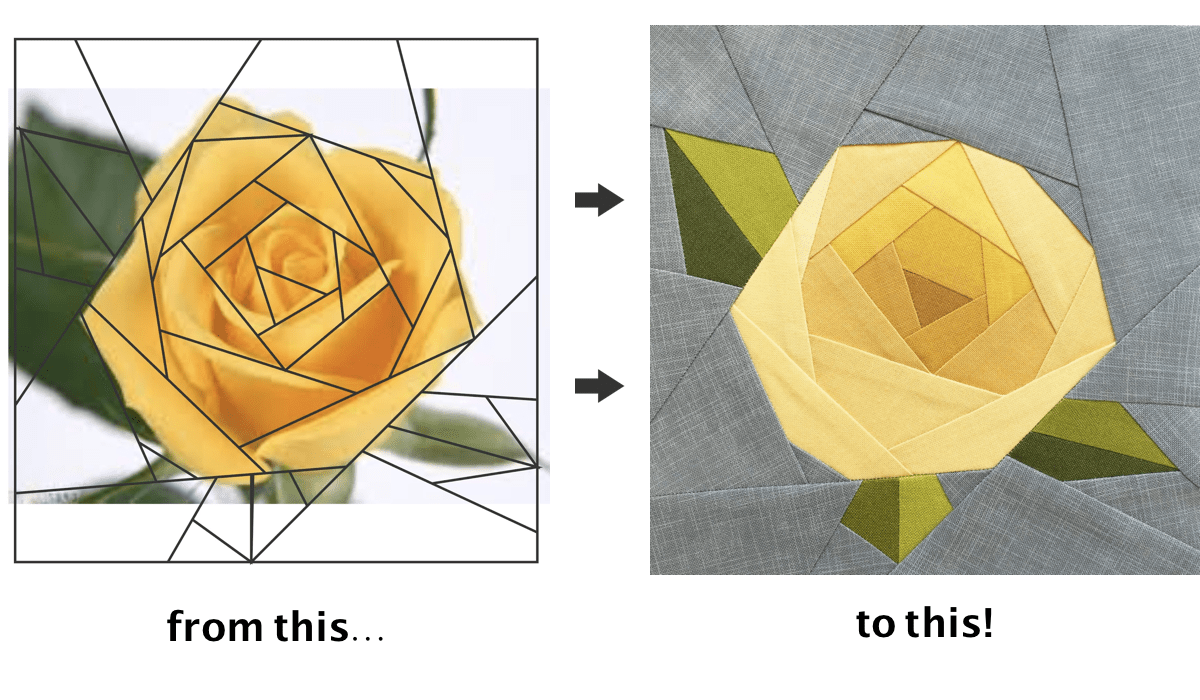 I got an image of a rose.... you can do this by hand (using a ruler and a pen) but I like using my computer programs so I decided to redraw the image in Corel Draw.
There are 4 separate sections to this pattern. When you piece them together, piece A and B sections first, then add C to AB section and D to AB section.
For this project I used the
Ombre by V and Co.
Moda fabric collection. I think it works great for this type of project.
I have been having such a great time meeting so many wonderful seamstresses from around the world... I decided to create a pattern and give it away.
Have fun and let me know how your design went by tagging me on INSTAGRAM #jitkadesignrose
Thanks... and happy sewing :)
-
Jitka

Thank you so, so much, Jitka...

It's Perfect :-)

Simply Click the blue button below to Download Yours...


Have
you
made anything ambitious for your mum?
Has your daughter / granddaughter made you anything special?
Simply Email Me to Share Your Story & UFO :-)


Happy Sewing!




xoxox



P.S. If you'd like to read the story of my non-sewing mum (and her crafting adventures), here it is...


Best yellow rose l have bought is called Happy Child
it has a divine perfume it is a David Austin rose but l love your attempts so far they are divine
xx
Ness

Dear Shelley,
Thank you for sharing the project and your story with us, I would love to make mum something special.
Sincerely,
Kylie

Hello Shelley,
Firstly, thank you for your lovely stories. I keep them and reread them sometimes.
Which brings me back to why I am writing , I often peruse Pinterest (do you ?) and spend too much time there.
I had seen a pattern and photo of a foundation pieced rose and tried to get the pattern to share with my Quilting group and easily got side-tracked.
So today I am just reading your messages again, and lo and behold here is that wonderful rose pattern !! Exactly what I have been looking for!!
My Mum loved roses too, she had bought one just after Dad died, called 'Just Joey'. Dad was Joe.
It would often flower on an anniversary.
Very Best regards,
Michelle xoxo

Hi Shelley,
Thank you so much for sharing your life story. What amazing strength and courage you have. So Good to know your life has now many blessings.
Thank you also for the free pattern, which I have now printed. I quite a novice at quilting!! Can you give any guide lines as to how I begin to try and start to make the rose square?? Such a beautiful rose too!!
Cordially,
Brenda Brooking.

Thank you for your kind words, Brenda!
I appreciate your patience, since it always takes me a while to reply when my inbox fill up....
To answer your question, that rose pattern is done with foundation paper piecing method.
Here are a couple of articles:
http://www.lovepatchworkandquilting.com/blog/foundation-paper-piece
https://www.simplesimonandco.com/2019/01/what-is-foundation-paper-piecing.html/
And a Video:
https://vimeo.com/339049151
Enjoy!
Thanks,
Shelley