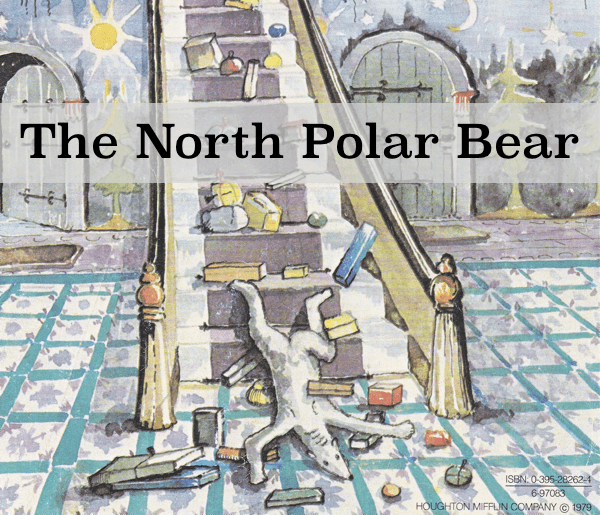 Story of The North Polar Bear
An un-conventional Christmas Tradition
My friend Autumn's parents divorced when they were in primary school.

That meant Christmas was divided between two households - so her mum didn't always get to have them over for Christmas Eve / Christmas Day. But Autumn's mum LOVED Christmas traditions.

Instead of feeling sad, she got creative.

Now let Autumn tell you the story herself....


My mother lived for the holidays – especially Christmas.

The idea of not going caroling on Christmas Eve with us, not sharing in our anticipation of Santa, and not seeing her children open their stockings on Christmas morning must have been unbearable.

So unbearable, in fact, that my mother created a new tradition - by getting help from Tolkien, and his book "The Father Christmas Letters".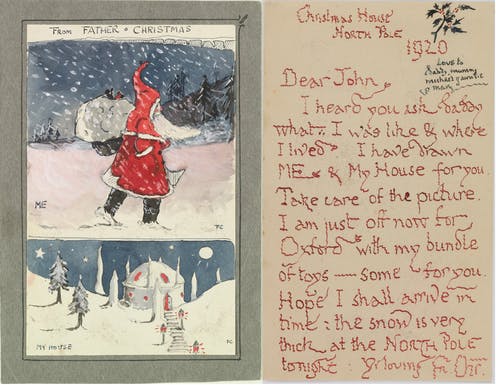 My mother read those letters to us on the evening of December 23rd. We were entranced by Father Christmas's stories. Because we met Tolkien's most epic character of all time...

The North Polar Bear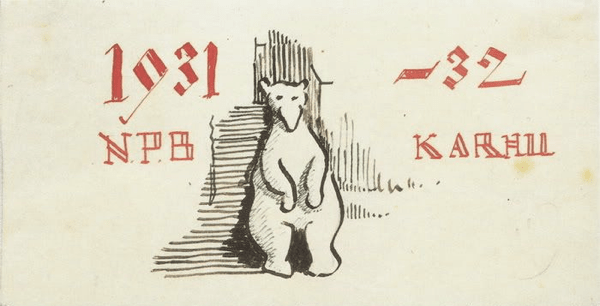 He was a polar bear who lived with Father Christmas at the North Pole. He liked to be "helpful" but often ended up causing a lot of accidents.

There was the time his hat blew on top of the North Pole (an actual pole), and the North Polar Bear rescued it…only to break the pole in half and crash through the roof of Father Christmas's house (which explained why some of the Tolkien children's parcels might have been a little squished).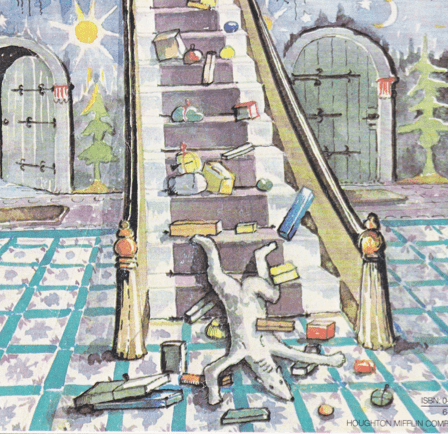 Then there was the time that the North Polar Bear insisted on carrying too many presents down the stairs. He fell, of course, and that's why some of the presents were smashed that year. We shrieked and laughed over his antics.

The North Polar Bear wasn't just comedic, however. We held our breath as he heroically beat back a goblin invasion two years in a row, killing "millions and billions" of the nasty, rat-like creatures that attempted to steal all the Christmas presents.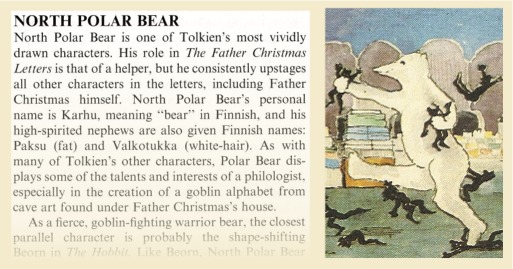 When my mother finished the letters, we trooped down to the big Christmas tree on the mall. Much to my older siblings' embarrassment, we lit candles and sang a few songs. Then it was back to her place…

…only to find a magical transformation had occurred.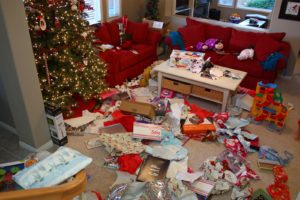 Piles of Christmas candy were scattered around the living room. Presents peeked out of our stuffed stockings. And a note, written in red pen and very shaky handwriting, had been left by the North Polar Bear...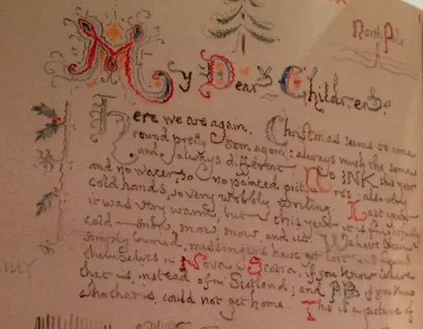 Filled with misspellings, the note informed us that we had been so good that he, the North Polar Bear himself, had been moved to visit us early.

He had scattered "millions and billions" of candies and brought out the presents that our mother and stepfather had been saving for Christmas Day.

My mother moaned over the mess, but we were thrilled.

The North Polar Bear returned every year. If my mother didn't have her kids on Christmas, the North Polar Bear would visit a few days before Christmas while we were out of the house.

The North Polar Bear always left a note, threw chocolate everywhere, and brought out our gifts early. If my mother had her kids for Christmas, the bear would visit on Christmas Eve, leaving his trademark mess of candy behind, along with the regular gifts from Santa.

- by Autumn, The North Polar Bear


The North Polar Bear visited other households too...

I was completely captivated by the illustrated letters Tolkien wrote in Father Christmas' shaky script, for his children every Christmas from 1920 to 1939.
I made up my mind that the following year my own kids would begin receiving similar letters from Father Christmas, now known as Santa Claus.
My letters came from Tolkien's version of the North Pole, and reprised many of the same themes and characters — including Santa's hapless sidekick North Polar Bear, who was always causing some kind of calamity.
But they also contained personal messages to my kids, such as the time they were told that North Polar Bear had picked out a kitten for them from a litter born at the North Pole.
-
Sara E Skinner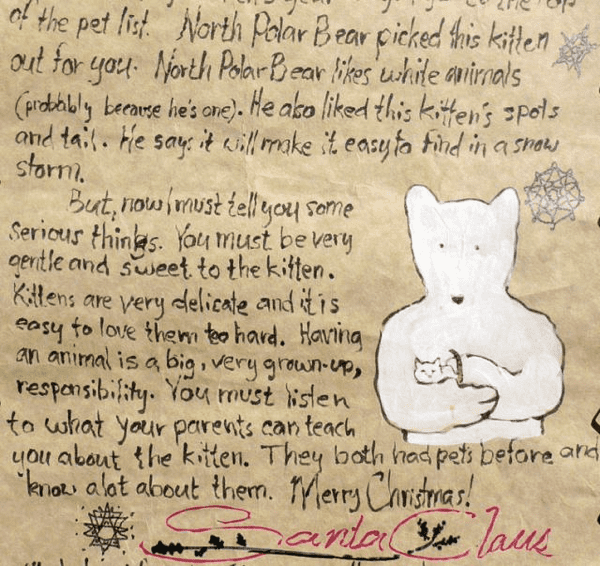 How lovely are these letters (and the creative minds behind them)?

All I can think of adding is...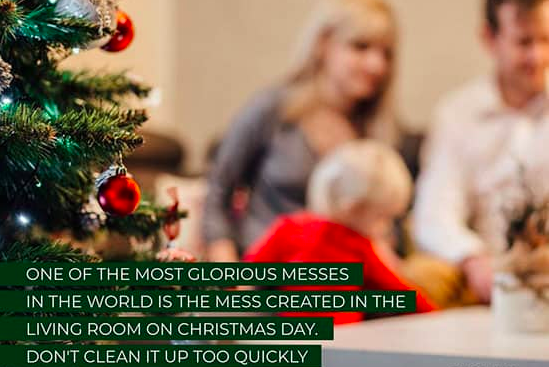 Have you got any un-conventional Christmas traditions?

Better still - do you have any sewing related Christmas stories?

(Here's mine).


Simply Email Me & Share Your story with our fellow readers :-)

I just want to say a big THANKYOU for your North Polar Bear article.
As someone who has worked in family law and seen the heartache at Christmas time, I thought it was very insightful.
I have onsent it to my sister, a family law solicitor, and she loved it too. She has saved it to share with some of her clients.
And your final note about the Christmas mess was the perfect end. Thanks and best wishes for 2019.
Susanne

Thank you for all your lovely little yarns and this time sharing your precious time with your lovely, hard working Grandma ..
I'm sure you reminded many of us of those simpler, fondly remembered times with someone special and how they influenced our lives. So sad you didn't say goodbye to your Grandma but you honour her now with your work and demeanour and the lovely impression you gave us of a hard working and good Lady.
Your friend Autumn's story and her love of Tolkein's stories was special also.
I wish you and yours a safe and very happy Christmas followed by a fulfilling new year.
Looking forward to enjoying and learning and shopping from your website along with all your like-minded followers.
Kindest regards, Margaret, Perth, WA

Thanks Shelley,
What a beautiful story. Sharing with my Tolkien fans family.
Judy

I would have loved something like these when my husband and I split up and lived in separate states.
As a teacher some parents could use this inspiration too so I've shared this with schools - hopefully it's useful to all.
Thanks, Cheryl

Dear Shelley,
Thank you for sharing this heart-warming newsletter/tradition (I hope to start my own tradition in the future); wishing you a very Merry Christmas and many blessings & happiness for 2019. It is a pleasure to read the inspiration you share with us throughout the year. Have a wonderful week!
Sincerely,
Kylie Turner