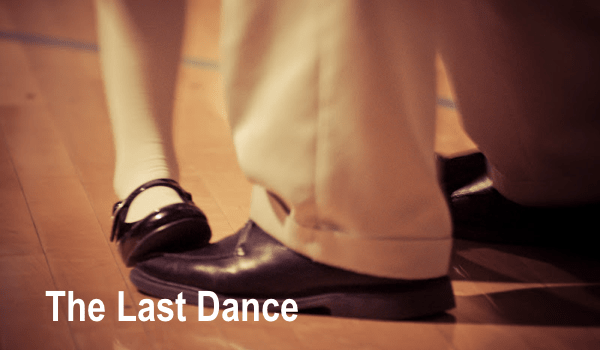 The Last Dance with Dad - a (non-sewing) Father Story
The Last Dance with Dad
a (non-sewing) Father Story

The phone rang, it was my friend, M.
"It's my Dad. He's gone. You had his last dance."

This happened years ago, but this moment to me seems just as vivid now as that day. So surreal. So sudden. So utterly unbelievable.
Growing up in suburban Melbourne...

Us immigrant kids tend to stick together - because mortadella sandwiches and rice dumplings were teased equally in school yards.

My parents worked long hours, so instead of going home to an empty house, I often went home with my Mediterranean friends after school.

In a way, I grew up in kitchens where humble spuds magically turned into gnocchi, homemade salami hung from rafters, and occasions were celebrated with whole lamb spit large enough to feed a village.

I knew Mediterranean cuisines better than my own and it was home for a lost little Asian girl trying to find her place in the world.

M's family was one of these homes to me.

M's father was a butcher. He was a serious man with stiff upper lip and pretty strict with us kids. I didn't remember seeing him smile.

M loved to push his boundaries just to get a reaction - any reaction.

M's sisters and I would watch quietly from the sideline holding our breaths - because one just didn't know where the provocation would lead. We were secretly frightened and entertained at the same time.

Then one day, M's Dad had a stroke.

By the time he got out of the hospital, M's dad was a changed man.

He would join our banters, crack dad jokes, and took real interests in our daily adventures. I noticed for the first time that he had dimples.

One evening, when M and I were getting ready to go out dancing, her dad appeared out of nowhere...

"Can I join you? I feel like dancing too."

He came along and we had a lot of fun. He was one of us that night and I never knew he could dance. He went around and had a dance with everyone, with me being the last.

Then he said he was ready to go home. No, carry on. The night was still young and we shouldn't stop for his sake, he insisted. So we stayed and partied on - as you do when you were teenagers.

Then in the morning I got that call...

"It's my Dad. He's gone. You had his last dance."

In broken sentences, M went on to tell me that Dad went to sleep happy, still humming. And he never woke up.

I grieved with the whole family. Though everyone were comforted knowing he was happy in his last moments - filled with music and laughters - surrounded by loved ones.

Years later, M and I often spoke of her dad's life at this time - how the changes after surviving his stroke brought the whole family closer - all from what seemed like a disaster at the time.

Yet he must have somehow known...

That he was on borrowed time, and that it was up to him what he would do with that knowledge....

We were immensely grateful that he chose to shared those fleeting moments with us - where the BEST memories were created. What an honour!

Which brought me to this lovely little quote:

"None of us are getting out of here alive, so please stop treating yourself like an after thought.
Eat the delicious food.
Walk in the sunshine.
Jump in the ocean.
Say the truth that you're carrying in your heart like hidden treasure.
Be Silly. Be Kind. Be Weird.
There's no time for anything else."
-
Nanea Hoffman
Life can be unpredictable. No one knows what's in store for us.... so there's no point worrying :-)

Make time to do more of what makes you happy - preferably in the companies of those you love...

Because there's simply no time for anything else.



With All My Love, Happy Sewing!




xoxox


P.S. I wrote a little something about my own Dad too...

P.P.S. Do You Have a Dad Story to Share?

Simply email me & Tell me all about it :-)



No Father's Day story from me.
I just needed to say Thank you for sharing this one with us.
Truly a beautiful memory, and food for thought.
Thank you Shelley.
Kind regards, Jan

Beautiful, thank you for sharing.
-- Jeneane

Hi Shelley,
Wonderful story and memories.
-- Rhonda

Beautiful! Thank you for sharing.
Best wishes,
ANNE TYSON

Thank you for the lovely story Shelley.
I lost my Dad not long after father's day in 1998. Just like yesterday.
I sang him our childhood song, and I know he knew it was me.
Judy

My last dance with my dad was at my wedding.
I can remember how how he held me up that day. How he smiled. How he was so proud of his little girl.
But I didn't know how sick he was. Next day he was in ICU. His heart was sick. I was 25.
At the age of 47 I smiled. I held him up. I was so proud of him.
You see the day after my 47th birthday he died and he was still looking after me.
We had our very last dance that day.
Miranda

Hi Shelley thank you so much for sharing these 2 besutiful stories.
The wonky bookcase made me smile. My Darling Dad was a french polishing craftsman but the handyman jobs were not terrific, there was a wonky little tv cabinet for the old black & white 12"tv that he watched the cricket on, also a wonky footstool.
Regarding his french polishing, he worked 5 days a week for his boss, on weekends there was always a project from family or friends being worked on in the shed. As a little girl, i would stand & watch him, he always whistled while he worked & that is now something i don't hear much anymore. I remember watching him polishing a table, it was so beautiful & i was sure i could have put my arm in that table top. I don't know how he achieved such depth. What is called french polishing now comes out of a soray gun. That's just sad.
Another special memory is, at the drop of a hat at parties, Dad would sing with a broom as the microphone. On Sunday, I will be playing the origonal Ol' Man River by Paul Robeson from Showboat. Herbert Santwyk, 1907 - 1986



With Love & Hugs to all of the Daddy's little girls out there, Gayle

Hello Shelly,
Thank you for the story it was so sweet.
I know first hand just how your friend and yourself
are feeling. You see I just had my own Dad pass away on the 21st of July. I loved my Daddy so much that I just don't know what to do with the pain of loosing him.
I just turned 50 this year my dad was only 80. Myself and my four elder brothers were there with my dad until he took his last breath. I know I have to treasure the last words he spoke to me that night and really hold them in my heart.
lol I can say is Dads are amazing I know my dad was my very first hero.
Hugs to you
Karen xo

Thank you for sharing two beautiful stories x
Carolyn

Shelley I love your little life stories that you put up sometimes, they touch my heart and make me think, good on you.
Regards
Maureen Connery

Hi Shelley...
Thank you for sharing your 'Last Dance With Dad' story...
It brought back so many memories of my dad... Enough that I could write a book!
My dad was the disciplinarian in our family and that was pretty awful most of the time... But he had a really soft side as well... He loved to sing and we would have wonderful nights around the kitchen fire where I sat on his knee and he would sing... My favourite was 'Old Shep'... I can still hear his beautiful tenor voice singing that haunting old song...
I grew up on farm outside Seymour in Victoria where we raised mostly sheep with enough cows to provide for our family needs and to also bring in a little extra income for our family...
One day dad came in for lunch and told mum how he'd had to shoot a wedge tailed eagle that he caught taking one of our lambs... I was curious and wanted to know what the bird looked like... After lunch dad took me on his horse to the top paddock where the new lambs and their mothers were kept and showed me the massive creature that to this day holds such a special place in my heart...
He let me touch the beautiful plumage as he dug a hole to bury the bird and told me how he hated to kill one of God's most beautiful creations... He explained that the lambs were important to our livelihood because he could sell them to buy things we didn't grow but he couldn't sell the eagle...
For all his harshness, that day I watched my father cry as he laid that bird in the ground and tamped the earth around it... There was silence between us as we rode back down the mountain where dad dropped me at the gate and went on to the wood shed...
It was years later that I learned that the woodshed was where dad went to work out his frustrations...
Sometimes I wish I was back on that farm with it's endless supply of logs to chop...
Christine

Beautiful Shelley.
We should all live each day as if it was our last, with kindness, understanding and love.
Sharon WA

My Dad story
My Dad was a hard working man. Never told us "I love you"
When I was out of home travelling in some of the most remote parts of Australia I'd ring when I could and write letters every week always closing with I love you. Mum replied to the letters
He either say ok or just hang up..
Well that was it!!!!
I bought him the movie "Ghost" told him to watch it. Then rang him.
At the conclusion of our call I ended with I love you. ......he replied "Ditto".
Now we have our "thing", I think Mum is jealous ha ha ha. I still ring him every week when I can and have made sure that every waking moment I tell my kids that I love them. My husband cant say it either.... maybe he should watch Ghost as well.
God Bless you Shelley
Kind regards
Tara-Lee Williams

Hello, we wanted to write to say thank you for the prompt delivery of the machine we recently bought from you. It was purchased as a machine for both my son and I to learn on.
Having it so quickly has meant that my son has been able to make (with a lot of help from a friend who can already sew!) his father a pair of boxer shorts for Father's Day this Sunday.
Attached is a photo of my son, Aden, with his creation!
Thanks again.
Kind regards
Jaime and Aden Young