Sewing for Bushfire Affected Wildlife

Our Bush Babies Need You - and Your Sewing Skills.
It's been devastating watching our beautiful bushland go up in flames. My heart goes out to all who are affected. No words can describe the sheer terror for all - not just for the people, but for our wildlife as well.

It hit home when I received a call for help...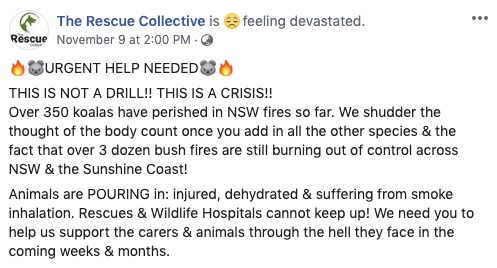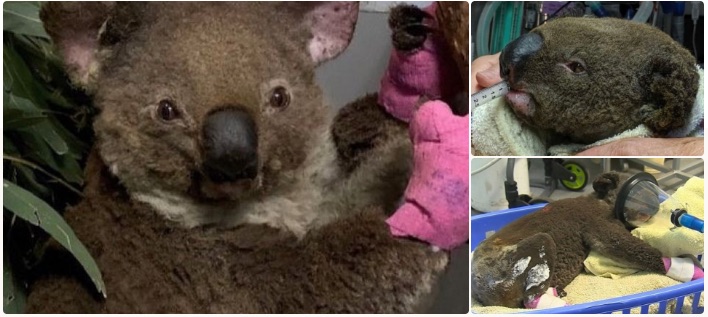 Can you help?

Keep reading for more details & patterns...

Pouches of All Sizes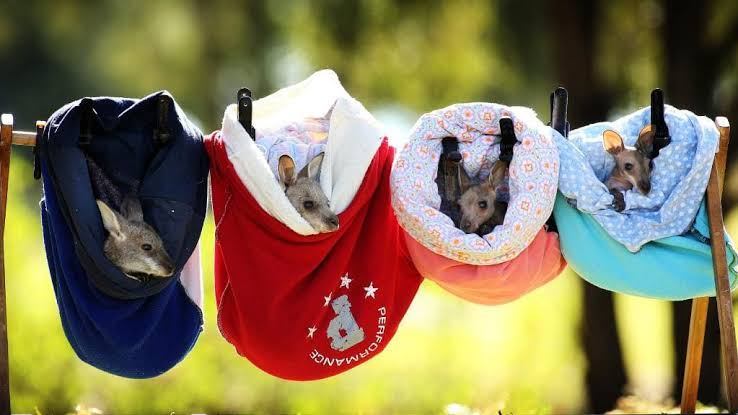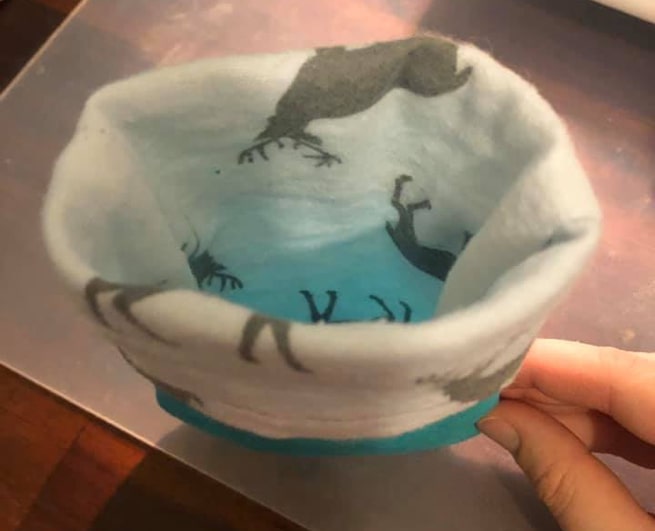 These pouches will keep the orphaned marsupials feel safe and snug - while they're being cared for by volunteers.

The pouches are sewn in a 4:3 proportion with rounded bottom
corners that each should take up about 1/3 to 3/5 of the total
bottom width.

All sizes are welcome - so go through your scraps and remnants first to see what your can make with the least amount of wastage.

The chart is shown in cm (not inches).
Your measurements don't need to be exact, just proportionate. Liners should be about 5cm longer than the pouch so they fold over the top easily.
Good to Know
The pouches consist of TWO layers: the Outer Pouch and the Liners.
Liners should be 100% natural fibres: cotton, bamboo, linen – no polyester, synthetics or fabrics that have plastic or glitter. Any print is fine!
Breathability and softness are the priority: think about what you would put next to a baby's bare skin.
Wool & Calico should only be used for outer pouches.
Use the softest fabrics possible for liners. Flannelette, light cotton, or stretchy t-shirt jersey are recommended.
Each outer pouch needs 2-3 liners for easier washing.
Outer pouches can be anything from light fabrics for summer to warmer fleeces and wool for winter.
Please use French Seam instead of overlocking. More details below.
Ready to Get Sewing?

Here's the pattern to download: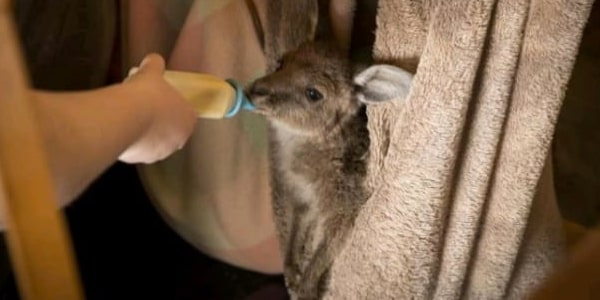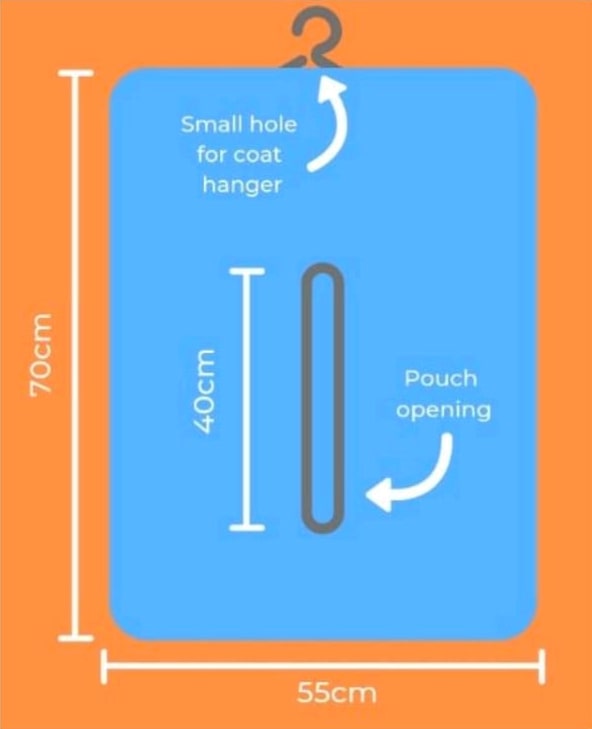 Hanging pouches make the perfect home for orphaned joeys as they are able to have their familiar suspended security of being in mum's pouch.

This nifty design allows the pouch to be hung with any coat hanger!

Dimension is approximate. Generally the larger the better as multiple joeys may be in one hanging pouch.

You can use: blankets, towels, polar fleece etc. You can upcycle old fabric as long as it is clean.

***UPDATE*** a different style available. See here.

Here's your pattern...

Download Hanging Pouch Pattern Now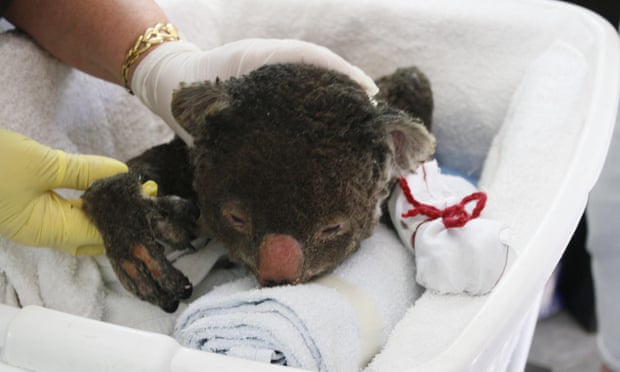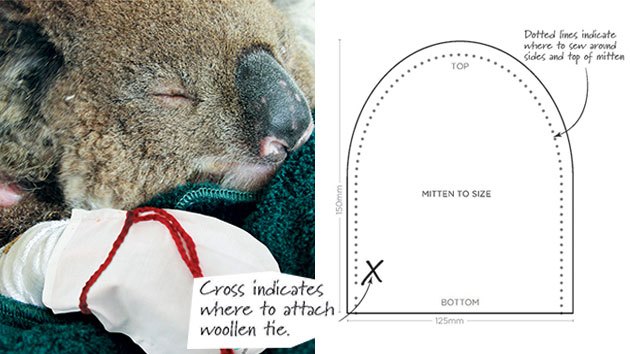 Injured koalas typically come into care with severe burns on their paws, caused by contact with burning trees or from fleeing across fire grounds.

Just like any burns victim, koalas' dressings need changing daily, so a constant supply of mittens is needed by wildlife carers. Some burned koalas can take up to a year to fully recover. The poor things.

Please use clean, 100% cotton fabric. Patchwork cotton is ideal.

Even though the pattern didn't mention it, the mitten should be French seamed instead of simply overlocked - because their claws might catch the overlocking stitches (ouch).

Ready to make some mittens?

Here's your pattern...

Download Koala Mitten Pattern Now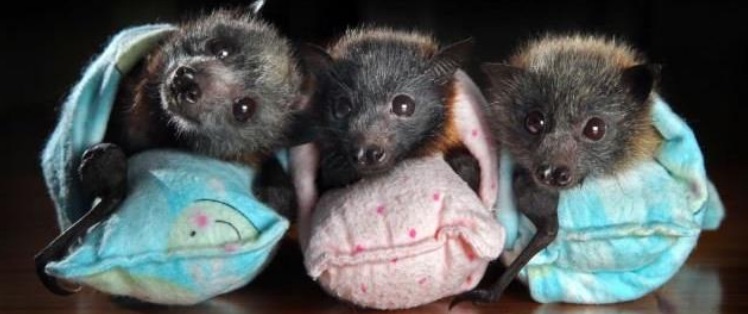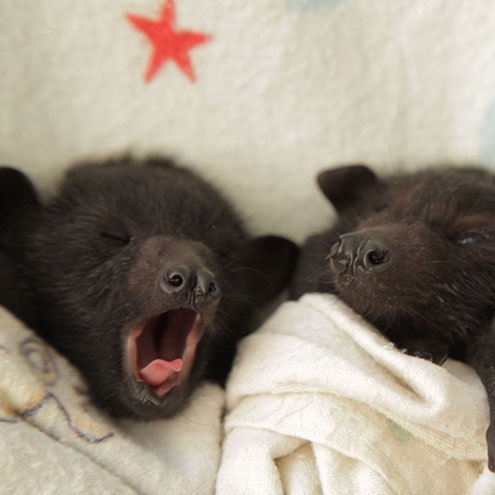 Bat wraps simulate mum's wings and are used by carers to wrap injured and orphaned bats so they feel safe.

Use 100% flannelette fabric – new or old fabric / sheets will do as long as they are clean, but please make sure the flannelette is 100% cotton.

Here's a photo tutorial the shows you how to make Bat wraps.

This pattern included a small cushion though there are no buttons or Velcro as the wrap is simply rolled around the bat. The stuffing for the cushion can be new toy filling or filling from new and recycled (clean) pillows.

UPDATE: The rescuers received enough bat wraps with pillows. Now they needs FLAT ones. Just use the pattern without stuffing. Easy!


Ready to make some bat wraps?

Download pattern here (but do without the stuffing)...


This 6-min Video Shows You How to Make the Pouches...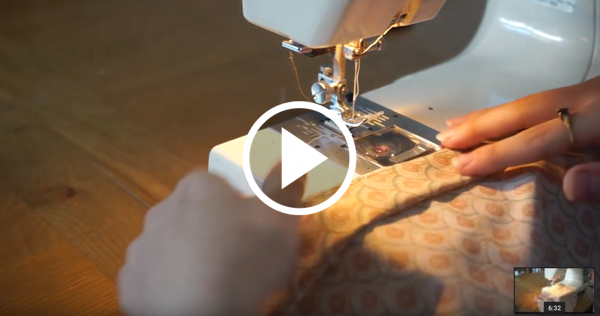 Remember: make liner & outter pouch separately - each outter pouch needs 2 - 3 liners. This is so the liners can be wahsed and changed more often.

These pouches are quick and easy to make. You can literally whizz them up in minutes once you get going...

Important Note Before You Sew...
Fabric

Inner Pouch, Koala Mittens & Bat Wraps need to be 100% cotton (flannel is good as long as it is 100% cotton). Patchwork cotton fabric is perfect but no glitters!

Polar Fleece is ok only for outside pouch. Calico is too rough for the animals so please avoid or use for the outer pouch only. Please avoid synthetic materials because they aren't breathable.

Fabrics can be second hand blankets, tote bags etc. but must be cleaned before being sewn.

Overlocked Seam vs. French Seams

An overlocker can only be used for the first set of seams but NOT for the final seams because the animals can get their claws stuck in the overlocked seams. Please use French seams - it's fast & easy, and you don't need an overlocker!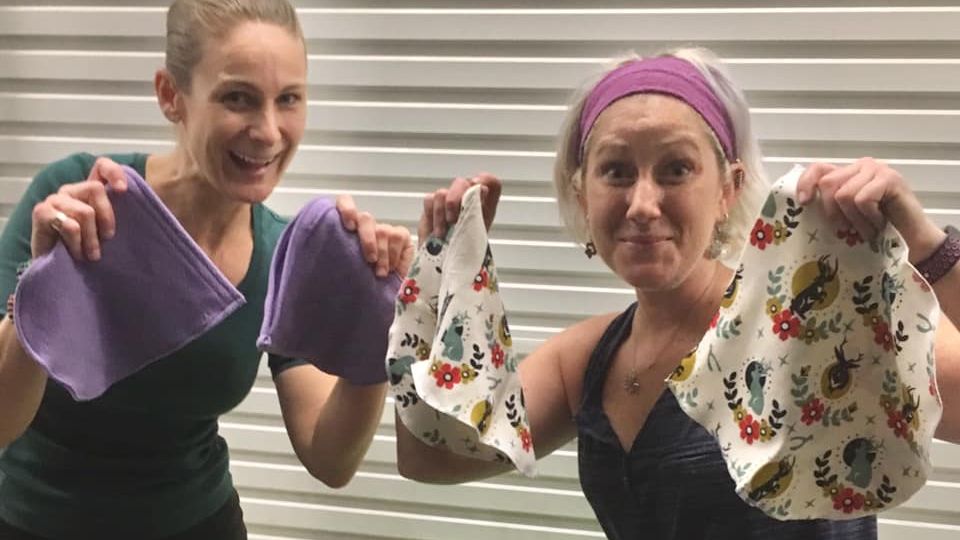 Hi all you pawsome crafters all over the country!

I only had a brief stopover at the The Rescue Collective HQ in Mount Gravatt, Brisbane, QLD... but OMG! ...
the squeals I heard could only mean someone had just unpacked something made with passion and love...

On behalf of Nicole, the team and the animals: THANK YOU!!!

And please keep up your great work!

- Max Smith
Finished? Here's Where to Send Them...
Please send to the below locations: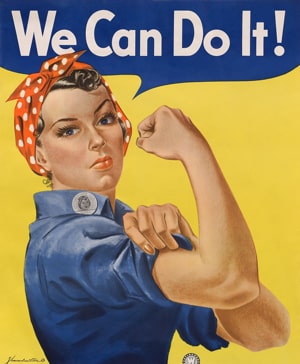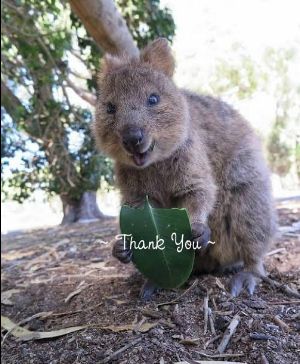 Appreciate your help!


Any questions, please contact the organisers directly - because they are in charge (you can join the guild too):

Animal Rescue Craft Guild




*** UPDATE ***

Joey pouches (especially hanging ones) are MOST needed.

Koala mittens & Bat Wraps with Pillows are NOT needed now.

Thank you - and please keep the Pouches coming!

P.S. Remember to send me a few photos before sending them off. I'd love to see what you've made!


Hi Shelley,
One flannelette bedsheet, some spare polar fleece and a torn pair of pyjama pants are now:
8 bat wraps
8 pairs of koala mittens
3 pouches with liners
A hanging Joey pouch
I will get them packed up and ready to send off now. Thanks for the info on how I can help.
Regards,
Cathryn Leigh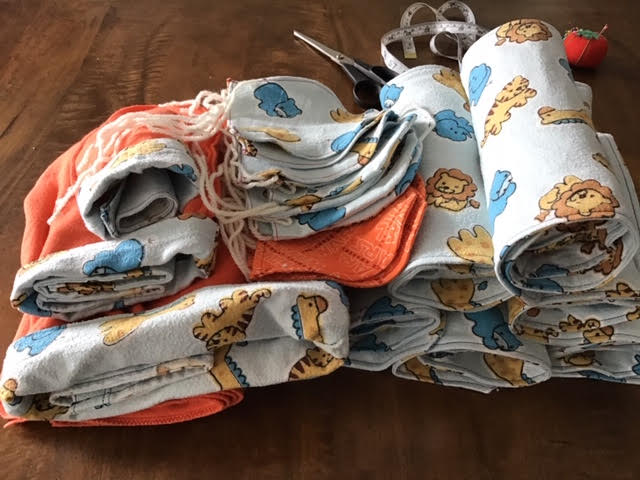 Hi Shelley.
Just a few pouches and some koala mittens for the poor orphaned and burned animals. They are on their way to the lady in Mt Gravatt. What a champ she is!!
Karen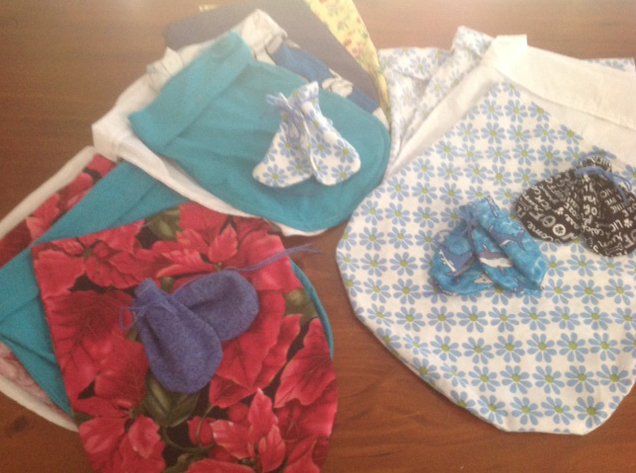 "Hi Shelley
I made these this weekend to send to NSW. Hope they are still able to use them.
Regards
Coby"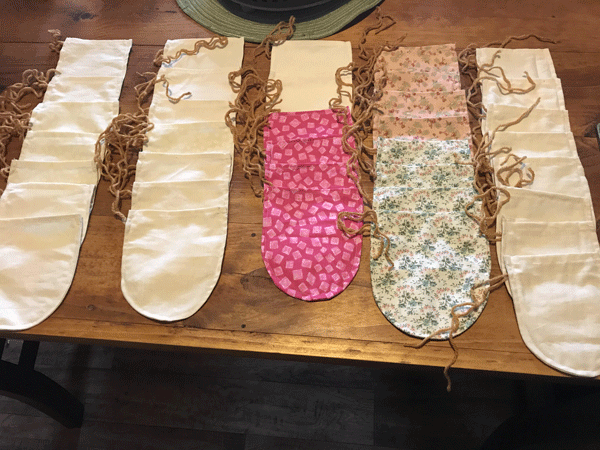 Hi Shelley
This week I was able to post a small but precious pack to one of the collection points.
I hope to be able to do more over the coming weeks as time permits.
Thanks for letting us know the need and how to participate!
Shirley-Anne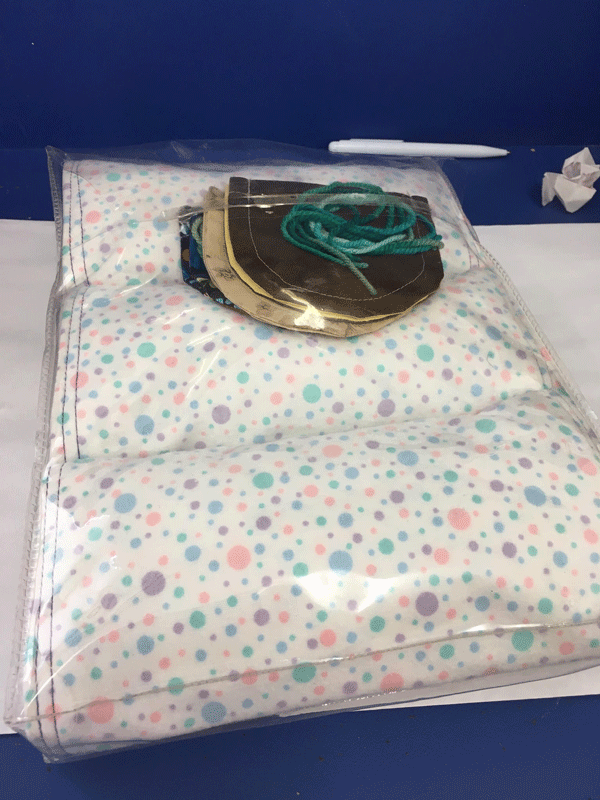 Hello Shelley,
Hope I am not too late. Have just finished 4 bat wraps and I have enough fabric to make 4 more. Will send the 4 that I have made. Here's a pic.
Maxine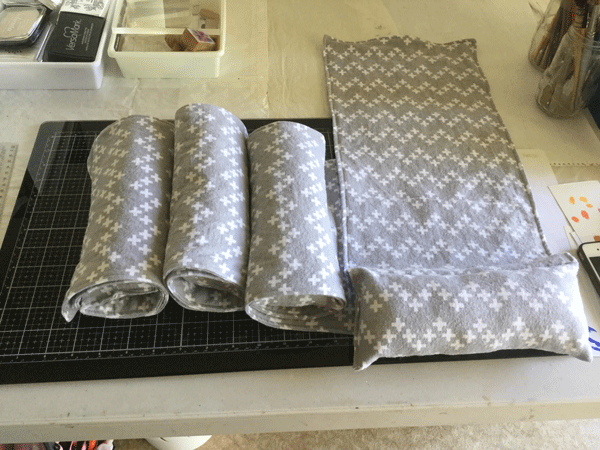 Here's my contribution. 2 large + 2 small hanging pouches, 20 possum pouches, 6 bat wraps, 30 koala mittens and 7 rugs. Di.
thanks :-)