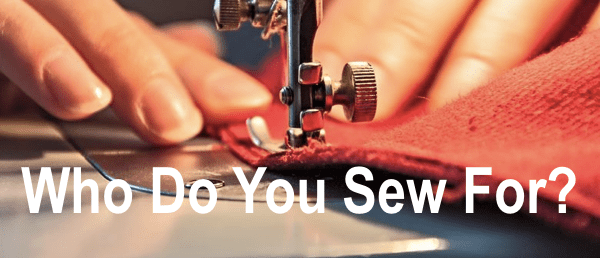 Who Do You Sew For?
Do You Sew for...

A. My Kids / Grand Kids / Fur Kids
B. Myself
C. Others...

Yes - you can choose more than one :-)


I'm asking because I'm really inspired by this lady...



And how much fun would it be - if we could turn artworks from little ones into something they could actually wear...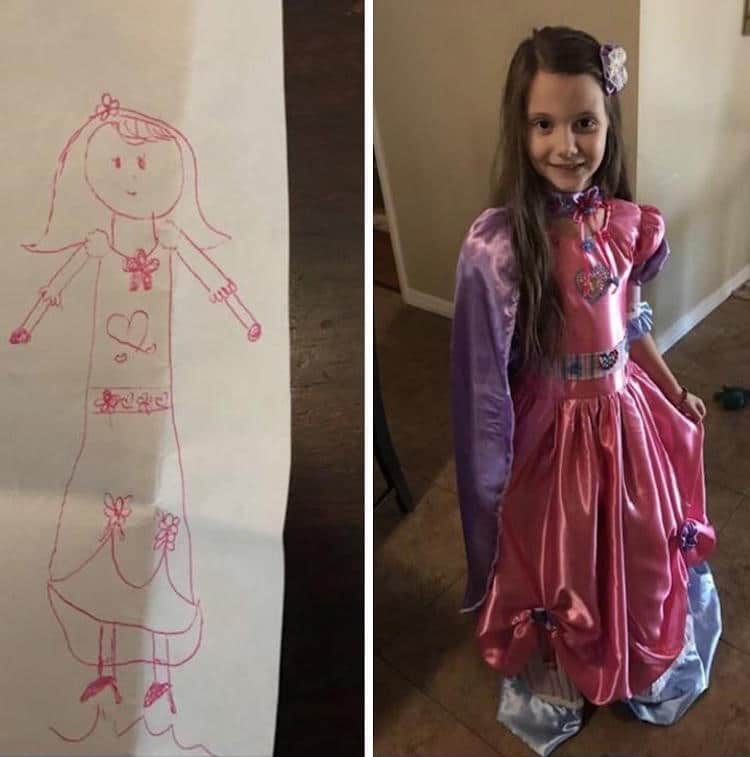 Or to take a nap on...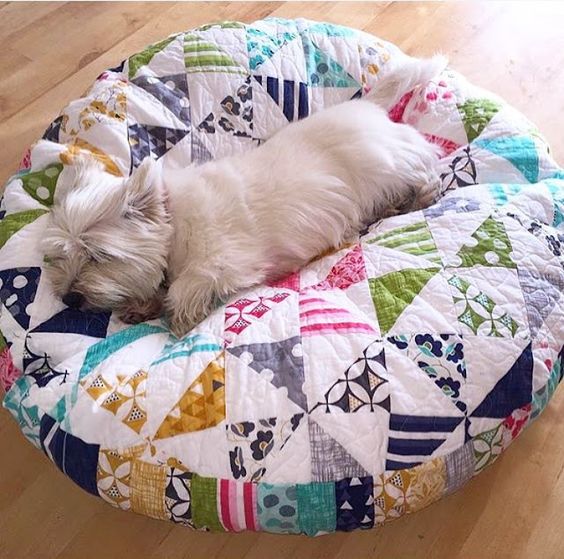 Isn't this pet bed fabulous?
I still have some of these fabric HERE .


Not to forget to sew for YOUrself.

We could all take a leaf out of Gertie's book :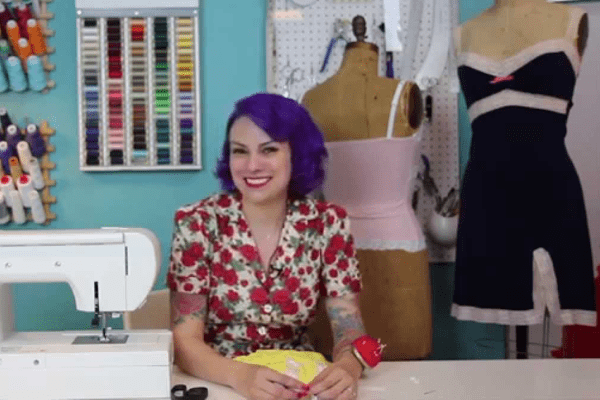 To make sure the dress you take time to make actually fits you - take a look at how I made my Carmen Miranda dress (so much work - but so much fun).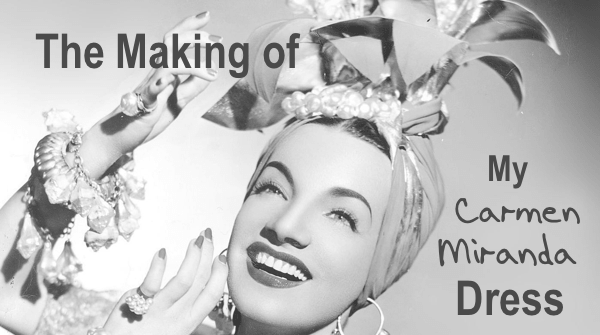 If you're in the mood to share...

Simply Email Me to tell me your story of who you sew for - and send me some photos please, because I'd LOVE to see your work :-)



Until Next Time, Happy Sewing!




xoxox



A
- Eunice B

Hi, i sew for myself mainly, and i like to make dresses for little girls.
I am a big girl so to get things in my size that i like is sometimes difficult.
Also liking vintage fashions is another reason to sew for me.
Here are some things i have made.
Robyn xx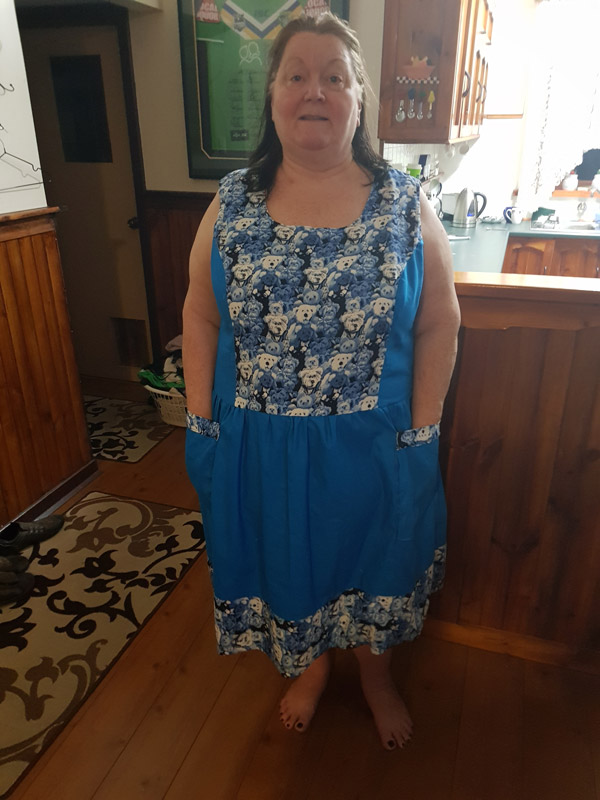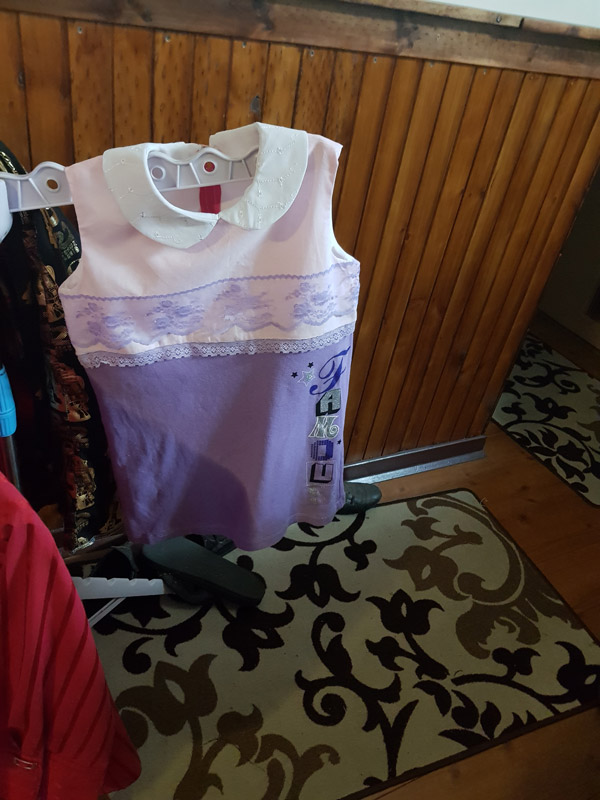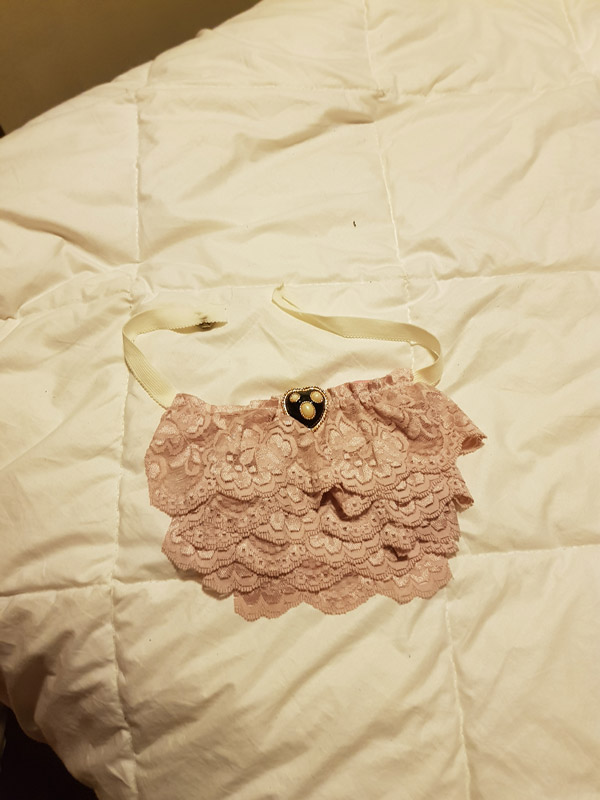 HI Shelley,
I sew all sorts of garments for all sorts of people as I find the challenge keeps me going. Attached are a couple of photos. (The comic outfit I copied was for my granddaughter as she wanted it for a school social. I put it on my model to photograh it but it looked super on her.)
Regards,
June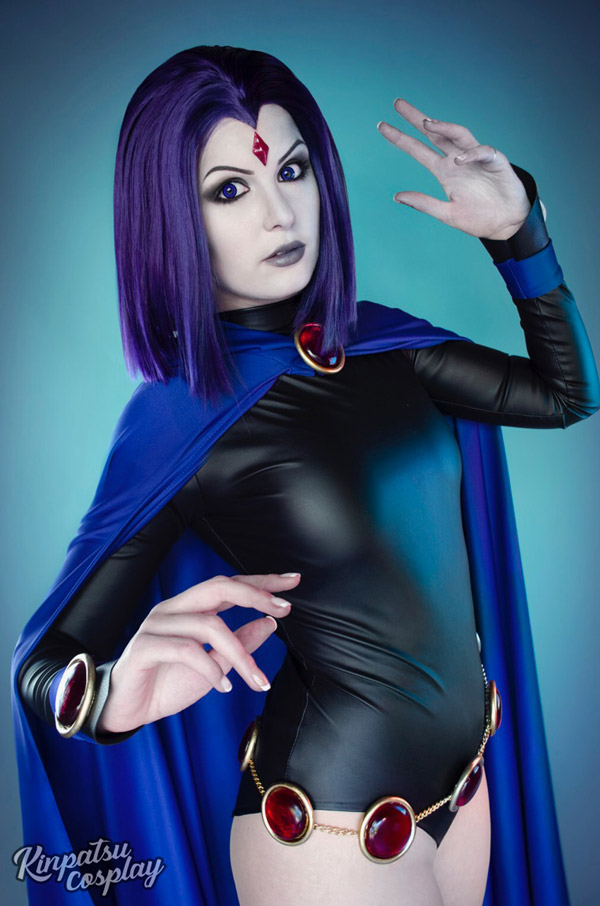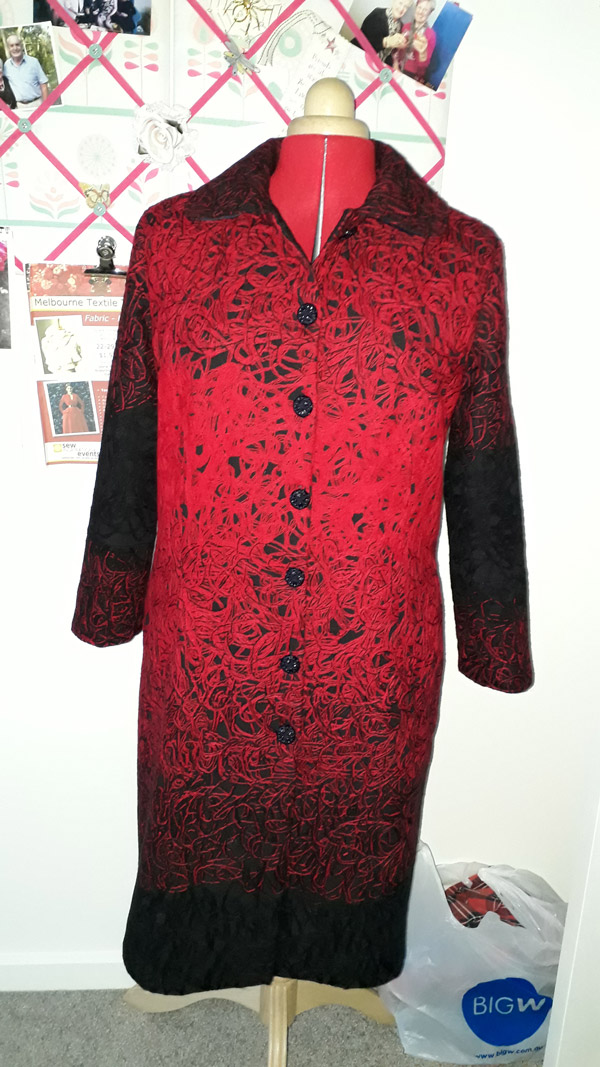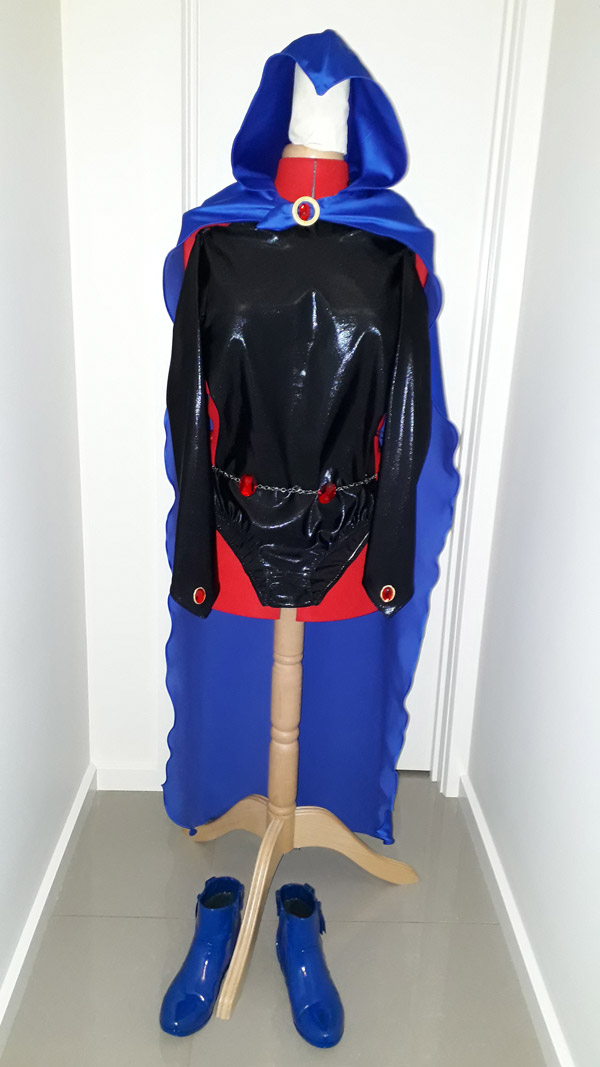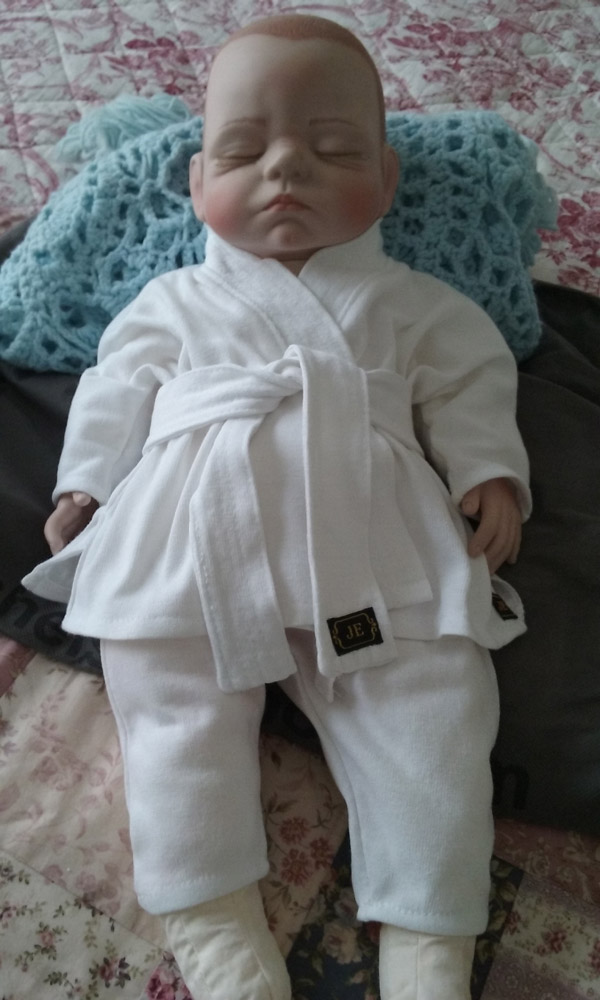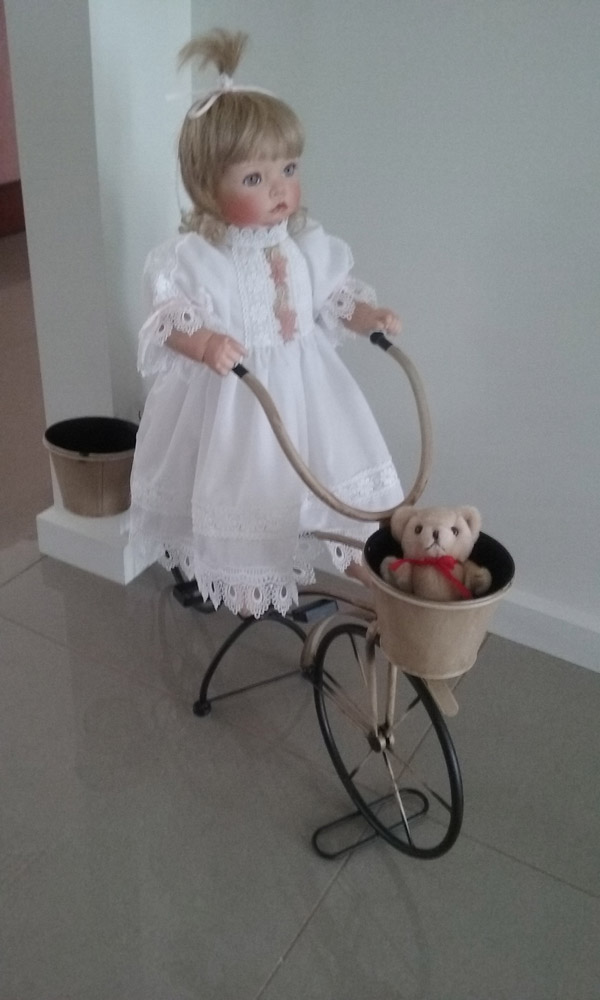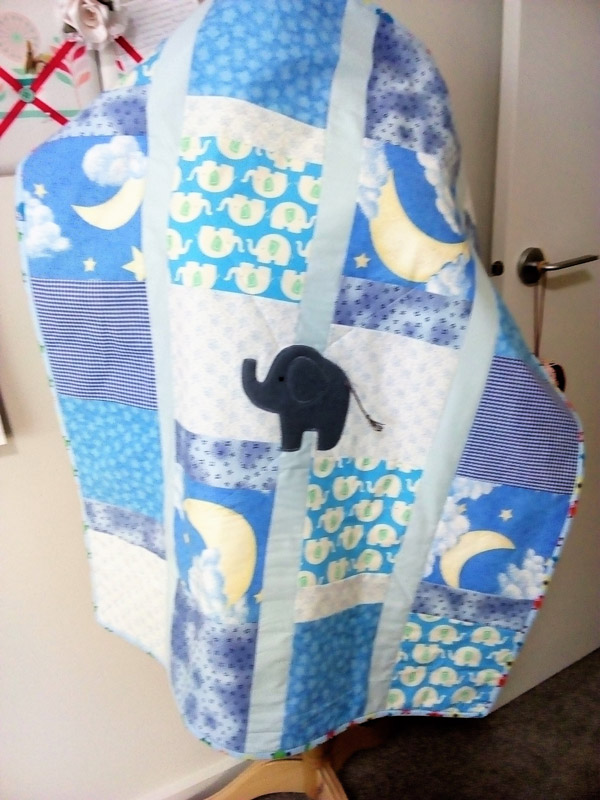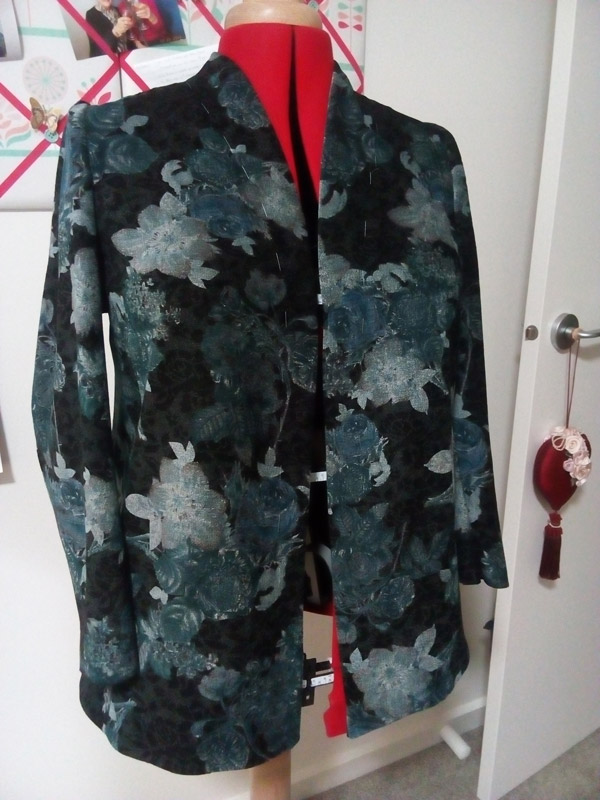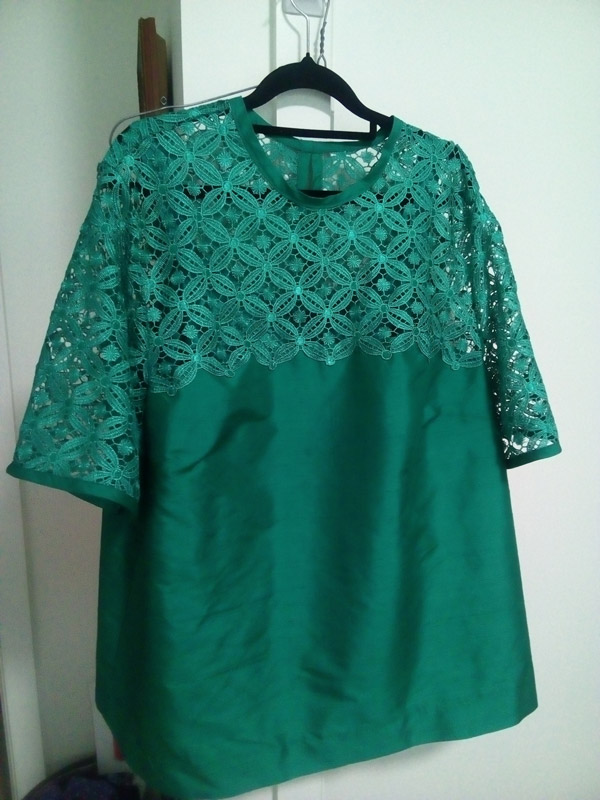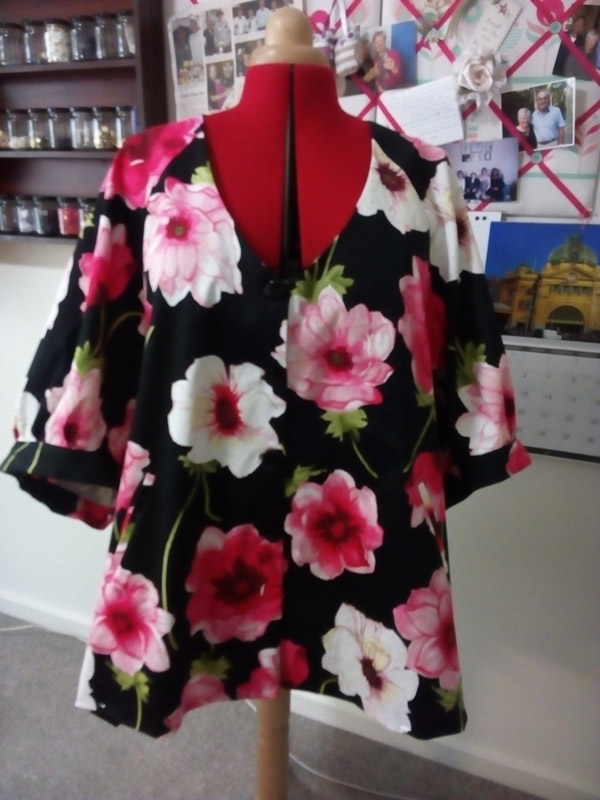 Myself. I have a couple of friend I sometimes make something for their birthday. Why?
- Kim

Hi Shelley,
A, B & C.
Here are some photos: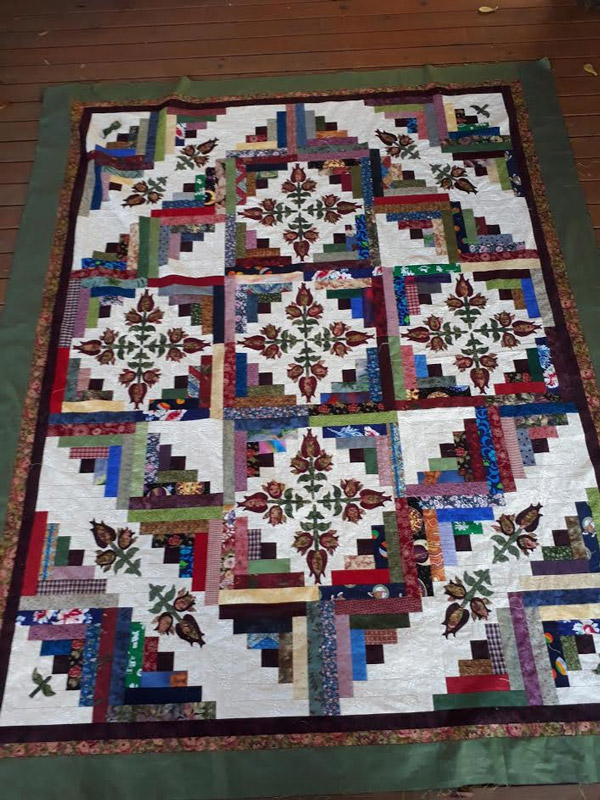 this one is for me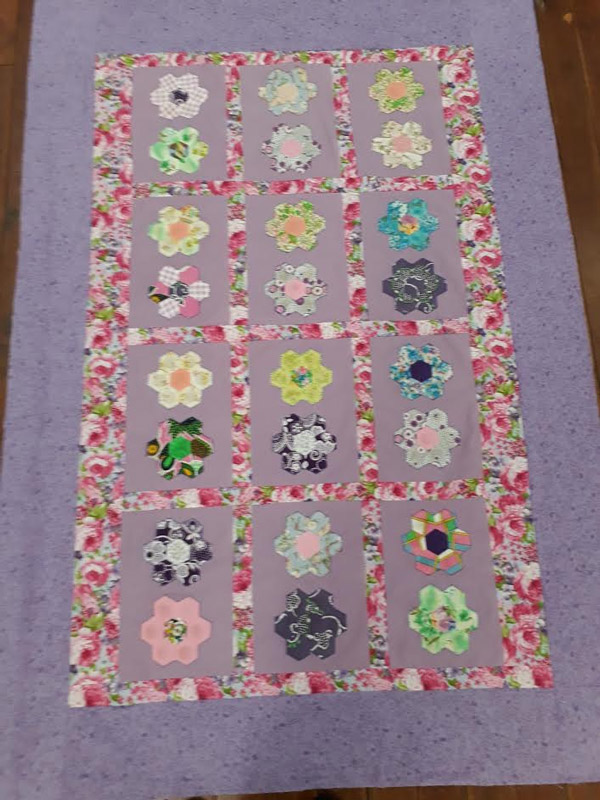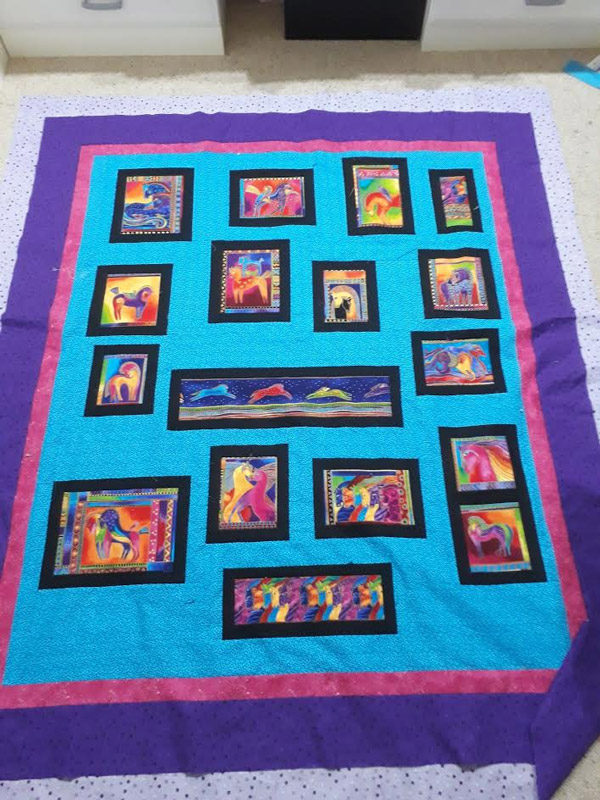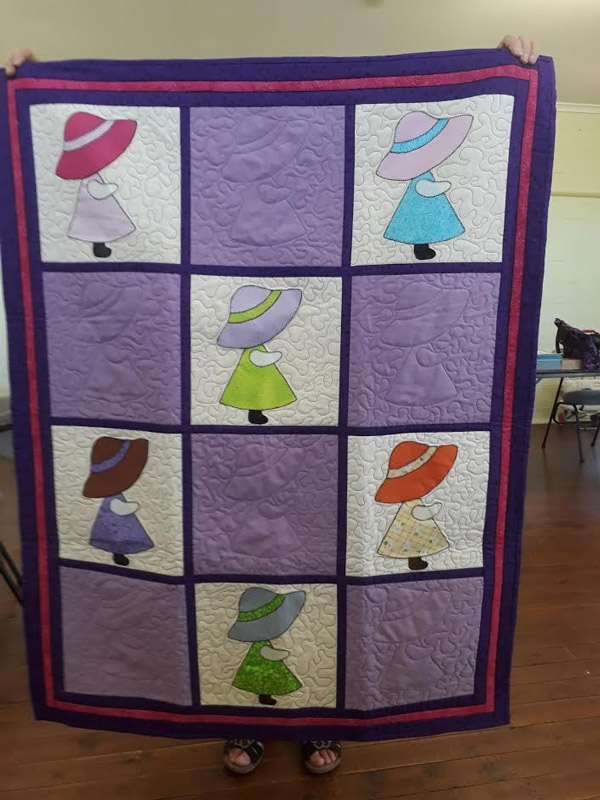 these ones are charity quilts using donated appliques, hexagonal and fabric
- Janelle T.

Hi Shelley!
I love to sew for my grand children.
These gowns I made for the girls to wear to my 60th birthday last year.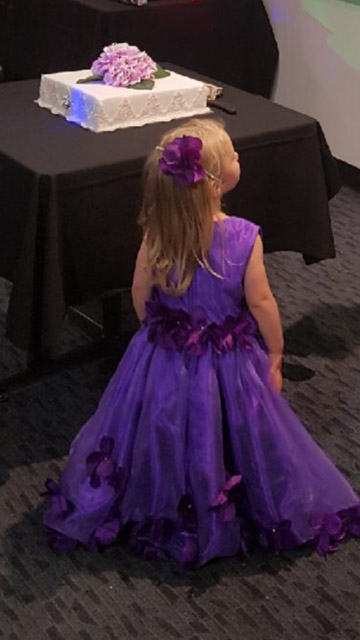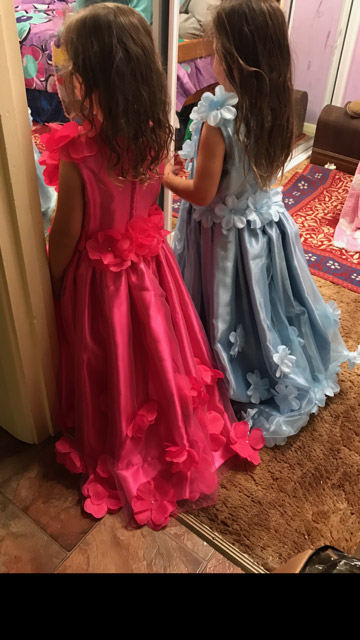 Regards,
Janene

I love to sew many varied projects but i really like to quilt different patterns for my family from small pieces (as attached) to large quilts
- Elaine T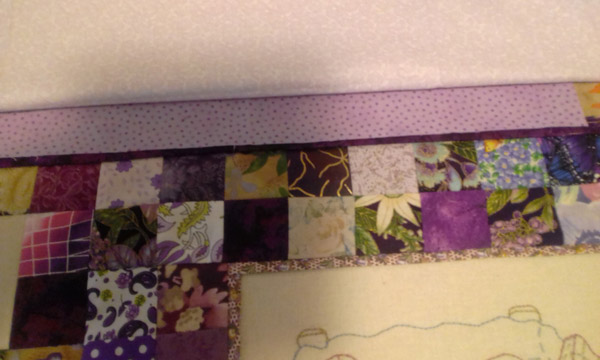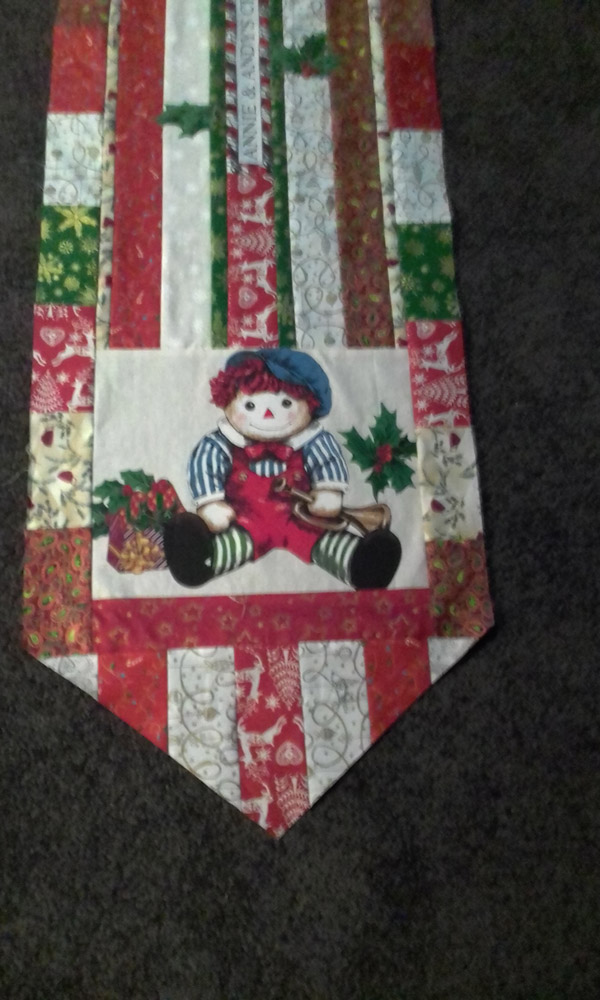 Hi Shelley,
I love to sew anything for my 3 gorgeous little granddaughters - dress up costumes, a cubby house, toys, pillows, doll beds and carriers etc .
My favourite projects however, have been their teddy quilts personalised with their names and birth details.
With the recent arrival of number 3, I'll need to get busy choosing fabric for her own quilt.
Love reading your stories, great work!
Cheers, Robyn H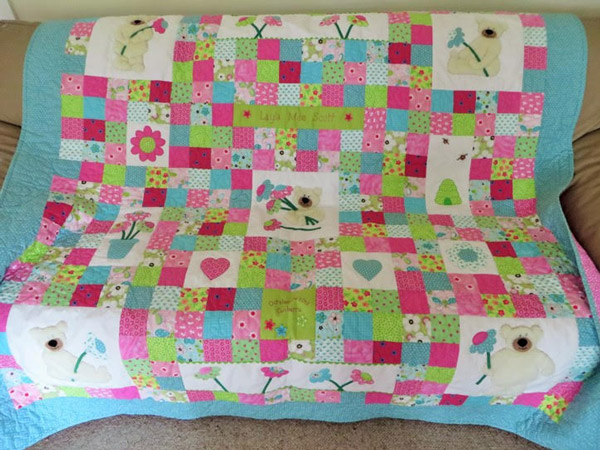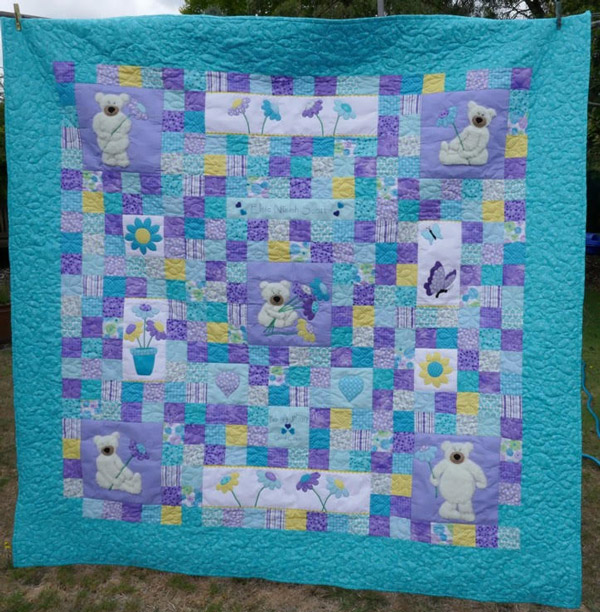 I sew for the animal welfare for them to sell in their shop, to help feed and care for the animal!
Regards Jean Moore

Hi Shelly
I sew for myself, kids, grandkids, friends, home and for markets.
I love scrappy projects, photos are of a chair I'm recovering, cushion & quilt for donation.
No pattern for any of these.
All on my new Janome DC 6050. Hope you enjoy my work.
- Maggie W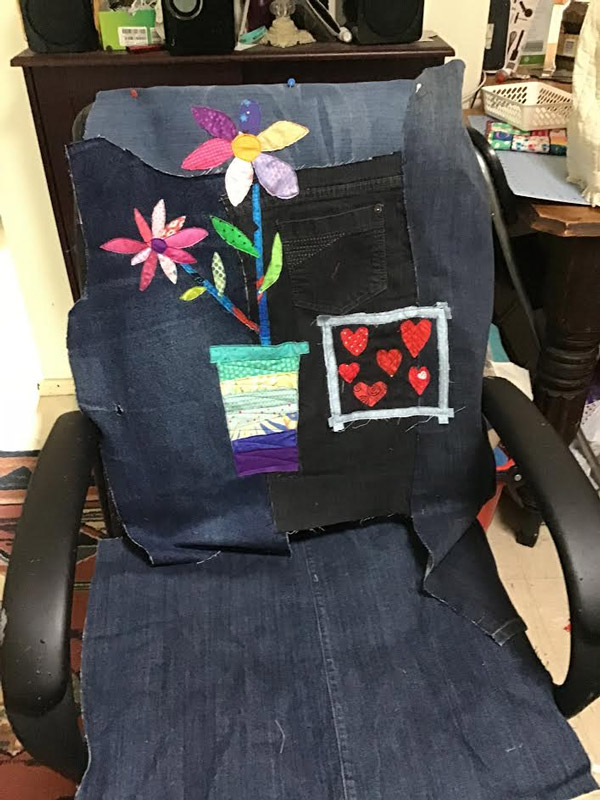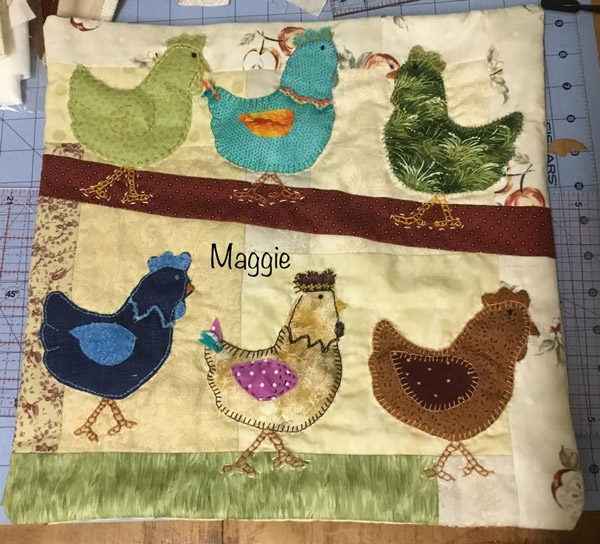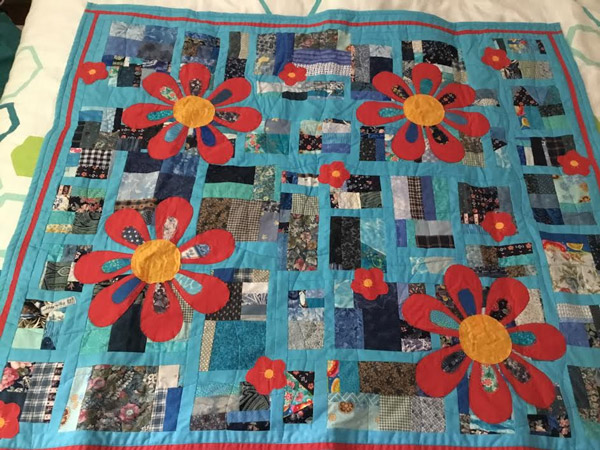 I sew for others and myself.
- Lisa M

Hi Shelley,
I Sew for a living.
The last 10 weeks I have been making Mary Poppins costumes.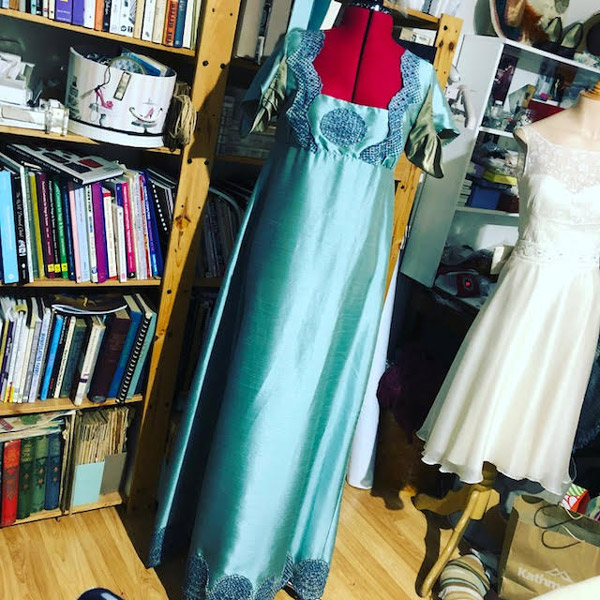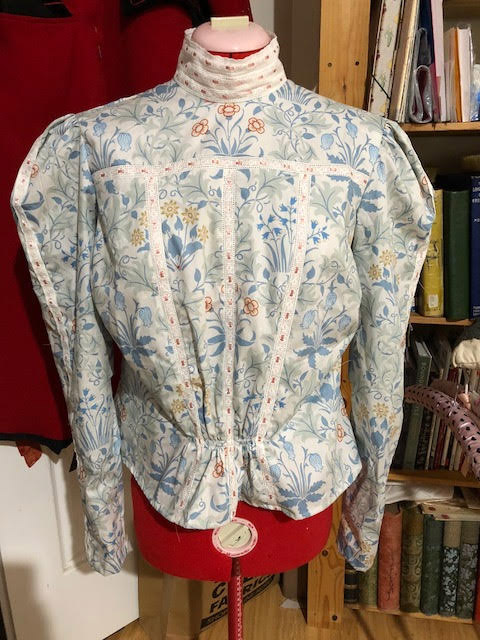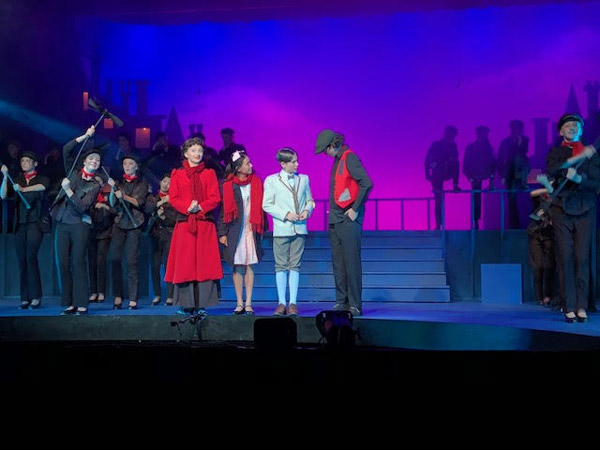 Last week I was doing alterations for Dannii Minogue & her Target spring range. The week before some bridal headpieces.
On rare occasions I have time to make something for me.
This was for an Eco Fashion Parade: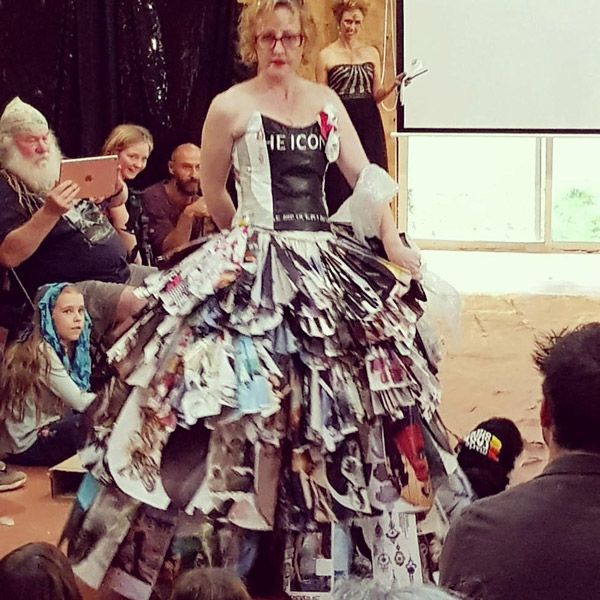 Regards
Jayne at Empire Room Bridal

I sew for C.
Aussie Heroes Quilts and laundry bags mainly. Although I have added The Pink Project to my list this year.
Charity is my passion.
I sew every day for at lest 6 hours. I love the sewing machine!
Halfway through the year I do a count up and to date - I have made 25 quilts, 7 laundry bags and 16 Pink projects.
- Sue N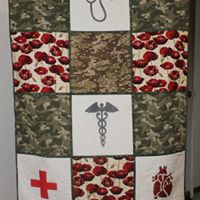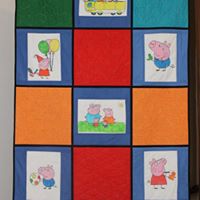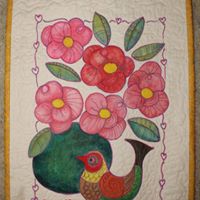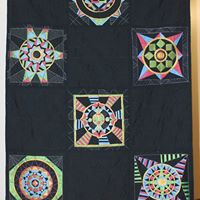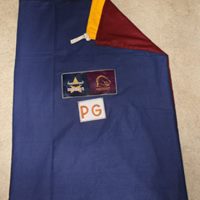 I sew for other people.
- Charleen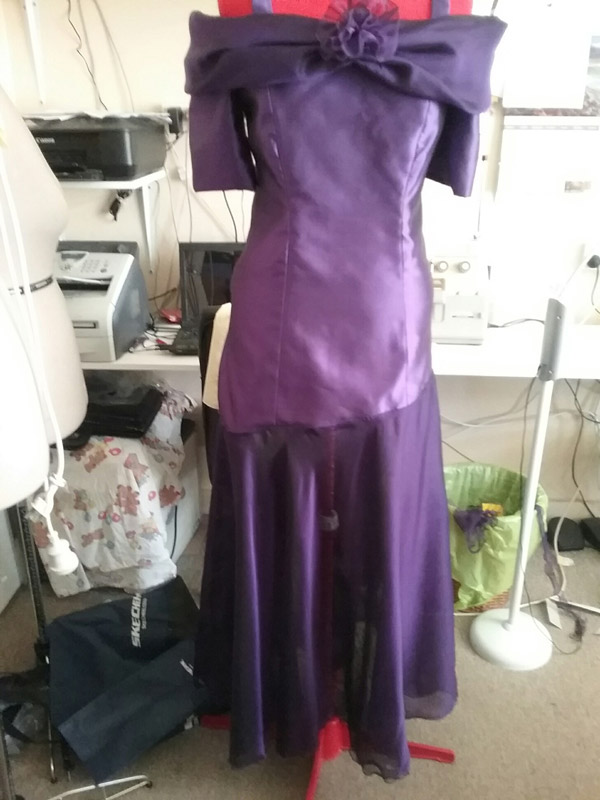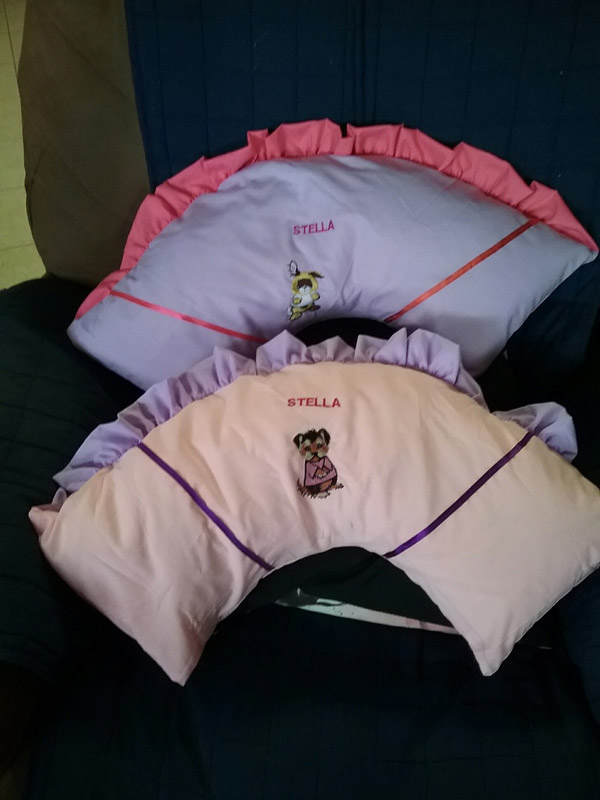 Hi Shelley
I sew for A, B & C.
Here are a few of the things I've made.
Hope there isn't too many photos.
Kind regards
Gloria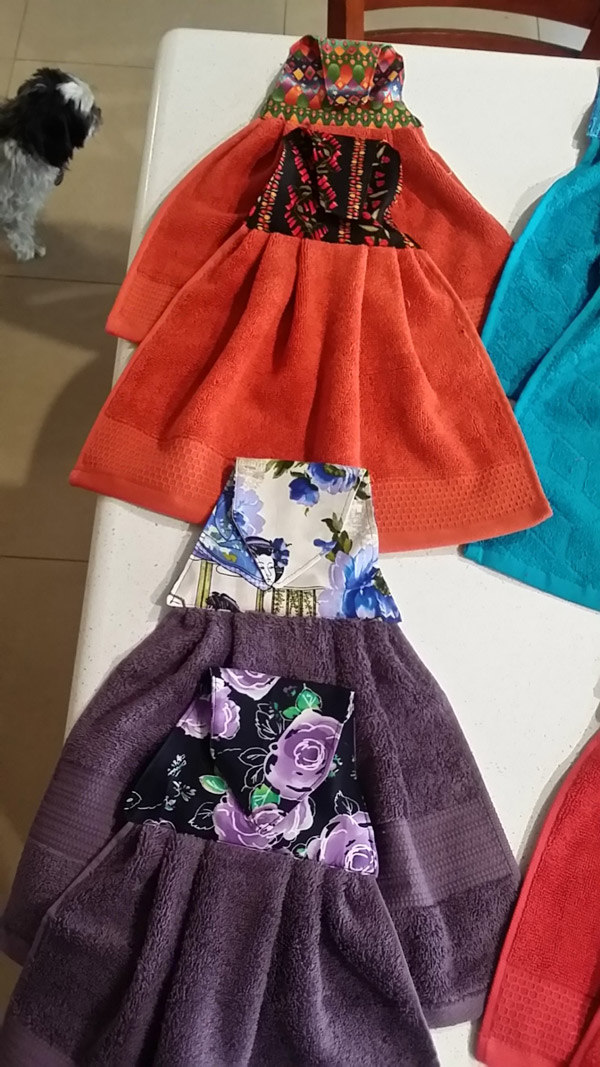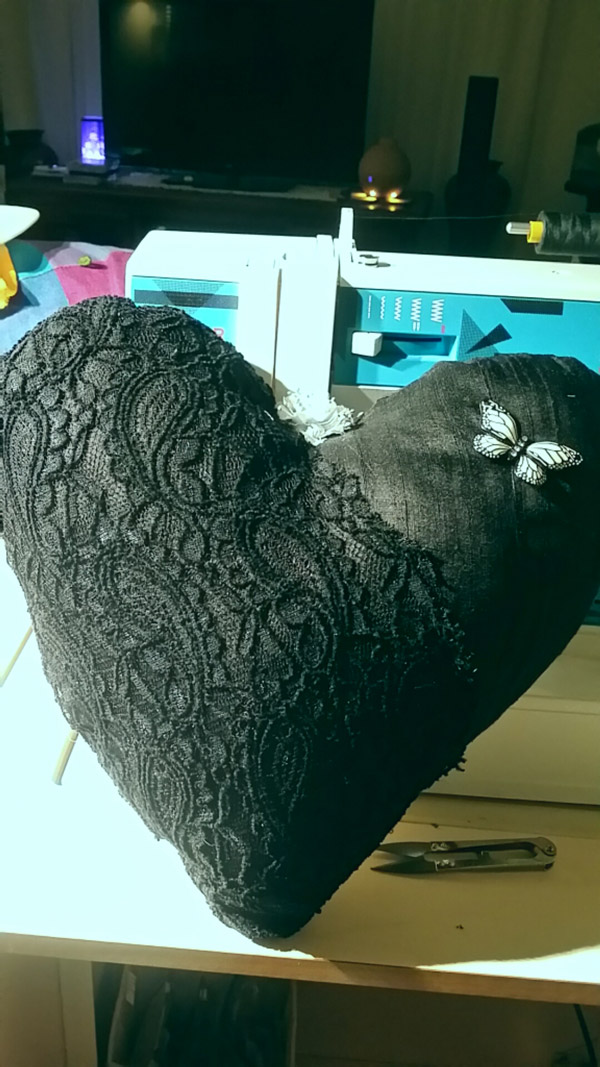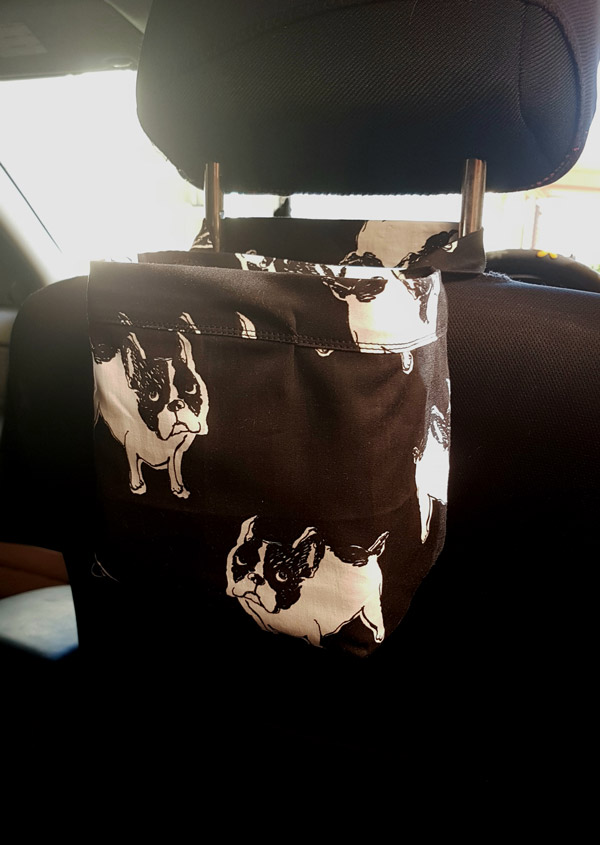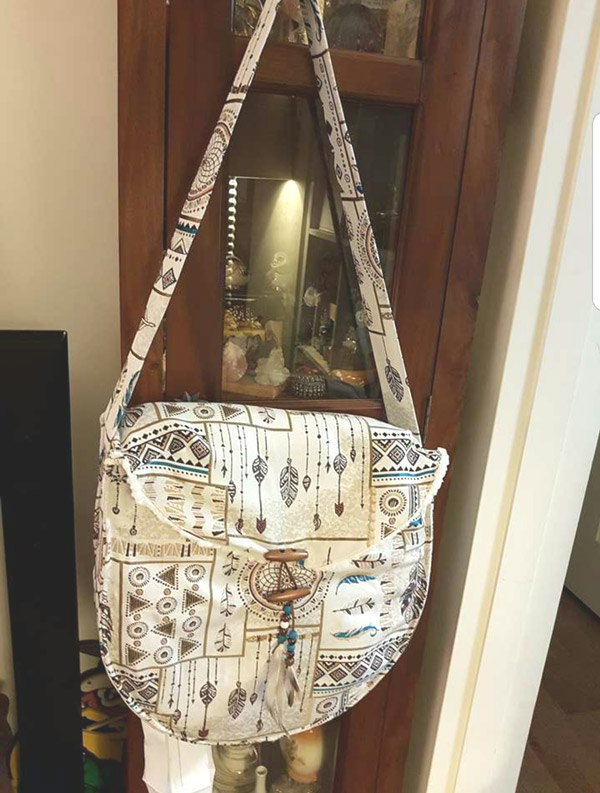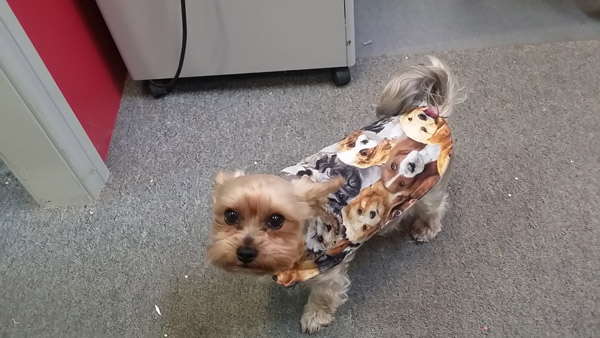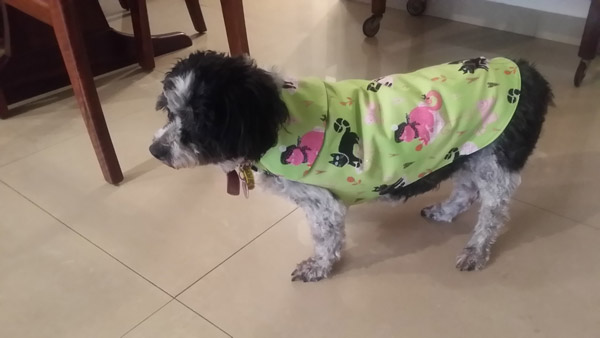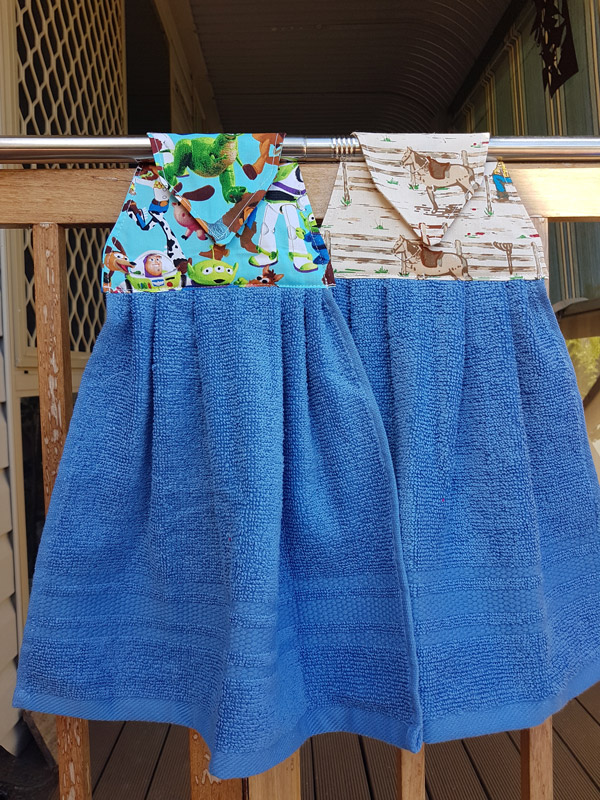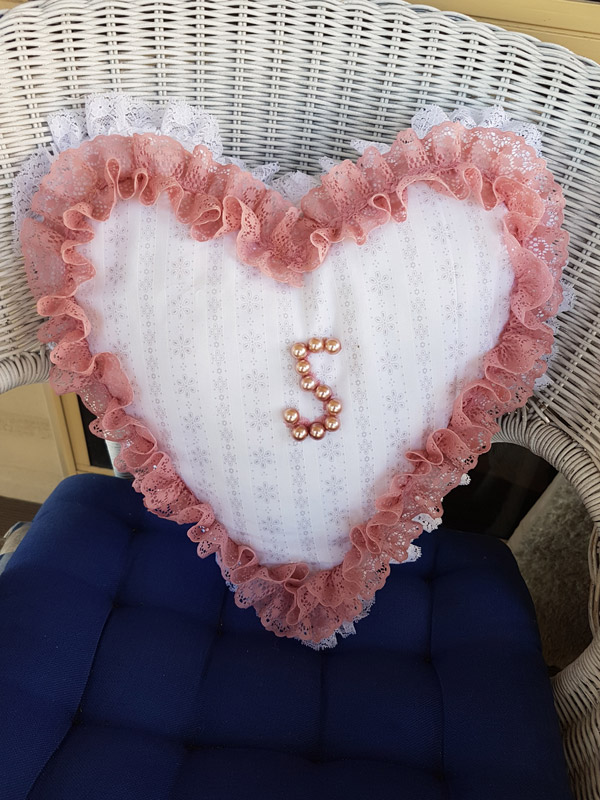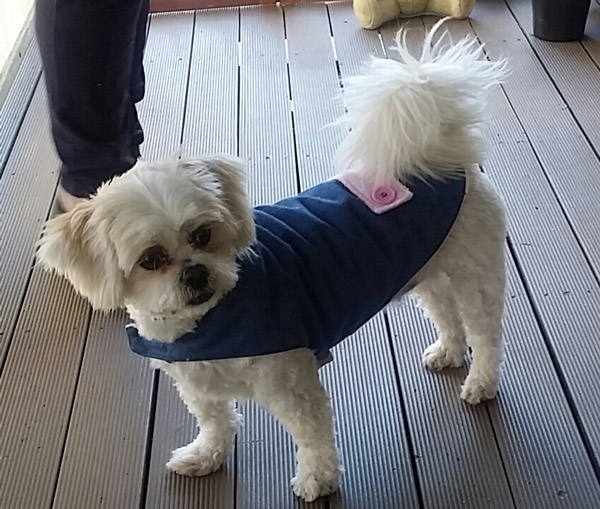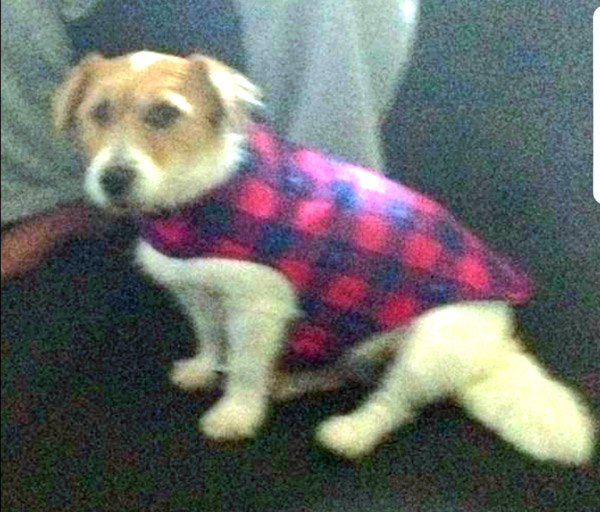 Hi Shelley,
Thank you for this.
I sew for the love which was cherished by family and sharing the inspiration/passion I feel today, by creating pieces that brighten up the lives of others is the most wonderful gift of all.
Sincerely,
Kylie

Hi Shelley,
I learnt to sew when I had my first baby 50 years ago. For many years I sewed for my family, then friends. I made my first wedding for my brother's fiance and went on to make others including both my daughter-in-laws. 20 something years ago I discovered quilting which is what I mostly sew now. Ever so often my grandsons ask for a toy to be repaired or a favourite pair of pjs, or a costume that they need made.
My youngest grandson Jack was fitted with a pacemaker when he was 14months old so I have started making bags that are needed for the children to have their heart monitors in while they are waiting for tests to be done or their surgery. I make these bags out of patchwork fabric so they can be bright and colourful. Jack takes these with him when he goes to his specialist appointments. I am hoping to have another hundred bags done be his next appointments in a few months. I have designed a special bag for him as he is to have his pacemaker replaced at the end of the year.
take care
Jan Prentice
Wyndham Vale, Vic. Australia

To add to your blog.
The quilt which I recently finished making.
It's called "Hearts & Dragonflies".
Angela Hart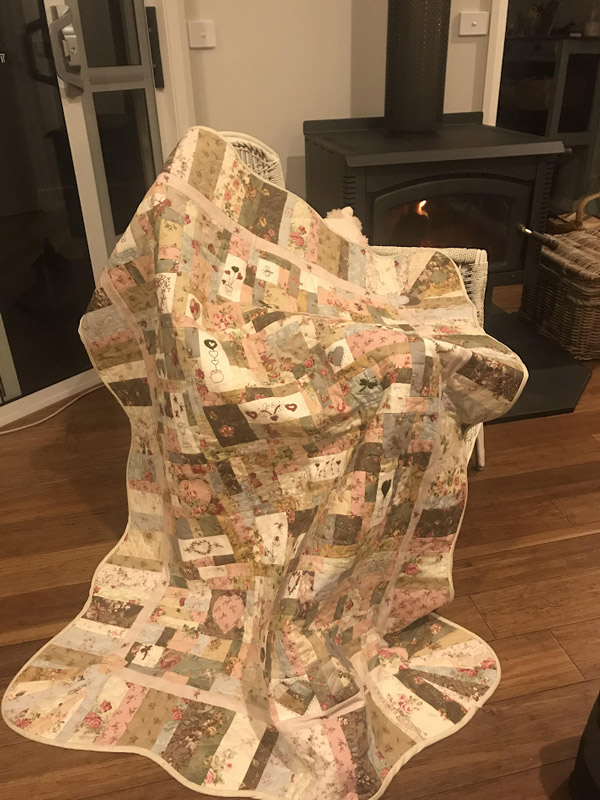 This is my latest creation, I love sewing to help keep my mind and hands busy.
This is a lap Quilt that will be raffled for my Red Hat Ladies Group High Tea event happening at the end of July, I am so happy with the results.
Jan Mansfield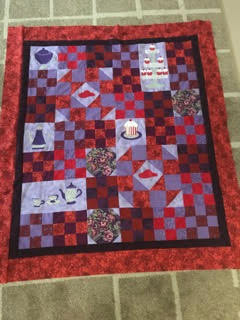 Hi Shelly,
Here is what I did last week.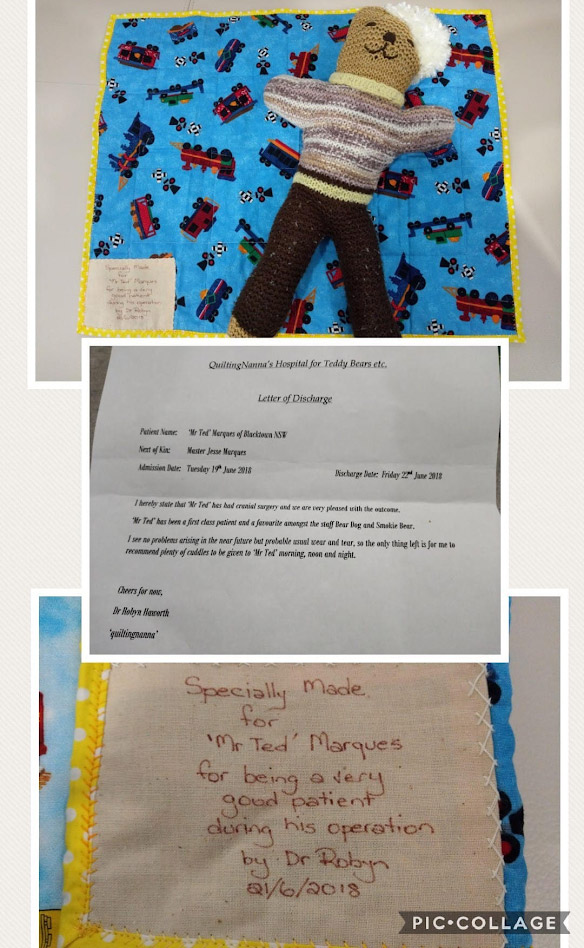 A little boy in NSW owns 'Mr Ted' (top photo) & was very upset to discover that 'Mr Ted's' brains were falling out.
His poor mum doesn't sew or knit so she posted for some ideas how to fix this problem and as she didn't have anyone near her to do the repairs, I asked her to send 'Mr Ted' via AusPost to me in Central Qld.
So 'Mr Ted' was admitted to 'hospital', underwent cranial surgery, had a new swish beret made for him to hide his 'scars' and went home again complete with a new quilt and even a discharge letter from the 'hospital ' to a very excited little boy who screamed with delight that his sleeping buddy was home again.
Mr Ted was a trauma bear for his owner & is very much treasured.
Have a great night
- Robyn Haworth

PAWsome!
- Disa

Oh thats so lovely Shelley.x
- Sheryl

Hi Shelley,
I sew for lots of people. My daughter April has many quilts my 5 grand children have 2 quilts each........ I just love making quilts.
My friends and my friends children also have quilts
I am also a volunteer for Aussie Hero Quilts and Laundry bags, an organization that send quilts and laundry bags to our deployed service personnel.
I've attached some photos of my quilts.
Some of the photos are the quilts and laundry bags that I have sent to deployed personnel
Happy sewing
Kind regards Robyn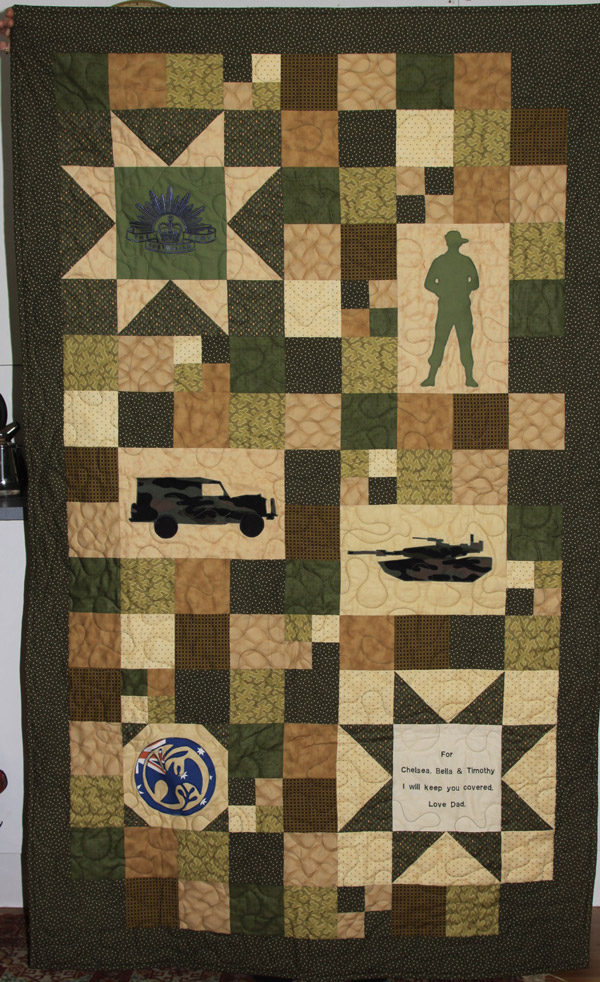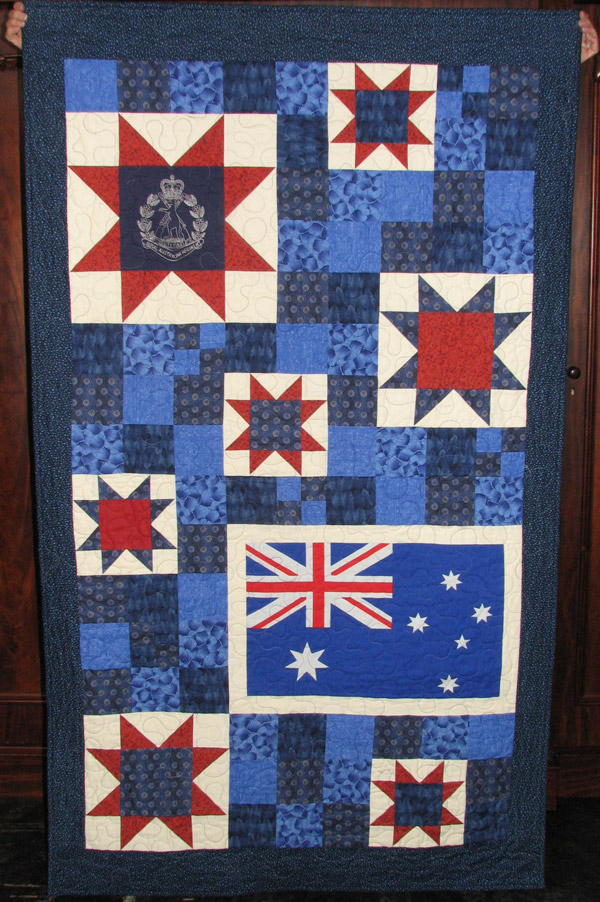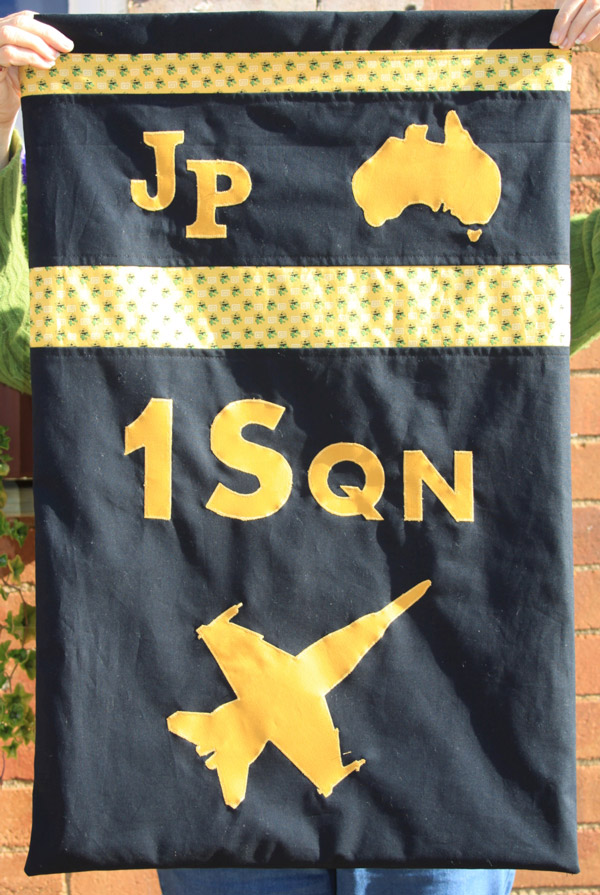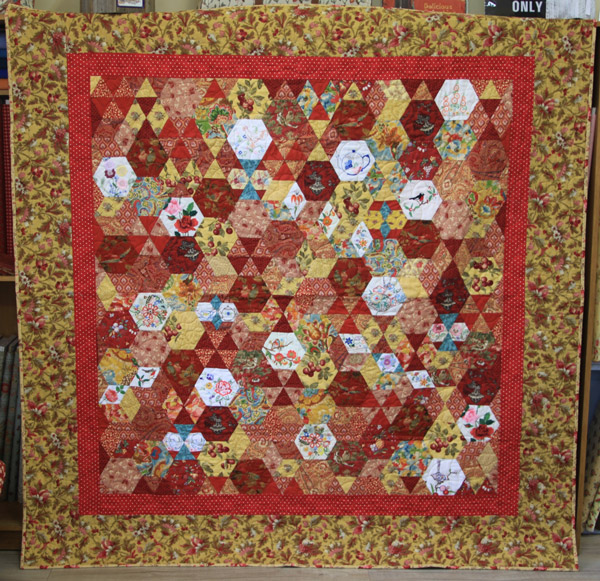 Been a break from quilting (of a sorts)...
With the advent of the demise of plastic bags, I have been busy making some bags that my girls can use for shopping.
My granddaughter wanted an overnight bag - I adapted the pattern (which was very difficult to follow) but she is very happy with it.
My middle daughter now wants one in denim with a vintage look.
loving being able to use up my hoard of fabric
Viv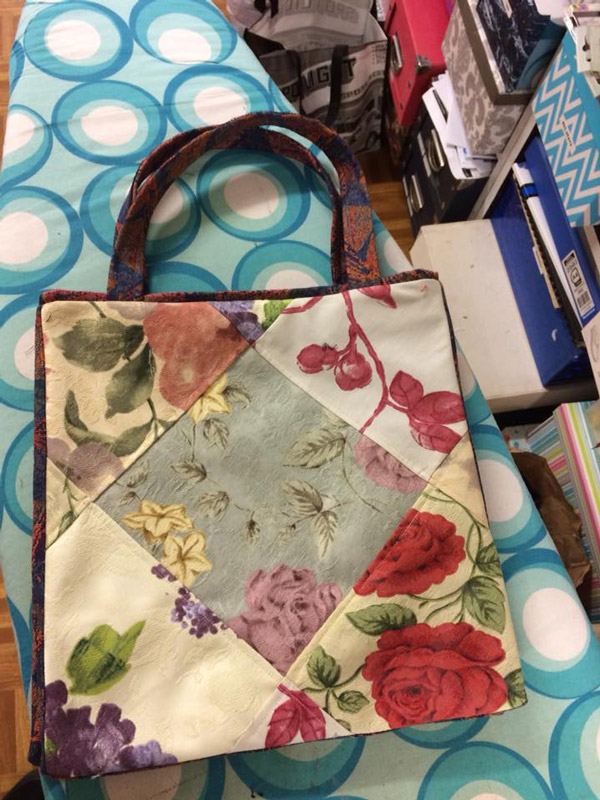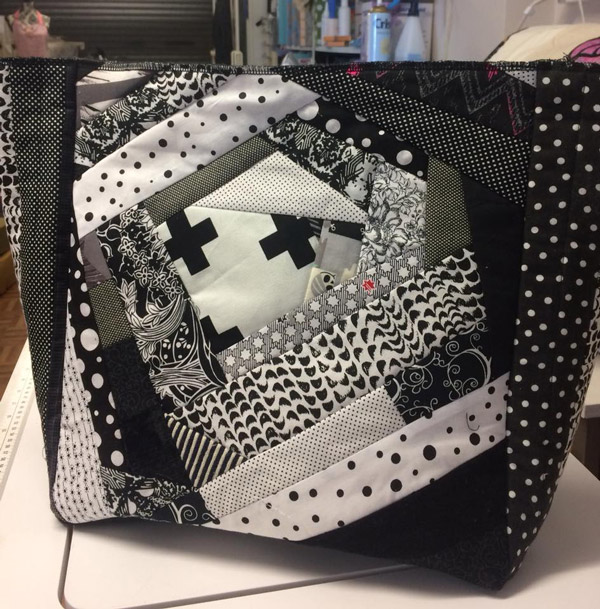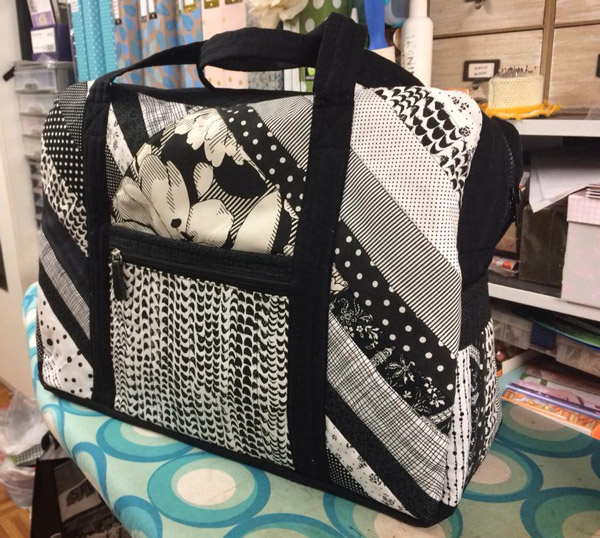 Thank you for sharing
- Leanne S